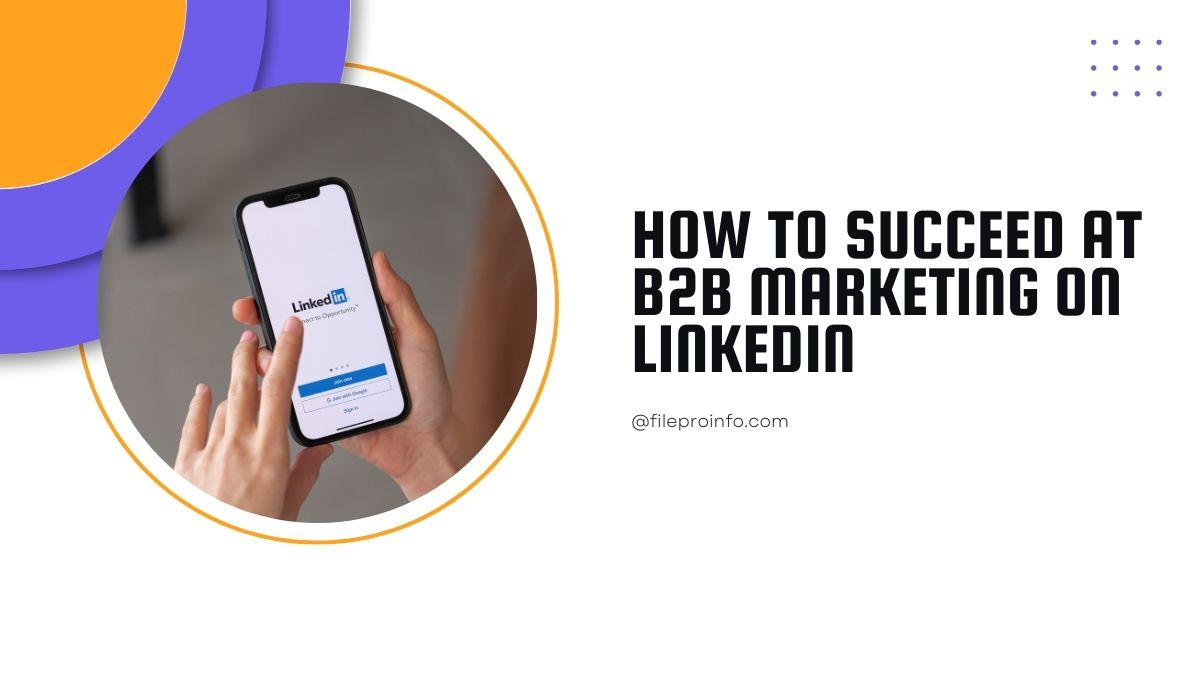 In today's world, digital marketing is a requirement for a company's success and online visibility. If one wants to see tangible results, one must promote their brand on the internet. As a result, user engagement has increased and more people have entered the sales funnel.
One of the most important aspects of digital marketing is social media management. In the last decade, the popularity of social media platforms has only grown. As a result, it has become an inseparable component of digital marketing. Facebook, Instagram, and Twitter are some of the social media marketing behemoths. They are preferred for B2C marketing (business to consumer).
LinkedIn is another social media platform that is frequently overlooked and undervalued for its marketing capabilities. LinkedIn is a business-oriented social media platform. It focuses on professional networking and career development. These characteristics make it appropriate for B2B (business-to-business) marketing.
Do you want to learn more about B2B marketing on LinkedIn? Continue reading.
This article will go over the benefits of LinkedIn for B2B marketing. We'll discover why it's ideal for connecting with other businesses. Furthermore, we will learn how to create a strategy for successful B2B marketing on LinkedIn.
Why is LinkedIn important, and how can it help B2B brands?
One popular misconception is that LinkedIn is only for job seekers. In reality, it is a social media platform that aims to build and foster a professional community. It does a lot more than just connect professionals with better job opportunities. It aids in the creation and maintenance of connections between brands and brings businesses closer together.
Since Microsoft purchased LinkedIn in 2016, the company has grown tremendously. It has seen a significant increase in new users as well as the addition of business-friendly features. Improved search options, detailed analytics for user engagement, a new blogging interface, and other features are examples of these enhancements. Many of these features have the potential to help businesses improve their ROI (return on investment) on marketing investments.
There is also sufficient data in the public domain to support the case for LinkedIn's B2B marketing effectiveness. LinkedIn has surpassed Facebook as the second most popular social media platform for business-to-business marketing. At the moment, it only trails the social media behemoth Facebook (now Meta).
LinkedIn is used by nearly 95% of marketers for organic B2B marketing. LinkedIn was used by 76% of B2B marketers for paid marketing. When it comes to B2B social media leads, LinkedIn accounts for roughly 80% of the total. The statistics speak for themselves.
LinkedIn has a strong grasp of B2B marketing. It has the right tools and features to help B2B businesses maximize their marketing output. It has the potential to spearhead your B2B marketing efforts if you follow the right strategies and successfully implement them.
LinkedIn Strategies for Effective B2B Marketing
For B2B marketing in 2022, digital marketers must embrace LinkedIn. Its reputation for maximizing lead generation and creating conversion-qualified communities will only grow. It raises a brand's visibility in relevant circles and promotes it among professionals.
If you don't believe us, you can see for yourself how effective LinkedIn is for B2B marketing. You can see visible results by implementing the following marketing strategies on LinkedIn:
Improve Your LinkedIn Business Profile
As a business owner, you must have a LinkedIn business profile. The most recent updates have added more interactive features to the business profile in recent years. You can now include information other than your work experience and education.
On your profile, you can post status updates about your company. Status updates to aid in the strengthening of relationships with your networks. If your status updates are engaging, they may attract potential business leads.
You can solicit recommendations from your contacts. Recommendations help you improve your knowledge and learn about new trends. They also aid in drawing attention to your profile.
Your expertise as a business owner can be listed on your profile. It gives first-time visitors a better understanding of your company.
You can include the projects that your company has completed. They can be used to demonstrate your work ethics and excellence in your chosen field. Projects also help to establish the prowess of your company by exposing your connections to your projects.
You should also include all of your patents, awards, and certifications. You can establish the credibility of your work and your business in this manner.
Create An Informative LinkedIn Page For Your Business
A company page tells your prospects a lot about you. It is critical to have an informative and compelling company page if you want to raise awareness about your company. LinkedIn Company Pages can be found by your target audience and tell a positive story about your brand.
Your company page should be useful to your connections and engaging to your target audience. It must include specific information about your company's work and mission. It should also include specific information about the products and services that your company provides.
The company page contains a number of critical components. Your marketing should begin with an appropriate banner image and your company logo. They bring the leads to your company.
Your company description should include a concise summary of everything about your company. The first two to three lines of the description should be compelling enough to pique the interest of a visitor. It should compel them to select the "see more" option. Here, you should use the most relevant keywords.
The marketing aspect of the company page should be kept to a minimum. It should be informative and satisfy the target audience's initial curiosity about your company. At the same time, it should not be too overwhelming for the visitors. It should convey a professional and refined image of your company.
Improve the performance of the company page
To increase the visibility of your company page in LinkedIn searches, you must optimize it. Keywords are used by users to find relevant businesses. As a result, you must identify the appropriate keywords in order to optimize the content on your company page. To find the most relevant keywords, use a keyword research tool.
To make your page more interactive, include graphics, images, and videos. The headers should be appealing. You can improve your company page even more by including information about key employees.
Other SEO best practices should be implemented to help your company's page rank in the SERPs. When your company page is optimized for performance, your brand's presence on LinkedIn will significantly improve.
Determine Your Target Audience
Only by targeting the right audience can you expect your B2B campaigns to be successful. LinkedIn offers Website Demographics to help you gain insights into your potential audience's behavior. These metrics can help you identify your target audience based on their characteristics.
These characteristics are related to your company page and how visitors react to it. You learn about the content that your audience interacts with the most. You can use this information to better identify your target audience.
LinkedIn Sales Navigator is another useful tool for identifying your target audience. Other third-party automation tools aid in identifying the right demographic audience. Using these tools, you can generate potential leads.
Create and Distribute High-Quality B2B Content Once you've identified your target audience, you should concentrate on distributing high-quality content to them. B2B marketing, like B2C marketing, is heavily reliant on creating awareness about the products/services via valuable content. Engaging content grabs the attention of the audience. It entices them to learn more about your company.
Valuable content also aids in the growth of followers on your company's Facebook page. More followers indicate that your company is trustworthy. The content should be centered on resolving common issues faced by your target audience in your industry. It should disseminate knowledge about your niche as well as insider information about your industry.
Your content should be interactive in order to keep the audience's attention for an extended period of time. Use images, videos, infographics, and so on. The goal is to make it more understandable. Your content should also demonstrate your knowledge of your field.
LinkedIn allows you to share a wide range of content, such as videos, documents, PDFs, images, and articles. Remember to share content on a regular basis. Consistency is essential for increased user engagement.
Utilize the Services of Your Employees
Employees who interact with your posts can help your marketing efforts. The quality of your post is determined by early engagement (within the first 60 minutes of posting). If your post receives a lot of traffic in this time frame, the LinkedIn algorithm considers it to be quality content.
If your posts are regarded as high-quality content, the size of your audience expands significantly. You can increase overall engagement on your post by reaching out to all three levels of connections. The "Notify Employees" feature reminds your employees to engage with your content as soon as it is published.
You can also turn your employees into business influencers. LinkedIn prefers content shared by your employees and has a twofold engagement rate when compared to traditional influencers. Furthermore, your employees are more knowledgeable about your products and services than anyone else. They can provide the most relevant information and have a positive impact on your LinkedIn B2B marketing campaigns.
Utilize Linkedin Analysis
LinkedIn has built-in Analysis features that will give your B2B marketing campaigns a boost. You can use the insights to make relevant changes to your marketing strategies by analyzing them and extracting actionable information. You can also assess the effectiveness of your company's page and its content.
LinkedIn Analysis provides information on a variety of metrics. In an ideal world, you would analyze all of them, but in some cases, this would be impossible (due to time constraints, etc.). Furthermore, your objectives determine which metrics are important to you.
To obtain the required analytics, you can use the time-range filter, page filter, or a variety of other filters.
Some of these metrics are as follows:
Traffic
This metric can be used to gather information about page views. It displays absolute and average page views.
Followers
Locate data on your followers and learn about their engagement patterns. You can use this information to better engage people who are already on board.
Demographics of Visitors and Visitors
Using the visitor metric, you can identify potential leads or followers among page visitors. You can also identify your leads based on their job profiles, location, company information, seniority, and so on. This information is required for the development of a B2B business.
Engagement
This metric can be used to track the performance of the content on your company's page.
Make Good Use of the Community Features
LinkedIn focuses on community building and connecting businesses and professionals. It has strong community features. These features improve communication with clients, partners, and potential users.
LinkedIn's community features not only aid in the development of connections, but also aid in marketing efforts. Influencers and groups are the two most important aspects of a community.
Influencers are thought leaders in their fields who help shape people's perceptions. They engage their followers by sharing knowledge and information about new trends in a specific industry. You can increase the impact of your B2B marketing strategies by collaborating with influencers.
Interests, industries, expertise, and skillsets are used to form groups. You can make a group for your company and invite relevant participants to it. They are an excellent resource for learning about new business trends and staying in touch with people and businesses.
You can promote your B2B company and its products/services more effectively if you use these community features wisely.
Belief in LinkedIn Ads
After you've established a significant organic presence for your company on LinkedIn, you can go the paid route and reap the benefits. When you have established credibility for your brand, LinkedIn Ads work wonders.
When you begin to see significant engagement in your high-quality content, you are on the right track. It indicates that you can use LinkedIn Ads.
To promote your business using LinkedIn Ads, you can select from a wide range of paid campaigns. They are an efficient way to generate high-quality leads for your B2B company. TextAds, Sponsored Content, Sponsored InMail, Video Ads, and other ad formats are available.
LinkedIn Ads allow you to target your audience based on professional characteristics such as skills, job roles, industry type, company name, and so on. This aids in micro-targeting, a highly effective method of digital marketing. LinkedIn Ads allow you to reach out to a decision-making audience.
LinkedIn can be used to retarget website visitors
LinkedIn can be used to enhance the functionality of your website. You can do so by tracking your website visitors' interactions and utilizing LinkedIn's website retargeting ads. These advertisements work based on their previous behavior.
LinkedIn's paid campaigns enable you to target visitors who: bounced early, did not convert, or never returned. They aid in bringing such visitors back to your website.
With these ads, you can significantly increase the conversion rate on your website. The retargeting ads should send them communications related to their previous interactions with your website.
Begin by embedding the LinkedIn Insight Tag on your website. Once you've added the tag, you can use the LinkedIn Campaign Manager to analyze the audience's website behavior and do the rest.
Conclusion
LinkedIn's practical features and user-centric approach can help your B2B marketing goals take flight. LinkedIn is distinct from other social media platforms in that it focuses on content quality and the formation of meaningful connections. Taking everything discussed here into account, you can create an effective LinkedIn B2B Marketing strategy.
Read: