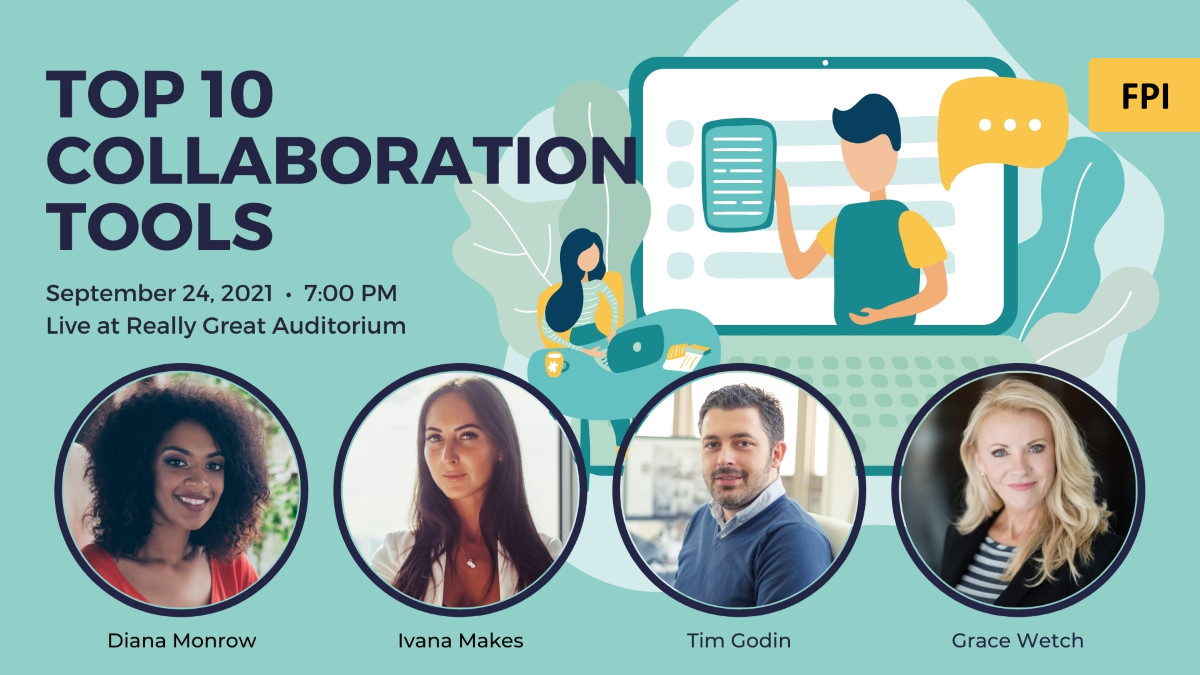 Collaboration tools help team members to work together to achieve common goals. When you use the right collaboration tools, it can improve the communication, coordination, and efficiency of your team members. A good collaboration tool can create a positive work environment by improving employee engagement.   
The collaboration tool that you are using should be able to combine the best of email and instant messaging, bring your team together, and mix synchronous and asynchronous communication so that you can focus on your work and get things done.  
The tool that you are using for business collaboration should have the following features.
A cloud-based communication system that will help you to collaborate from anywhere
Voice calling to reduce the number of emails in your inbox
Screen sharing to eliminate the need for face-to-face meetings
Ability to take notes during meetings to remember the context
Ability to add or remove participants during group conversations
Direct chat with anyone anytime
The 10 collaboration tools that we have identified below will help you to revolutionize the way you work.  
1. Clariti  
Clariti combines all your communications from emails, chats, calls, documents in cloud storage, and to-dos in one app and links all related information in a TopicFolder. TopicFolder not only makes communication faster but also eliminates the need to search for any information and the stress that comes with it. Clariti is ideal for small and medium businesses to boost team collaboration and drive productivity. It is securely hosted on Amazon Web Services, providing total reliability, 100% uptime, and trusted security of all your workday data. Clariti is a free cloud-based tool that can be accessed from anywhere with a browser and internet connection.  
2. Element  
Element is a secure messenger and chats app designed to streamline team collaboration. Element simplifies communication with individuals or teams who are using other Matrix apps. While in the app, teams can utilize read receipts, reactions, file sharing, and widgets. Other Element features include voice and video chat, customizable notifications, 1:1 messaging, group chats, large chat rooms, plus more. The app is accessible via desktops as well as iOS and Android devices.
3. Miro  
Miro is a cloud-based collaboration tool for small to midsize businesses. The solution features a digital whiteboard that can be used for research, ideation, building customer journeys, and user story maps, wireframing, and a range of other collaborative activities. The solution's whiteboard toolkit enables users to create mockups and schemes, write down ideas and leave feedback on other members' input. Miro also comes with an integrated library of icons, wireframes, and other content. Users can also upload files, images, and documents from their computer or Google Drive.  
4. Hibox  
Hibox is primarily a collaboration platform that supports the workflows of business teams with private, online communications. Hibox also fits neatly within an existing IT setup with integration options for popular cloud-based storage such as Box, Dropbox, and Google Drive. General chat features are then enhanced with face-to-face video calling and conferencing, giving one-tap access to instant team meetings wherever and whenever required thanks to native smartphone app support.  
5. ClickUp   
ClickUp is a cloud-based collaboration and project management tool suitable for businesses of all sizes and industries. Features include communication and collaboration tools, task assignments and statuses, alerts, and a task toolbar. Users can assign comments and tasks to specific team members or groups of team members. Comments and tasks can be marked as resolved or in progress, or users can create custom statuses. The activity stream displays tasks as they're created and completed in real-time. Users can configure notifications to be sent only for specific items.   
6. Notion  
Notion is a digital workspace that lets small to large businesses streamline and manage notes, tasks, projects, records, calendars, and more. Key features include portfolio tracker, designer templates, database management, documentation, and data export. Deployed on a web interface or on-premise platform, Notion provides businesses with a product roadmap, task lists, and repository patterns, streamlining project workflows, from initiation to completion. It provides mobile applications for iOS and Android devices. Notion lets businesses integrate the system with several third-party integrations such as Google Sheets, Twitter, Figma, and more.   
7. Hightail   
Hightail is a collaboration platform that enables businesses to streamline processes related to file sharing, project management, feedback collection or response, and more. It provides mobile applications for Android and iOS devices, allowing professionals to preview files, upload images/videos and receive real-time notifications, even from remote locations. Users can communicate with team members in real-time, assign follow-ups/due dates to track accountability, and add proofing annotations as per individual requirements. Hightail helps businesses synchronize data across various file storage platforms including Dropbox, Google Drive, Microsoft OneDrive, and OpenText Core.   
8. Quip  
Quip is a cloud-based project management and task collaboration solution that helps users work together and communicate without emails. Users can create and edit spreadsheets, documents, and checklists in the system, and team members can chat and comment on files in real-time. The solution is also available for on-premise deployment. Users can attach documents to chats, and the document will appear next to the chat, so users can chat and view documents at the same time. Quip's task list offers personal to-do lists, project milestones, and priorities lists and allows users to check off finished tasks. Quip offers dedicated apps for iOS and Android.   
9. Karbon   
Karbon is a workstream collaboration tool that acts as a work and communication hub for accounting firms. It offers functionalities such as email integration, internal communication, workflow management, task management, client collaboration, CRM, work templates, and more. Karbon is built from the ground up to provide visibility, which makes it ideal for teams who need to collaborate across different departments and locations. As a cloud-based solution, Karbon can be accessed via web browsers, as well as the native Karbon iOS app.  
10. Talkspirit  
Talkspirit is a cloud-based collaboration tool suitable for organizations of all sizes. Key features include user groups, a project newsfeed, a chat tool, file sharing, and search functions. Users can upload files including PDFs, spreadsheets, video, and audio files. They can also make announcements and communicate with other group members. Additional built-in communication channels include text and video chat. Users can search for people, documents and conversations, and search results are prioritized based on user activity. Integrations include Dropbox, Google Drive, Facebook, LinkedIn, and GitHub. Mobile apps are available for iOS and Android devices.  
Final thoughts
Most of the collaboration tools discussed above integrate calendars, calls, screen sharing, cloud storage services, file management, and search features. They are also secure and free to get started. What are you waiting for! Sign up for your free trial and get going.
Learn more from technology and reduce your business overheads.