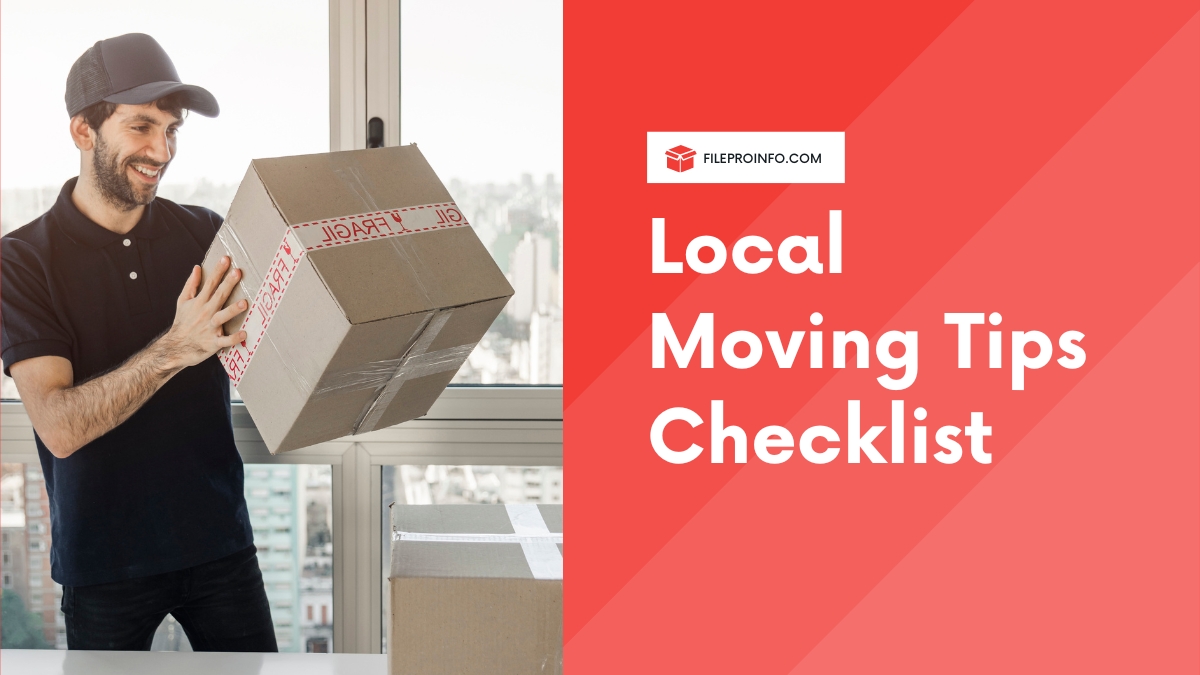 A local move is not as complicated as a long-distance one, as it requires less research than relocating long distances. A local move is usually within a hundred miles of your present location and does not require you to cross state lines.
There are advantages to moving locally. One of which is that your properties spend less time in transit, reducing the consequences long-distance travel may bring. Also, its proximity means that you are likely familiar with the area and may have visited it before. You may even pay frequent visits to your new place and prepare it for your final relocation.
Moving locally means you will spend less time in transit and can get to enjoy your new place more quickly. If you are considering moving locally to Illinois, you can find out more about local moving in Chicago here.
It is easy to think that relocating locally does not require as much precision as moving a long distance. However, this is very misleading though. You need to apply the same thoroughness you would need for a long-distance move to a local one.
Without proper planning, you may leave out an important detail that can potentially have great consequences. This is why you need to work with a checklist to plan your local move. A checklist will ensure you do not miss any important detail. First, let us explore some local move tips.
Local Moving Checklist
The fact that your move is a short distance does not mean you should begin your preparations just shortly before your move day. You should begin your preparations preferably at least a month before your relocation.
What to do 4 Weeks Before
1. Decide if you will employ professional movers
The choice to handle you're moving or contract it to local movers lies entirely with you. Due to the shorter distance, you may find it easier to relocate yourself without engaging local movers. Although if you decide to relocate on your own, you may still require the help of a few friends or family, especially if they have some experience.
However, you may wish to find out how much hiring local movers will cost before deciding to move, as a self-move could put a strain on you. Movers come in handy when you have very little time to move.
2. Get a Rental Truck
The next box to be ticked is to rent a truck if you are handling your move yourself. References, reviews, and customer ratings are ways to find a suitable moving company. When you find a truck rental company whose price is fair, you should choose your preferred truck size and confirm that the truck will be available on your move date.
3. Give a Moving Notice
Packing up and relocating without giving notice or giving notice of departure shortly before your move date is not the best course of action. Instead, you should provide your landlord with a notice of departure by your rental contract to avoid a breach of contract. You should also ensure you leave the property in the same condition you found it.
4. Get Your Packing Supplies Ready
To make your packing easier, you should get your supplies ready on time. Some supplies you may need are:
Moving boxes of all sizes
Special (wardrobe, dish pack, picture, file, lamp, and instrument) boxes
Suitcases/ travel bags, sealable bags, vacuum bags, trash bags, and mattress bags
Moving crates
Baskets
Buckets
Wrapping materials
Cushioning materials
Bubble wrap
Moving blankets
Packing paper
Foam cushioning
5. Declutter
You should get rid of every unwanted item in your possession. Relocating with unnecessary items is a waste of time and resources. Hence, you should only pack what you consider necessary. An easy way to decide what to move and what to leave is to assess the last time you used the item. If you have not used an item in a year, you probably do not need it.
6. Begin to Pack
You should start packing as soon as possible if you are not engaging professional movers. This is because packing can be very time intensive, and you have to be done with it before your move day. A useful tip is, to begin with, what you consider the most difficult tasks.
Things to Do 3 Weeks Before
1. Inform those whose help you need
Do not wait till the last minute before informing your friends (or anyone else) that you will need their help. It would help if you also communicated exactly how they would be helping out. The early notice helps them properly plan their time to be available for you.
2. Transfer records
You should transfer all necessary records to your new place. These records should include school records and medical records. Also, you should cancel all subscriptions linked with your present location.
3. Pay Attention to Fragile Items
Breakable items and valuables should be carefully packed. Ensure there is sufficient protection (for example, bubble wrap) for them so they do not get damaged in transit.
Things to do 2 Weeks Before
1. Change your Postal Address
Since you are still within the same state, you will need to change your postal address, irrespective of how close the distances are. Two weeks is considered an appropriate time frame, so you do not lose any important mail during the process.
2. Transfer Utilities
Your TV, water, electricity, and other utility bills should be transferred to your new address so you do not get stranded upon relocation. You should make this transfer to ensure that all your utilities function properly when you move in. Contact your utility company for more information.
3. Dispose of unnecessary items
You may wish to organize a sale to help your decluttering process, getting rid of unnecessary items. You should also decide what to do with your houseplants if you have any.
Things to do 1 Week Before
1. Tidy Up
You should confirm that all items are packed and ready to go. Only items needed before the move should be left.
2. Make your Farewells
This is a good time to say goodbye to neighbors and community members who may be affected by your departure.
Things to do on Move Day
Confirm that all properties are properly and safely packed to ensure they do not turn loose or get damaged upon arrival.
Gather your volunteer movers or engage your professional movers to begin the process.
Do a final cleaning of your present home.
When you get to your new home, appreciate your volunteer or hired movers.
Take a rest and leave unpacking for when you are adequately rested.
Conclusion
The best way to have a seamless local moving process is to have a structured plan and a detailed checklist. You will surely get desired results if you follow the tips for moving locally discussed above.