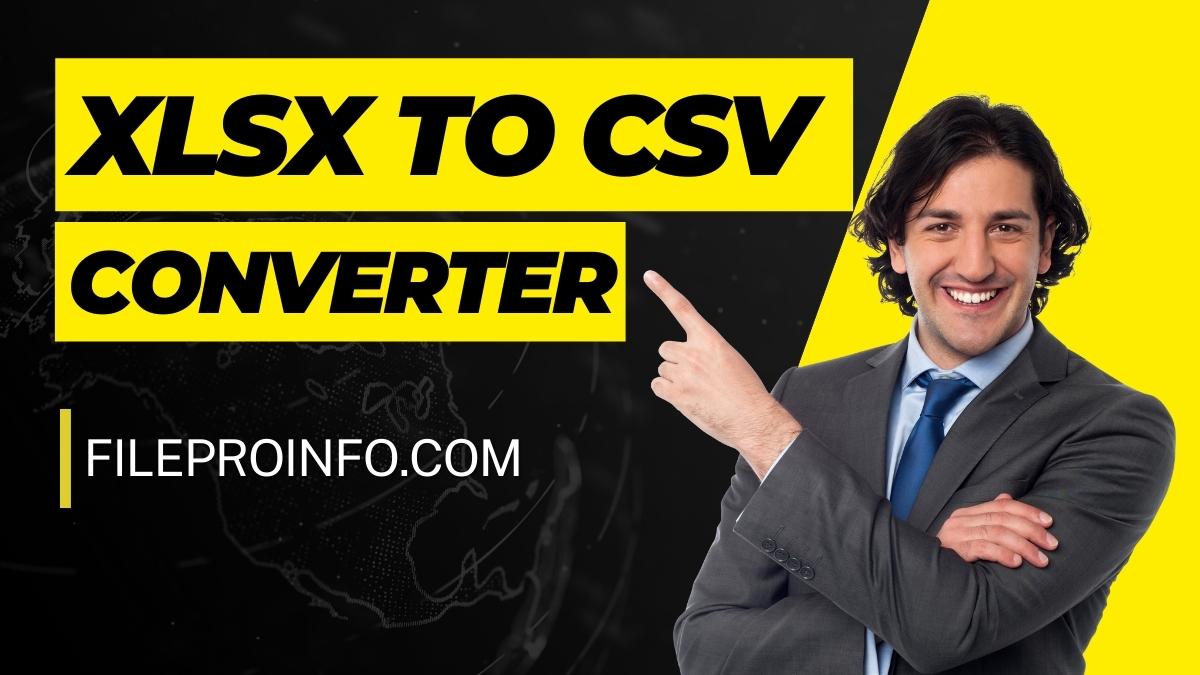 There are many reasons that one might need to convert an XLSX file to a CSV file. One reason is that CSV files are much smaller in size than XLSX files, so they take up less storage space. Additionally, CSV files can be opened in text editors like Notepad++ or Microsoft Word, whereas XLSX files require special software like Microsoft Excel or Apache OpenOffice Calc. Finally, CSV files are much easier to read and understand than XLSX files.
Converting an XLSX file to a CSV file is a relatively simple process that can be performed using any of a number of free online converters. Additionally, most spreadsheet software programs like Microsoft Excel and Apache OpenOffice Calc have the ability to export data to CSV format.
What is XLSX?
An XLSX file is a Microsoft Excel Open XML Spreadsheet File. The XLSX file format was introduced in Microsoft Office in 2007. It is based on the XML schema and uses ZIP compression for smaller file sizes. The XLSX file format is not compatible with earlier versions of Excel.
The XLSX file format is designed to be more efficient and faster than older versions of Excel. It uses less disk space and uses less memory when opening files. The XLSX file format is also more secure because it uses stronger encryption methods.
What is CSV?
A CSV is a comma-separated values file, which allows data to be stored in a tabular format. CSVs look like a normal text file, but with a .csv extension. They can be opened in any text editor, but are best viewed in a spreadsheet program like Microsoft Excel or Google Sheets.
CSVs are commonly used to store data from databases and spreadsheets. When exporting data from these programs, the user has the option to save the file as a CSV. This makes it easy to share data between different programs and computers.
CSVs are also helpful when dealing with large amounts of data. Since they are stored in a tabular format, it is easy to manipulate and analyze the data using programming languages like Python or R.
Best XLSX To CSV Converters Online
There are many reasons why you might want to convert an XLSX file to a CSV file. Maybe you need to generate a CSV file from data in an Excel spreadsheet for use in another application. Or maybe you need to open a CSV file in Excel but it's in the wrong format. Whatever the reason, there are several online converters that can help you convert an XLSX file to CSV.
Some of the best converters include:
1. FileProInfo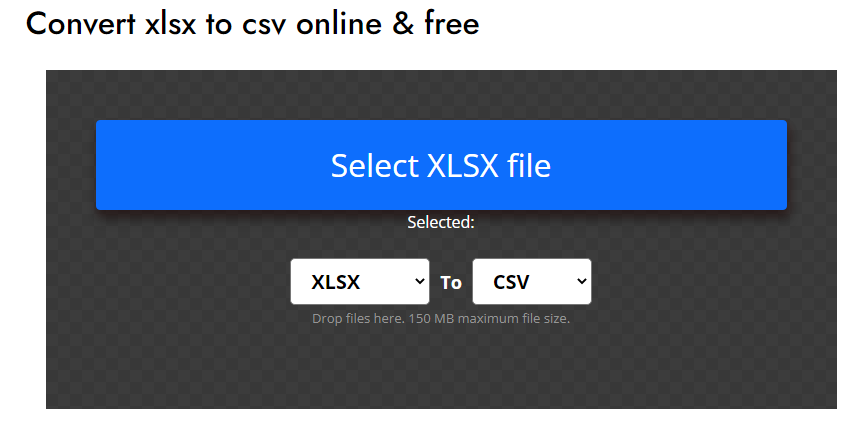 An XLSX file to CSV conversion has a lot of advantages. The fact that a CSV file can be read by any device, as opposed to an XLSX file, which can only be read by XLSX-compatible devices, is perhaps the most obvious advantage. The content is also simpler to read when an XLSX file is converted to a CSV because CSV files are typically easier to read than XLSX files. A CSV format can also make editing a document much simpler than an XLSX format if you need to make changes to it. Last but not least, utilizing this free online XLSX to CSV converter, it is simple and quick to convert an XLSX file to CSV.
How to convert from XLSX to CSV?
The excellent, free online utility FileProInfo's XLSX to CSV converter makes it simple to convert XLSX files to CSV documents. The conversion procedure is easy to understand and navigate because of the user-friendly interface. You can have a functioning new CSV document in only a few clicks!
Upload xlsx-file(s)
Select files from Computer, Google Drive, Dropbox, URL, or by dragging it on the page.
Click "Convert XLSX File Now"
Click "Download Now"
Let the file convert and you can download your CSV file right afterward.
You can also open the converted file in our free online viewer by clicking "Click to View Online".
2. Docpose

How to convert XLSX to CSV
Upload xlsx-file(s)
Select files from Computer, Google Drive, Dropbox, URL, or by dragging it on the page.
Choose "xlsx"
Choose xlsx or any other format you need as a result (more than 108 formats supported).
Download your xlsx
Let the Docpose convert XLSX to CSV and download CSV.
** You can also open CSV files in our free online viewer by clicking "Open".
3. Jedok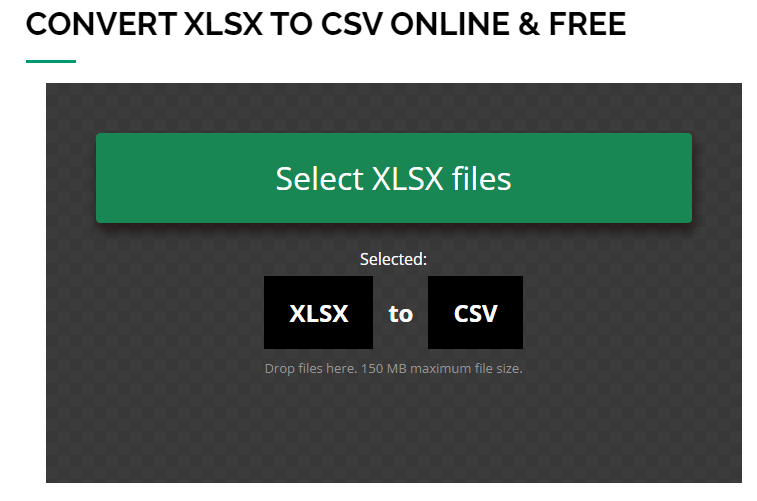 Excel XLSX files may be converted to CSV online for free in a matter of seconds without the need for installation or registration.
Advantages of converting from XLSX to CSV?
There are several advantages of converting XLSX to CSV.
Compared to XLSX, the CSV format is more frequently used and readable.
People will find it simpler to open and view CSV than an XLSX.
A CSV conversion can improve security.

XLSX files are frequently simpler to copy and distribute than CSV files.
You can prevent your content from being duplicated or distributed unlawfully by converting it to CSV.
Your documents will be simpler to print and navigate after conversion to CSV.

The finest tool for converting from XLSX to other file formats online and without charge from any device is FileProInfo's XLSX converter, which supports a wide range of file types.
Converting from XLSX to CSV can be the best option for you if you're seeking a solution to make your documents more secure and accessible. There are numerous web tools and software programs that may be used to convert XLSX files quickly and easily.