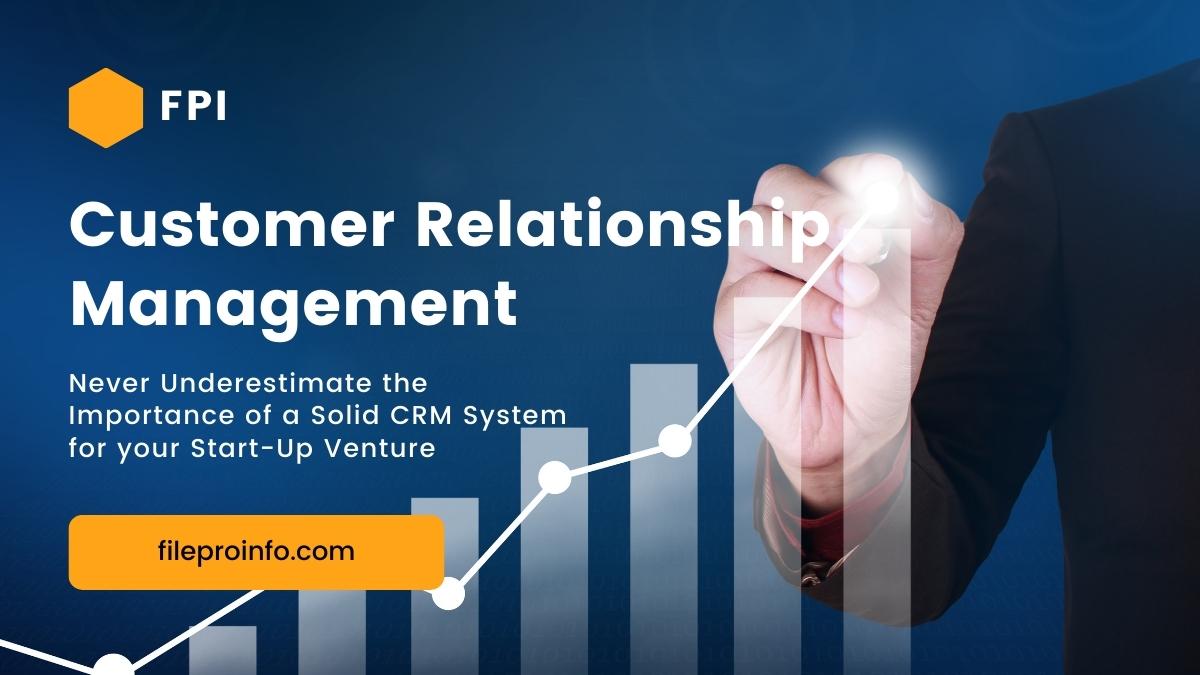 Launching a start-up business is an exciting time, but it can also be stressful. With so many elements to consider, organize, and set up, time pressures can mount, and getting solid processes in place can take a back seat.
However, putting a top-notch CRM (Customer Relationship Management) system in place from the very beginning will benefit your business in many ways, from making your office run smarter to optimizing your sales funnel and, as a result, boosting your revenue. Keep reading to learn exactly why the advantages of a great CRM system shouldn't be underestimated.
Boosts Productivity
As a new venture, you want maximum bang for your buck, and a CRM system can deliver this by automating many of your day-to-day processes and tasks, leaving you and your team more time to get on with other things. For example, a solid CRM system has the facility to auto-generate follow-up emails at specified times, notes from staff meetings can be easily accessed, and members of the sales team are able to call up all the customer details they need while remaining on call to the client.
Increases Collaboration
Collaboration between management, team members, and within departments is vital, no matter the size of the business. It's important to put systems in place to optimize this from the very start so that no time is wasted further down the road.
Look for a CRM system that offers features to enable stellar cross-team collaboration so that, for example, members of your marketing team can efficiently work with their sales colleagues to generate leads and share details. Have a look here at a monday sales CRM review for the information on one option for CRM software that performs highly in terms of collaborative features and tools. A single platform can be used to unite both marketing, sales, IT, legal, and security departments or processes, making for exactly the sort of streamlined system that can make your business run more smoothly.
Improves Customer Service
As a brand new business, you want to get off on the right foot, and making sure that your customers are happy is vital. A high-quality CRM system can help with this, too. CRM platforms allow for all customer details and interactions to be stored in one place so that your clients won't have the frustration of being passed between staff members to get the information or help they need.
Having a centralized bank of customer details, which includes information on every previous interaction, sale, negotiation, etc., that your team has had with an individual or business, can help to maintain retention and secure your company's good reputation. Complaints can be resolved quickly, and potential issues spotted and sorted out promptly.
Generates More Sales
Every sale counts, and this is never more true than at the very beginning of a business venture. Optimize your sales by putting in place an effective CRM system: the tracking tools and features this type of software delivers can help you and your team to devise more effective – and even individualized – marketing campaigns.
Look for a CRM system that incorporates great campaign tracking tools so that you can see at a glance which approach works for each customer group and tailor subsequent advertising or promotions accordingly.
Identifies Leads Effectively
A CRM system can be used, too, to identify the leads that are most likely to lead to sales, thereby saving you or your sales team time. Data and reporting systems provide invaluable information on conversion rates and where along the sales funnel they're at their highest, allowing your staff to concentrate their efforts efficiently.
As well as making for better use of time, a good CRM system will also boost opportunities to cross-sell or up-sell to existing clients, to generate significant additional revenue as a result.
Opportunity to Improve Your Products or Services
Due to both the tracking tools mentioned above and a CRM system's ability to gather, monitor, and analyze customer insights and feedback, you'll be positioned to consistently make improvements to the products and services you offer, to optimize them in accordance with what your clients want. This powerful feature of a CRM system can be one of the most potent weapons in your arsenal when it comes to moving beyond the start-up phase and developing or expanding your business.
Extra Tools and Features to Look Out For
When you're choosing a CRM system for your start-up business, it's a good idea to look for the features and tools that will make your processes even slicker. For example, select software that features a fully functional Android and iOS app for easy mobile working or to check in on progress when you're not in the office.
Consider, too, the reporting and dashboard tools that would best suit your needs; for example, would your team benefit from being able to use Kanban boards, as well as a timeline and chart view? What type of live reporting features would be useful for your business?
Finally, think about the nature of the customer service provided by the CRM system you're considering – can help be accessed 24/7, and are there plenty of online forums, help pages, and tutorials to assist you in navigating the system and getting it in place for the first time?
Taking some time to choose a CRM system for your business could be one of the most important things you do in the start-up phase of your venture and could help to perfectly position your new enterprise for success.
Learn more from business and read Why Should Startups Run Co-Branding Campaigns (And How)?