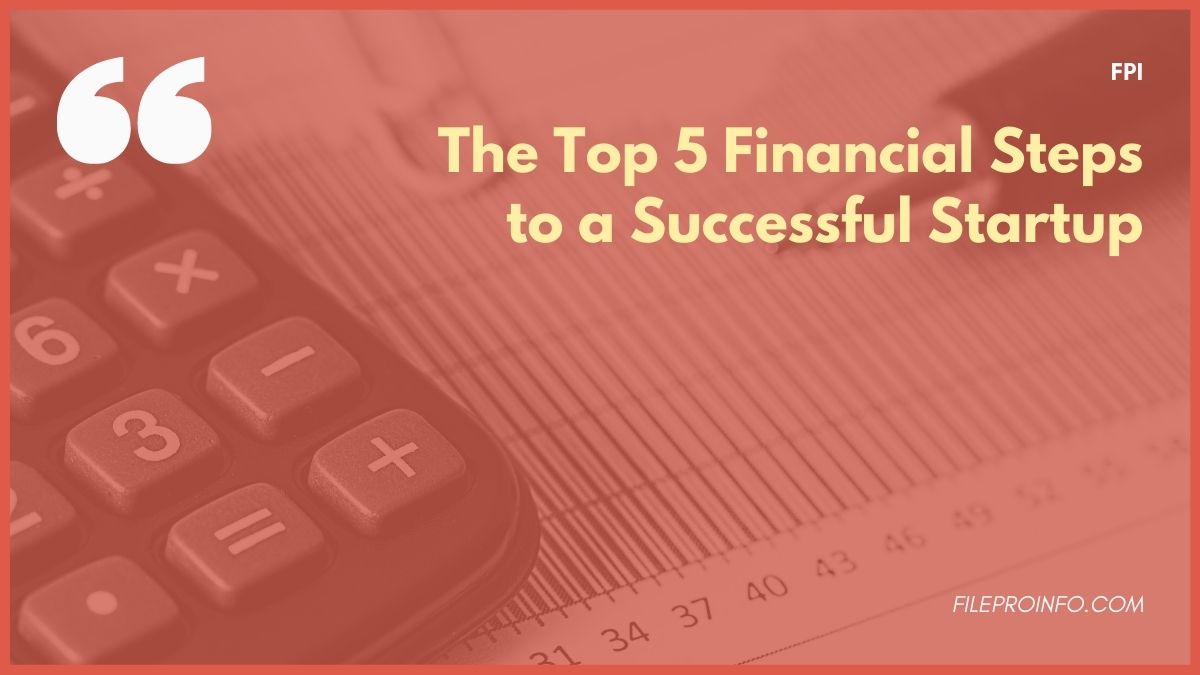 Early on in a startup's life, things can be a little dicey. You're working with a small group of people if any at all. You're also on a shoestring budget. Simultaneously, you must market your startup and make your name known. Any major financial blunders could result in the venture's complete failure.
What are the best financial steps you should take to give your startup the best foundation for success once you have your product or service idea and are ready to introduce it to the world?
Here are five financial steps to follow for a successful startup business:
1. It's All About Infrastructure, First and Foremost
A strong financial infrastructure is required even for the smallest of small businesses. Strong financial software, payment acceptance and processing methods, and bank accounts are all part of the infrastructure. Startup founders must keep their personal and business finances separate, which includes having separate bank accounts and credit cards. If the company has employees from the beginning, a good HR/payroll system should be in place as well.
2. Outsource Your Bookkeeping
It is costly to strike out on your own and start a business. It's also exhausting and time-consuming. No man or woman is an island, and not everyone possesses all of the skills required to launch a small business. Delegation is important for meeting all of your startup's needs.
Bookkeeping is a time-consuming and tedious task. You'll have a lot on your plate as a founder, and 24 hours in a day will never feel like enough. Founders of startups are prone to overworking themselves at the expense of their health and time with their loved ones.
The time of a founder should be spent on tasks that have a high impact and move the needle. Simply put, bookkeeping isn't one of them. However, if your books are "bad," it will be difficult to determine how well your business is performing and where improvements are needed. Outsource your bookkeeping to a talented professional, and you'll be doing yourself a huge favor.
3. Scale the setup
As your company expands and gains traction, the financial administrative work will begin to pile up. There are more invoices to send and bills to pay. These are also necessary but non-value added activities, similar to bookkeeping. Instead of doing tedious paperwork, you should be spending your time as a founder growing the business, improving the product, and hiring the right people.
To ensure a fraud-free delegation of bill paying, startup founders must implement systems and processes. These systems and processes should be created with the assistance of a good outsourced bookkeeping firm or a fractional CFO. A small amount of money put in upfront will pay off handsomely in the long run.
4. Create a financial plan
A financial model is a road map for a startup's long-term, profitable growth. A well-constructed financial model is the ultimate business plan, converting strategy into numbers and interconnected financial milestones. When considering the financial model for your startup, you should ask yourself a series of questions that the financial model must ultimately answer:
What should I charge for my product or service?
You must ensure that your unit economics are sound, so that the business generates incremental profit after direct costs (gross profit), as well as indirect costs, sales and marketing, and overhead.
How should I go about selling?
A product or service can be sold in a variety of ways, including B2B, Direct-to-Consumer, through a distributor or reseller, and so on. Your decision on how to sell feeds into your pricing decision.
What metrics should I be tracking and aiming for?
These will be the indicators that will help you reach your objective. To measure growth traction and profitability, metrics such as return on ad expenditures, sales quota attainment, or user conversion rates, among others, can be used.
5. Carry out your strategy and stay on track
You're ready to go full speed ahead now that your outsourced bookkeeper is in place and everything is organized using modernized software platforms. Now it's up to you to carry out your financial strategy and keep track of everything. Founders should review their progress on a weekly and monthly basis. Examine how you're doing in relation to your goals and identify areas where you're excelling and where you're falling short.
Having a solid financial model and clear targets/milestones for where you want to be next month, next year, and three years from now will put your company on the road to long-term, profitable growth.
Learn more from business and read In 2022, Here Are Some Cybersecurity Tips For Young Startups.