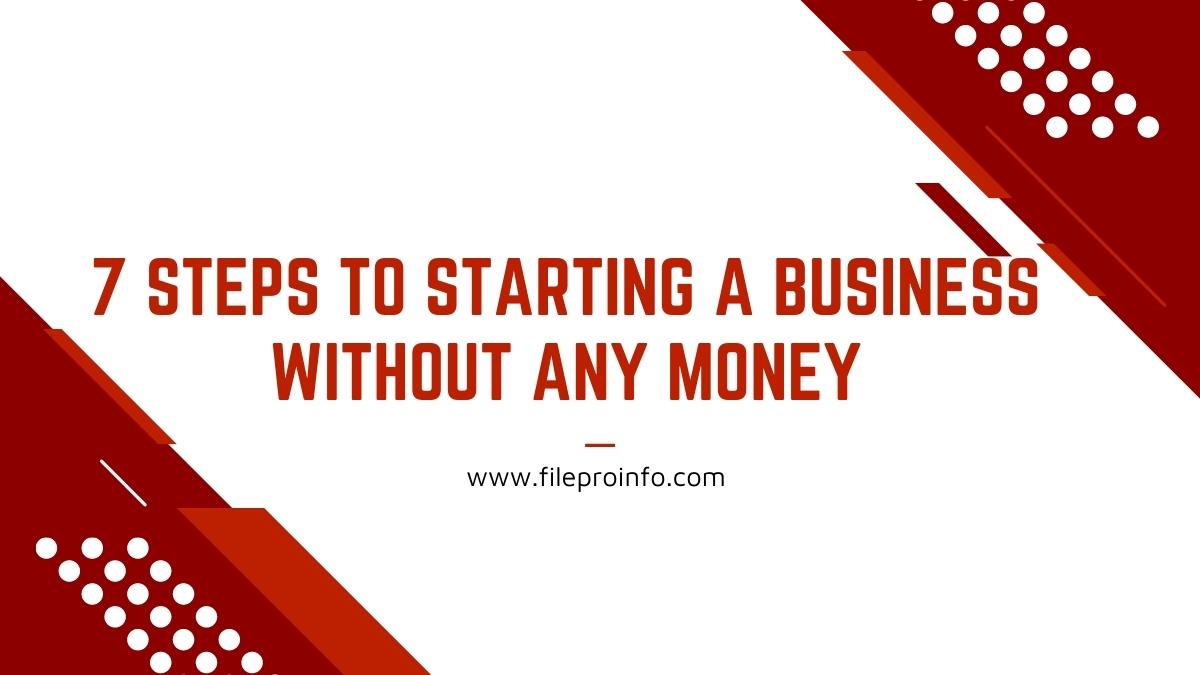 Have you ever wondered how to start a business without any money or prior experience? You're not by yourself. Many people, including yourself, aspire to be self-employed by starting a business. You might even have a good idea already.
Unfortunately, some people end up abandoning their goals entirely. When most people realize that starting a business requires money, they lose interest. Is it, however, truly impossible to start a business without any initial funding? You might be surprised by the answer.
Is it possible to start a business with no money?
Yes, it is possible to start a business with no funds. All you have to do now is be strategic and patient. Here are a few things you should do before you start the startup process.
Keep your current position
Don't get carried away with your business idea and quit your job to start your own business. Be realistic in your expectations of yourself and willing to compromise in other areas. You can run the business on weekends, holidays, or after work.
Your job will ensure that your income is not contingent on the success of your company. Furthermore, you can set aside profits from your business to cover costs that may arise as the company grows. Continue doing what you've been doing for a living with the goal of improving your business by working hard and smart. When the startup is able to pay you, you can decide to leave your job.
Make use of free resources
Examine what you'll need to run your business and where your own skills are lacking. Then you simply need an internet connection to begin looking for small business resources.
There's probably a free template, tool, or article out there for you to check out if you need to fully outline your business structure, write a business plan, create a marketing plan, research licenses, and permits, or even register your business.
You can also try out paid business tools for free. This will give you an idea of how well it works in general and help you decide whether it's worth investing in.
Networking, networking, networking
With limited financial resources, you can make the most of your time by forming the right networks. Interact with people who work in your industry. Entrepreneurs who are on the same path as you will teach you a lot.
Even if your business is unique, you should still network with other entrepreneurs. Others have traveled a similar path before. You can learn everything you need to know about running a successful startup.
Seminars/webinars, events, conferences, social media groups, and online forums can all be extremely beneficial. Joining a SCORE or SBA community group can keep you informed about local workshops and events.
How to start a small business on a shoestring budget
"How can I start my business with no money?" you're probably still wondering. Follow this seven-step plan to go from idea to full-fledged business with little or no money.
1. Define your business concept
A company's foundation is built on solid small business ideas. It's only natural that the first step in your entrepreneurial journey is to identify your business idea. Begin by thinking about and writing down your options. Consider how you can be of assistance by providing a solution.
Examine the concepts you've generated. How dedicated are you to them? What skills do you possess? Would your qualifications help you succeed?
Is there anything that your family, friends, or coworkers say you're good at or that they come to you for when they have a problem? Choose the one that stands out and grabs your attention.
Here are some suggestions to help you find your business concept:
Examine whether you have any marketable skills or experience that could be turned into a business.
Analyze the unmet customer needs of existing businesses so that you can fill the void.
Is there something you wish was available?
Look for ways to improve existing products and services.
Examine current products and services. Consider how you can improve or add value to them.
Look into other markets to see if your products/services are in high demand.
Maybe you saw a product/service somewhere else that isn't available in your area.
2. Conduct market analysis
Understanding the market is crucial to determining the viability of your business idea in the real world. So, once you've come up with a business idea, start doing extensive market research on the industry in which it fits. This will give you a sense of the overall market and how your company might fare.
Determine who your potential competitors are and what they're doing. Your main goal is to see if you can come up with a more creative, better, and cost-effective solution. You can figure out whose business idea has flaws by studying your competitors. You can also come up with a unique selling proposition.
Additionally, do some research on your potential customers. Recognize their professions, ages, educational levels, and geographic locations. Examine their current purchasing habits to see if they're willing to pay more for higher-quality goods and services.
You can look up reviews of similar businesses on the internet. Also, use social media groups to conduct a poll survey. In the groups that your potential customers have joined, post a questionnaire.
Speaking with potential customers directly can reveal areas where their needs aren't being met. The data you collect will aid you in determining the types of purchasing habits, needs, and preferences of your target customers.
3. Create an MVP and put your idea to the test
Whether you're selling a product or a service, it's best to test an idea for free or at the lowest possible cost. A minimum viable product (MVP) is a new product with key features that are used to determine its market viability. The goal of an MVP is to see how early customers react to the product and use that information to improve it.
Conducting a crowdfunding campaign is one option. If they're interested in investing after using the product/service, it's a good sign that the business concept is viable. Even if you don't get the money, their feedback will help you figure out where you need to improve.
Use social media to your advantage. Create a post, a page, or a short video about your product/service and share it on social media to see how many people are interested. Preorders, comments, views, shares, and reactions are all indicators of how well your idea is received.
You can make a website for your product or service and track its performance. Use the available low-cost or free websites and web analytics tools. Include an option for email signups/preorders to gauge their interest in more information. Session duration, traffic source, number of visitors, average time on page, and other basic metrics are examples.
You can also go the traditional route and offer your services for free in your neighborhood. Inform them about your company and request an honest assessment of your performance.
Keep in mind that your goal is to determine whether or not the concept is viable. Take feedback as a step closer to your dream if things don't go as planned. Use it to consider what needs to be improved or whether the idea is worth pursuing at the time.
4. Make a strategy
By this point, you've learned a lot about what you're getting yourself into. It's time to outline your company's current and future goals based on the information you've gathered. To organize the direction of your business, you'll need a business plan.
Use this free online template if you don't know how to write a business plan. Keep in mind that it will serve as a starting resource for your company. So make it a concise and actionable plan. Include your business statement, product/service description, and market analysis, however.
A good business plan also aids in the establishment of short- and long-term objectives, as well as the estimation of startup costs. It will serve as a road map for your next steps, including how to keep costs low and whether to invest more money or seek funding.
5. Choose a payment option
Be prepared to accept payments whenever the opportunity arises. You don't want someone to agree to buy your product/service and then let the opportunity slip away while you figure out how to get paid. So, before you start operating, figure out how you'll get paid.
Compare price, features, flexibility, security, and functionality when deciding which methods to use. The best fit for your business is determined by a variety of factors including transaction volume, popularity, customer preferences, and age, among others.
The fastest, easiest, cheapest, and most widely used method of payment is cash. It can be used with both minors and adults. Cash payment can only work in a pay-on-delivery scenario for an online business.
It does, however, have drawbacks, such as theft and cash mismanagement. At this age, you can't rely on the cash-only method. Your customers are more likely to be inconvenienced. Depending on the size and nature of your company, it's best to combine two or more methods.
For online businesses, online payments are ideal. For in-person and online payments, debit and credit cards are ideal. Mobile payments have grown in popularity and adoption. Another method of payment is through checks.
Simply remember your customers. Cash and checks may not be available to the younger generation. If your clientele is older, they might be hesitant to accept modern fintech payments.
6. Concentrate on natural communication
Another important aspect of starting a business with no money is informing your customers about your product or service. You obviously do not want to waste money on your marketing efforts. As a result, as part of your initial marketing strategy, it's best to concentrate on organic options.
Make a website
Launch a company's website and use free SEO tools to research industry-relevant keywords. Create optimized product/service, about us, FAQs, and contact/sales pages based on your findings. When someone conducts a regional search, for example, putting your physical address on the contact page is a good way to rank in search engine results.
Make sure your website includes a blog section where you can regularly post optimized content. To improve your skills, take advantage of free content marketing courses. Free digital marketing courses can also teach you which methods work best for your business.
Make use of social media
We now use social media on a daily basis. Create social media pages that are appropriate for your industry. For clothing designers, Instagram is a better tool than LinkedIn because it allows them to share photos.
To drive traffic to your website or online store, use social media posts. Respond to customer comments and participate in social groups or forums. This is an excellent way to begin naturally building an audience and engagement. Just keep in mind that maintaining it will take time and effort.
7. Look into funding options
If your company has reached a point where it requires additional funding or capital for expansion, it's time to look into your funding options. You can put your savings into your business if you have enough. If that isn't the case, look into other funding options.
Applying for a bank loan is the most traditional and obvious option for small business owners. Grants from federal, state, and regional agencies are also worth looking into. Larger organizations may also offer private grant opportunities. These usually grant programs that target specific demographics like minorities, veterans, and so on.
Traditional funding isn't your thing? Use crowdfunding sites to raise funds in exchange for a product or service, debt, or small shares in the company. The testing phase might be the best stage for crowdfunding.
A common source of funding is friends and family. To avoid ruining your relationship, keep it professional and agree on a payment schedule.
Angel investors and venture capitalists may be the best option for you if you're in a startup environment. Businesses seeking quick cash in exchange for ownership equity, royalty payments, or convertible debt typically use these.
From starting to growing your business
The amount of money needed to start a business has no bearing on its success. It's best to stay lean and avoid unnecessary expenses when starting out with your business idea. However, as the company grows, this will no longer be possible.
It is beneficial to plan for such events so that your idea does not grow due to a lack of funds. You're on the right track if you're willing to do the right thing to keep your company running smoothly. So, if you're dead set on starting a business with no money, take a look at our startup guide for a more detailed step-by-step guide.
Learn more from business and read 4 Steps To Help You Establish Your Business.