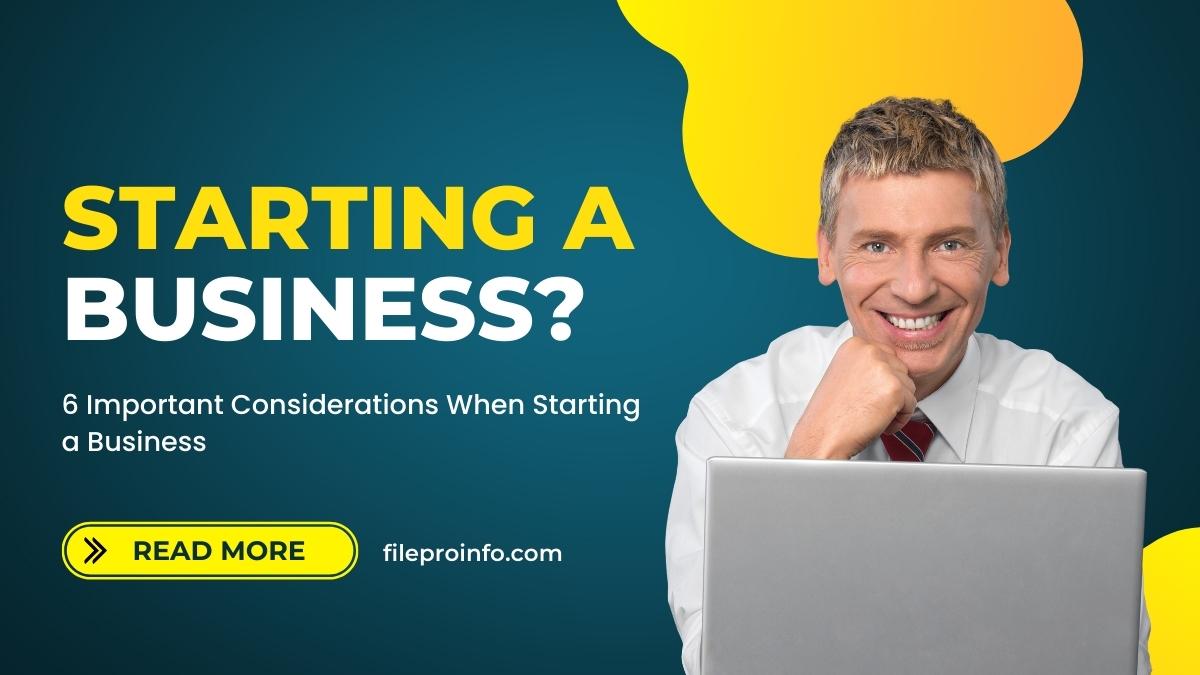 Starting a business is an invigorating process, but you only get one chance to get it right. Before you open your doors, it is incredibly important to handle a few organizational tasks. Doing so helps ensure you are making the right decisions, have a solid game plan, and have the potential for real profit. Here's a look at where to get started.
1. Make Sure There's a Market
No matter what your business idea is, you need to be sure that it is feasible. That is, you want to be sure people are going to pay you for what you provide and that they are going to pay you enough to be profitable.
To do that, you need to do market research. It is a process that provides insight into how consumers would approach what you have to offer. Gauging market demand helps ensure that the final product you produce is one that consumers want or need enough to buy. This process can be as detailed as needed to provide you with the insight needed, including information to help you:
Make decisions about what to sell
How to sell it
Who the target audience is
What people will pay for it
What features does it need to meet their needs
There are lots of companies that can complete market research for you, such as Drive Research. The key is to invest time in ensuring your idea is a solid opportunity.
2. Create a Professional Business Image
Once you know what you want to do and are confident in what you are launching, the next step is to create the foundation of how consumers will see you as a business. Remember, you get one chance to impress them. If you are not professional from the onset, that could cost you a significant amount of lost branding ability.
How will people view your business? Consider the various touchpoints you may have. It used to be your needed a sign on your building and a logo. Today, there are a lot more factors to consider in creating a professional business image. Some of those factors to keep in mind include:
Your Logo: You need a logo that fits your business and represents your mission. You also want something that is memorable and appropriate for your needs.
Your Website: It is critical to have a professional website that helps people learn as much as they can about your business. That is not as easy as it may sound, though. Your website needs to be a digital representation of your company, its products or services, and your mission.
Your Domain: Your domain name is an important part of your branding as well. It helps people find you once they learn of your company or products.
While it might seem like to set up there are services like Tailor Brands and many other similar services that can act as a one-stop shop for online business set-up.
3. Become the Industry Expert
Having an idea is not enough in most cases to turn a profit. Instead, you need to become an expert in this industry, a person that knows everything there is to know about the topic. If you do not have that type of expertise, you may be setting yourself up for limited success. Here's why.
If you do not have ample experience, you may not truly understand the pain points of your buyers. You may not have the data necessary to make decisions about their actual motivations to solve those problems either. While your market research will help this, it does not provide you with a full industry-wide view of the product.
You also will spend a lot of time building up your products over time. You will talk to many people in the industry. That is why it is so important to truly understand what this industry is all about. Dive deep into it. Get to know as much as you can about the industry's leaders, too. This may be your competition or other service providers within that industry. This information helps you build your knowledge, but it also helps you to really get a feel for the passions behind those in that area.
In many ways, having industry knowledge and expertise helps you. It reduces the risk that you will make mistakes that cost you your business. It may also help you to form partnerships and become the voice behind the business or even the industry.
4. Determine What Your Capital and Finance Goals Are
It is not possible to run your business without having the money to do so. As you work to ramp up your business, consider what specifically you need but also where you will get those funds from as well.
A good starting point is to determine what the initial costs of startup will be. This will range based on the type of business you have, such as a brick-and-mortar operation or a digital business. You also need to consider costs for product development and research, prototyping, startup formation costs and licensing.
Consider what your financial options are for securing capital. You may wish to consider:
Personal savings, one of the most common options for startup business owners
Borrowing from friends or family and the hassles that can sometimes come from that
Borrowing from banks and private lenders, which can depend on your personal credit
Angel investors, who may be hard to find
The goal here is to determine how much you are likely to need in the first few years of operation and, whenever possible, to have those funds set aside to enable your business to thrive while you work to build your revenue and profits.
5. Know Your Competition
It is not always easy to know who you are competing against. It takes careful consideration of who your competitors are, though. You need to know who your competitors are, what they offer, and how your products are better. If you do not know who your competitors are full, you are likely to not survive in the market for long.
That is not easy to do. You may know who your initial competitors are, but who else is offering products similar to you? How big is your market? What is the market share that you will have for this product or service? Your goal needs to be, on a consistent basis, how to do better than the other guy. You cannot do that if you do not know who they are.
You should also consider:
What are your competitors offering that you are not?
What makes your product better – what is the selling point for it?
How do your prices compare to their pricing?
What type of marketing strategies are they using to reach their customers?
What are their strengths and weaknesses?
6. Who Will Help You Succeed?
Before you get ready to jump out there to launch your product, factor in who you need by your side to make that possible. You probably need to have an advisor who can help with some insights into establishing your business, such as handling market research. You also need companies that can help you build your business's image.
Look further. You may need an attorney to help you develop contracts for your customers and vendors. You may also have to identify all of the vendors you need to work with to produce your product. Consider who will work with you – the number of staff you need in various positions and also the skillset they bring to the table to support your success.
You likely need a tax professional who can handle the financial aspects of reporting your sales. In some situations, you also want to talk to an IT professional who can help you set up the proper technology for your company.
It's clear – there is a lot to do before you launch your business. However, taking a few minutes to create some structure and build a business plan now can help you be more educated about the options for your future. Without a doubt, this is an opportunity for you to put your best foot forward.
Learn more from business and read These 3 Legal Mistakes Could Destroy Your Business.