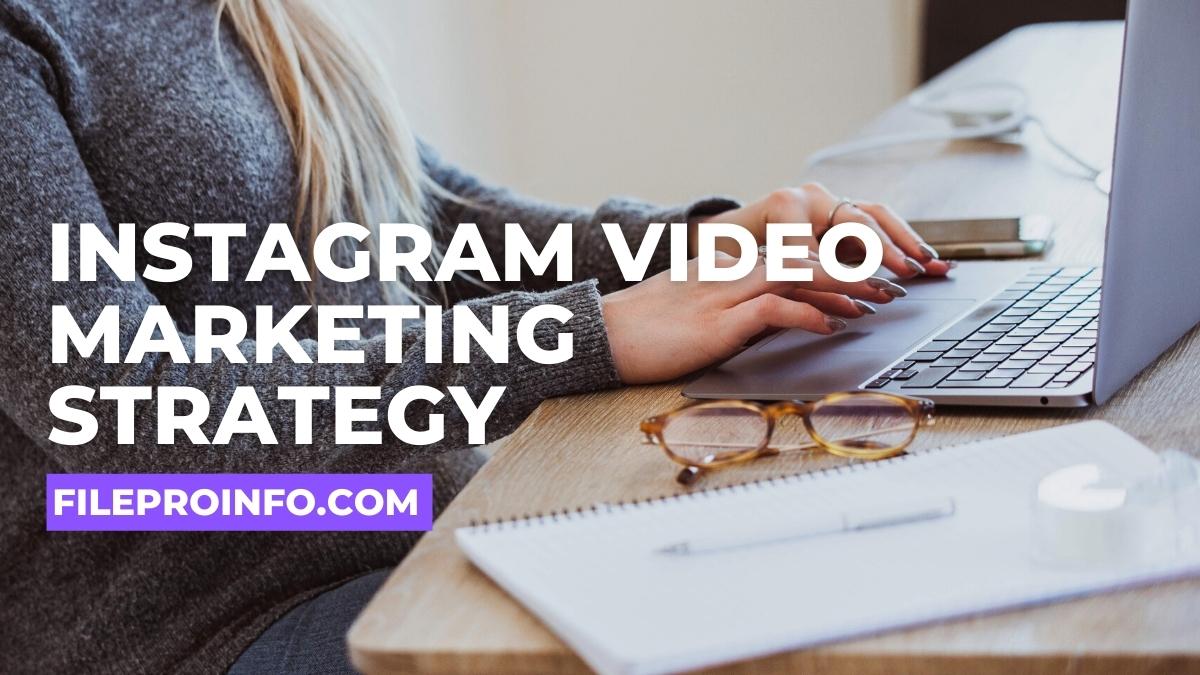 Instagram is where most of us nowadays, especially the youth, spend our time. It has evolved into a suitable location for anyone to watch any content related to entertainment, business, promotion, product reviews, and so on. As a result, it has become an important platform for marketers and businesses to promote their products and services to a global audience.
Instagram reels have become the new trend for everything these days. As a result of this, almost everyone has realized that video marketing is essential if they want to expand the reach of their products and services through consumer engagement.
As a result, the question becomes: What is Instagram Video Marketing?
Instagram video marketing, in layman's terms, is the use of video content to generate engagement and sales through social media marketing on Instagram, Facebook, and other platforms. On Instagram, users can post both videos and photos, but videos appear to generate more engagement than photos or posts. Increasing the number of videos you publish will also help you stand out in the feeds of people all over the world.
The various types of Instagram videos
In-feed Instagram Videos
They're just ordinary Instagram videos that show up in your feed. They work in a similar way to the videos you see on Facebook and Twitter, ranking videos based on their level of engagement. The videos and other forms of content that people engage with the most can be liked, saved, and commented on.
Videos in the Instagram feed can last up to 60 seconds and are set to autoplay by default without sound. You can use thumbnails to increase views and give these videos a brief title, which will pique people's interest and encourage them to click and watch them. You should also include subtitles and tags to make it easier for others to locate your content. These actions will also help you increase the number of visitors to your website and sales of your products.
Instagram Video Ads
Instagram video ads are the best option if you want to get quick results and scale up your Instagram marketing. You can use this to post both in-feed video ads and story ads. Video ads can generate more clicks and conversions than any other type of ad if used correctly.
These advertisements can last up to 120 seconds. Using various available tools, you can create videos based on your goal and brand vision. You can make videos that are less than 120 seconds long, as shorter videos have been shown to produce better results. You should use simple language so that people can understand what you're offering or what you're trying to communicate with the video.
Instagram Video Stories
The majority of Instagram users use stories on a daily basis. They're becoming increasingly popular as a means of communication. These stories will be available for 24 hours before being moved to the archive section. If you want people to see that story every time they visit your Instagram page, you can make it a highlight. Also, remember to include stickers in your stories to make them more appealing. You can also use hashtags that are relevant to your content in your Instagram stories. Hashtags aid in the ranking of your story and increase engagement. You can also include links in your Instagram stories that lead to your website.
How to do and tutorials
You must nurture your followers before you can be serious about promoting any product to them. This will help you form a bond with them, and they will be more likely to buy your product as a result. As a result, these types of videos are recommended for growing your Instagram following. As a result, make relevant videos and tutorials for your followers and incorporate them into your stories and highlights.
Time-sensitive offers and Special announcement videos
For time-sensitive offers, Instagram stories are ideal. As with the previous example, you can easily create a story that demonstrates what your product or service is offering and for how long in only 24 hours. Remember to include a link to the sales page, as well as the swipe-up sticker. If you have something important to say, you should make a video about it and post it on your story or on social media. If your announcement is important to your customers in the long run, you can easily turn an old story into a highlight that they can watch whenever they want.
Live videos
The majority of people spend their time watching live videos. As a result, you can take advantage of this opportunity by making it a habit to broadcast a live video every day. By directly interacting with potential customers in these live videos, you can increase customer engagement or promote your products and services.
Animated Explainer Videos
Businesses use short videos to tell customers about their products and services by delivering a message that is both engaging and simple in just a few seconds. They are a powerful inbound marketing tool that creatively portrays a brand as a complete solution in front of its target audience. These types of videos help businesses market themselves, raise brand awareness, improve SEO rankings, drive more traffic, and increase their return on investment.
Benefits of using Instagram video marketing strategy 
Diversify marketing strategy
Photographs, as we all know, are an excellent way to promote the majority of brands on Instagram. If you run an e-commerce business, on the other hand, using videos to convey additional information about your products and services becomes critical. You'll be able to broaden the scope of your marketing strategy as a result.
Using real-time marketing
You can collect a lot of data from Instagram's insights page and link it to a variety of marketing analysis tools from third-party vendors. This allows you to gather information and improve your product marketing. Using questions and poll stickers in your stories can also help you get direct responses from your followers.
Increasing engagement
As we've seen in the preceding paragraphs, Instagram videos are extremely effective at increasing engagement with your followers, who may or may not be potential buyers or clients for your company.
Create brand presence
Using the right Instagram video marketing strategies will undoubtedly help you establish a strong brand presence among your target audience. As a result, when people are ready to buy, they will choose you over your competitors.
Increase sales opportunities
With the help of Instagram videos, you can increase engagement and generate more sales for your products and services. People are more likely to buy after watching a video on Instagram, according to studies.
Tips for creating engaging videos
Capture audiences curiosity
People are always curious about what, why, when, how, and where things happen. If you want to create engaging video content, it's a good idea to keep this urge in mind. This can be accomplished by making the beginning of the video very interesting in order to make a good first impression on the viewer. A captivating start will entice viewers to watch the rest of the video.
Know the target audience
To create relatable content based on the product or service you are offering, you must first understand your target audience. You should concentrate on the type of audience it will appeal to. If your product is related to chocolate or a toy, for example, you must create video content that will appeal to a growing number of children, resulting in increased sales.
Use eye-catching visuals
People will click on your video if you use eye-catching visuals. Text, narration, and animation can all be used to create dynamic and engaging video content. Explainer videos, tutorials, testimonials, interviews, live streams, product videos, vlogs, and other types of marketing videos are popular nowadays.
Storytelling
When it comes to creating engaging video content, the most effective team is storytelling. You can follow one or multiple plotlines and consider a wide range of story styles, such as comedy, tragedy, etc., as well as various emotions when creating a video storyline. This will assist you in reaching out to a large audience.
Make persuasive content
Facts and establishing your company's credibility can help you make your content more persuasive. But, before you do that, double-check your references, back up claims, and so on. This will assist you in projecting a specific image of your brand while also increasing your credibility. You can also collaborate with well-known figures to create more engaging video content.
Also, try to create video content that elicits an emotional reaction from the audience. This will help your content stand out from the crowd and increase audience participation. Videos that are emotionally appealing and resonate with viewers have a greater impact on the audience.
Create authentic content
Being genuine and transparent in your video content will help your audience identify with your brand or product, increasing the likelihood of them becoming actual customers. Rather than making it sound like a sales pitch, concentrate on showing them who your brand is and what it stands for. To make the video more genuine and authentic, you can also explain the process that led to the creation of the product. This will help to persuade your potential buyers.
Create relatable content
Your video must be relatable to your target audience to ensure that it resonates with them and generates engagement. Your content must be able to provide them with an experience that exceeds their expectations. Using current societal themes, sharing your journey, discussing any current issue, and so on are some ways to make your brand more relatable.
Conclusion
Instagram video marketing strategies are critical for raising brand awareness, increasing audience engagement, and converting potential buyers into paying customers. To target the right audience and increase brand awareness, focus on making your content eye-catching, persuasive, authentic, and relatable. You can also use the tips in this article to create more engaging video content and achieve your goals.
Learn more from Marketing and read Instagram Marketing in 8 Simple Steps.