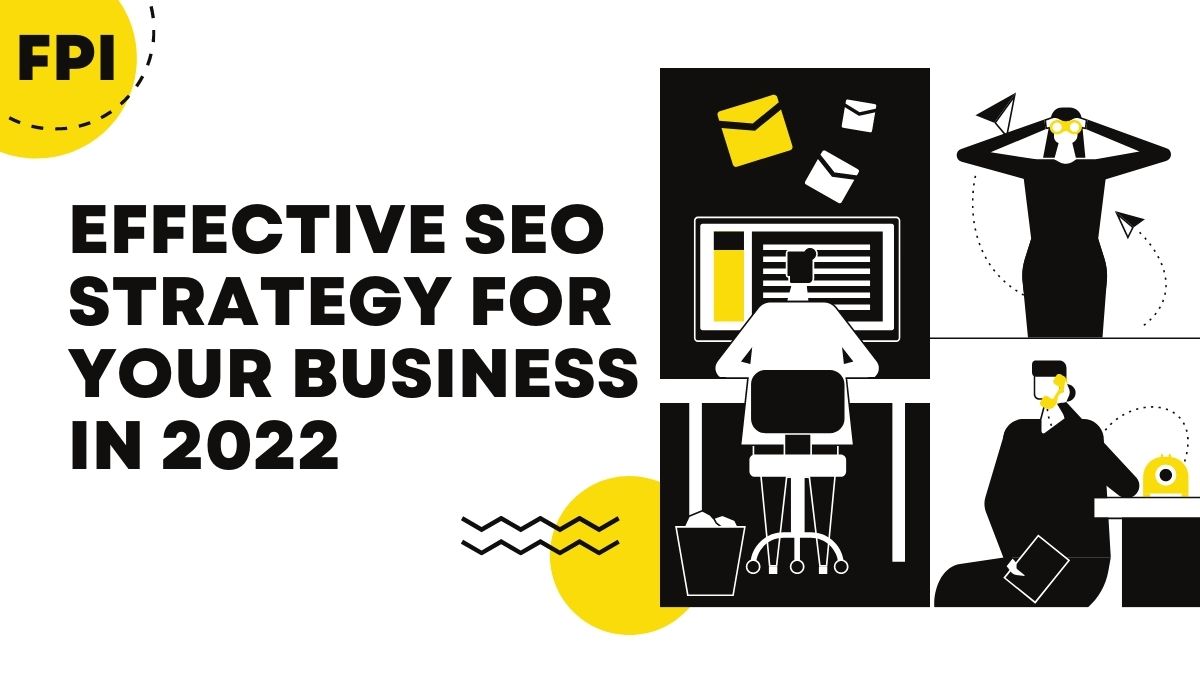 We all want our website to appear at the top of Google search results. Fortunately, it is possible, but not easy.
Yes, you can run a paid search campaign to drive more paid traffic to your website. However, it is not eternal. What works, in the long run, is a well-executed SEO strategy. It has the potential to significantly increase your online presence and incoming traffic.
So, if you aren't already utilizing SEO, you are making a huge mistake. But it's better late than never, right? Here's a 5-point SEO strategy to help you improve your online presence and rank higher in organic search results.
Conduct a quick website audit
Before we begin, you should be aware of where your website stands in terms of SEO. A quick website audit will provide you with a thorough analysis of your website, allowing you to better understand where to begin. For a complete list of tools to use and common issues to be aware of, see our full guide on how to conduct a website audit.
If you need a quick starting point for your audit, you might want to look into RankWatch. It provides a free website analyzer that inspects your website and generates a detailed SEO report in minutes. It assists you in identifying onsite SEO issues that may be preventing you from achieving top SERP positions. When you address these issues, you will see an improvement in your organic search rankings and website traffic.
If your website is free of current or even minor errors, you can easily begin your 5-point SEO strategy. So, without further ado, let's get started.
1. Select and use keywords wisely.
Keywords are the foundation of SEO. To ensure that you're targeting the right keywords, you should conduct extensive keyword research.
You can accomplish this in one of two ways:
Making Use of Google Search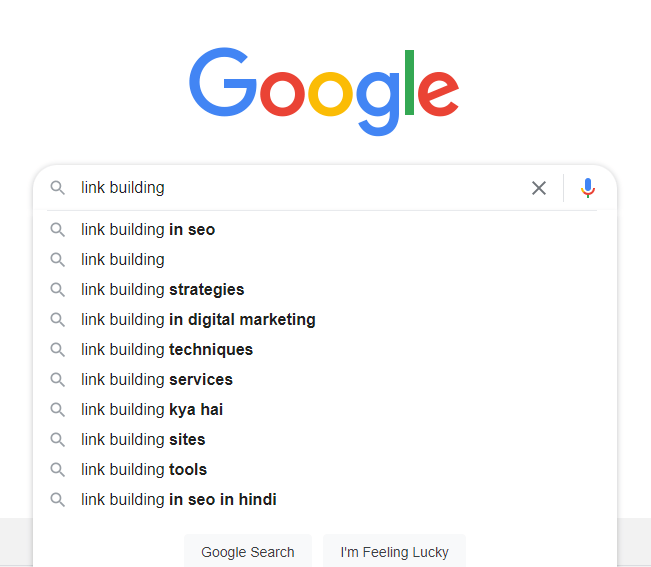 When you type a few words of the search query you want to target for your website into the search bar, a list of suggestions will appear. This is known as Google Autocomplete, and the suggestions are simply keywords.
Aside from that, more keyword ideas can be found at the bottom of the search results page in the 'Related Searches' section.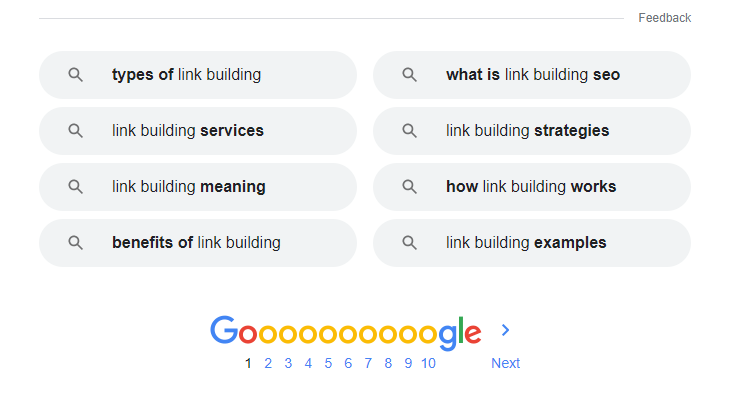 From here, you can create a list of relevant keywords for your website and start using them in your content. (These keywords will perform well because they come from Google, indicating that people are searching for them.)
While you may want to start with high-volume short-tail keywords, we recommend that you start with long-tail keywords, which have a lower difficulty. It is easier to rank for them, and ranking for several variations can drive a significant amount of organic traffic to your site.
Furthermore, because they are using more specific queries, people who search long-tail keywords are more likely to convert into customers. However, it is still beneficial to list the more difficult short-tail keywords. When you start ranking for long-tail keywords, you have a better chance of eventually ranking for short-tail variations as well. As a result, when you're brainstorming keywords, make sure you have a good mix of the long tail and short tail keywords.
Using SEO software
Another method for obtaining keywords is to use SEO tools. There are numerous SEO tools available on the internet, and you can pick and choose from the treasure chest.
However, I recommend that you use the free Rankwatch Keyword Research Tool.
Simply enter the target keyword, and it will return a list of keyword suggestions. It will also display their search volume, CPC, and difficulty, all of which are important factors to consider when choosing keywords.
You can make keyword research easier by simply selecting relevant keywords from the suggestions for your website. However, keywords alone will not suffice. You must improve your content.
2. Make content more search-intent-friendly
The second most important component of any SEO strategy is content. Including keywords is only the beginning; it's also critical to consider the user's needs when putting together content and pages. You may have listed what they're looking for, but if they don't find anything useful, they'll leave your page.
If you're wondering "How to Optimize Content for Search Intent," this is the place to be. It's quite simple.
Just keep two things in mind:
Produce high-quality material
Satisfy the searcher's desire
Create high-quality material
When I say "quality content," I don't mean that you have to write an interesting fictional piece to capture the attention of readers. Instead, you must provide your readers with exactly what they are looking for.
For example, suppose your reader searches Google for "best dentist near me."
They would be looking for the following details about a good dentist:
The clinic's location
The fees levied
The timetables
Dental treatments that are available
The reviews, and so on.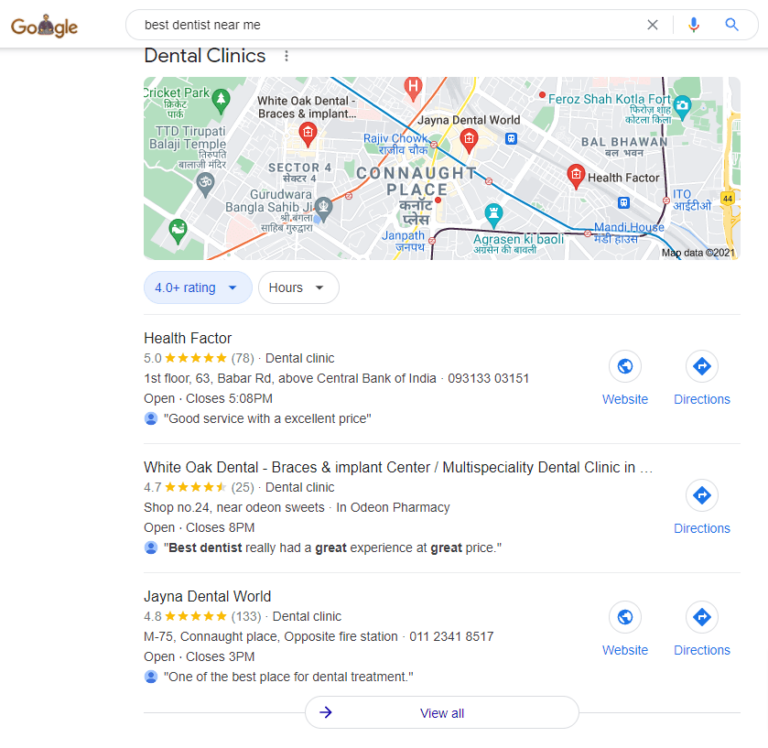 If you want to target this keyword, you must include information about all of the above-mentioned pointers in your content. That would elevate it to a higher level of quality!
Creating high-quality content accomplishes two goals:
For starters, more people will visit your website. Furthermore, most SEO experts regard CTR (Click Through Rate) as a ranking factor.
Second, it will reduce the bounce rate while increasing the dwell time.
When you begin writing, make certain that you satisfy the search intent.
Satisfy the searcher's desire
The what and why of a search query are defined as search intent. It assists us in comprehending the purpose or goal of a particular search.
For example, a person might look up the "price of an iPhone X." You can probably guess that the person intends or wishes to buy an iPhone X. Similarly, the search 'Facebook login page' indicates that the person wishes to visit the Facebook login page.
When creating content, keep this intent in mind and answer the target query in mind. If your content does not match the intent, users may not pay attention to it in the long run.
In general, there are four kinds of search intent:
Users want to learn more about something.
Users want to know the website's address.
Transactional: The user wishes to purchase something.
Users want to compare and select options in a commercial setting.
You can easily group your target keywords into these search intent groups and write content to match. It will rank higher in the SERPs and improve your online presence if it satisfies the search intent.
3. Retain users by providing an excellent user experience
The design of your website is important not only for users but also for organic search rankings.
If your site does not provide a good user experience, visitors will most likely go to one of your competitors. Furthermore, search engines will regard it as a negative signal and will devalue your site in the SERPs. Nobody, not even me, would want that.
Retaining users on your site by providing a great user experience is therefore essential.
The following are the three most important factors that contribute to a positive user experience:
Mobile-friendliness
Smartphones and tablets are used by 64% of Americans to access the internet.
As a result, they visit websites on the go and have smaller screen sizes. They will leave your website if they cannot easily access it on their mobile devices.
Aside from that, Google prioritizes mobile-friendly sites in its search results.
As a result, you should make your website mobile-friendly.
The best way to accomplish this is to use a responsive design or theme for your website. It automatically adjusts to different screen sizes and resolutions, delivering the desired results.
Increased page loading speed
Nobody enjoys being slowed down, especially when using the internet. Here are some numbers to back it up:
If the loading time exceeds 4 seconds, one out of every four visitors closes the tab.
If a website's response time is too slow, 46 percent of users will not return.
A single second delay reduces customer satisfaction by 16%.
As a result, optimizing your website for speed and performance is essential.

You can speed up page loading by compressing images and videos, minifying CSS and HTML files, implementing lazy loading, and so on. Check out our guide on Google Core Web Vitals for a complete picture of everything that can affect your website's speed and performance.
Simple layout and navigation
The navigation of your site is not the place for a long list of alternatives, click-bait games, or dead ends that leave the user perplexed.
It should make it easier for users to navigate your site and find the pages they are looking for.
The same is true for the design. You should place the right elements on your website in the right places so that users can easily find them.

You can provide your visitors with an easy layout and navigation by adding a home icon to the header, using a strategic hamburger menu, using single-page scrolling, and so on.
Once your site is up and running, you must perfect your on-page SEO.
4. Improve your on-page SEO
When you want your website to rank for specific terms in search engines, you must use on-page SEO.
It consists of several on-page SEO elements, such as title tag, meta description, alt text, and so on, that help search bots understand what a web page is about.
When crawlers understand the page's main topic, they can easily rank it for relevant search queries. So the question is, how did you do it?
Keyword placement is the first step in the On-Page optimization process.
The following are the best places to include keywords on your page:
Your blog post's or landing page's first 100 words
Meta descriptions
The URL, title, and headings are all examples of HTML.
The remainder of the content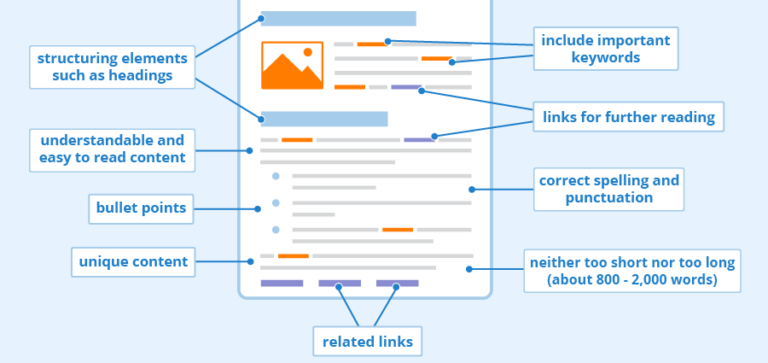 Aside from that, here's what else you need to do to improve your On-Page SEO:
In less than 160 characters, create compelling meta descriptions.
Use H1, H2, H3, and so on to structure your content. Make use of internal links (including related links at the end)
Make short, descriptive URLs.
Fill in the blanks with descriptive alt text for your images.
Maintain a content length of 800-2000 words.
Building links is the last thing you want to think about.
5. Pursue targeted link building
Backlinks are extremely effective at increasing your website's search rankings and, as a result, its online visibility.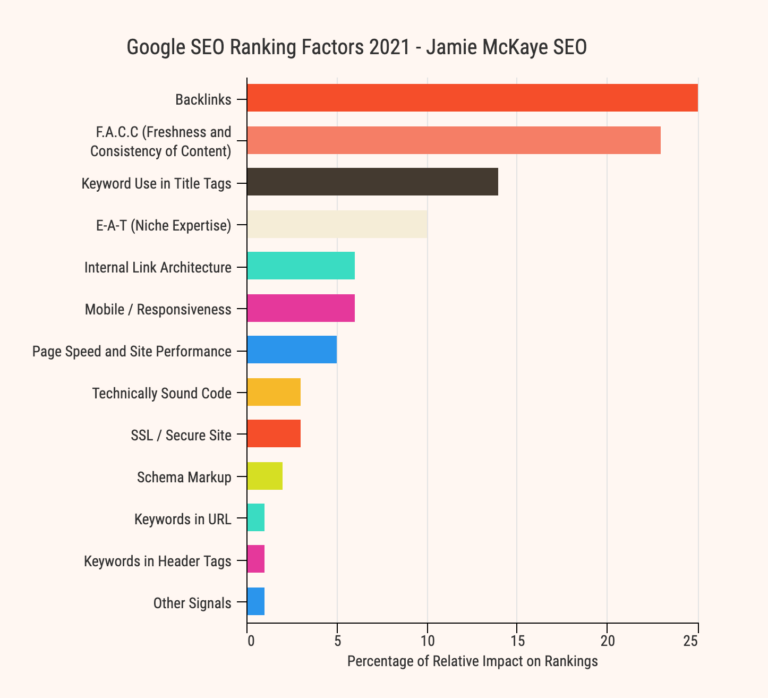 As a result, link-building has been at the heart of SEO for many years and continues to be so today. However, getting backlinks from any site you come across may not be beneficial. Targeted link-building is the way to go if you want to achieve the desired results.
It is the practice of contacting relevant websites and attempting to obtain strategic backlinks from them. In general, it is about increasing the number of links to specific URLs or web pages on your website to boost their search rankings.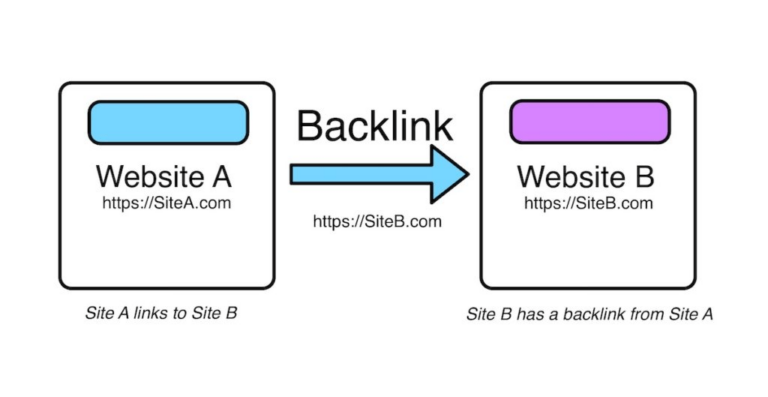 Here are some pointers to get you started:
1. Investigate your competitors' backlink profile
Using an SEO tool, you can quickly discover all of the domains that link to your competitors. Make a list of them and sort them according to their importance.
2. Look for email addresses that are associated with those domains
Many online email extractor tools, such as Hunter, Snovio, and others, will assist you in obtaining the emails associated with a domain. Simply bulk uploads the domains you want to contact and find their contact information.
3. Contact them with your proposal for link building
You can earn links in a variety of ways, such as by contributing a guest post, providing a backlink in exchange, and so on. It's your choice; simply make a proposal that no one can refuse. Approach the domains with it (via email) and wait for responses.
4. Obtain backlinks to your website
When domains agree to give you backlinks, keep your word. If you asked them to contribute a guest post, send them a high-quality piece of content that includes your links. Alternatively, if it was a link exchange, add their link to your blog and follow up.
You can build a lot of backlinks to your site this way. You can use RankWatch's free backlink checker tool to monitor your link-building progress. However, keep in mind that you should build links to your site's most important pages first, and then target the most relevant websites. It will help you progress more quickly.
Everything good takes time
SEO also plays a role. Measurable results can take anywhere from 3 to 6 months.
With consistent efforts and this 5-point SEO strategy in place, you will undoubtedly notice a difference.
Keep an eye on Google's algorithm updates for the best results and adjust your SEO strategy accordingly.
Need help with our free SEO tools? Try our free Keyword Position, Keyword Position, Google Malware Checker.
Learn more from Business and read Social Media Marketing Strategy for New Businesses.