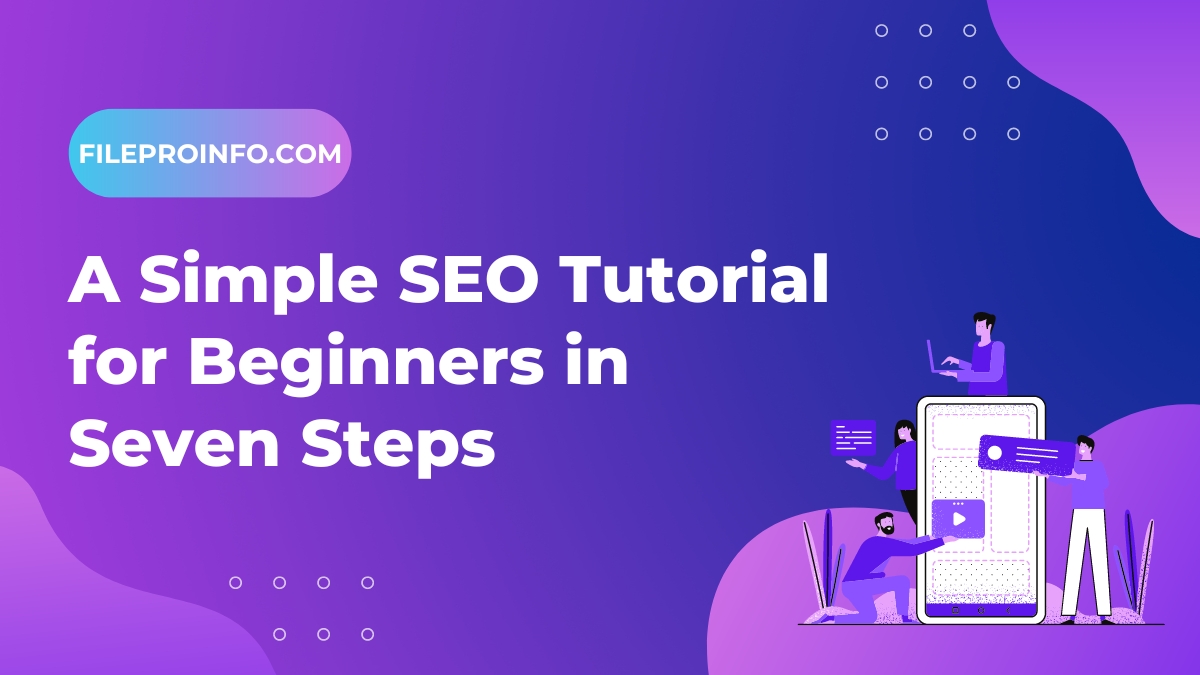 Search Engine Optimization can seem like a daunting task, but it doesn't have to be. This SEO tutorial will take you through the basics of SEO in seven easy steps. You'll learn what SEO is, why it's important, and how to do it yourself. By the end of this tutorial, you'll have a solid understanding of how to optimize your website for search engines.
1. Understand what keywords people are searching for
As a business owner, it's important to understand what keywords people are searching for when they're looking for products or services like yours. Luckily, there are plenty of resources and tutorials available to help you learn about SEO and how to choose the right keywords for your business.
One great resource is Moz's Beginner's Guide to SEO. This tutorial covers everything from what search engine optimization is to how to select keywords that will help your website rank higher in search engine results pages.
Another helpful tool is Google AdWords' Keyword Planner. This tool allows you to research different keywords and see how often they're being searched for on Google. You can also use the Keyword Planner to get ideas for new keywords that you might want to target.
2. Create content that searchers want to see
SEO is a short form for "Search engine optimization". It is a long-term marketing strategy employed to improve a website's visibility and organic search results in google and other global search engines.
When done correctly, SEO can be a powerful tool to help small businesses grow online by driving targeted traffic to their websites. However, with so many different factors that go into ranking a website, it can be difficult to know where to start.
This SEO tutorial for beginners will teach you the basics of how search engines work and what you can do to make your website more visible in global search results. By the end of this tutorial, you will have a better understanding of how to optimize your website for higher rankings.
3. Get more clicks with compelling titles
Compelling titles are key to getting more clicks on your articles.
A good title will make people want to read your article, and a great title will make them want to share it with others.
Here are some tips for creating compelling titles that will help you get more traffic and engagement on your articles:
Use keyword research to find the right keywords to include in your title.
Make your title interesting and attention-grabbing.
Keep your titles short and to the point.
Use numbers or lists in your titles to make them easy to scan.
4. Provide a good user experience (UX)
An important part of any website is providing a good user experience or UX. This can be tricky to achieve, but it's important to consider if you want your site to be successful. Here are some tips on how to provide a good UX for your website visitors.
First and foremost, think about what your users want and need from your site. What are their goals? What kind of information are they looking for? Once you know this, you can design your site accordingly.
Make sure that your site is easy to navigate and that all the information is easy to find. Use clear and concise text so that users can quickly find what they're looking for. And don't forget about mobile users! More and more people are using their phones and tablets to access the internet, so make sure your site is responsive and looks good on all devices.
5. Add internal links
If you're new to SEO, you might be wondering how internal linking can help your website rank higher in search engine results pages (SERPs). Luckily, it's not as complicated as it sounds. In this SEO tutorial for beginners, we'll show you how adding internal links to your content can improve your website's SEO.
When it comes to ranking higher in SERPs, backlinks are not the only factor that search engines take into account. The number of internal links on a page is also a sign of its quality and relevance. That's because when a website has more internal links, it shows that its content is well-researched and well-organized. This helps search engines understand what your website is about and determines whether it's a relevant result for users' queries.
6. Get high-quality backlinks
SEO is the process of optimizing a website to rank higher in search engine results pages. One of the most important ranking factors for SEO is backlinks. A backlink is a link from another website to your website.
Backlinks are important for SEO because they show search engines that your website is popular and relevant. The more backlinks you have, the higher your website will rank in search engine results pages.
If you're just starting with SEO, you may be wondering how you can get high-quality backlinks. Here are some tips:
Create great content that people will want to link to.
Reach out to other websites and ask them to link to your website.
Promote your content on social media and other websites.
7. Ensure your website has a good technical foundation
SEO is short for "search engine optimization." It is a long-term, sustainable marketing strategy that helps you attract organic traffic from Google and other search engines.
A good technical foundation is essential for any website that wants to rank in Google and other search engines. That foundation includes proper indexing, fast loading speeds, mobile-friendliness, and more.
In this SEO tutorial for beginners, we'll show you how to build a strong technical foundation for your website so that you can start ranking higher in search results.