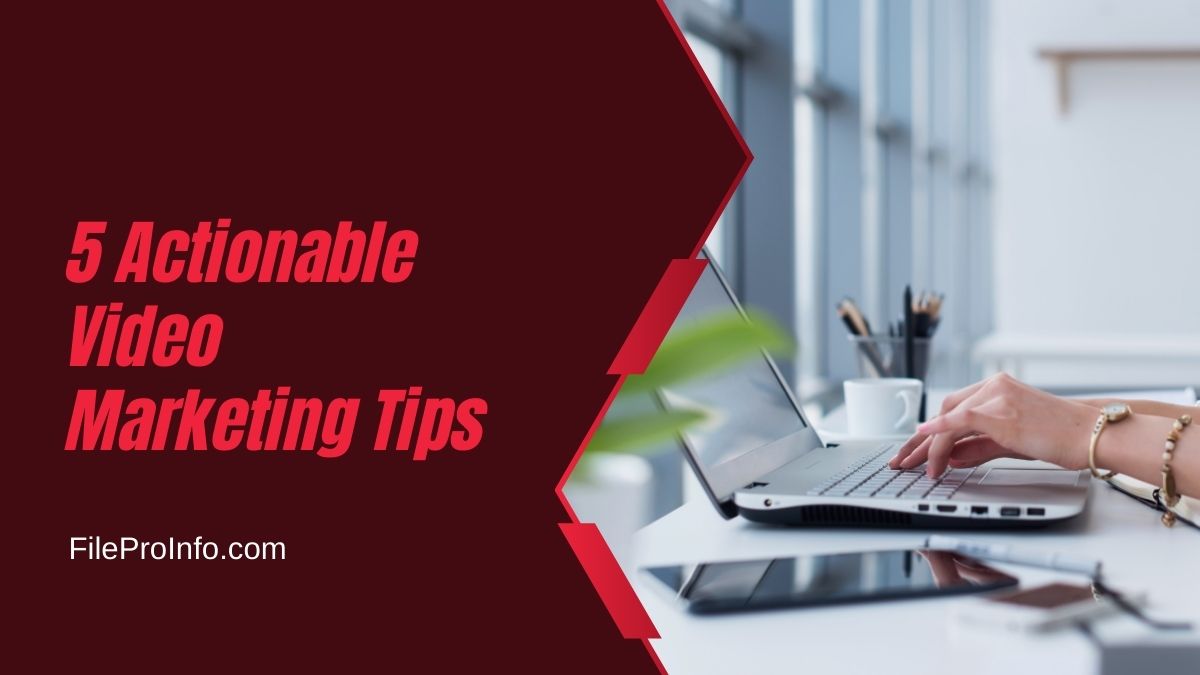 In today's fast-paced world, people have short attention spans. Content overload has made it impossible for people to sit down and read a lengthy piece. It's much more difficult to connect with people if you have to contend with a packed feed of humorous and entertaining videos.
In addition to being simple to digest, videos are also enjoyable to watch and people adore them. This is why videos are so vital for your company. Your website traffic and user engagement will skyrocket if you include videos in your marketing strategy. In fact, by 2021, videos will account for 80 percent of all internet traffic.
In the past, it was thought that only large corporations could produce high-quality, engaging marketing films; however, this is no longer the case. You, too, have the ability to produce high-quality films that social media and the web will devour. The only equipment you'll need is either a smartphone or a computer. You won't even need a cameraman.
With video, you can improve traffic, enhance engagement, and increase conversions for your brand. Consider these five video marketing ideas for small companies.
5 Impactful Video Marketing Tips for Boosting SEO
Starting a digital marketing plan for a small company might be intimidating. That's why we enlisted the help of our friends and colleagues to help you get started. Set your objectives, develop quality content for your target audience, and remain loyal to your brand while opening a new marketing channel.
It's also important to evaluate your campaign's outcomes to learn what worked and what didn't for the next time. So without further ado, let's get started with 5 impactful video marketing tips for boosting your SEO and garnering increased visibility. Let's get started!
1. Post Videos on Landing Pages
Did you know that in addition to increasing traffic and engagement, videos may also boost your business's bottom line? An 80 percent boost in conversions is possible when you include a video on your landing page. It's easy for visitors to your landing page to receive the message you're attempting to get over by using videos on your presentation. In addition, it might boost the amount of time that visitors spend on your website.
For a successful landing page, the video should have a high-quality thumbnail, a prominent position above the fold, as well as be embedded in a stand-alone player like YouTube or Vimeo. Customers are more likely to make a purchase after seeing a video on your landing page that explains the value of your business, showcases client testimonials, or demonstrates how your goods or services function.
2. Use Live Videos for Audience Interaction
Speaking directly to your audience is the only way to establish a connection with them. Your audience and consumers may now engage at any time thanks to the growth of live streaming. When you go live on Facebook, Instagram, or YouTube, you'll get a ton of attention and new customers. All these platforms allow video streaming but for video references, people prefer YouTube most of the time. YouTube automation tools have been a great help for YouTube users for making things easier and smooth.
A scheduled Q&A session via live video is a terrific way to take advantage of this technology. It's important to let your audience know when you're going live so they may participate and ask questions right then and then! Live Q&A sessions are a terrific way to make your audience feel like they're a part of something unique and to promote yourself as an authority in your field.
3. Shoot & Publish Teaser Videos
Many businesses experience periods of stagnation during which they believe their target audience has grown tired of or has forgotten about them. You can pique your audience's curiosity and keep them tuned in by establishing a sense of mystery and intrigue surrounding your organization. Producing teaser trailers for upcoming events or new products can keep your audience interested and on the edge of their seats.
Even a three-second teaser video may be helpful. Consider making a short movie using an online video editor showcasing a new dish on your restaurant's menu if you own the establishment. You might even run a mini-contest with your teaser video and ask your viewers to guess what the object is, in order to increase viewer participation.
4. Deploy Screen Recorded Tutorials
Your consumers will appreciate the opportunity to learn from you in a unique and exciting manner if you record your computer screen for lessons. By giving your customers video lessons on how to use your product, you may increase user engagement and help them remember more knowledge.
Recording a demo of your program, demonstrating certain capabilities, or filming your screen for an online course are all ways you may encourage visitors to learn more. Many free and commercial screen-capture programs are accessible on the Internet.
5. Create Company Vlogs
Consider using video diaries in your marketing strategy. Regular vlogs where you communicate directly to customers or prospects about what your business has been up to, what it is working on now, and what it has planned for the future may be done on a monthly or weekly basis if that is more convenient for you.
In today's world, it's hard to build a human connection with customers, but these movies provide just that. They offer essential information, show your company's culture, and are very cost-effective to make.
So, identify a high-ranking employee or someone with a terrific screen presence and have them perform them on a regular basis. You won't believe how much they can help a tiny company.
Wrapping Up
Once you've come up with a few innovative video marketing ideas for your company, it's time to start shooting videos that compel your target audience to press the 'play' button. Remember to distribute your films across numerous platforms so that you may get a larger fan base and increase your revenue.
Learn more from the business.