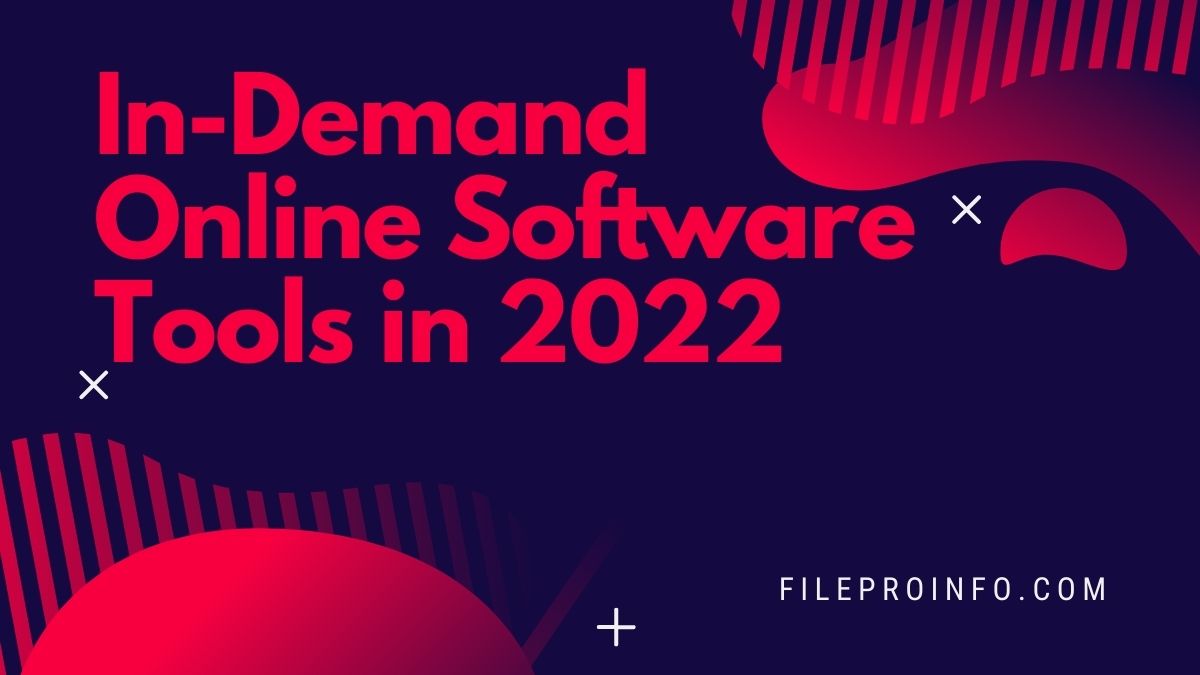 New Software Tools are getting introduced frequently. Softwares are meant to meet the requirements of a business or an individual. In short, they can also fill the gaps to streamline a process. New software is being launched every day with easy access to the internet and technology for everyone. Currently, you may read this article by simultaneously checking any of the software tools you use for your businesses or even for your well-being. We have almost reached the point that there is software for every human need. Read this article to know the current in-demand software tools playing an integral role in many people's lives.
TikTok:
TikTok is currently a leading entertainment software tool found in almost everyone's phone. Nowadays, due to the Pandemic and other day-to-day personal obligations, the majority are dipping into depression at a different pace. Applications like TikTok help them climb out of their mental stress and offer peace of mind to a certain extent. Currently, TikTok videos are gaining staggering reach over the videos from other social applications. If you have any doubts about what is the most viewed tiktok video, google and find it out because it is one of the hilarious videos you can find on the internet. The driving factor for many people towards TikTok is the availability of funny videos on this application. TikTok is currently one of the Influencer Marketing hubs. This has become possible because many Influencers on this application create funny content. It is one of the crucial factors that drove the reach of this application. Today, TikTok is a renowned social application with more than one billion monthly active users. The engaging content provided by this social platform will make it much more engaging and generate many leads.
Freshworks CRM:
The nitty-gritty for a business is generating leads. Freshworks CRM is a comprehensive tool that aids in various aspects ranging from generating leads to nurturing them to turning them into customers. Hence, it is suggested to offer critical importance for the Freshworks CRM. Businesses of all sorts can use this software tool. The AI-powered tool helps maintain customer relationships, spot the pain points, and help companies to address customer issues. The tool is an all-in-one spot for built-in chat, phone calls, and emails. This tool works efficiently for B2B companies in generating leads.
Many companies have started to utilize Freshworks CRM, as it is providing better results to the companies using it at present. Recently, Freshworks was listed on Nasdaq. Freshworks have achieved this milestone within ten years since its launch. So, if you are a marketer, then give priority to this application without any second thought. Currently, many companies have started to use Freshworks products. Hence, if you are one among a B2B firm, give this software a try as it also provides a trial.
Buffer:
Buffer is one of the software tools that can be utilized for social media marketing purposes. It can also help you plan content, schedule them, and analyze your content's performance. The tool also provides relevant ideas for content creation. In addition, you can manage all your social platforms in this single software. Currently, businesses use various social applications to promote them. Buffer, an all-in-one tool, can do promotions across different social platforms.
Trello:
Trello is one of the effective tools for scheduling tasks. The premium tool aids you in creating multiple dashboards where you can create labels, bulletins, and checklists. You can also assign those dashboards as preferred by you. You can also set reminders on this application. Currently, Trello is the commonly sought-after application to plan your tasks. If you are looking to schedule your day-to-day tasks, then Trello is the ideal tool. Both Free and Paid versions are available.
Zoho CRM:
Zoho CRM is one of the practical tools for B2C marketing. Many companies have been using the software as it streamlines the process of lead generation, nurturing, content suggestion, analyzing the content performance, etc. So, it acts as a complete package required for a B2B company. Many companies have been using Zoho CRM at present. Hence, if you want to upscale your B2B business, then provide the critical importance for Zoho CRM. The company was founded by Sridhar Vembu and is one of the top SAAS companies globally.
Currently, many companies have been using the products of Zoho and can earn sustainable leads for a more extended period. Hence, it is an ideal measure to offer critical importance for the Zoho products. It even helps maintain better customer relationships as the tool allows moderate growth brands. It aids in building a robust relationship with the customer by identifying what is expected by them. Hence, it is an excellent measure to provide the possible importance for the Zoho products as they are among the best SAAS products in the town.
Slack:
After the pandemic outbreak, many companies have started to work remotely. Softwares like Slack aided them in streamlining the work by going Live and sharing files directly and instantly. It enables the creation of separate channels for selected members. So, using it can provide a better reach for brands as it could help in keeping the communication intact. Moreover, it also enables real-time interaction with the team members. Hence, such applications have aided to a considerable extent in keeping the team members engaged. After the outbreak of the Pandemic last year, the market value of Slack has also increased substantially. Many companies use it as their primary medium of communication. So, after the pandemic outbreak, Slack is one of the applications that gained immense popularity. Hence, one can provide the critical priority for this application.
Redbooth:
Redbooth is one of the effective project management tools. It helps you to keep an eye on the performance of your colleagues. It gives a detailed graph of how long they have been productive. The tool also provides even granular details about the performance of your team members, which aids you to a great extent. Moreover, it gives a better experience as it simplifies assigning tasks, monitoring them, and other aspects. Hence, it is better to use this application if your team members have been working remotely. Since many countries have been grappling in the 3rd wave, it is ideal for companies to try this software.
Git:
Git is a free and open-source distributed version control system that can easily handle everything from tiny to substantial projects. However, when developers are working on a project, they must make frequent modifications to the code until they reach the final version.
A version control system preserves every change made, allowing others to collaborate, make modifications, and contribute. In addition, you'll also discover a copy of each developer's work's code. Currently, it is one of the in-demand software tools as it breaks down complex items and demystifies everything. Hence, using this tool is an excellent move as it could effortlessly help you understand difficult things.
Wrapping Up:
New tools have been getting introduced frequently. Every software tool is a solution for a problem or a need. Hence, we may have a new software tool with every unique requirement. That is what is happening concerning the software tools we have today. The above are some of the commonly used software tools in the present scenario.
Learn more from software and read Best 5 PDF editor software 2022.