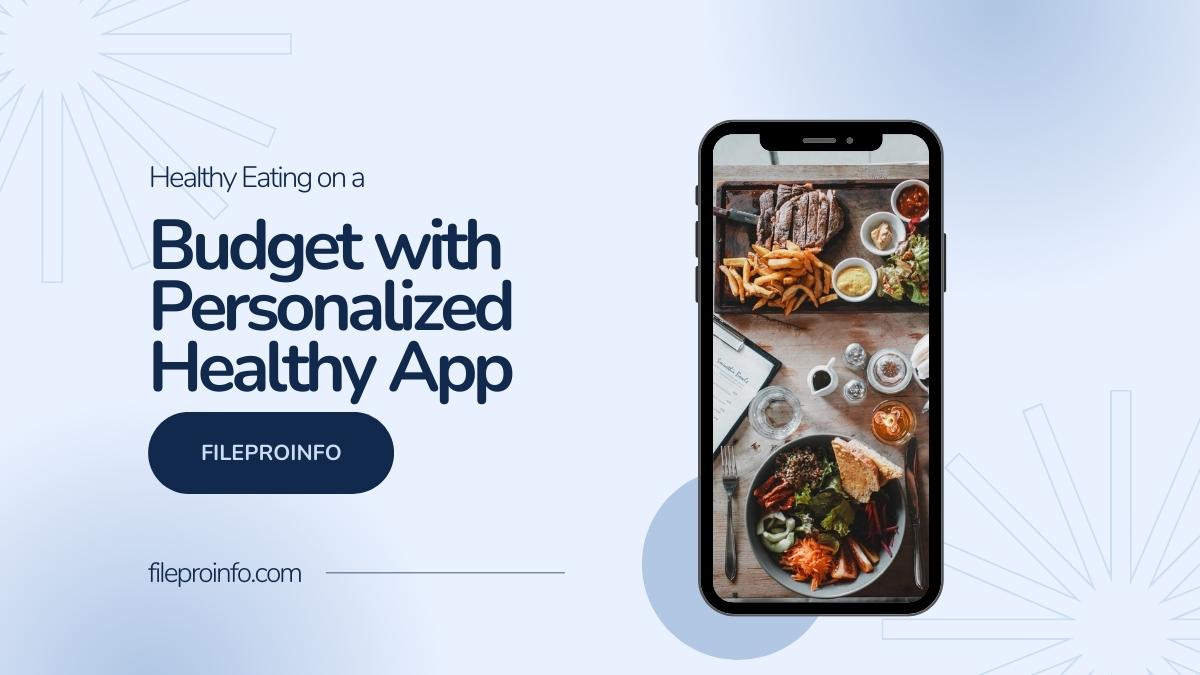 Don't buy the costliest food. Plenty of cheap, nutritious, and delicious foods will make healthy meals. You will be able to minimize waste and save money by planning your meals
Meanwhile, remember that preparing healthy meals is less expensive than you believe. A pricing comparison of healthy and less healthy diets revealed that diets with better ingredients cost just a little extra.
Eating healthily on a budget isn't always easy, but it is doable. You may enjoy healthful meals without breaking the bank with some creative meal planning and budgeting.
Best of all, eating healthy doesn't have to mean deprivation or bland meals. It's about making small changes that will benefit your overall health, such as eating a balanced diet and drinking enough water.
Hydration tracker app makes it easy for you to monitor the number of ounces of water consumed each day and assess your hydration level. Hydration tracker apps are excellent tools for keeping track of your hydration levels, which can help reduce the risk of dehydration and make you healthier.
This post highlights tips to help you eat healthy and nutritious meals without breaking the bank.
Tips for Healthy Eating Without Breaking the Bank
Eat before you go shopping:
You are eating before shopping is essential to avoid being distracted from your shopping. When you go to the grocery store hungry, you may be tempted to purchase things you have not planned for, distorting your budget. Make sure you are not hungry when you set out to go shopping.
Meal planning is essential to achieving healthy eating. Several tips can help you plan your meals properly; with the help of technology, it is even easier. Meal planning is crucial because it will give you a tip for all the items you need to buy when you go shopping.
Take advantage of discounts:
Whether you shop at physical stores or online, there are several discount offers, especially if you're a regular shopper. Research and take advantage of any discount offer to help you save more money while shopping. Most grocery stores have banners displaying discount offers available. If in doubt, you can ask the staff around.
Please stick to your shopping list:
It is easy to get distracted while shopping. This happens with everyone. Therefore, you must be disciplined enough to stick to only things you have planned for. You can choose to purchase priority items first. If money remains to spare, you can channel it to other items.
Cooking at home may be difficult. You can walk into the MC Donald restaurant nearby and purchase food, making it even harder. However, eating out is not sustainable and can be expensive in the long run. Eating out minimizes our freedom to customize our meals. Therefore, if you want to eat healthy meals on a budget, you should always prioritize eating at home.
Replace meats with other varieties of protein:
Meats can be expensive, and it is only wise sometimes to replace them with other types of protein such as eggs, fish, and legumes. Plant-based proteins are more healthy and less expensive than animal sources. If you still desire meat, use it as a culinary basis or as a condiment while focusing on plant proteins like beans or tofu to save money, improve meal quantity, and improve nutrition.
Instead of buying in small quantities, make a budget and buy food in bulk. Prioritize shopping for non-perishables in size. When you purchase food in bulk, you will save more money which you can channel into further enhancing your diet.
We have already mentioned that you should avoid eating out. In addition to that, always thrive on taking your lunch along with you when going out. You can prepare enough breakfast to put the remainder in a pack and take it with you when going out. This is better than eating snacks and junk food for lunch.
Buy groceries from popular brands: When checking the ingredient list, you will note that similar, if not identical, substances are employed. Because less money is spent on marketing and designing attractive food labels, generic brands are often less expensive.
Buy Less Perishable Foods:
If you buy more perishable foods than you can utilize in one week (unless you plan to freeze them), you risk food deterioration and waste. Learn how to store fruit for a longer shelf life properly, and be wary of perishable commodities like fully prepared packaged salad greens, mushrooms, berries, pears, and bananas.
Conclusion
Making healthy choices on a budget is possible, but it's also not always easy. That's why there are different approaches to getting the job done. First, narrow your options by eliminating the things you don't need or can live without. Now that you've got a manageable list of essentials, look for deals and bargains by shopping for sales and coupons. These are great ways to save money when buying fresh, healthy food, but a better option is to grow your fruit, vegetables, and herbs.