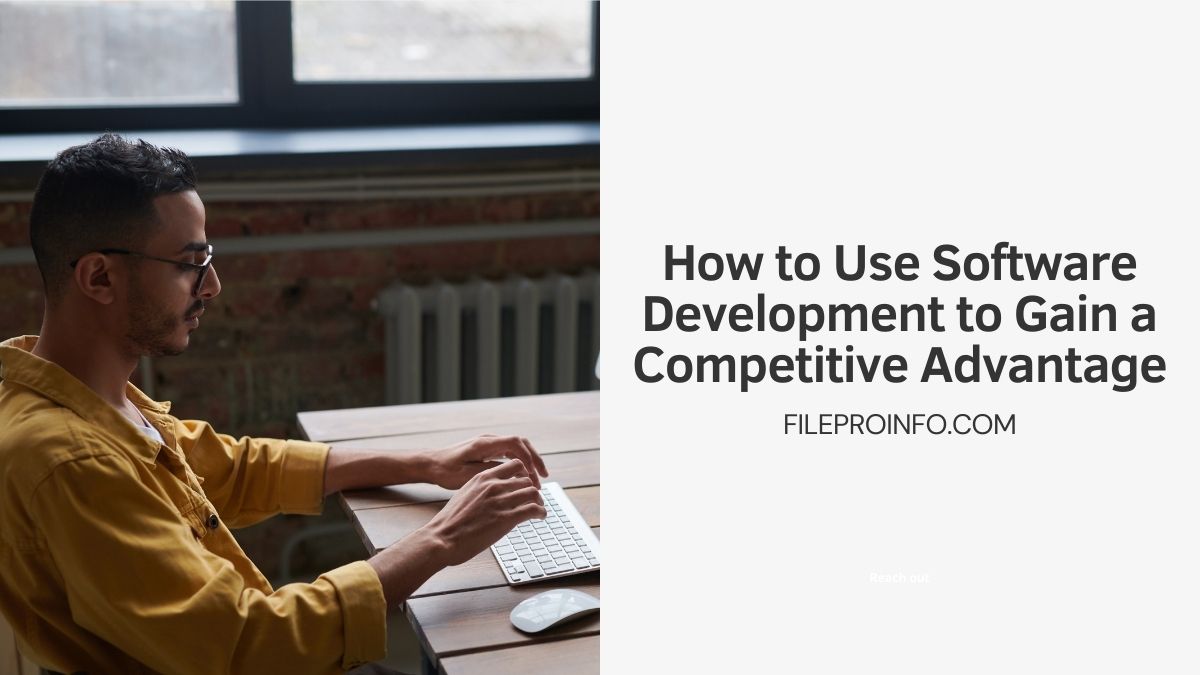 Companies are getting better at ensuring that their software investments help them gain a competitive advantage. The majority of businesses have progressed beyond the "we need an app" stage. Many leaders, on the other hand, are still looking for the next big thing. "We require blockchain," for example, or "Do we have machine learning capabilities?"
If your company's differentiator is innovation, it's understandable to try out different software solutions to boost your competitive advantage. For the most part, however, leading with technology is akin to putting the cart ahead of the horse.
You can't and shouldn't use every new technology. In fact, according to technology consultant Jeffrey Funk, many recent AI solutions aren't as valuable as the hype suggests. You should focus your software development initiatives on impactful targets if you want to enable the best aspects of your operations and increase the value of your company.
Identifying the True Differentiator
Trying to figure out if your software investments reflect your competitive advantage? To begin, you must state your competitive advantage clearly. Do you have a written record of it? Is that how reality is expressed? Would your clients concur?
It doesn't matter if you consider yourself an innovator in one area if your customers disagree
You may appear to them as nothing more than a low-cost scale player. In that case, you must either align your vision with reality or take the steps necessary to alter perceptions.
Understanding the Perceptions of Users
Data can certainly aid in determining where people's opinions fall. The software provides a wealth of data points that aren't available in other business-enabling tools, so you should use them to assess whether your competitive advantages are being realized. Is customer service, for example, a differentiator? When you look at your self-service and support statistics, does that ring true? What about network effects, for example? How many external system hooks do you see per client?
Similarly, you can use some qualitative points to see if your end-users are feeling the way you expect them to. It's a good idea to look at consumer sites and message boards that are relevant to your industry to see what people are saying about customer service and experience. Is it, with the exception of a few outliers, in line with your expectations? Once you've identified your true strengths, you can look into technology initiatives that will help you gain a competitive edge.
Taking Advantage of Software Development
Software development is a significant investment that should not be taken lightly. It can, however, provide numerous advantages to your company. With that in mind, consider the following strategies to ensure that your software facilitates operations and increases the value of your company:
1. Capitalize on your advantages
Due to the nature of the marketplace, competitive advantages dwindle over time. Rivals will imitate you as they pay off for you and improve your position. But it's not all doom and gloom. One way to keep your competitive advantage is to keep innovating on your core competencies. The key to increasing your value is to invest in internal and external-facing software.
Keep in mind that software development does not happen overnight or all at once, so you'll need to be picky about which technologies you invest in.
Companies that use technology to gain a competitive advantage frequently concentrate on a single business area, such as customer service or human resources, that they believe sets them apart from their competitors. Customer relationship management systems, for example, aid in the centralization of communications and the gathering of customer knowledge. These insights can be used to segment your audience, and then you can start delivering more personalized experiences.
Alternatively, you might want to consider investing in HR technology. This department's software can provide insights into your available personnel, which improves the employee experience and aids retention efforts. You can choose an area to support with a software solution once you understand your core strengths.
2. Make it easier for customers to interact with you
Customers are increasingly looking for ways to interact with your company via digital channels. Individuals can expect prompt responses if they have problems or have concerns. But not solely through chatbots and phone menus. People want to connect seamlessly with real workers who can offer personalized assistance if the problem is too complex for automation to handle. Leaving this area of operations to digital touchpoints has no bearing on your customer engagement strategy.
Customer engagement software aids in the facilitation and centralization of customer communications. To enable customer interactions and provide a relevant end-to-end experience, these solutions use a variety of channels and touchpoints. With that solution in place, deploying conversational marketing, creating a relatable social media presence, and sending personalized messages to your target audience becomes much easier.
Look to customer data if you're still unsure what your audience wants and needs
You could also go straight to the source and ask for feedback through surveys or questionnaires. For example, inquire about your customers' opinions of your products and services, as well as any friction points they may be experiencing.
3. Keep an eye on how your employees use their tools
Your employees expect digital tools to improve their productivity and make their day-to-day responsibilities easier, though this should go without saying. Lack of support becomes a workplace detractor if you don't invest in technologies that enable your tasks. Unfortunately, many businesses appear to be struggling in this area, particularly when it comes to communication tools. Only 31% of workers are "extremely satisfied" with the options available to them, according to a Slack study. More importantly, 71% believe that more tools will be developed in the future.
Make a list of your current advantages to avoid a similar situation. Then, develop a technology strategy to extend those benefits into the future. Consider the user experience as well if you're going the software development route.
Workflow software should always be tailored to the needs of your team, rather than simply checking a box for operations.
Otherwise, the competitive advantage will be lost, and the software solution may be abandoned in favor of homegrown solutions.
4. Don't Try to Recreate the Wheel
Nobody expected you to invent a new word processor. Similarly, unless it's integrated with a suite of other tools and meets people where they work, you shouldn't consider developing a new internal instant messenger.
Consider what you can buy now versus what you can build later
Examine what you can do with commercial off-the-shelf solutions to meet your business's needs. Although off-the-shelf software is less agile, it can be a quick fix for today's problems. You can look into custom software options if your needs change.
Although the world is becoming increasingly digital, you should not invest in technology just for the sake of it. Instead, you should focus on software development projects that will help you gain a competitive edge.
Learn more from Software and read Software Development as a Valuable Part of Your Company's Future.