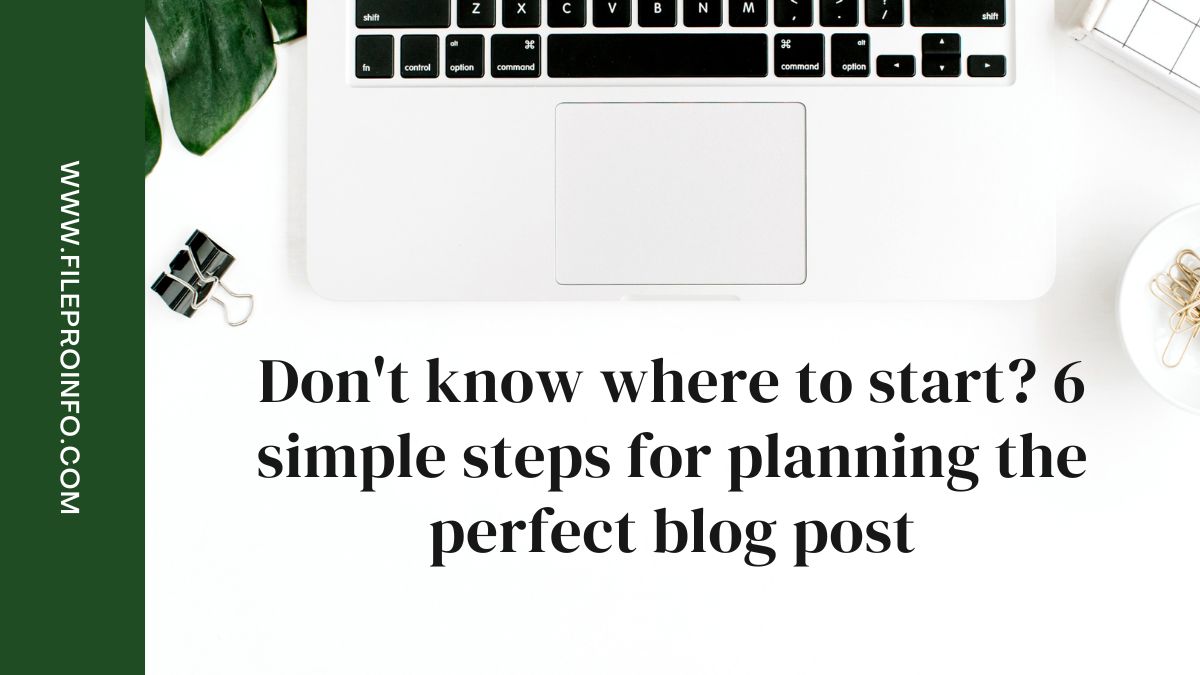 It's easy to understand why it's difficult to stand out among the more than a billion websites that make up the World Wide Web.
Because of this, the best online material, regardless of the topic matter, must be well-written, well-researched, and simply interesting to read.
And doing it is rarely or never an easy task. But breaking down this difficult work into smaller, more manageable phases makes the project much more doable.
Planning should be the first step in any content creation, not just blogging. And that's frequently what separates average material from exceptional content.
Use these six tips for content creation success to lay out your strategy and make sure that the information you and your company post is readily found and ingested by the appropriate audience at the appropriate time.
Readers will not only respect this material and the brand that created it, but they will actively seek it out and value the brand.
It makes sense to provide high-quality material to your consumers, who are the ones who matter most to your business. This is a winning long-term approach that yields enormous rewards.
Additionally, it is a natural way to increase your entity's authority with readers and search engines like Google.
1. Know The Brand You're Representing
When you are blogging for a company, it is important to know the brand you are representing. This means understanding the company's mission, values, and voice. By understanding these things, you can ensure that your blog posts align with the company's overall message.
To get started, take some time to familiarize yourself with the company's website. Read through the About Us page and any other pages that provide information on the company's history and mission. Also, take a look at the company's social media accounts to see how they interact with their customers and followers.
Once you have a good understanding of the brand you're representing, start brainstorming ideas for blog posts that will align with the company's message. Be sure to write down a few different ideas before settling on one, as this will help ensure that your post is original and interesting.
2. Understand Your Audience
Before you can begin to plan a blog post, you need to take the time to understand your audience. What are their needs and wants? What are their pain points? Once you have a good understanding of your target audience, you can start planning blog posts that will resonate with them.
Keep in mind that your audience is always changing. As their needs change, so should your content. Make sure to keep an eye on trends and update your content accordingly. By understanding your audience, you'll be able to create content that they'll love.
3. Finding Topics To Write About
When it comes to writing blog posts, one of the hardest things can be coming up with topics to write about. If you feel like you're struggling to come up with ideas for your next post, don't worry! There are a few tried and true methods for finding topics that are sure to give you some inspiration.
One way to find topics to write about is to think about the questions your readers might have. What information do they need? What would be helpful for them to know? Answering these questions can give you some great ideas for blog posts that will be both informative and interesting.
Another way to come up with topics is to look at what's popular in your industry. What are people talking about? What are the hot-button issues? Keep tabs on social media and industry news sources so you can identify potential topics early on.
4. Do Your Research
When you're planning a blog post, it's essential to do your research. This means finding out who your audience is, what they want to read about, and what keywords they're using.
Once you know this information, you can start planning your blog post. Write down a list of ideas, and then choose the one that you think will be the most popular with your audience. Be sure to use the keywords that you've researched in your title and throughout your post so that people can find them easily.
If you take the time to do your research before writing a blog post, you'll be more likely to write something that people will want to read. And that's what blogging is all about!
5. Create A Strong, Enticing Headline
A headline is the most important part of a blog post – it's what will entice readers to click through and read your content. So how do you create a strong, enticing headline?
Here are some tips:
Keep it short and sweet. A headline should be no more than 10 words long. any longer and you risk losing your reader's attention.
Make it relevant. Your headline should be relevant to the topic of your blog post. This way, readers will know what to expect when they click through.
Use keywords wisely. Choose keywords that are popular search terms but also make sense in the context of your headline. This will help your blog post show up on search engine results pages.
Be creative!
6. Consider Visual Content
One of the most important aspects of creating blog content is considering the visual elements. This means thinking about how your readers will consume the information and what will help them understand and retain the concepts better.
There are a few key things to remember when planning visual content for your blog post. First, determine what type of images will be most helpful for your readers. Do you need charts or graphs to explain the data? Would photos break up a long block of text and help readers grasp your main points? Once you know what types of visuals will work best, start collecting or creating them.
Next, think about how you can use layout to improve readability and draw attention to key parts of your post. For example, you might want to use headings and subheadings to structure your content or highlight important quotes in bold or italics.