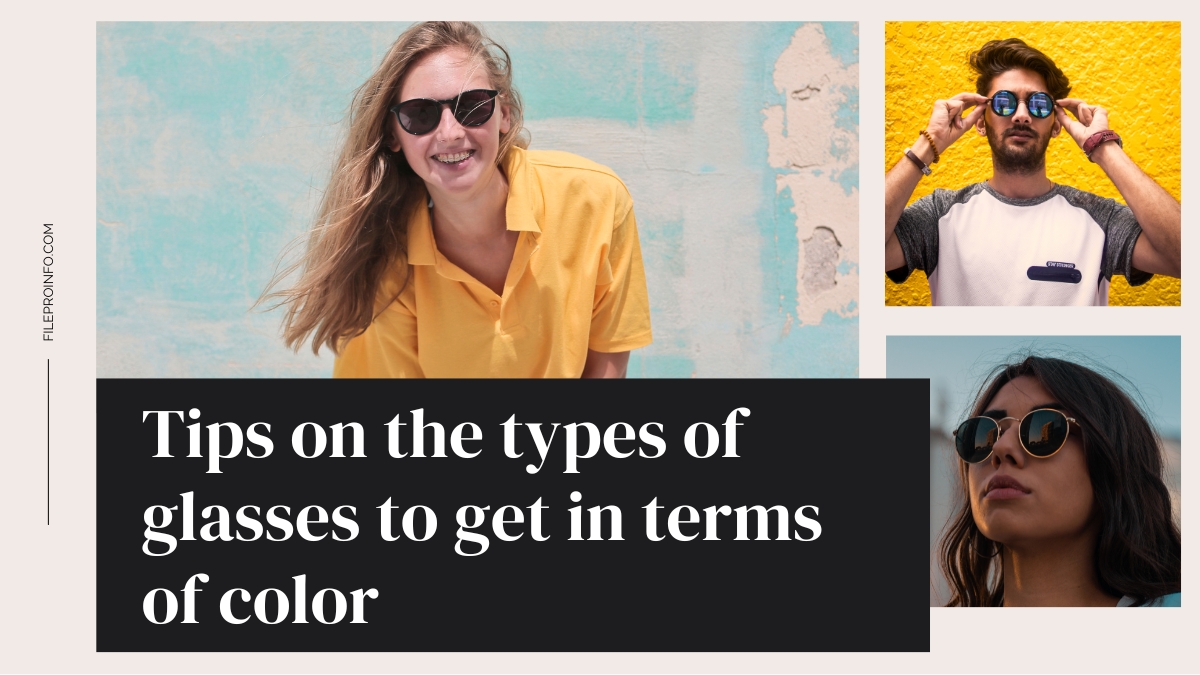 In choosing glasses, the color of the glasses has a great impact on the overall, which is why it is important to ensure the right color of the glasses to ensure the right glasses which fits the individual's style and which complements different concepts like hair color, eye color, and skin tone. There are different considerations from neutral frames with black or brown or tortoise quality, which can be used to make a more statement. The article introduces tips and tricks that can be used when choosing the different types of glasses, especially when choosing the right color to match other aspects. 
Glasses frames that match the eye color
When deciding which glasses to wear in terms of color, the main question is whether individuals wish to make a statement or opt for the alternative of something versatile. For glass wearers who wish to make subdued and understated looks, frames with a neutral tone can match eyes with shades of black, beige, or brown. The choice of choosing a fun statement-making look can be achieved by choosing a color that contrasts but complements the eye color.
Gray eyes- Grey is neutral, meaning choosing colorful frames can bring a bright finish to the look. Grey colors allow for a versatile color in both frames and glasses.
Amber eyes- Brown or amber tone is also neutral, meaning that nearly all colors will bring out the classic and brighter tones. Individuals can stand out by choosing bold colors that contrast the brown, like blue light glasses.
Blue eyes- There are considerations like choosing a shade of orange to bring out the bold look or choosing a complementary color to be blue. There is also a choice of natural tones like brown glasses or tortoiseshell shades.
Glass frames that match the hair color
Hair also plays a significant role in identifying the right glasses or shades to wear, like eyes. Depending on the type of vibe or preferred frame, some options can bring out a striking statement or a subtle look. Several considerations can be made in terms of matching glasses frames to hair color, including;
Black hair- there are two options for choosing the color of frames depending on hair color. Darker frames can bring out a unique look, with black hair bringing a coordinated and sophisticated effect. On the other hand, brighter colors bring a sharp contrast that can introduce a statement-making finish.
Red hair- For vibrant looks, red hair can be matched with bold frames with rich, jewel-toned colors. Conventional looks can be achieved by considering darker frames.
Brown hair with red undertone- It is also referred to as brown hair, and looks can be enhanced through wearing tortoiseshell frames, including frames with warm and earthly tones.
Blonde hair- For individuals with darker blonde tones and who prefer a neutral tone, the best frames include those with warm colors like dark brown, beige, and tortoiseshell. Other considerations include ashy or platinum blonde hair, which can be matched with pastels or bright colors to create a fun contrast against light hair.
Match glasses to the skin tone
Depending on whether individuals have a warm or cool skin tone, different color frames can complement the overall look or bring out interesting, unique styles.
Cool skin tone- The skin tone is known for the pink undertone and goes well with cool-toned frames like glasses with blue undertones.
Neutral skin tone- Neutral skin tones are known for a mix of pink and golden undertones. The latter allows wearing about anything but stark black to bring out bold looks, while tortoise patterns can bring a neutral look.
Warm skin tones- Accented with a golden shade, the skin types look best with warm frames like a tortoise, yellow, orange, or golden frames.