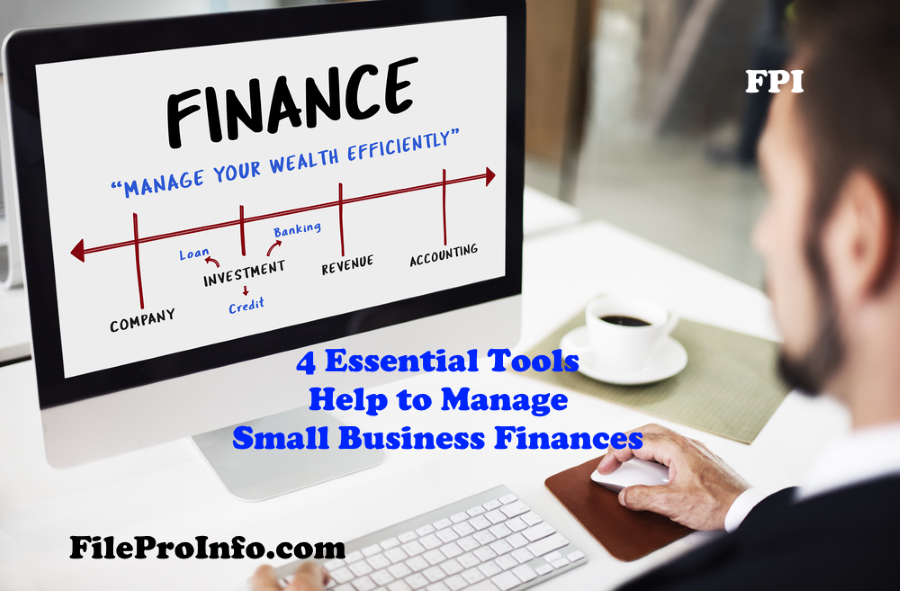 Every business needs to manage its finances. However, keeping up with the expenses and profits could become a never-ending job. Making invoices every day and piling up the entries into monthly invoices, managing tax payments every year is a hassle. Things like that take time which is not good. You should be able to give time to your business services, not the other way around. That's why you need to have the right tools to manage your business finances.
Having tools that offer you real-time track of finances is important for all types of businesses. But for any small business, it is crucial. With technological advances, people have come up with business management tools.
Different types of financial tools are available that are used by businesses to cut costs, save time, and ensure that your business has enough funds to run smoothly. These tools can help you put your focus on business while managing the business tasks effectively.
Here, we will be exploring 5 essential tools to help manage your small business finances. Let's have a brief look at each one down below:
1- Accounting Software
Whether you have a big or a small business, you need to maintain your business accounts. Business accounts can be maintained with the help of accounting software.
One of the best business accounting software is Wave. It has more than two million users. This is completely free to use but you will have to pay a small fee for sale transactions. You can use it to make for invoicing, pay stubs, receipts and form W-2. The accounting software Wave features well-designed applications and methods that are easy to be used by business owners.
Many people believe that Wave could only be used by medium-scale businesses, but it can be used by small business owners, freelancers, and even some traders. Wave offers help to people who are just starting out in the business field and have no accounting experience. It offers the most successful online accounting services to all its users. With Wave invoice or pay stub, you can use your company's logo as well. Here is how to pay stub generator with year to date.
2- Expense Tracking Software
Besides the accounting software, there is a need for an expense tracking tool that is able to consolidate your entire business. Your small-scale business has a lot of expenses, and you need to keep track of them. Expenses could include your marketing budget for a new clothing collection, payroll for the new crew, food expenses, travel expenses, and many others like that. So, using an app that can cover all your expenses from day one is a good idea.
Quickbooks is an app that is used to keep a record of your expenses. It is a simple software that can be installed on your laptop and from there you can enter all expense entries and it will create comprehensive invoices for each project. It can also help you manage cash flow, keep track of profit and loss.
There are different versions of Quickbooks you can get the ones that suit your needs. You don't need an accounting expert to manage this software or read the invoices. Just watch a demo and you will get the idea.
3- Invoicing Tool
If you want to run a successful business, you need to create invoices for everything and keep a record of each and everything. Not only should you keep the record, but you should be able to access it whenever you are planning your next move. Checking your invoices can get you to manage your finances but how would you create invoices in detail?
Well, PayStubsNow is a free tool that can be used to make unlimited invoices. You can create as many invoices as you want, and it allows you to send unlimited invoices to an unlimited number of customers as well. This tool is perfect for small and large businesses. It offers other customized features that can allow access to the whole business team to create and send invoices. The customized features are paid for.
4- Inventory management tool
In business, you are required to make a list of inventories. What out of it and how much comes at a time. But it is another tiring task that can make you juggle in between various important tasks. And sometimes, calculations can go wrong. Zoho inventory is a tool that can manage your inventories without any mix-ups. This can allow you to manage your orders and inventory effectively. You can have access to e-commerce websites such as Amazon, eBay, and Shopify.
Zoho offers a free version, but it is only useful for just 20 shipment tracking. Furthermore, you need to buy the different levels of subscriptions that start from $199. which can go as high as 2000-3000 shipments tracking monthly.
Learn more from technology and online document tools.