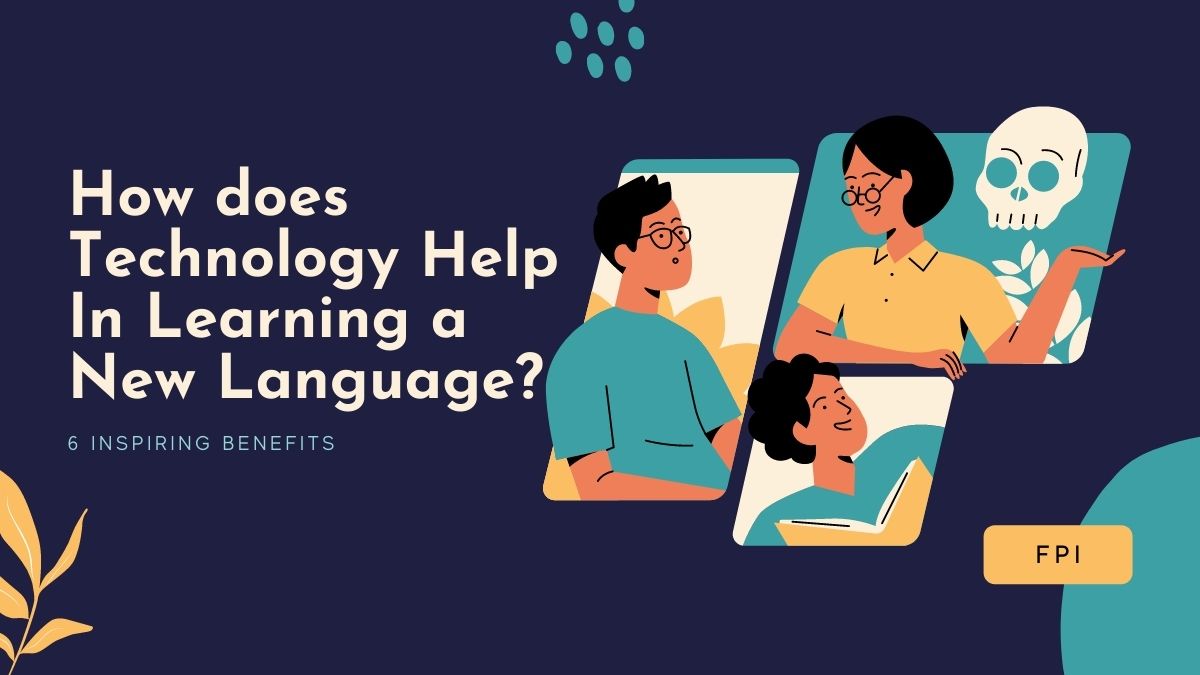 Don't you think that today many people are in the habit of using technology daily? Language learning technology changes people from passive recipients to active learners, allowing for more meaningful language exposure.
When technology is used to address problems and teach new things, it is most effective. Using technology, remote people can connect with proficient speakers of languages around the globe. All thanks to the next-generation messaging and social networks.
In general, technology-enabled learning encourages students to contact teachers at any time and from any location. Moreover, using technology, people can access dictionaries and make flashcards in their desired language.
Thus, in learning a new language, technology offers some other benefits present below!
Benefits Of Using Technology In Learning A New Language
1. Remote Access To Language Classrooms
Language learning resources are available to audiences all over the World, and they can use them wherever and whenever they want. Students are no longer needed to follow face-to-face learning paths. They can acquire what they need online and then practice in person to improve their skills.
Remote learning provides time flexibility, and as a result, more people are studying languages on their own time. Online resources offered by native language speakers allow language learners to immerse themselves in the target language.
2. Learn Via Language Learning Apps
As you know, being consistent in something is the most important thing. So, to keep you consistent in learning, language-learning apps benefit the process. Ling App, for example, is excellent for learning a foreign language since it encourages regular practice. It also provides users with tasks that resemble a real-life conversation.
Most mobile devices are suitable with the app, which has a user-friendly operating system. Thus, many other language learning apps help the person master the language quickly. So, you can say that technology is assisting humankind beyond its expectations.
3. Language Learning With Tech Project Work
Project work is another area where technology may be beneficial. We have always encouraged students to learn about things by using language. Having students work on issues they are interested in is an excellent method to enhance their abilities. Because of technological advancements, you can communicate and discuss no matter where you are on the globe.
Teachers and students can go online to study or listen to content on various topics. Later on, they can write or speak about what they have learned. Discussion about the work among people of different languages and personalities will enhance your vision.
4. Technology Offers Interactive Learning
The greatest approach to learning something, according to the research, is through an interactive learning environment. In the remote World, you can produce an interactive environment using technology.
It is known that interactive sessions make people learn with more interest and enthusiasm. Collaborative tools are an excellent approach to learning the language while also sharpening your collaborative skills.
5. Practice During Internet Usage
Many people are used to utilizing technology daily. As a result, incorporating technology into a person's everyday routine to learn a language is often simple.
You can easily take 10-15 minutes to practice the language learning between social media and browsing the web. As you know, the golden rule in learning a new thing is "practice." And being a technology person, it is not difficult for you to practice learning a language.
6. Technology-Based Language Teaching Tools
● Educational Websites
Many educational websites help in correcting your grammar or sentence problems. Some of the websites that educate a person are the Ling app, Quizlet, and FluentU. These sites help students learn more effectively by delivering valuable and enjoyable exercises. Moreover, these exercises focus on grammar and current events, respectively.
● Collaborative Tools
Talking about collaborative tools, you are aware that people often use Facebook and other collaborative sites. Therefore, learners can use these tools to practice their studying language while participating in collaborative activities.
● Music Videos
Audio listening activities help determine what students can recognize on their own. Learners can learn appropriate vocabulary from the tones and gestures of the music. It will help them understand the language even better.
Wrapping It Up!
Our global society has become increasingly dependent upon technology. The ever-present need for cross-cultural understanding and language learning has increased as technology has advanced. As a result, language learners will benefit from the technological tools available to help them improve their skills.
Learn more from technology and read Benefits of Online Learning for College Students.