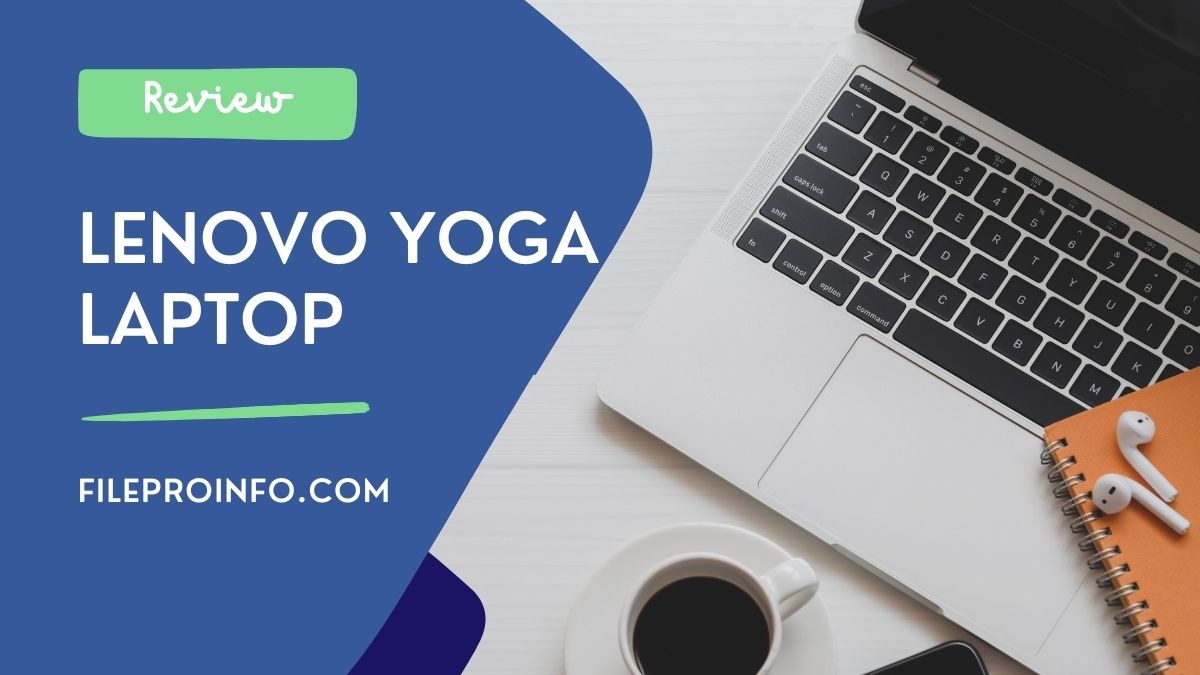 Are you gearing up for the new school year or upcoming semester? If so, you'll want to ensure you snag one of the best and latest compact laptops. The Lenovo Yoga laptop is an excellent option that's perfect for studying.
These 2-in-1 laptops are great for on-the-go notetaking, research, and much more. They're light and compact enough to fit neatly into almost any backpack. But is the Lenovo Yoga right for you?
Let's find out! This Lenovo Yoga laptop review will explore everything you need to know about the newest Lenovo Yoga laptops.
Lenovo Yoga Laptop Overview
The very first Lenovo Yoga laptops debuted in 2012. But since that time, they've experienced a laundry list of upgrades and design changes.
For example, the newest line of Lenovo Yoga 2-in-1 laptops is flexible, durable, and (somewhat surprisingly) attractively designed.
Still, the best way to determine whether a Lenovo Yoga might be right for you is to take a peek at their specifications and features. However, that can be a challenging task, as there are two models from which to choose.
That's why we've chosen to analyze both types and compare their capabilities, advantages, and potential drawbacks!
Types of Lenovo Yoga Laptops
Before we delve into the Lenovo Yoga laptop's unique benefits and features, it's important to recognize that there are multiple types of Lenovo Yoga laptops. The two current models are:
To ensure you understand the differences between these models, let's take a moment to explore their specifications and features.
Yoga 7i
The Yoga 7i is a 2-in-1 laptop that offers a wide range of features, including built-in Amazon Alexa. It's capable of folding flat for touchscreen use, but users can also prop it up on its sides for easy reading and scrolling.
Of the two current Lenovo Yoga laptop models, the 7i is the more affordable (but slightly less powerful) option. However, like the 9i model, you can choose between 14-inch and 15-inch display screens.
Specifications
Intel Core i7-1165G7 Processor (4 cores/12MB cache)
Windows 10 or Windows 11 operating system
16GB RAM
1TB storage
Integrated Intel Iris Xe Graphics
Maximum battery life of 15 hours
Weighs about 4.2lbs
FHD display
Features
Built-in Dolby Atmos speakers
Built-in 720p HD camera (with privacy shutter)
Available in two colors
It comes with four USB ports (USB-A 3.2 and USB 4 Type-C)
Comes with a Lenovo Yoga laptop charger
Yoga 9i
The Yoga 9i is almost identical to the 7i regarding appearance and multifunctionality. But the Lenovo Yoga 9i offers increased hard drive storage and a higher-resolution, more luminous display screen.
Specifications
Intel Core i9-10980HK Processor (8 cores/16MB cache)
Windows 10 or Windows 11 operating system
16GB RAM
2TB storage
NVIDIA GeForce GTX 1650 Ti 4GB
Maximum battery life of 13 hours
Weighs about 4.4lbs
UHD display
Features
Rotating Dolby Atmossoundbar with subwoofers and multiple webcam microphones
Built-in 720p camera
It comes with a Bluetooth-enabled screen pen
Offers four USB ports (USB-A 3.2 and USB-C 3.2)
Comes with a Lenovo Yoga laptop charger
Factors to Consider
If it has been ages since you've purchased a new laptop for yourself or your child, you might not be sure where to start when it comes to shopping for a new laptop.
Fortunately, you can make your browsing process far simpler by focusing on several crucial factors, including:
Operating system
Screen size
Ease of use
RAM
CPU
Internal storage
Inputs
Battery life
Price
Accessories
Remember, if you feel impressed after reviewing these factors, you'll want to act fast. These devices won't stay on the shelves forever!
So, be sure to check out this site for great deals on Lenovo Yoga laptops.
Operating System
Nowadays, nearly everyone has a preferred operating system. After all, those that use Android phones hardly ever enjoy using Apple iOS phones (and vice versa).
So, before purchasing a new laptop for school, you'll want to consider your chosen device's operating system. Notably, some laptops offer a range of operating systems, making it far easier to install an OS you enjoy.
But Lenovo Yoga laptops are Windows devices. As such, they'll come pre-installed with either Windows 10 or Windows 11.
As a result, students accustomed to using Macbooks or iOS platforms may struggle to use a Lenovo Yoga laptop. Still, this may not be an issue for those accustomed to working with the Windows OS.
Screen Size
One of the most frustrating aspects of using a compact laptop is being unable to read the screen or see clear and vivid images. However, this isn't a problem with the Lenovo Yoga series.
The 7i and 9i are available in 14-inch and 15-inch display screen sizes. While these sizes might not rival your at-home desktop's monitor, they're more than enough to reduce eye strain.
Even better, the Lenovo Yoga 9i comes with a crystal-clear UHD display that also functions as a Dolby Vision touchscreen. This display is incredibly bright, offering up to 500 nits (far more than the average smartphone).
Are you unfamiliar with the concept of nits? Here's a quick note: Nits are units that measure a screen's illumination.
The Lenovo Yoga 7i isn't far behind, with an FHD display screen capable of producing between 250 and 500 nits. This range stems from the fact that Lenovo Yoga laptops are somewhat customizable.
As such, you can easily choose the ideal screen size, brightness, and resolution for your schoolwork-related activities.
Ease of Use
Lenovo Yoga laptops are 2-in-1 devices with touchscreen and flexible bodies. This enables them to function as both traditional laptops and non-traditional tablets.
Still, this multipurpose design might not be ideal for every student. This is especially true of students that already own a separate tablet for everyday tasks like checking emails or gaming.
The Lenovo Yoga's touchscreen can also be somewhat problematic for those accustomed to traditional laptops. Remember, grabbing your laptop by its screen (or bumping into the screen) can open or close windows.
That said, teens, young adults, and students of all ages hoping to consolidate their devices are bound to appreciate the Lenovo Yoga laptop's superior functionality and touchscreen capabilities.
RAM
A laptop that processes inputs at a slow rate can be a real pain to use. There's almost nothing more frustrating than waiting several minutes for a window or application to load, especially during class.
For that reason, it's also crucial to consider your laptop's random access memory (RAM). Devices that offer more RAM tend to process inputs more quickly, enabling faster operation.
The Lenovo Yoga 7i and 9i both offer up to 16GB DDR4 of RAM. As such, both models provide fast processing speeds that won't slow you down.
Interestingly, the Lenovo Yoga 7i's RAM speeds are slightly faster than the 9i. So, if efficiency is a higher priority than display quality, be sure to consider investing in the 7i.
CPU
A laptop's CPU informs its processing power. This component is vital for students that enjoy multitasking on their laptops.
After all, the more applications and windows you have open at any given time, the more processing power you'll need to keep them all functioning quickly and correctly.
While users can customize their chosen processor when purchasing a Lenovo Yoga (with some limitations), the 7i comes with a speedier processor (2.8GHz). That said, this processor isn't as powerful as the one in the 9i.
The 7i contains a four-core processor, while the 9i contains an eight-core processor. Remember, the more cores you have, the more components there are running your system and applications.
In short, students looking to multitask or run complex applications should consider opting for the Lenovo Yoga 9i.
Internal Storage
Every student-friendly laptop should offer plenty of internal storage. After all, essays, app-based assignments, and games can quickly consume tons of digital space.
If you tend to store lots of videos, photos, or applications on your laptop, you'll appreciate the 1TB minimum storage space that comes with Lenovo Yoga laptops.
But, of course, students that intend to use their laptop for more complicated functions (such as running advanced engineering or rendering software) will want to choose a device with more storage.
The Lenovo Yoga 9i offers up to 2TB of internal storage space, and users can add additional storage using a USB drive. As such, we recommend this model for those taking the plunge into app-heavy or media-heavy courses.
Inputs
It's crucial to ensure that your chosen laptop offers plenty of USB ports. After all, many of our electronic devices rely on USB power ports to charge.
Both the Lenovo Yoga 7i and 9i offer four USB ports, making it easy to keep all your devices connected and powered. But these ports aren't all the same, and each model offers different types of USB ports.
The Lenovo Yoga 7i has two USB-A 3.2 ports and two USB 4 Type-C ports. But the Lenovo Yoga 9i has two USB-A 3.2 and two USB-C 3.2 ports.
Now, if you're unfamiliar with USB ports, it can be challenging to discern the differences between port types. But one of the simplest ways to grasp the importance of these differences is to consider speed.
Older-style USB ports offer slower data transfer and power speeds than newer port types. They also accept differently shaped connection pins. USB-C ports are some of the fastest options.
Yet, overall, both models offer a similar range of port speed and connectivity. Consequently, you might want to consider battery life differences instead.
Battery Life
If you're going to be toting around a laptop from class to class, it's essential to ensure that your chosen device offers enough battery power to last throughout the school day.
Fortunately, both the 7i and 9i offer a comparatively high battery life.
That said, the 7i has a slightly larger battery and consumes less energy than the 9i. For example, the Lenovo Yoga 7i's maximum battery life is about 15 hours. But the 9i's full battery life ranges between 9 and 13 hours.
For this reason, those looking for superior battery life may want to consider the Yoga 7i. Still, both models can remain powered on during the typical 8-hour school day. So, the choice is yours!
Price
Budget-friendly laptops often cost as little as $300, but they're not the most capable machines. Alternatively, high-performance gaming and workstation laptops can easily cost well over $3,000!
Lenovo Yoga laptop prices strike a happy medium between these two extremes.
The Lenovo 7i is the more affordable of the two current models, typically costing less than $1,000. On the other hand, the Lenovo 9i isn't much pricier, often coming with a price tag of less than $1,500.
Consequently, those looking for a top-notch 2-in-1 laptop that costs less than $1,000 might find that the Lenovo 7i meets their needs, preferences, and budget.
Of course, if you've got the extra dough to spend, the 9i may be the better choice. After all, it offers slightly better performance and a more spacious storage drive.
Accessories
Lenovo offers a handful of practical and stylish accessories explicitly designed for use with Lenovo Yoga laptops. These accessories include:
Yoga Active Pen 2
Yoga Mouse
Yoga Sleeve (14-inch)
Yoga Active Noise Cancellation Headphones
USB-C 7-in-1 Hub
As such, users can easily pair their Lenovo Yoga laptop with an external mouse, Bluetooth-enabled tablet pen, and sturdy pair of headphones.
While the Lenovo Yoga laptop case (or rather, sleeve) only fits devices with a 14-inch display screen, it's a professional-looking accessory that can keep your laptop safe and snug.
Choose the Best Lenovo Laptops
The Lenovo Yoga laptop series comes with several useful features that appeal to students of all ages. They're flexible, compact, and capable of touchscreen operation.
Unlike clunky laptops of the past, Lenovo Yoga devices function as both personal computers and tablets. And with an average battery life of about 14 hours, they can outlast even the longest lectures!
If you enjoyed this laptop review, be sure to check out related tech articles now!
Read Five Business Skills Companies Demand From Students in Job Opportunities.