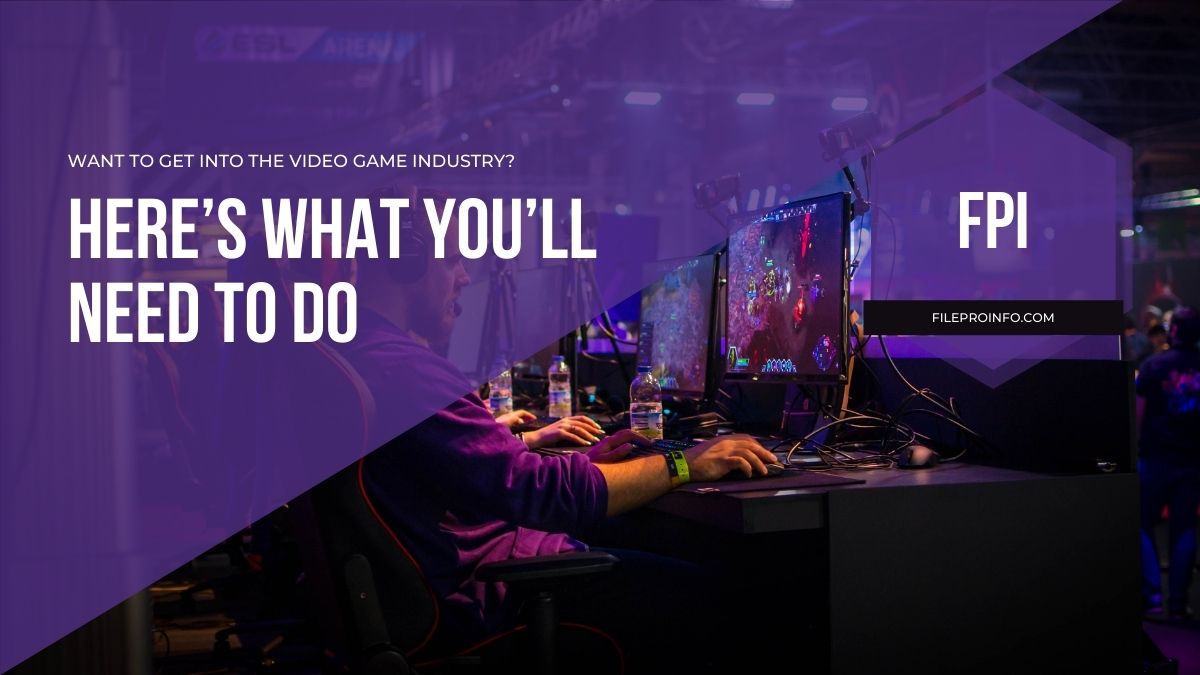 Working in the video game industry is a dream for many people, and with all the opportunities and money that are involved in gaming right now, it's a dream that is becoming increasingly attainable. The field has become very competitive too, however, and if you want a chance at succeeding either as an independent developer or as an employee, you will have to be ready to put your best foot forward.
Those who make it far in this field have a good combination of core skills and experience, and this is what you'll need if you want to get noticed. Let's take a look at some of the things you'll need to do if you want to get into the video game industry.
Start Speaking to Other People in the Business
The first thing you should do is visit gaming discussion boards and talk about the industry in general. Speak to people who are actively working in the industry or have companies and ask them how they got there. Ask about their credentials and how long it took to get them. Also, ask what kind of jobs they were offered at the beginning and how long it took for them to get the job they have today.
If your goal is to be an independent developer, then ask questions that are specific to the industry such as which type of business model is better, what challenges they had to face during development, how to stay on top of scope and cost creep, what type of project management tools and methods they used, etc.
Get the Foundation
If you're convinced that a career in the gaming industry is for you, you need to start looking at what kind of formation you should take. You should consider getting a bachelor's degree in game design or computer science at the very least.
Yes, some people were able to get into the industry without a formal degree, but they are few and far between and most of them were very special talents. So, unless you're a prodigy and have tons and tons of independent projects to show for your expertise, don't expect people in the industry to take you seriously.
If you really want doors to open for you, we suggest you go with something like a master's in software engineering. You should also know that schools like Baylor University have a master's in software engineering online that will allow you to transition from a related industry. This would be a great option for someone with a degree in mathematics, physics, or engineering who wants to pivot into a career in video game development.
Start Working on Independent Projects
Now that you're learning some of the basics of video game development, you should start working on projects as soon as possible. Even if it's a simple browser-based platformer, you'll learn how to fix bugs, design levels, craft a storyline, etc. The more experience you have working on a variety of small projects the better prepared you will be to deal with issues when you work on serious ones.
Another benefit of working on projects early is that you'll start building a portfolio for yourself, which is incredibly important in the gaming industry. Most companies will ask to see your portfolio before they hire you even if you have an extensive resume, and that's perfectly normal.
It's good to have a solid formation, but how can they know how well you apply it to video game development? Having a long portfolio of games also shows that you have a passion for the field and will make you stand out. So, start building a diversified portfolio as soon as possible, integrate the things you learn, and gradually increase the complexity of your projects.
Look for Entry Level Jobs and Internships
Get as much experience as you can, and as soon as possible too. Look at internships as soon as you qualify for them. Internships will make very valuable entries on your resume, but they will also teach you how video game studios work behind the scenes. You also have no idea what kind of opportunities could present themselves to you through internships. There have been stories of interns being asked to work on testing and moving up to managerial or even executive roles. So don't expect that you will be wasting your time.
You can also start looking for entry-level jobs well before you get your qualifications. Again, testing jobs are open to people without a degree and are a great way to get your foot in the door. You could then start looking at developer roles as you gain basic programming, art, and sound design skills.
Starting a Development Company
You also have the option to start your own development company. But, even then, we would suggest that you work on a few internships and start as an employee before you jump into development right away. This will allow you to get some inside information and maybe pick up a few trade secrets.
Starting a development company is not that complex. All you have to do is draft a plan for your business, choose the right entity, register for taxes, and open a bank account. You'll also need to look at insurance, some of the tax obligations and benefits for gaming companies, and the necessary licenses and permits to operate lawfully.
It's very common for development companies to start with mobile games as they require fewer resources. Once you have a few successful projects and an established brand, you can start working on PC or console games. You could also decide to merge with a bigger studio and work on specific kinds of projects.
This is all you need to know if you want to get into the gaming industry. Getting in is not that difficult if you have the skills and the passion, but you have to be ready to put the work in as well.
Learn more from Games and read Here's What You Need To Know About 2D Characters.