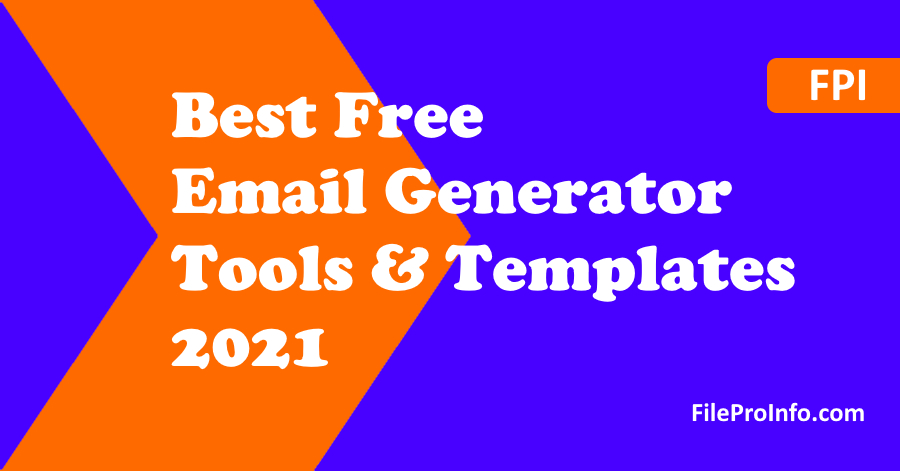 With the increase in email marketing, email signature generator has become an important tool that businesses have to invest in. Your target customers receive tons of emails daily and to hold their attention, you must have something different to captivate their attention.
This is where the email signature generator tools come in. With these tools, individuals can create professional email signatures online to make their email messages stand out. In this post, we will look at six of the best free email signature generator tools and templates you cannot miss in 2012.
1. Signature Generator
First on our list of six best free email generator tools and templates is the Signature Generator tool. Signature Generator is a leading e-sign tool that makes signing seamless, effective, and fast. It has numerous features and the email signature generator is one of them.
Users can use the platform to append signatures on any documents without a need to print or scan. With millions of users across the world, this tool has earned a spot as a reputable and efficient business tool in the world of business.
The email signature generator allows users to create their email signatures from scratch and they can also choose one of the numerous templates that are available on the site. To use email generator templates on the platform, follow the simple steps below:
Step One: Visit the Signature Generator website and click the "Email Signature Templates" tab.
Step Two: Browse through the plethora of templates on the page and select the one you prefer. It will redirect you to the edit page.
Step Three: Edit the content and enter your details where required. Follow the prompts to complete the process and ensure that you fill out the different segments. You can add your brand logo or picture on your signature and also link your social media handles and website to the signature.
Step Four: Review your customized email signature and click to save. You can download it on your computer and proceed to add it to your email account.
Signature Generator is the best choice for corporate email signatures and it works with different platforms, including Outlook, Gmail, Thunderbird, Office 365, and Apple Mail. It is mobile-optimized and you can create your signature on any device on the go.
The tool is free to use and you can enjoy its amazing features for your business operations. If there is any free email generator tool and template that you should not miss in 2021, Signature Generator is number one on the list.
2. HubSpot
This email signature generator is also free and it allows users to create professional email signatures from various free templates that have been pre-designed. Users can customize their signatures to reflect their personality and brand.
All they have to do is upload their company logo while editing the template. HubSpot works with major email clients, including Outlook, Yahoo Mail, Gmail, and Apple Mail. Using this free email generator tool and template is easy.
You also do not need any experience to create your signature on the site. It has a friendly and smooth user interface that makes navigation very seamless.
3. Mail Signatures
This email generator tool also integrates with popular email platforms, including Exchange, Outlook, Gmail, and Thunderbird. Users can create email signatures and automatically apply them to the email platform of their choice.
The platform also features numerous email signature templates that individuals can explore. When you have found the template to use, edit it and change the design to suit your brand style. You can change the font type, font size, font color, and more.
It is also possible to add your company's logo to personalize the design. It is easy and simple to use the tool and you can complete the process within minutes.
4. Gimmio
Gimmio is a leading choice of free email signature generator tool for web designers and marketing agencies. It eliminates the need to create an email signature from scratch as users can choose from the numerous pre-designed templates that are available.
The tool also makes it easy to duplicate many several email signatures, which is why it remains a favorite choice for web designers and marketing agencies. If your client wants to have alignment and brand uniformity across the email signatures of all their staff members, you can use this tool to duplicate and edit a template for multiple people.
To access all the extensive features of the tool, users will need to upgrade to the premium package. This package includes various styling options, custom layout, multiple signatures, signature duplication, and more.
5. CocoSign
CocoSign provides one of the best email signature generators. It allows users to access loads of email signature templates that they can customize to suit their company's brand. It offers the latest features that enable the addition of different fonts, colors, backlinks, styles, and more.
You can also create your signature from scratch if you do not want to use the templates. It is important to mention that the CocoSign tool is only free during the 14-day trial period. Users have to upgrade to continue using the tool after this timeframe.
6. DocuSign
Users can customize an email signature template from the list of numerous pre-designed templates that are available on the DocuSign platform. It is compatible with top email providers, including Exchange, G-Suite, and Office 365. The tool allows users to include the company logo, promotional banners, and social medial profiles on the email signature.
Users can also add specific call-to-action links, including discounts, events, and offers among others. To use the free features of this tool, you have to sign up with your email to access the free trial. With the free trial, you can access the full features of the paid plan.
Conclusion
These are the six best free email generator tools and templates that you cannot miss in 2021. Of course, you cannot sign up for all of them. Therefore, we recommend the Signature Generator tool because it has many impressive features and is free to use.
Learn more from technology & How to Write a Resignation Letter Online?