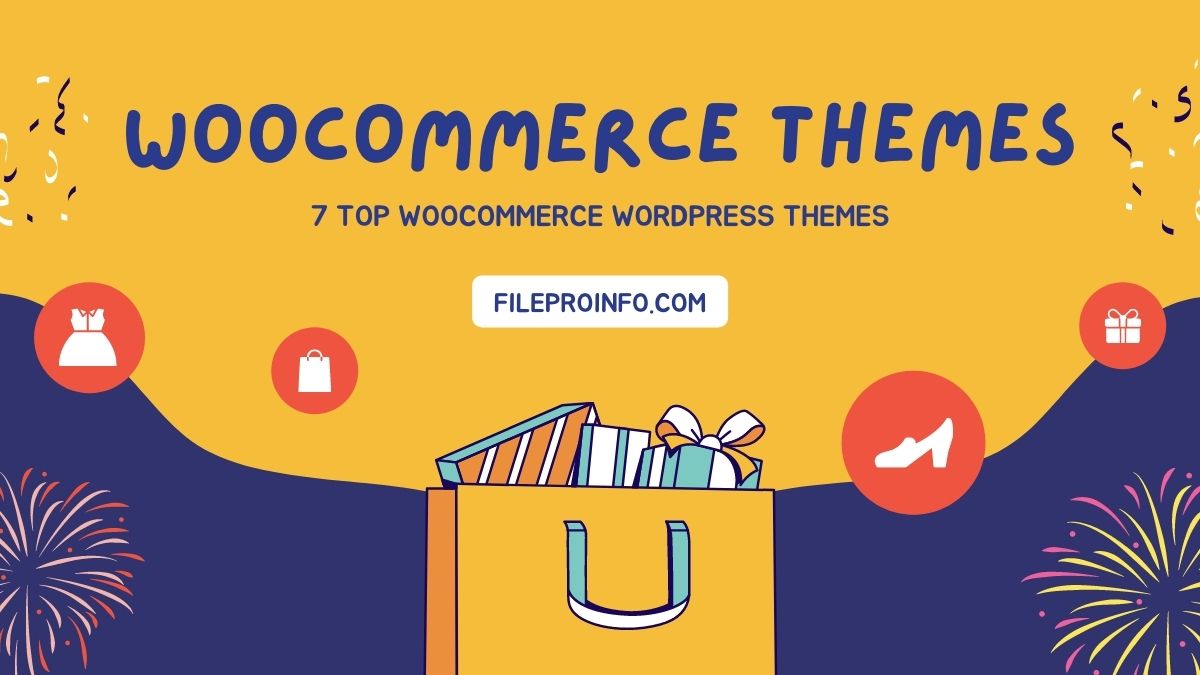 Since the beginning of the COVID crisis, many businesses were forced to close their brick-and-mortar stores and switch to online selling.
In 2020, online revenue growth was up by 44%, and in Q1 of 2021, it increased by 39% year-over-year. This was the highest annual U.S. eCommerce growth in the last two decades.
As a result, the need for online sales platforms has never been greater. Fortunately, anybody has access to them, thanks to themed e-stores that require no development support.
Making eCommerce More Accessible
If you're handling an eCommerce website and have turned to WordPress as your platform, consider using WooCommerce.
WooCommerce is a simple eCommerce platform for WordPress that gets the job done by allowing you to sell your products or services online.
So you've got your WordPress prepped and the WooCommerce plugin installed. What's next?
As not all WordPress themes provide complete support for the extension, you'll have to set up a WooCommerce WordPress theme so you can easily use the WooCommerce extension to start selling.
According to our friends at a New York web design company, WordPress themes are ideal for designing a cutting-edge website without having to break the bank. Not only are they more budget-friendly, but they get the job done.
In this article, we've hand-picked the best WooCommerce WordPress themes to make your website a cut above the rest.
But before we plunge into these, here's a quick rundown to help you better understand WooCommerce.
What Is WooCommerce?
WooCommerce is one of the most known and free eCommerce plugins for WordPress.
The purpose of WooCommerce is to create and manage an online store through WordPress easily.
Some of its main value propositions are:
It takes the WordPress operating system and converts it into a fully functioning eCommerce website
It is convenient and inexpensive to sell any product and service on your website
It allows you to sell digital and physical products, take secure payments, manage inventory, and sort all your taxes automatically
Why Choose WooCommerce?
There are indeed a host of eCommerce plugins available on the market. But what exactly sets WooCommerce apart from the rest?
Some of its benefits include:
It's easy to use
It's a free, open-source plugin
It's responsive
It has a host of great features
It's SEO-friendly
It sells any type of products
It's Easy To Use
If you're a WordPress aficionado, then you shouldn't have a problem with using WooCommerce.
The compatibility and integration between your existing WordPress and WooCommerce themes will be seamless.
It's A Free, Open-Source Plugin
Ecommerce platforms offer both free and premium subscription plans that can run you up to a few thousand dollars per year.
Aside from WooCommerce doing its job, it's primarily recommended because it's free to use.
As WooCommerce is a plugin, you'll need a WordPress site that can use plugins. But the first thing you'll have to do is choose a host for your store and consider what kind of plan you would like.
Hosting can range from a few dollars per month to more than a thousand dollars, but what's great is that most hosts offer an initial free or low-cost period, with more generous discounts the longer you use their service.
WordPress offers a Business plan that allows websites to install plugins.
It's Responsive
WordPress powers 40% of the websites you see on the Internet.
Partner it with the WooCommerce plugin and expect a fast eCommerce experience for you and your consumers.
To enhance the speed of your eCommerce website, consider doing the following:
Evaluate existing plugins and widgets
Use snippets
Compress images
Forget unnecessary elements
It Has A Host Of Great Features
A WooCommerce plugin is a tool that can help you.
Easily track orders, receive the latest updates on delivery status, manage inventories and engage with customers.
In addition, you can acquire a myriad of WordPress plugins and themes, as well as hundreds of eCommerce-specific extensions exclusive for WooCommerce.
It's SEO-friendly
WooCommerce is SEO-friendly because it is affiliated with WordPress.
With WordPress, you don't have to be a coding expert.
You can simply edit URLs, alt tags, body content, and other elements essential to improve your online presence.
It Sells Any Types Of Products
WooCommerce is extremely flexible.
This plugin can help you sell anything, whether physical or digital products, subscriptions or services, or selling it in bulk or pieces.
7 Best WooCommerce WordPress Themes
So now you know what WooCommerce is.
Let's go through seven of the best WooCommerce WordPress themes you can use for your online store.
We've listed their various strengths as WooCommerce WordPress themes, so you can pick out the best fit for your website.
1. Astra
First up, we have Astra. It's a free WooCommerce WordPress theme that fully supports WooCommerce and its vast personalization options.
It's perfect for beginners due to its lightweight, simple and contemporary feel. This theme also prides itself on users not being required to have coding knowledge.
Equipped with a visual theme customizer, make your website's overall look exactly the way you want it.
The best part?
It's designed for good SEO. You'll see it rank well in Google and other search engines in no time.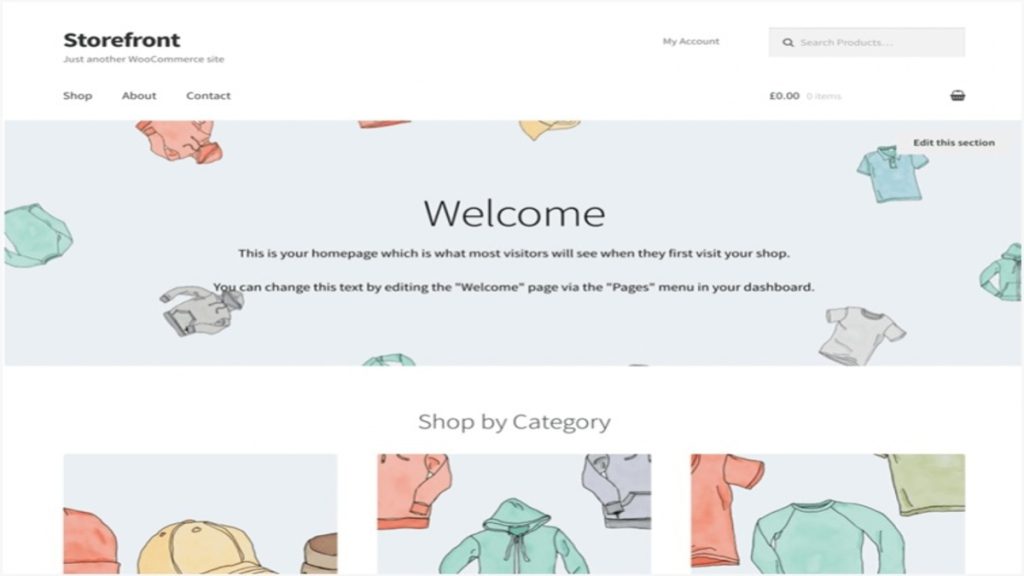 2. Storefront
Storefront is another excellent theme that could be the perfect match for you.
Interestingly enough, it was developed by the same team who pioneered WooCommerce. You can call it the perfect fit for the WooCommerce plugin.
You can choose from a wide array of color schemes and layouts to tailor-fit your shop. Its several widget regions and versatile codebase make it a breeze to customize your shop endlessly.
3. Peak
There's just something about beautifully tiled images that give off an aesthetically pleasing vibe.
Peak is a grid-based WooCommerce WordPress theme that offers a masonry tile layout that can conveniently adjust to any screen size the customer may be using.
Aside from being responsive, you can choose between two options of how the tiles will look like. Go for the auto tiles for an automatic grid, or a more tailored grid, use the custom tiles.
It is also equipped with features such as slide-in widgets, customizable layouts, a custom theme settings panel, a personalized 404 error page, and a built-in drag and drop page builder for effortless setup.
4. Leto
Nothing quite compares to a simple yet straight-to-the-point website. Leto is a great example of a free WooCommerce WordPress theme that can cater to any kind of shop you may have in mind with its easy-to-use and basic functionalities.
Change colors, alter font sizes and customize the built-in widgets to achieve the eCommerce website of your dreams.
It also features a hero image or a video on the top to make a statement for the consumer.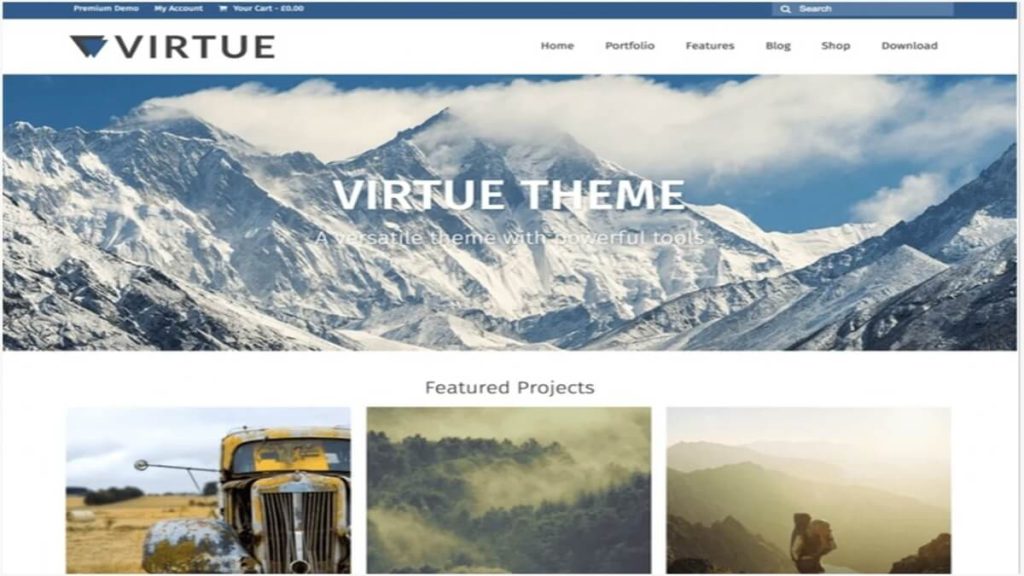 5. Virtue
Tremendously adjustable, Virtue is a free WooCommerce WordPress theme that hits all the right spots for a clean and modern website.
Not only is it deeply integrated with WooCommerce, but it also fully supports Gutenburg, the latest WordPress block editor.
It comes with a significant options panel to adjust the page layout, slider content, fonts, and many more.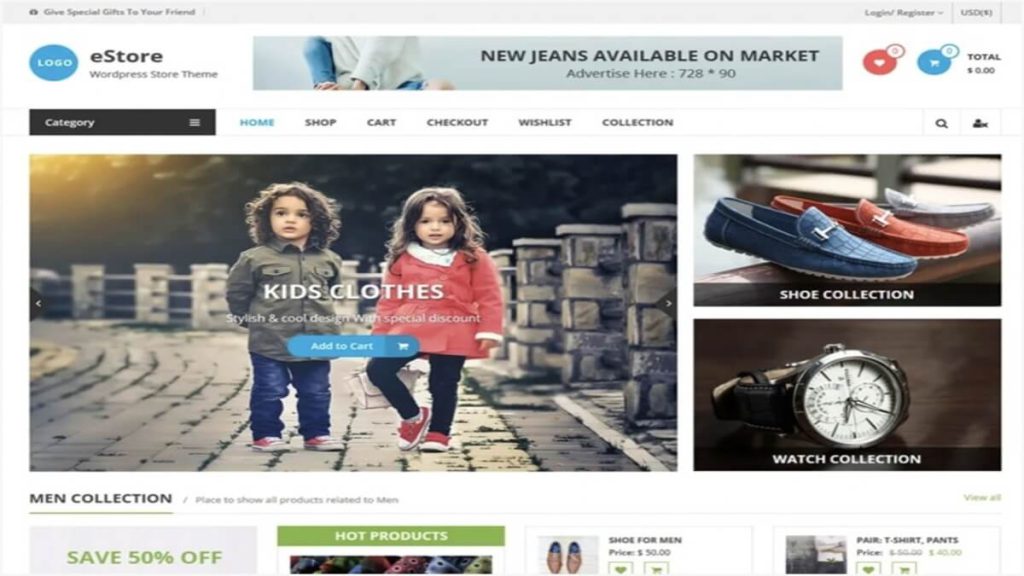 6. eStore
Here is an ideal example of what an effective online store website theme should look like.
eStore is a free WooCommerce WordPress theme with a design that does all the work to ensure your customers have their eyes glued to it. It also comprises RTL language support and allows you to use a custom logo.
This theme made it to our list because it has a dedicated space for discounts, deals, and advertisements.
If you're looking for a theme that has every feature you could ask for, eStore sets the bar high for the perfect online store.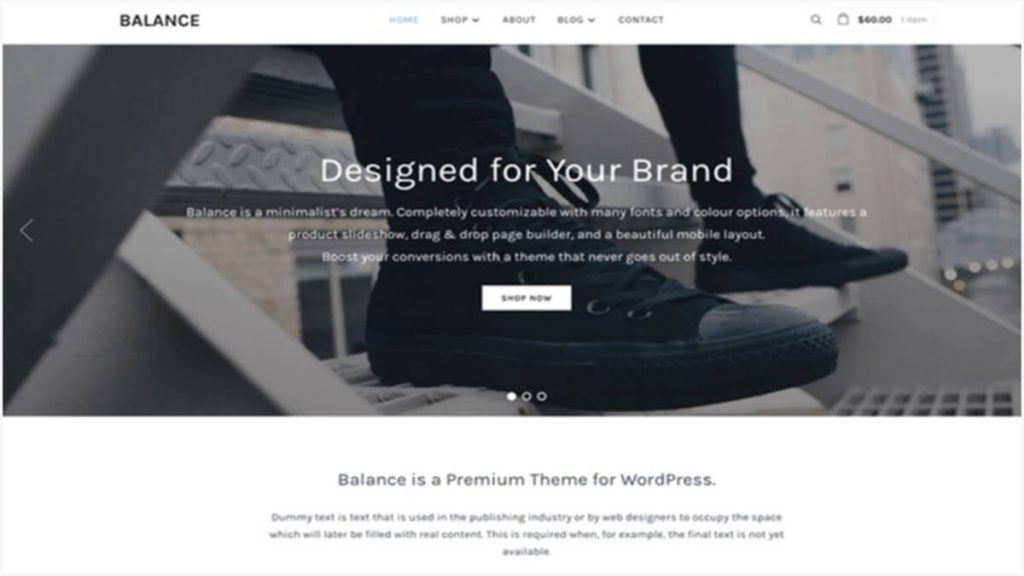 7. Balance
This WooCommerce WordPress theme made it to the list because it is simple, effective, and highlights your brand perfectly.
Balance is an excellent example of how to present your products in a sleek and organized fashion. Products are lined up in a grid, white space serves its purpose of driving the consumers' attention to them and the theme includes a lot of helpful elements.
It features a theme options panel, a visual customizer, a retina-ready layout that can adapt to any screen resolution on desktop or mobile, and a visual customizer to get the colors and fonts to match your brand's style and branding.
Stunning templates are also included and you get a footer area where you can have up to four widgets side by side.
WooCommerce WordPress Themes Takeaways
Creating an effective website for selling products online shouldn't be daunting.
Treat these free and easy-to-use themes as a simple and innovative way to add more value to your website.
Your website is a firsthand representation of your brand, which would have a definite impact on the user's experience.
From quick customizations to enhancing the overall look and color scheme of your website, we hope that these WooCommerce WordPress themes would inspire you to set up your strategically designed eCommerce website today.
Learn more from Development and read 5 the best WordPress Table Plugins in 2021.