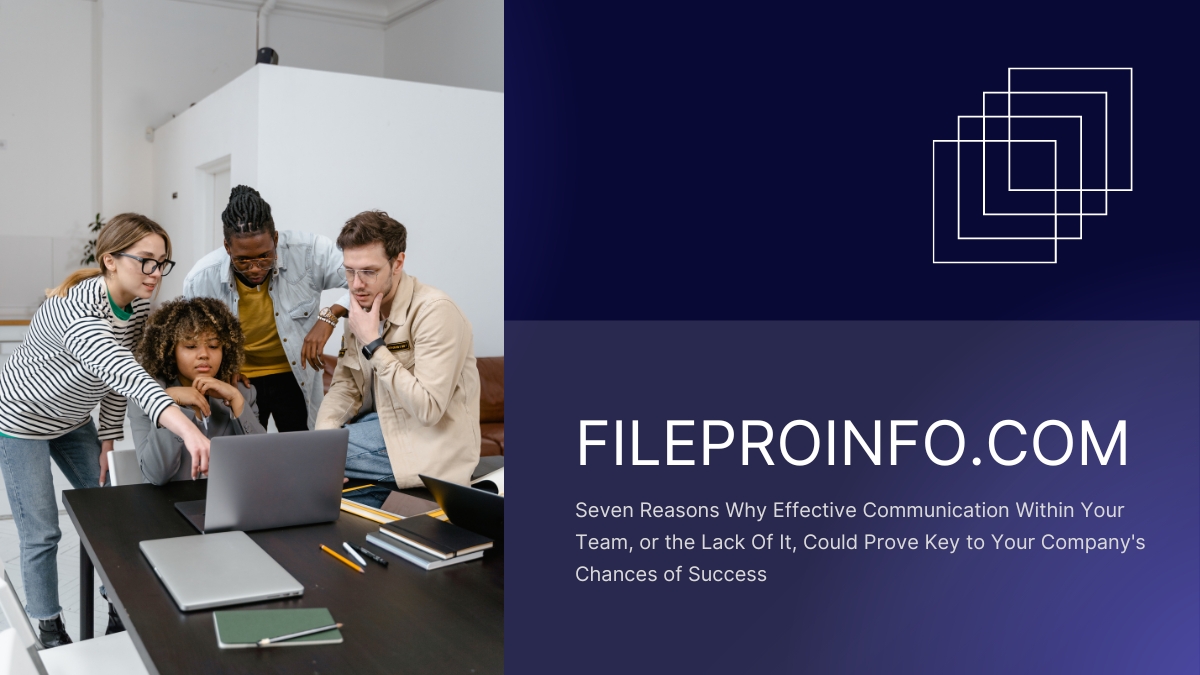 How well – or otherwise – your team is communicating is likely to be one of the deciding factors in the success of your business. A team that's not communicating and collaborating together well is likely to cause all sorts of issues, and conflict could be a common occurrence.
And that's not all. Poor communication can put a serious dent in productivity levels and even lead to higher rates of staff turnover. Here's exactly why communication needs to be a priority in your company in 2023.
Great Communication Goes Hand in Hand with Great Collaboration
A team that's communicating well will collaborate together well – the two are inherently linked. A team that's collaborating at a high level will be more efficient and innovative and will make the best use of every individual's time and skill set. On the other hand, a team that's not collaborating well is unlikely to be operating productively and will be liable to unnecessary duplication of work, confusion, and errors. As well as impacting work quality, this is bad news for staff morale, too.
Consider trying some of the new software solutions available to help get your team collaborating spectacularly: for example, Spike team collaboration allows staff members to work together on documents and files in real-time and to seamlessly switch to a video or voice call whenever needed.
1. Creates a Well-Oiled Machine
Clear processes and systems are good for everyone: staff knows what they're doing, and your business appears professional to your clients or customers. Communication is key to this: if team members aren't communicating effectively, and if the details of a task aren't adequately conveyed, you could run into trouble. Not only will this affect how efficiently your business runs, but it'll also affect your brand reputation.
For example, if clear, consistent processes haven't been properly communicated to your front desk staff, there will likely be an inconsistency of approach, which doesn't look great for you as a business.
2. Boosts Customer Relationships
And speaking of how your business is perceived – effective communication with customers is absolutely crucial for the success of your business and your chance of gaining loyal, repeat clients who are happy to recommend your services or products.
Spend as much time as is needed to get this side of things right. Consider the tone of your brand, ensuring this is likely to chime with your demographic, and use this 'voice' consistently in all your communications and marketing efforts. Providing training to front-line staff, with a view to enhancing their communication and customer service skills, is likely to be a great idea, too.
3. Promotes a Culture of Transparency
A beneficial side-effect of great communication within your team is that it also promotes a culture of transparency within your business. This is good for every member of staff within your organization and impresses customers, too.
Boosting and maintaining transparency is one of the best ways to instill trust in your business and could be vital in positioning it for expansion or diversification.
4. Vital for Good Decision-Making
Without adequate communication, good decision-making becomes extremely difficult, if not impossible. An employee who isn't clear on the goals and values of the company they work for or who haven't been fully communicated with in terms of strategy will struggle to make an informed decision.
Proper communication is vital to ensure the right choices are made on everything from the resources required for a project to the best way to get a new product to market, and it can affect the chances of success of virtually every business endeavor.
5. Supports Innovation
Your people are your most valuable asset, and who knows what excellent, innovative ideas each team member may be harboring? As a manager, improving your own communication skills, particularly around active listening, can help your staff feel comfortable and supported in sharing their ideas and feedback. 
In a team meeting where communication levels are at maximum, there'll be an atmosphere where people feel able to share their thoughts – and their exciting concepts on everything from ways to work smarter to an idea for a brand new product line!
6. Increases Staff Well-Being
As mentioned above, better communication supports higher staff morale and a lower staff
turnover rate – things that are good for everyone. But it goes deeper than this: a team that is communicating and collaborating well and effectively is one in which every member is likely to experience higher levels of well-being.
A lack of effective communication can contribute to staff members feeling undervalued and as if they're unable to carry out their job to the best of their ability. Conversely, individuals in teams where there is successful communication and collaboration tend to experience less stress and anxiety and to be happier overall.
7. Adopting Better Communication Strategies
Communication is vital for the success of your business and the well-being of your employees: fact. Taking steps to boost communication both internally and externally could be one of the most powerful things you can do to give your business the best chance of success in 2023.
Adopting clear processes, having consistent systems for the way in which information is disseminated, and making sure that every member of staff is not only aware of their role and responsibility, but that of their colleagues is a great start. Think creatively, and continue to innovate ways to make communication more effective within your team to see major benefits this year.