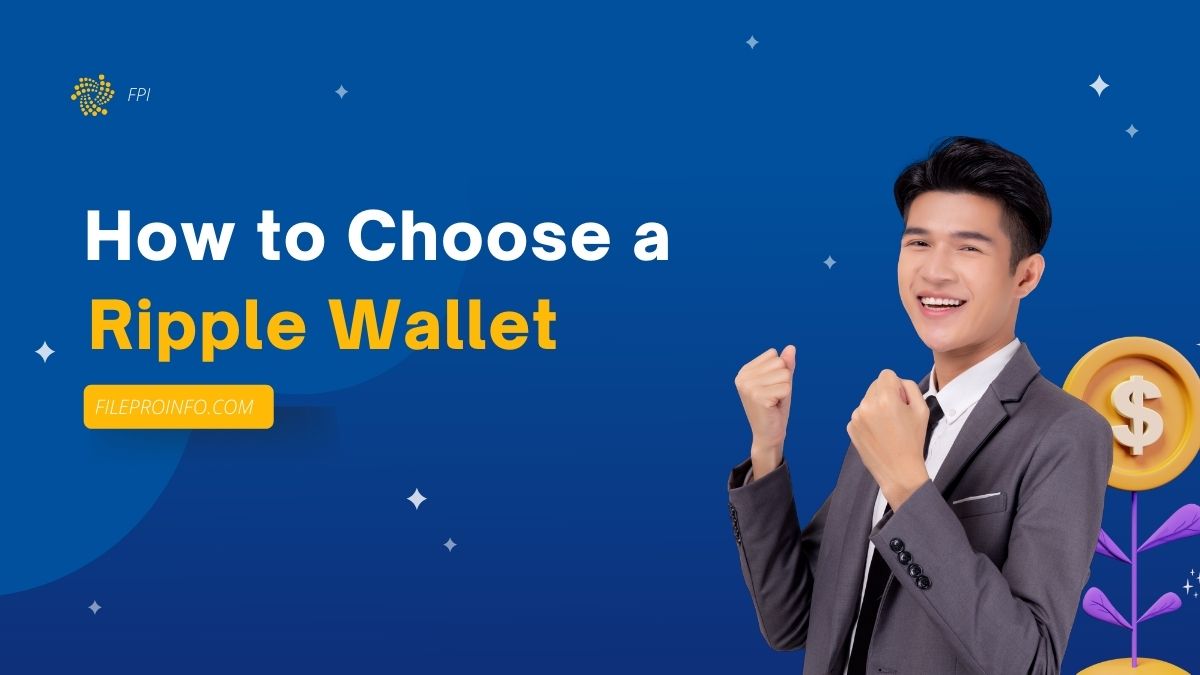 Ripple is a decentralized, open-source payment protocol that enables anyone to send money anywhere in the world at no cost. While cryptocurrencies have been available since 2009, Ripple has been gaining traction as it offers various benefits over other cryptocurrencies, such as Bitcoin and Ethereum.
In order to use Ripple, you must choose a Ripple wallet. In this article, we will talk about wallets to use with Ripple and how to choose which one is right for you.
What are Ripple wallets and how do they work?
A Ripple wallet is similar to a Bitcoin wallet. It allows you to store, send, and receive the currencies available on the platform.
Ripple wallets are often downloaded as an app or accessed via a web browser. You can use them to buy XRP (Ripple's cryptocurrency), trade XRP, hold your Ripple balance in your wallet, or even use your balance to pay for things.
Unlike Bitcoin wallets, which you need to set up and secure yourself, most Ripple wallets provide a simple sign-up process and easy-to-use interface similar to an online banking account.
The most important thing is that you note the private key given to you by the wallet provider. This is the only way to access your account and spend or transfer Ripple.
The different types of Ripple wallets available are:
Hardware wallets, desktop wallets, mobile wallets, web-based wallets, and paper wallets.
Hardware Wallets
Hardware Ripple wallets are physical devices that can connect your computer to the Ripple network without any risk of compromising security or personal information.
The most popular hardware wallet currently available is the Ledger Nano S, which also supports other cryptocurrencies, not just Ripple.
Desktop Wallets
Some desktop wallets such as Ripple allow you to store your currency on your computer and spend them through there. They download the whole blockchain so they can function fully. This makes it slower than the other wallets because the download time takes longer, but this is compensated by the fact that it is much more secure than online wallets. It gives you full control over your wallet and also functions as a local Bitcoin, Ethereum, Dash, and Ripple wallet.
Mobile Wallets
This means they can be accessed via an app on your cell phone or tablet. They are great because you always have access to your funds since you can always have your phone on you.
The downside of this is that the security is slightly lower since it isn't in your direct possession all the time, in case your phone gets stolen or if someone accesses it without you knowing. They are mainly used for spending and not for storing large amounts of Ripples because they need to be connected to the Internet for you to access them.
Edge is a great example of a mobile wallet, especially if you are worried about security.
How to choose the right Ripple wallet for you
Software wallets are the ones stored directly on your computer while hardware wallets have their own private key saved in a dedicated hardware device, making them more secure.
Hardware wallets are the type of wallet that is worth considering when looking for a Ripple wallet. If you want to choose a mobile wallet, then I would recommend either Toast or Edge. For a desktop software wallet, Rippex offers everything you need.
Factors to consider when choosing a Ripple wallet
When you are choosing a Ripple wallet for your tokens, you need to consider the following factors:
Multi-currency support (XRP is just one of them)
Private key control (if it's not in your hands, you can't be sure if your money is safe)
Security features
Usability and convenience
Price, although this isn't a very important factor
How to set up a Ripple wallet
After you've bought your first XRP and you want to store them, the very first thing that you need to do is set up a wallet.
How to set up a mobile wallet:
There are a few Ripple wallets available for both Android and iOS devices.
To set up a mobile wallet with Android, go to the google play store and download one of the wallets options.
For iOS devices, go to the App Store on your device and search for any suitable apps there; those apps will be recommended by Apple itself, as they are considered to provide the best user experience.
How to set up a web wallet:
There are many Ripple wallets that offer services in exchange for fees, such as Gatehub.
How to set up a hardware wallet:
To set up a hardware wallet, go to the wallet's official website and follow the instructions.
Hardware wallets offer the highest level of security; they do not connect to the internet at all times, making them even more secure than paper wallets.
Conclusion
No matter what wallet you choose, make sure to always use common sense when you enter your wallet address online or offline. Remember that it is never a good idea to keep large amounts of XRP on an exchange for a long period because there have been cases where exchanges get hacked and all customer funds are lost. It is always best to store your XRP in a wallet.
Thanks for reading!
Learn more from technology and read An Ultimate Guide to Blockchain Wallet For 2022.