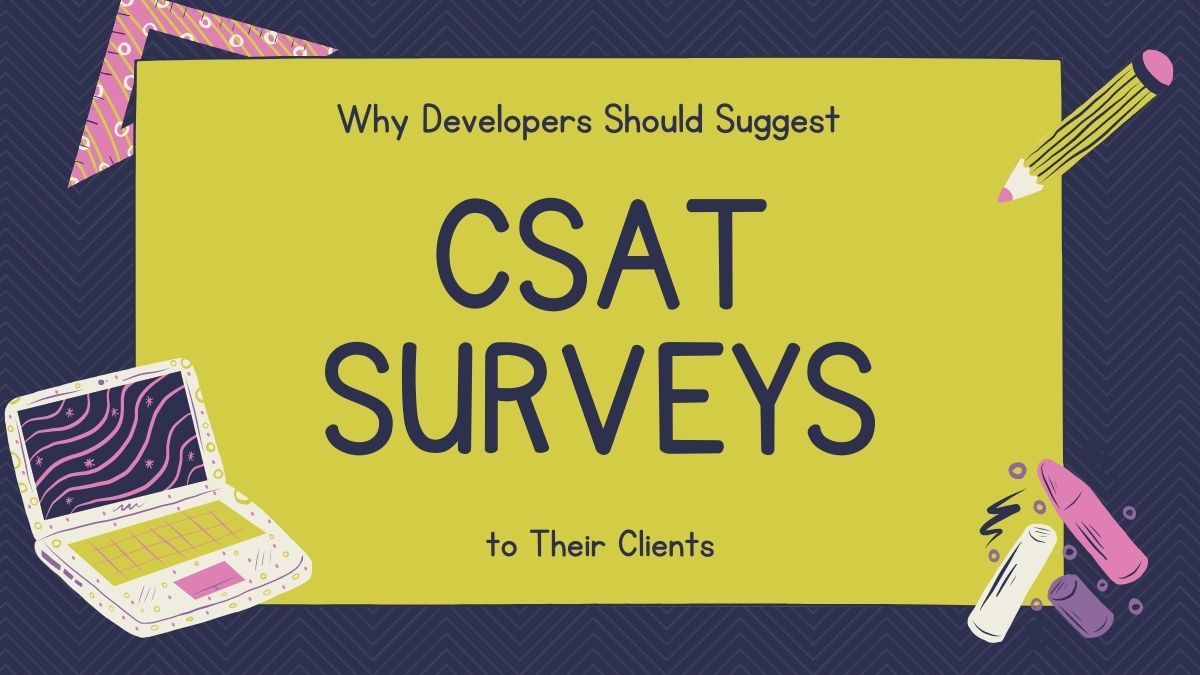 If you're like most website developers, you just want to do your job and get paid. Developing a website is a major project, no matter how small the website will be in the end.
Some developers take on extra tasks, like performing on-page SEO and writing basic content. Most clients know these are necessities and appreciate any head start they can get. However, there's another helpful tool you can suggest to your clients: customer satisfaction (CSAT) surveys.
What are CSAT surveys?
Delighted explains that a customer satisfaction survey measures how happy customers are with a product, service, or support interaction. A CSAT survey asks customers, "how satisfied were you with [your company]?" The customer can select a number from 1-5, where 1 means "very dissatisfied" and 5 means "very satisfied."
Why CSAT surveys are important
Customer satisfaction surveys provide insight into what a business is doing right and where it can improve. Businesses can then use this information to improve their systems and processes to provide a better customer experience.
Businesses aim to provide an optimal customer experience because happy customers equal more revenue. Satisfied customers spend more money and refer their friends and family. This helps businesses grow and become more well-known in their industry.
Why you should suggest CSAT surveys to your web clients
As a developer, you have a thousand things to do, so why bother suggesting CSAT surveys to your web clients? Here are 4 reasons:
1. Your client might not know CSAT surveys exist
It's not fair when you keep a great tool to yourself. If you know about CSAT surveys, but don't tell your web clients, they'll miss out on a major opportunity to help their business.
You might be the only way they'll find out about customer satisfaction surveys. Sure, most people know surveys exist, but CSAT surveys administered through companies like Delighted are more than just questions. The biggest benefit is the addition of dynamic, sophisticated insights.
With a professional CSAT survey delivery, your clients won't just get a bunch of answers sent to their email inbox. They'll get an entire dashboard that crunches all the numbers automatically, highlighting stats they can't easily calculate by hand.
Your clients will also get the ability to follow up with a thank-you message inviting participants to share their company with friends and family. It's a dynamic, multi-faceted experience.
2. Your client might want to hire you to help them implement their surveys
If you're looking for more ways to generate some cash, helping a client get set up with a CSAT survey could be a good side gig. You don't have to commit to creating their entire strategy, but you could be a huge help for getting them started since you know your way around the software.
You know your clients best. If they're able to figure things out on their own, you might just want to help them when they get stuck. If you don't mind taking on a more time-consuming gig, have them write their survey content and set it up from top to bottom.
3. When your client's revenue increases, they might hire you for another project
Do you have clients with big ideas, but no budget? If you can help your clients increase their income with CSAT surveys, they can hire you for those additional projects.
4. You can incorporate CSAT data in future website updates
When your clients start collecting feedback from customers, they'll almost certainly need some changes to their website.
Say one of your web clients finds out that certain parts of their website are frustrating their customers. They'll come to you and ask if you can optimize those features or elements. Optimizing the user experience will be yet another paid gig for you.
It's a win-win for everyone. Your clients will get a website that serves their customers better, and you'll get more work and income.
Customer satisfaction surveys are a goldmine
As a website developer, you don't have to tell your clients about every cool and useful strategy or tool you find. However, when you tell clients about CSAT surveys, you're facilitating an opportunity to uncover a goldmine of data they can use to grow their revenue.
Your web clients deserve to know where they stand with their customers. By spreading the word about CSAT surveys, you're helping businesses achieve their goals.
Learn more from the business.