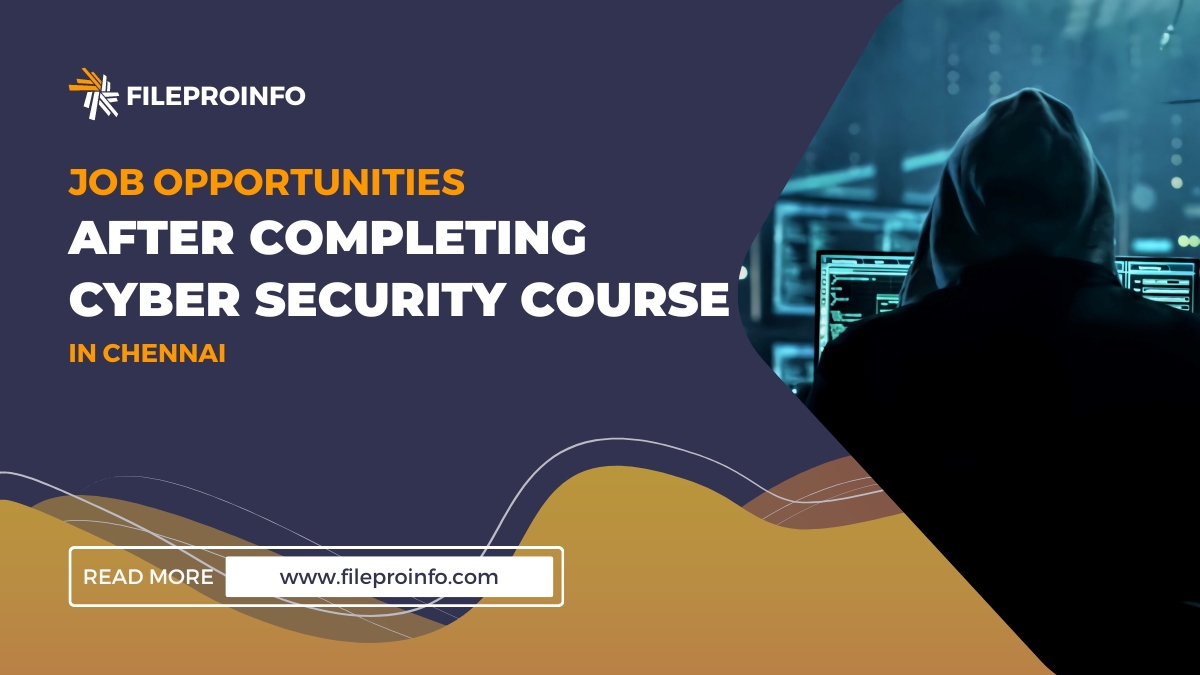 Other sorts of information technology occupations, such as network administrators or software engineers, are more frequent and well-known. However, the importance of cyber security jobs is quickly growing despite the fact that there are fewer of them. Organizations have become increasingly susceptible to hacking and other forms of cybercrime as a direct result of the rise of Internet-based computers and increased connections brought about by the global economy. And in the same way that a company might hire security guards even if there is a local police force, a company absolutely needs to hire cyber security personnel. At the end of the day, it is the organization's responsibility to safeguard not only its proprietary data but also any consumer information they possess.
If you are based in Southern India, a Cyber Security Course in Chennai is exactly what you need if you want to earn your post-graduate degree while also completing coursework in ethical hacking. The subject of cyber security is expanding at a rapid rate, and our cyber security course in Chennai will introduce you to and assist you in learning the most important concepts that are associated with this area of knowledge.
Cybersecurity employment opportunities in India
Below are the most coveted cybersecurity positions in India:
1. Network Security Engineer
In every company, the position of network security engineer is one of the most important ones. This individual is responsible for ensuring that the security systems necessary to counter and stop threats are put into place within the company. Their primary responsibilities include the upkeep of systems, the detection of vulnerabilities, and the enhancement of automated processes. In addition to this, they are responsible for the upkeep of VPNs, firewalls, routers, switches, and a variety of network monitoring tools (virtual private networks).
The annual compensation of a network security engineer starts at a minimum of 4 lakhs and can go up to 8 lakhs if they are experienced and successful in their field.
2. Analyst in Computer and Network Security
A cyber security analyst is someone who assists with the planning, implementation, and upgrading of various security measures and controls. They regularly monitor access to the security system, and conduct security audits both internally and externally to verify that there are no vulnerabilities or signs of security breaches. In addition to this, the management of the network and the conduct of vulnerability testing, risk analysis, and security assessments are all part of the responsibilities of a cybersecurity analyst. In addition to these responsibilities, the analyst instructs other workers on the policies and procedures pertaining to security so that those workers are aware of the best practices that should be followed to prevent security breaches.
The starting annual wage for a cyber security analyst is six million rupees (Rs. 6 lakhs).
3. Security Architect 
A security architect is someone who is responsible for playing an important role in the process of creating the network and computer security architecture for their firm. The security architect is responsible for contributing to the planning, research, and design of various aspects of security. If an organization does not have a security architect, then its security system is more likely to be breached. In order to meet the requirements of the business, the security architect will initially draft up a design, and then they will collaborate with the programming team in order to build the final structure. They are also responsible for developing company policies and procedures for how their organization's personnel should use the security systems and deciding what punitive action should be taken in the event that lapses occur, in addition to constructing the architecture.
The beginning salary for a security architect starts at 17 lakhs of rupees per year on average.
4. Chief Information Security Officer
Managers of cyber security are the ones who are in charge of ensuring that all of the organization's security protocols are kept up to date. They develop plans to improve the safety of networks and the Internet in relation to a variety of projects and manage teams of information technology specialists in order to maintain the highest possible data security standards. A cyber security manager will also routinely examine the preexisting security policies and make certain that these policies are updated to account for any newly discovered dangers. In addition to this, they conduct routine checks on all of the servers, switches, routers, and other linked devices to ensure that the security is not compromised in any way.
The beginning compensation for a cyber security manager starts at 12 million Indian rupees per year on average.
5. Charge of Information Security
A manager of information security is responsible for locating vulnerabilities in information systems that could be exploited by malicious actors. They are in charge of discovering and preventing cyber dangers within the company's data, computer systems, and network infrastructures. When companies fail to protect sensitive client information and violate data protection rules, they put themselves at risk of suffering significant financial losses. As a result, large organizations typically employ information security managers to ensure that the data, systems, and networks of the company are not compromised in any way.
Between 15 and 16.5 million Indian Rupees (about 15,000 and 20,000 United States Dollars) is the annual wage range for an information security manager in India.
6. Application Security Engineer 
An application security engineer is responsible for ensuring that all of an organization's applications, whether internal or external, are running smoothly. They would have in-depth knowledge and skill in dealing with the privacy and compliance elements of dealing with third-party apps such as Microsoft Azure or Amazon Web Services (AWS). Employing someone with this level of expertise in Cybersecurity should be a priority for every firm with the goal of incorporating the relevant software into its day-to-day operations. Application security engineers are also responsible for warding off cyber-attacks that could compromise the integrity of the application infrastructure as a whole.
In India, an application security engineer may expect to earn a salary of 9 lakh rupees (about 10,000 dollars) annually on average.
7. Ethical Hacker
Ethical hackers are a valuable resource to corporations because they possess a significant amount of intuitive knowledge in addition to the skills necessary to uncover the rationale used by hackers. They perform tests on the vulnerabilities of the networks, systems, and applications and then dissect the results. In addition to that, depending on the requirements of the company, they may perform security checks on a daily, weekly, monthly, or quarterly basis. Ethical hackers are gaining traction in the market today as a result of the fact that they supply enterprises with insider information to safeguard them from high-level cyberattacks.
Ethical hackers with zero to three years of experience might expect an annual salary of 3.5 lakh rupees (INR) in India. An annual salary of up to Rs. 15 lakh is possible for certified experts who have prior work experience in their field.
8. Consultant in Information Security
Independently assisting companies with the various cybersecurity challenges they face is the job of a cybersecurity consultant. To accomplish this, you need to have sufficient experience in the field, hold professional credentials, and demonstrate your potential employers. Contract work is the most common kind of employment for cybersecurity consultants among businesses. This best cyber security course in India is a perfect way to start the world of Cybersecurity consulting.