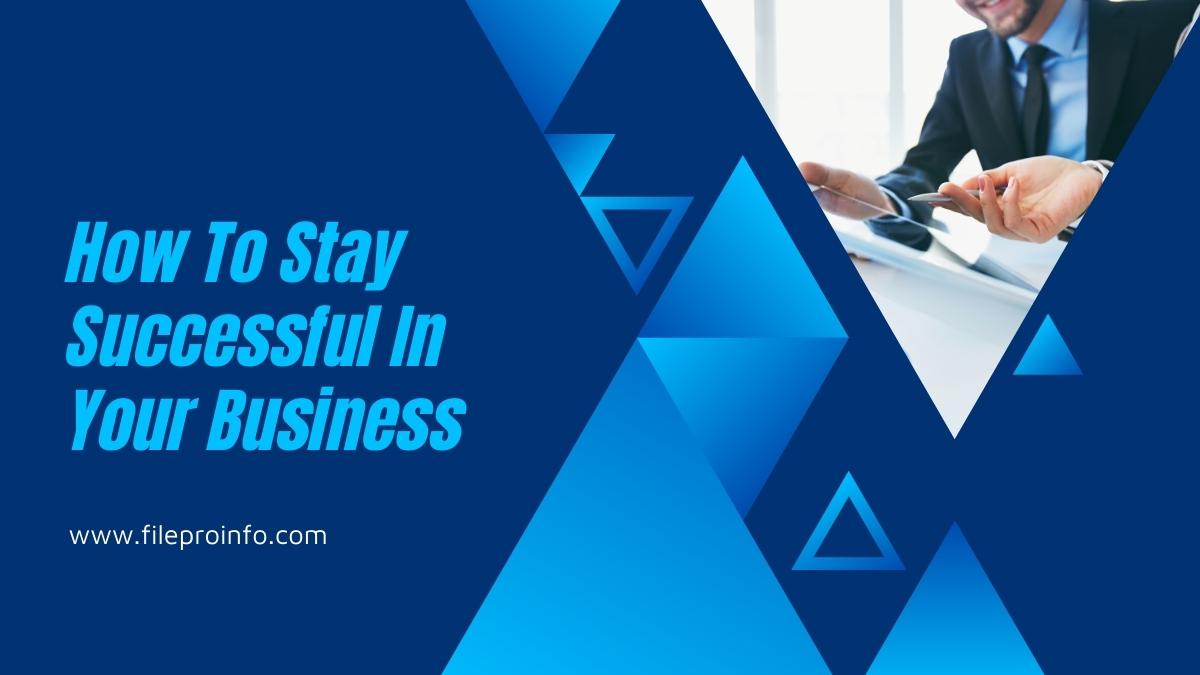 If you're like most business owners, you're constantly seeking ways to improve your company's performance. However, sometimes the best way to achieve success is by adopting a sustainable approach that allows you to maintain control of your business. Here are five tips for staying successful in your business:
Set Goals:
In order to stay successful in your business, it's important to set goals and track your progress. When you know what you're working towards, you're more likely to achieve it.
Make sure your goals are realistic and achievable. It's important to have a business plan and work towards your goals step-by-step.
Celebrate your successes along the way! It's important to enjoy the journey as well as the destination. Reward yourself for reaching milestones and don't give up when things get tough.
Keep learning and keep growing. As your business changes and evolves, so should your skillset. Be willing to learn new things and challenge yourself.
Stay positive and stay focused on what you want to achieve. Believe in yourself and your ability to be successful.
Stay Focused:
When you're starting a business, it's important to stay focused on your goals. This means setting reasonable expectations and not letting yourself be distracted by things that aren't important.
It's also important to stay organized and prioritized. This means setting aside time each day to work on your business and not letting other tasks get in the way.
Finally, it's crucial to always keep learning. As your business grows, you'll inevitably encounter new challenges and obstacles. The only way to overcome them is by educating yourself and staying up-to-date on the latest trends and strategies.
Keep learning:
No matter how successful your business is, you should always be learning and looking for ways to improve. Here are a few tips to help you stay successful:
Keep track of your industry's latest trends and changes. This will help you stay ahead of the competition.
Make sure you're always training your employees and keeping them up-to-date on the latest techniques and procedures.
Stay open to new ideas and don't be afraid to experiment with different strategies.
Learn from your mistakes and don't be afraid to make changes based on what you've learned.
Never stop learning – read books, attend seminars, etc. The more you learn, the better equipped you'll be to run a successful business.
Take Action:
In order to stay successful in your business, you must be proactive and take action. You can't sit back and wait for things to happen; you need to make them happen. This means constantly working on your business, whether it's developing new products or services, marketing your company, or networking with potential customers and partners. It also means being willing to take risks and trying new things. If you're not growing, you're dying, so don't be afraid to push the envelope and see what you can achieve. Finally, always remember that success doesn't come easy; it takes hard work and dedication. So don't give up when the going gets tough; keep pushing forward until you reach your goals.
Persevere:
There is no one secret to staying successful in your business. However, if you want to keep your business thriving, there are a few key things you should remember. First, always persevere. No matter how tough things get, never give up on your business. Second, stay focused on your goals. Make sure you have a clear vision for your business and always work towards achieving it. Finally, stay humble. Remember that you didn't achieve success overnight and you certainly won't maintain it if you become arrogant. By following these tips, you'll be able to stay successful in your business for years to come.
Conclusion
In order to stay successful in your business, you need to set goals, focus on your customers, and keep learning. Stay committed to your vision and keep moving forward. Finally, don't be afraid to take risks. The key to success is not giving up.
Thank you for reading! I hope these tips will help you in your business journey. If you have any questions, feel free to reach out to me.
Now it's time for you to take action!
Learn more from business and read 7 Reasons Your Business Should Start Using Social Media.