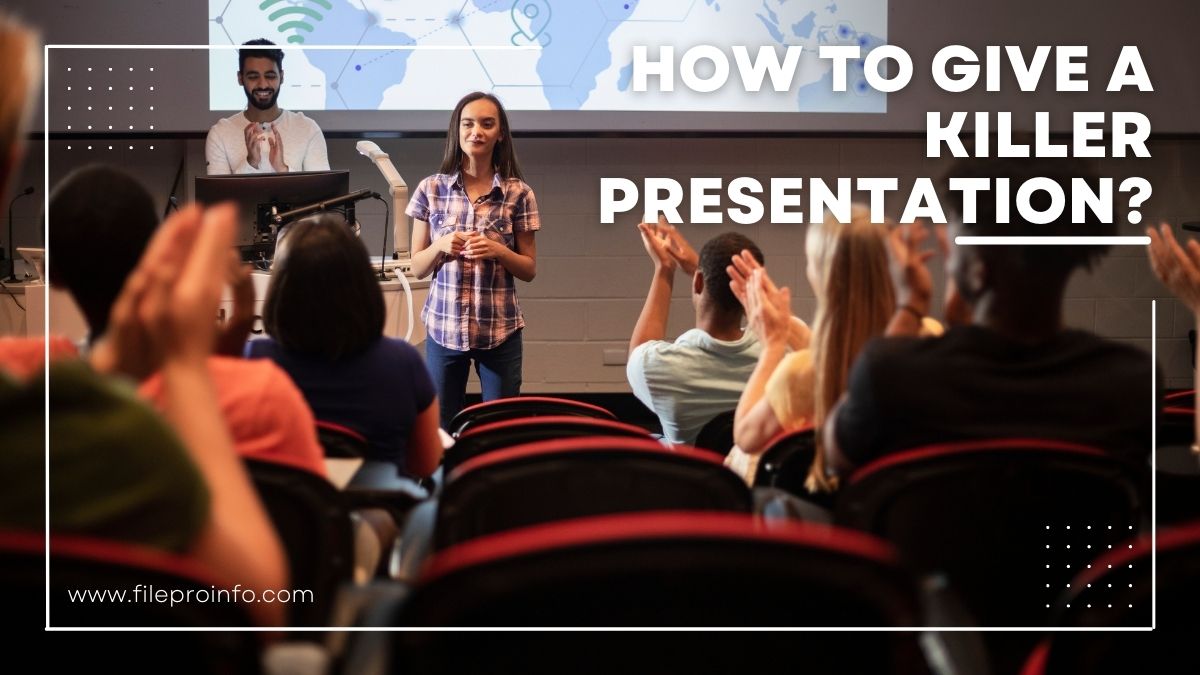 People attend presentations to learn and gain useful knowledge. However, we often see the audience yawn, scroll on their phones, or check their watches, wishing the time would fly by.
Is it because the presentation's content or the template design isn't interesting enough, or the speaker doesn't know how to engage the audience?
Regardless of the reason, delivering an engaging presentation is a skill that takes time to master. Here are the best tips to help you deliver a memorable presentation to your audience.
1. Know your audience
Understand who will be in your audience—how many people will be there, what their backgrounds are, who else will be speaking at the event they'd like to see, etc.
If you're giving a presentation at a conference or networking event, you should be able to ask the organizers all of these questions. You'll be able to determine what your audience wants to learn and how you should present the information once you've gotten to know them well.
2. Plan the storyline of your presentation
A compelling story can elevate your entire presentation. Take, for example, TED talks. They are all based on engrossing stories that support each speech's main argument or line of thought.
Make a plan for your presentation. Use a traditional narrative structure, from a gripping beginning to an impressive conclusion. According to industry experts, presenters should spend twice as much time framing the storyline as creating the actual slides.
Don't forget to include emotional details and powerful words. These will greatly increase your audience's sense of connection to you. People will forget your slides and presentation, but they will remember how you made them feel.
3. Give a Powerful Starting
Your presentation date and time have arrived! It's now your turn to shine. Starting strong is critical to delivering an effective presentation. Your audience will form an opinion of you in the first few seconds and minutes that you are on stage.
Beginning a presentation with a joke, for example, can help the audience relate to you or feel more comfortable with you. Allowing them to laugh a little will help to clear the air in the room, making it easier to continue.
4. Make Use of Props While Presenting
Do you want to know how to make a good presentation with props? That's great; it means you're thinking creatively. When preparing for a presentation, many people overlook the use of props.
Props can help not only to convey a message but also to provide emotional support for the speaker! Just make sure it's clear that it's a prop and not an emotional crutch. A prop can be as simple as a book, as complex as a washing machine, or as strange as a preserved human brain.
Of course, the prop must be appropriate for your presentation and topic. Not only that, but you must practice with it as well. It's critical to feel at ease with your props as you speak and switch slides.
5. Leverage The Powers of Ready-Made Presentation Templates
Creating presentation slides does not have to be a difficult or stressful process. When you use SlideUpLift's PowerPoint templates as a foundation, you'll be well on your way to becoming an expert on how to give a good presentation.
You can choose between topic-based and style-based templates when choosing a presentation template. Both have advantages; you just need to decide which is more convenient for you.
Topic-based templates are fully designed templates that include color themes, graphics, images, icons, etc. You'd only need to change the content and possibly the colors and graphics.
6. Maintain a balance between the text and visuals of your presentation
Make sure that your slides are not text-heavy and visually appealing. The slides require even less text than a standalone presentation for a visual support deck.
If that idea worries you and you have a lot of information to share, you can always create a full-fledged informative PDF version of your deck to hand out to your audience, investors, or guests.
7. Use your storytelling skills
Now, let's look at some pointers for creating your slides. It's critical to keep in mind the role your slides will play in your presentation. The audience's focus should be on you, not on your slides. These are meant to be supplemental, not a crutch or a text to be followed.
That being said, this is the most important tip. It applies to both your slides and your spoken speech. They should both adhere to a storytelling structure that you and the audience will follow.
8. Use high-quality visuals in your slides
You don't want any of your presentation's photos, graphics, or icons to be low-resolution or blurry. Always use high-quality vector graphics that look great regardless of size.
Icons and graphics can be a powerful way to visually represent your words and context, assisting your audience in understanding what you're saying.
9. Be Confident and Enthusiastic while presenting
You're on stage, and you must hold the attention of your audience. Being energetic is a good way to practice this presentation tip. Try using hand gestures or walking around the stage or the presentation room.
It's also a good idea to energize yourself by drinking water or fresh juice before your presentation. Remember to bring a water bottle with you during your presentation!
Wrapping It Up
Are you ready to create a presentation that will impress your audience? Use all of these tips to create a stunning and memorable slideshow.