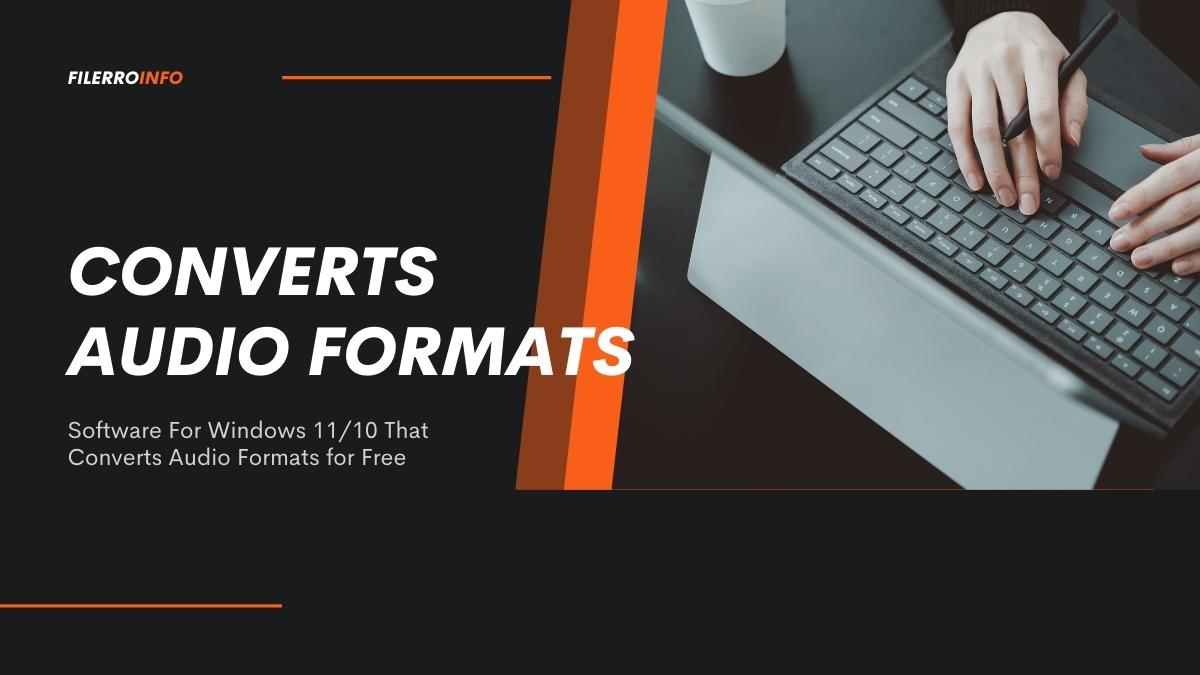 Different audio file formats, sizes, and quality levels exist. Several features can only be used with a select few audio formats, and many media players cannot support every sort of format. As a result, consumers frequently convert audio files between different formats.
The following list of free programs will be enough for your cause even if there are numerous premium tools available to convert audio formats of files:
Switch Audio File Converter software
VideoUtils
Oxelon Media Converter
TAudioConverter
VSDC Free Audio Converter
Any Audio Converter
MediaHuman Audio Converter
Freemake Free Video Converter
Filezigzag
Zamzar.
Switch Audio File Converter software
A good tool for changing the format of audio files is the Switch Audio File Converter software. It supports a variety of audio file types, including WAV, MP3, WMA, M4A, OGG, AVI, FLAC, AAC, AU, AIF, and WMA. The Switch Audio File Converter free version is only intended for personal use. It has no time restriction on free use. On this page of the NCH website, you can download it.
VideoUtils
Audio files can be converted using VideoUtils, a program that converts between video and audio formats. It is one of the list's most adaptable software items. You might make use of it to compress media files, change file formats, delete audio from video files, extract audio from a video into a distinct file, etc. MP3, WAV, WMA, M4A, M4R, and other file types are supported by this fantastic freebie.
Oxelon Media Converter
Your audio files can be converted to many formats quickly and easily using the Oxelon Media Converter software. The program can handle lots of files at once. It can convert data into the following formats: AC3, AAC, AIFF, AMR, AU, FLAC, MMF, MP2, MP3, OGG, VOC, WAV, etc. Recompressing audio and reducing the size of media files are also possible with it. To convert files from Windows Explorer, you might alternatively use the context menu.
TAudioConverter
Windows users can download the free audio conversion program TAudioConverter. Your audio files can be rapidly saved and converted to a variety of formats. Using TAudioConverter, you may also extract the audio track from your preferred files. It can rip CDs, take audio files out of videos, add effects to audio files, and more. AAC, AAC+, OGG, MP3, FLAC, WAV, AC3, and others are among the formats that are supported. The program comes in a portable version and has a simple user interface.
VSDC Free Audio Converter
The VSDC Free Audio Converter is a user-friendly piece of software. Its user interface is straightforward, and only one click is needed to convert audio files. The file types that are supported include MP3, WMA, ASF, M3U, MOV, MP4 and M4A, RM and RA, OGG, AMR, VOC, AU, WAV, AIFF, FLAC, OMA, and others. The ability to import more extensions is interesting. So, give this one a try if you're stuck with a strange format and other audio converters aren't cutting it for you.
Any Audio Converter
Any Video Converter's reputation is its greatest quality. The program makes it possible to transcode audio files without losing any quality. Among its many other advantages is the ability to download audio files from the internet. The file formats that are supported include MPEG, WMV, MOV, MP4, RM, RMVB, ASF, FLV, MP3, M4A, WMA, WAV, FLAC, OGG, AU, MP2, AC3, and others. The program can be used to modify audio files as well.
MediaHuman Audio Converter
An extremely straightforward audio converter is the MediaHuman Audio Converter. The capability of this free utility to batch convert several files to a certain format at once is one of its strongest features. iTunes is supported on Windows. The shareware supports a variety of file types, including MP3, ACC, FLAC, AIFF, WAV, OGG, and WMA. The audio quality is slightly reduced during conversion, which is one of the drawbacks of this software.
Freemake Free Video Converter
The Freemake Free Video Converter is one of the most favored media conversion software programs on the market. Audio file conversion is another application for it. The audio converter supports converting between MP3, WMA, WAV, FLAC, AAC, M4A, OGG, AMR, AC3, and AIFF, among other formats. It is simple to utilize versatile software. Search for the audio file, then convert it. You can download the converted file to the desired location.
Filezigzag
Media file conversion is the main usage of the all-purpose file conversion program Filezigzag. Simply upload the file to the website, select a format, and convert it. Several formats are supported, including 3GA, AAC, AC3, AIF, AIFC, AIFF, AMR, AU, CAF, FLAC, M4A, M4R, M4P, MID, MIDI, MMF, MP2, MP3, MPGA, OGA, OGG, OMA, OPUS, QCP, RA, RAM, WAV, and WMA. From this page, you may access the utility.
Zamzar
Another online tool for file conversion that can be used to convert audio files is Zamzar. There is no registration necessary, and it is simple to use. You can get to Zamzar from here. Almost all audio file formats are supported by Zamzar.
Great Method to Distribute Information
You may effortlessly record and convert your audio file to text using a reputable audio transcription program. Once the file has been converted to text, you can share it with whomever you choose. The finished result can be sent after transcription via alternatives offered by transcription software like the online audio-to-text converter Audext.
Transfer of Knowledge
By receiving notes of the lecture's content, transcription applications can help your college friends catch up on any classes they missed. This is so that you can share the transcription of the lecture in question with other colleagues who weren't able to attend the real lecture class using Audext.
More viewers
A fantastic approach to promoting your company is through audio tracks or video clips that have subtitles. Even if some of the potential listeners who are watching your audio clip find it tough to understand some of the said details, they will use the subtitles that are provided with each line to understand your brand message.
You may effortlessly add subtitles to your videos using the best audio-to-text transcription app, like Audext. This can assist your advertisements to get in front of a more relevant audience, which you can, later on, turn into potential customers.
Within a lengthy interview, journalists can quickly find quotes
It can take a lot of your valuable time as a journalist to extract one quotation from a protracted interview. However, with the help of transcription software, you can easily create and read subtitles as well as get the precise information you're looking for. With the aid of the audio-to-text transcription tool Audext, journalists can also convert the entire audio file into text before using a word processor to look up any necessary quotation marks.
Advantages for Student
Taking dictation in any lecture session can occasionally be stressful and time-consuming. There are various transcription programs available to help you instantly convert audio recordings to text, though, thanks to technical improvements in the internet industry. By instantly converting the audio to text and then disseminating it to other students, Audext offers the greatest substitute for students in higher education institutions to record notes from lectures.
With the help of automatic transcription from Audext, you may create material that flows smoothly. Once you've finished converting your audio to text, the freeware Audext can help you revise the transcription. The software cannot be used to convert text or word to audio or to transcribe video files, even though using Audext might expose you to a variety of exceptional benefits. If you want accurate and dependable transcription results, download Audext right away to convert all of your popular audio files to text.