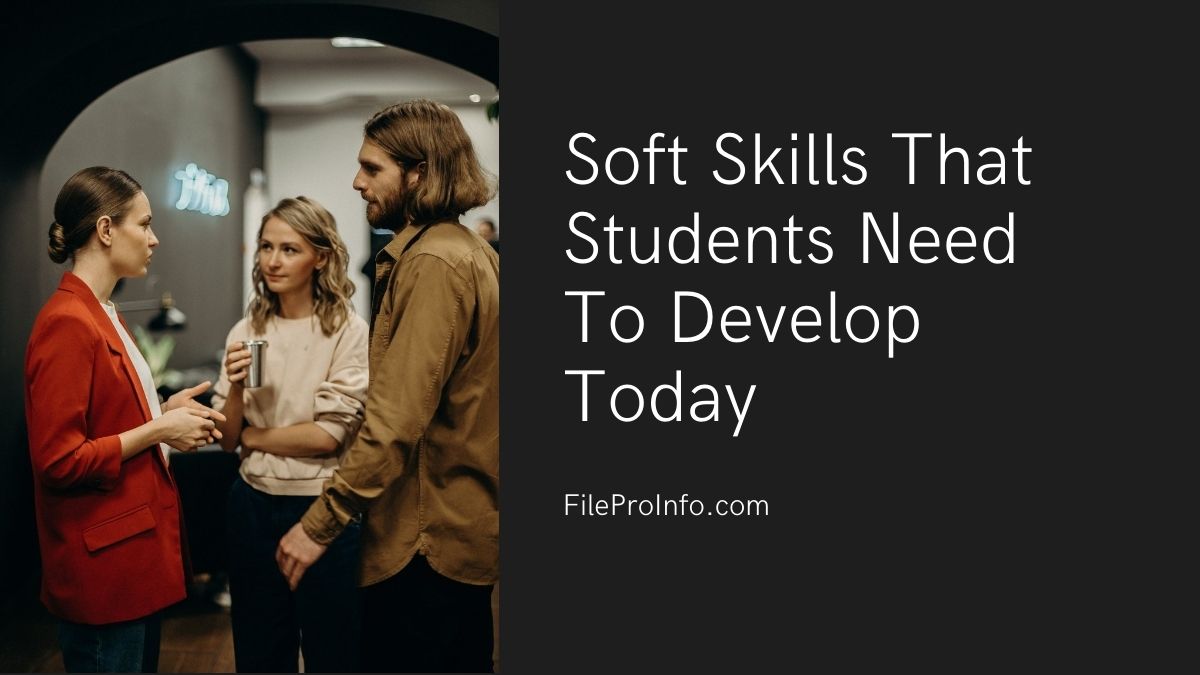 Soft skills are important skills that students and professionals need to develop to become more productive. Individuals developing essential soft skills can have an easier time with their academic tasks and build better relationships. In the professional fields, employers will look for individuals that possess certain traits that are fit for their work culture. This article will enumerate some of the soft skills that students need to develop today to improve their academic and professional life.
Develop High Emotional Intelligence
Having high emotional intelligence can greatly benefit students in terms of productivity and mental health. Emotional intelligence refers to an individual's ability to manage emotions that can be detrimental in academic life. Students will need to manage different tasks and subjects that can cause stress and anxiety. This can easily overwhelm an individual with low emotional intelligence, which can lead to depression.
Alternatively, a high emotional intelligence will allow an individual to be self-aware and take actions to preserve their mental health. They can acknowledge changes in their moods and have the ability to motivate themselves during stressful situations. For example, a stressed student may decide to buy custom essay papers online instead of risking burnout and getting a bad grade.
Additionally, emotional intelligence includes empathy and social skills. These elements are integral in maintaining and developing social relationships. Students with high emotional intelligence can effectively build healthy relationships, which can improve their mental health and academic life. Students may be able to improve their emotional intelligence through self-reflection and mindfulness. Not only are these methods useful in developing emotional intelligence but they can also help in building other soft skills.
Be Flexible
Flexibility is one of the most important soft skills that a student or a professional can possess. This trait will allow an individual to perform in different types of environments effectively. Flexible students will have no issue working with different people and doing new tasks. They can easily adapt to people's behavior, expectations, and requirements. They will be less likely to complain about sudden changes in requirements or work operations. This makes flexibility a sought-after skill that employers would like to see in a resume.
While not everyone may possess flexibility, individuals can try to develop the trait through practice and reflection. They can identify situations where they should have been flexible and reflect on the things that they should have done differently. For example, an instructor may require students to submit their projects a couple of days earlier due to personal reasons. The deadline adjustment may make a student feel angry or irritated.
Once the student has calmed down, they can reflect on their reaction towards the situation and try to be mindful next time that a similar event happens. With this habit, an individual can slowly develop flexibility as they begin to understand that changes are part of life.
Establish Good Communication Skills
Effective communication skills are important in every aspect of life, including academic, professional, and personal life. They allow an individual to effectively convey their message and avoid misunderstanding. In academic life, good communication will lead to productive group activities.
In a professional field, good communication will allow an individual to clearly give instructions and work well with their co-workers. In an individual's personal life, effective communication will result in healthy social relationships. Developing this trait will not only improve a student's productivity but also make them better colleagues and parter.
Additionally, good communication will allow an individual to perform presentations, speeches, discussions, and essay writing effectively.
Develop a Growth Mindset
A growth mindset is one of the most useful soft skills that an individual can have. An individual with a growth mindset aims to develop their talents through practice and self-examination. Students with this trait will have the motivation to work on their abilities and avoid the idea that they do not have talents. Such views will lead an individual to examine themselves and assess their abilities. Not only will this help improve certain talents but allow the individual to become self-aware, thus improving other soft skills such as emotional intelligence and flexibility.
The mindset aimed at growth motivates an individual to continuously improve their talents, skills, intelligence, and other attributes. The trait promotes introspection that can help an individual identify their weaknesses. Students with a growth mindset can work well in a new environment as they may see it as a way to improve further. For example, a biology student with a written assignment from their philosophy class will perceive the task not as a waste of time but as a way to develop their knowledge of philosophy.
Develop Critical Thinking Skills
Critical thinking is a soft skill that allows individuals to analyze topics and form educated judgments. Students with good critical thinking skills are efficient problem solvers since they tend to explore different perspectives when approaching a problem. They examine questions and divide them into different parts. They then establish assumptions and gather data that they will use as a basis for their conclusions. Individuals with this ability can perform well in their academic activities and are good candidates for employers.
Developing critical thinking can help individuals develop other soft skills since it promotes an objective approach and analysis. A student with this trait can develop a growth mindset and high emotional intelligence since all of them require introspection. For an individual to further develop their critical thinking, they can engage themselves in complex projects. This will challenge their mind to utilize innovative methods to accomplish the task. Instructors and employers can help students and employees to hone this trait through challenging tasks that will result in long-term benefits.
Conclusion
Soft skills can be an integral part of a student's academic and professional career. Developing high emotional intelligence, a growth mindset, and critical thinking will allow them to become productive and aim to improve their talents. Other soft skills like flexibility and effective communication can help them build strong relationships and adapt to the changes in their environment. Developing these traits today will provide students with advantages that will make them great professionals.
Read Five Business Skills Companies Demand From Students in Job Opportunities.