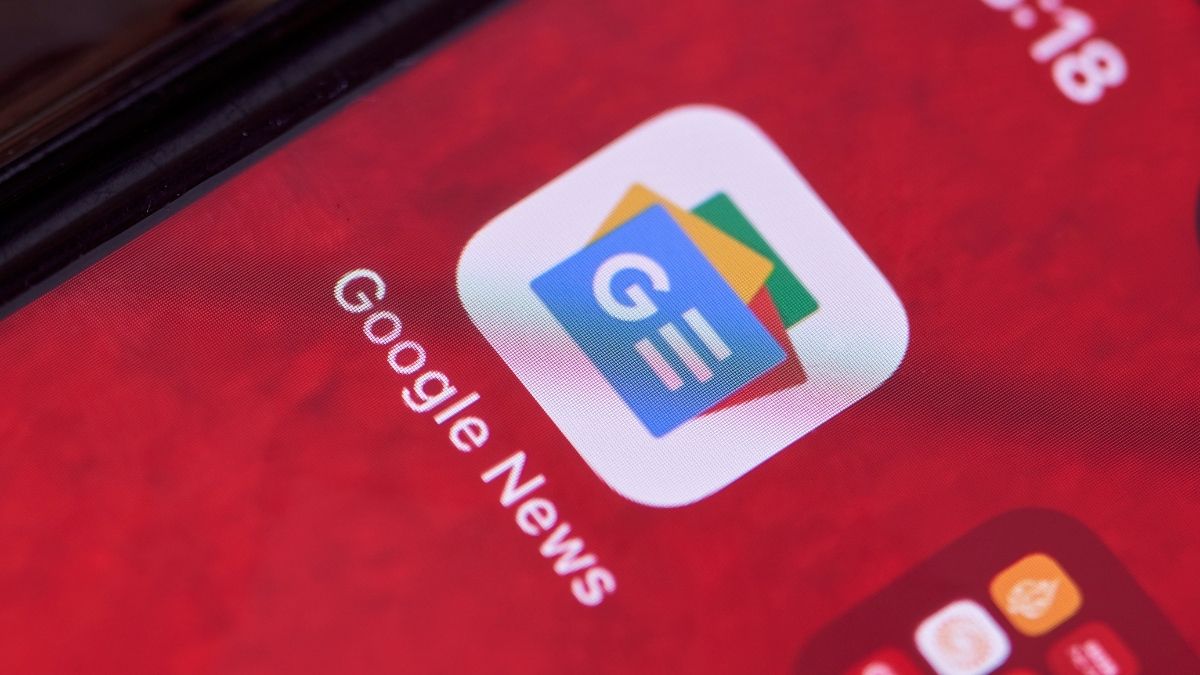 The process of optimizing sites to appear in Google News, Top Stories, and Google Discover differs from the process of earning rankings in the 10 blue organic links in many ways.
This is because Google employs several different organic SERP features to display recent or newsworthy content, each with its own set of ranking guidelines and reporting capabilities.
To complicate matters further, Google only offers dedicated reporting on some – but not all – of these News-related features via Google Search Console and Google Analytics.
This creates some uncertainty about where a given article may be driving traffic and impressions in the search results.
Google provides guidelines for appearing in products such as Google News and Discover.
These documents, however, are frequently technical (for example, this Google article explains technical recommendations for preventing content from being indexed on Google News without affecting its performance in regular Search).
While there are some guidelines, it's difficult to find specific advice in Google's documentation about how to structure and optimize content for performance in Google News or Discover.
It is best to analyze the performance of your content to see what works and what doesn't to understand how your sites perform in News, Discover, and related features.
This column will teach you about the various Google SERP features that show recent or trending news, as well as how to optimize and report on them.
I'll also include some aggregated data and insights about the performance of my clients across these features.
Google News
Google News is a news aggregator service that can be accessed via a mobile app or by visiting news.google.com in your browser.
Previously, publishers had to manually submit their sites to Google News for approval through the Google Publisher Center, and the approval process was notoriously difficult.
Google, on the other hand, recently updated its guidelines for which sites are eligible to appear in Google News.
All publishers need to do to appear in Google News, according to Google's documentation, is "produce high-quality content and comply with Google News content policies."
Following Google's News content policies entail not creating content that is violent, hateful, dangerous, or deceptive.
Reading between the lines of these updated guidelines reveals that content from any site is technically possible to appear in Google News.
However, most websites do not experience this frequently.
Google has strict criteria for which publishers to display in Google News, regardless of how frequently a site produces content.
News sites, as stated throughout much of their documentation, must demonstrate good E-A-T: expertise, authority, and trustworthiness.
The definition of "YMYL – Your Money, Your Life" content in Google's Search Quality Rater Guidelines begins with "News and current events" as the first example of the type of site that can affect a person's future happiness, health, financial stability, or safety.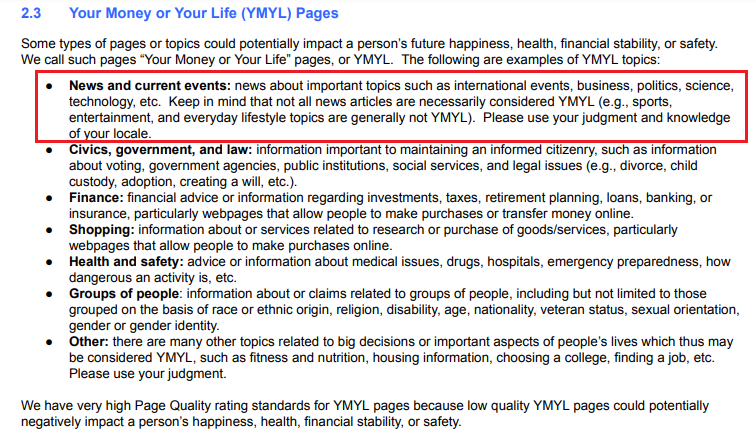 This suggests that the criteria used to evaluate content and websites for Google News may be subject to more E-A-T scrutiny than those used in other areas of Google Search.
Read 12 phrases students should not say at the job interview.
This would be consistent with other articles and videos published by Google in recent years, confirming that Google is increasing its emphasis on the authoritativeness of publishers when it comes to breaking news, misinformation, elections, and times of crisis.
Google also claims to promote "uniqueness" and a "diversity of viewpoints" in its News content rankings.
Google published an article in late 2019 emphasizing the importance of original reporting in its ranking of news content, to provide higher rankings for "the story that started it all."
Google claims that:
"While we typically show the latest and most comprehensive version of a story in news results, we've made changes to our products globally to highlight articles that we identify as significant original reporting.

Such articles may stay in a highly visible position longer. This prominence allows users to view the original reporting while also looking at more recent articles alongside it."
This recommendation should not be overlooked if you want to rank well in Google News.
Many aggregator websites and websites that primarily syndicate content from sources such as Reuters or the Associated Press may have seen declines in organic visibility in recent years as a result of this issue.
One such aggregator website's SEO visibility is depicted below, with blue letters indicating Google Core Updates:

While syndicated content is common in driving traffic, achieving long-term, sustainable performance in Google News necessitates differentiating your content by providing original reporting or offering a unique angle not found on other sites.
Google recommends that syndicated content not be indexed, even though for many publishers who choose to index it, this type of content frequently drives significant organic traffic.
When it comes to optimizing content for Google News, Google provides some guidance on its criteria for ranking content in Google News, which include:
Relevance.
Prominence.
Authoritativeness.
Freshness.
Location.
Language.
It is critical to publish quickly.
Unlike traditional search, where timeliness may be a minor consideration (depending on the query), timeliness is everything in Google News.
This is especially true if there is a breaking news event.
Sites that publish frequently will be the first to accumulate links and social shares, which will only increase their performance on Google News.
Technical requirements for inclusion in Google News include the use of NewsArticle structured data and News XML Sitemaps.
The Publisher Center at Google
Google provides a Publisher Center for news publishers to manage their Organization's information. This includes general information about the organization, which categories are available on the site, official brand logos, feeds, and other resources.
If you want to rank in Google News, you should use the Publisher Center to manage important information about your brand.
Google News Visibility
While Google News strives to present a diverse range of viewpoints without favoring one side of the political spectrum over the other, highly authoritative publications have dominated in recent years.
Meanwhile, many fringe publications appear to have faded into obscurity.
Looking at the news publishers with the highest Google visibility over the last year can shed some light on what it takes to be considered a news authority in various categories.
I compiled a list of the 100 most popular websites in "News and Media" from Similarweb's list of the most popular domains in that category.
This list was then cross-referenced with the Sistrix Visibility Index (VI) scores for these domains, which measures a domain's overall visibility over time and assigns it a Visibility Index (VI) score based on how it ranks on Google across Sistrix's set of 1 million tracked keywords.
These are the news domains with the highest organic visibility on Google.com as of March 1, 2021, according to the US index:
| Domain | 3/1/21 VI |
| --- | --- |
| nytimes.com | 243.4 |
| usnews.com | 212.1 |
| theguardian.com | 123.2 |
| cnn.com | 102.9 |
| yahoo.com | 100.7 |
| forbes.com | 97.4 |
| bbc.com | 77.8 |
| finance.yahoo.com | 70.0 |
| usatoday.com | 59.0 |
| businessinsider.com | 57.1 |
| washingtonpost.com | 55.7 |
| chron.com | 50.7 |
| nbcnews.com | 46.4 |
| bloomberg.com | 46.0 |
| cnbc.com | 45.3 |
| theverge.com | 44.8 |
| bbc.co.uk | 32.3 |
| theatlantic.com | 29.7 |
| time.com | 29.0 |
| cosmopolitan.com | 27.5 |
| latimes.com | 26.4 |
| people.com | 26.4 |
| reuters.com | 26.3 |
| wsj.com | 26.3 |
The sites mentioned above are excellent sources of inspiration for determining how to structure your headlines, subheadlines, URLs, taxonomy, internal linking, and other important considerations for ranking in Google News.
I recommend John Shehata's article on Google News optimization for a comprehensive rundown of how to best optimize content for Google News.
Try free Plagiarism Checker, Paraphrasing Tool, and Website Reviewer.
Google News Traffic Reporting
Google Analytics and Search Console can both be used to track Google News traffic.
Google News traffic will appear in Google Analytics under the referral source news.google.com.
Google Search Console has also recently added a dedicated Performance report for Google News traffic in the left sidebar's Google News tab. You can get a more in-depth view of the data by combining Google Analytics and Search Console, such as seeing click-through rates for your article headlines in Google News (by adding Page Title as a secondary dimension in Google Analytics).
Top Stories on Google
Google's Top Stories carousel is a goldmine of organic traffic for news publishers. According to the Wall Street Journal's Technical SEO Manager, Richard Nazarewicz:
"The Top Stories carousel for Mobile and Desktop SERPS is the most coveted spot for fresh or breaking news to surface within the Google Search ecosystem. Every newsroom is working hard with their SEO Editors or SEO desk, if they have one, to optimize using Google Trends, competitor analysis, and  A/B testing SEO title tags (headlines) to ensure their article is surfacing in the top 3 Top Stories results.

Just like any regular article they need to be linked to from a prominent position like the Homepage and included in a dedicated sitemap for fresh or breaking news from 48 >= 72 hours before being moved into a regular article archive sitemap depending on your setup."
It's worth noting that only AMP articles are currently eligible for the Top Stories carousel on mobile devices.
However, Google has stated that this requirement will be removed in conjunction with the Core Web Vitals update, which is scheduled to be released in May 2021.
Following that date, any article has the potential to appear in the Top Stories carousel.
However, if the major publishers continue to use AMP, non-AMP publishers will struggle to compete with the lightning-fast load times of AMP articles.
There is currently no dedicated reporting section in Google Search Console or Analytics for the Top Stories carousel.
To get an idea of performance data from Top Stories, go to Search Console's Search Appearance tab, filter by a mobile device, and select AMP article.
This is by no means perfect, as AMP articles can still be found in other areas of Google. However, it can serve as a representative set of Top Storie's clicks and impressions (and other places).
After launching AMP, navigate to this view to see if the articles are gaining traction in Top Stories.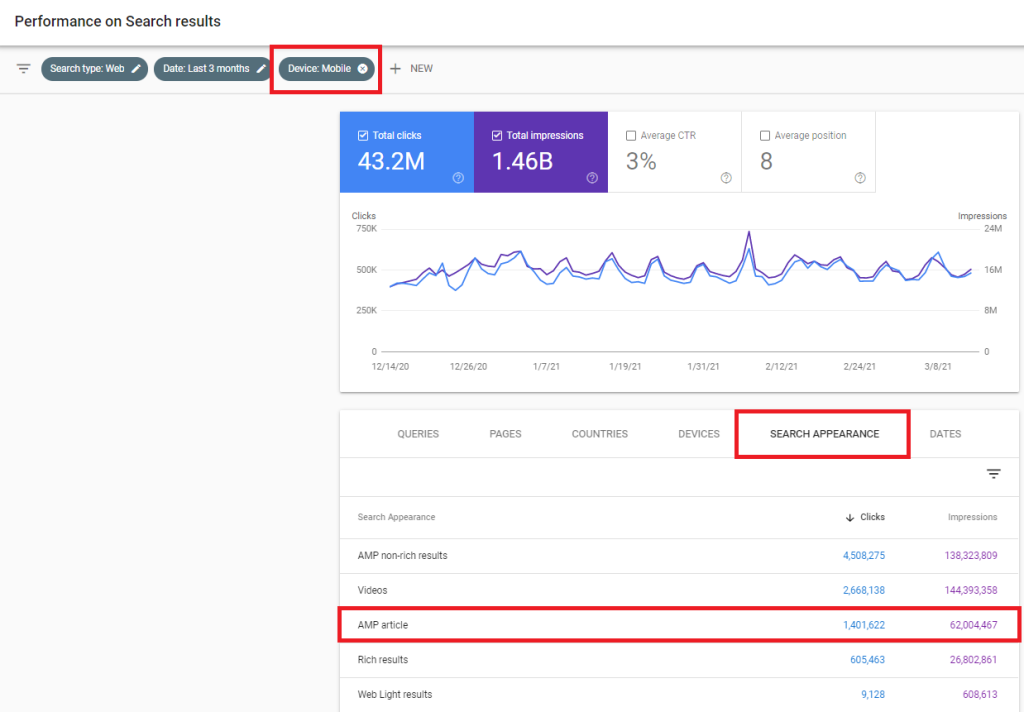 One of the most important ranking factors for ranking in Top Stories is the use of keywords in headlines. Unlike Google's standard organic blue links, which display the title> element as the ranking page's title, Top Stories displays the h1> headline as the page's primary title.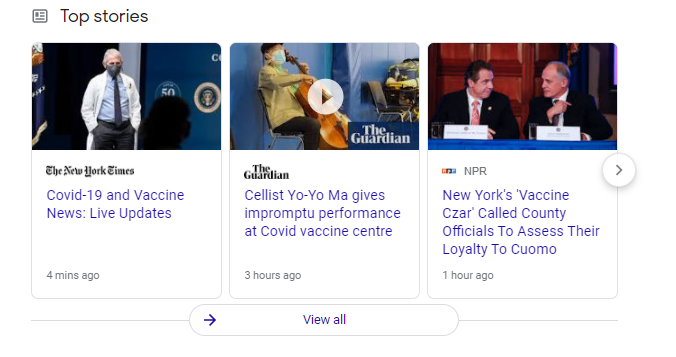 As a result, it's critical to concentrate on optimizing the article headline, such as making sure the name of the targeted entity (person, place, or thing being written about) is stated clearly and early in the headline.
For best results, article headlines should be no more than 22 words long.
It is also critical to avoid using profanity, clickbait, or anything else that is inappropriate or unclear in article headlines.
Google Search Discover
Google Discover is a personalized news feed available to mobile users via Android devices or the Google App on iOS.
Google Discover can also be accessed by visiting Google.com while logged into a Google Account on a mobile device using Google Chrome.
What distinguishes Google Discover from other areas of search is that the list of articles is curated before the user types anything, based on other user behaviors across Google to determine what the user may find interesting.
As a result, a user who reads dog-related publications, shares dog articles on social media, or uses dog-related apps on their phone may be more likely to see dog content appear in their Discover feeds.
Without the use of any specific structured data or sitemaps, content is eligible to appear automatically in Google Discover.
Google does require a "compelling, high-quality image" that is at least 1,200px wide and enabled by the meta tag:
<meta name="robots" content="max-image-preview:large">
or by utilizing AMP.
According to Google's Discover guidelines, focus on content that is "timely for current interests, tells a good story, or provides unique insights," while "avoiding clickbait headlines" and providing "clear dates, bylines, information about authors, the publication, the publisher, company, or network behind it, and contact information."
According to Richard Nazarewicz,
"Discover Traffic tends to average around 20-40% of all Google traffic (GSC), whereas in Europe, it is more like 40-60%. The reason it is higher in Europe as well as the Middle East is that Android has a much higher percentage of the mobile market, as opposed to the U.S., where we are predominantly using the Apple iPhone, myself included!

Google continues to say that Discover traffic should be reported as search traffic and is only split out in Google Search Console which can be exported to sheets. But it is currently not available in the API, along with the recently added Google News Tab traffic."
Abby Hamilton published this comprehensive resource on Google Discover and how to optimize for it last year, including original research on which articles tend to appear there.
Over the past year, I performed a similar analysis on over 5,000 URLs ranking in Google Discover for a variety of Path Interactive clients.
General Google Discover Observations:
Articles that perform well in Google Discover tend to be highly entertaining and elicit strong emotion, without being too clickbaity or "causing morbid curiosity, titillation, or outrage" (as defined by Google in its Discover Guidelines, and failure to comply can now result in a manual action).
Not every page that appears in Google Discover is a news or blog post. Local service pages and other local resources have received significant traffic from Google Discover, according to our clients.
Articles that are several years old can be resurfaced in Google Discover, even if no changes have been made to them.
It appears that websites flagged as "adult" content may not be eligible for Google Discover, and this does not appear to be limited to extremely adult content. According to Google's Discover documentation, content containing "nudity, sex acts, sexually suggestive activities, or sexually explicit material" violates their content guidelines and may result in publishers being excluded from Discover.
The following are some correlations we discovered between our clients' Discover performance.
As always, correlation does not imply causation, but the trends can provide some insight into what content performs well in Discover.
The article's H1> is frequently (but not always) displayed as the article headline in Google Discover. As a result, the length of the headline may affect CTRs.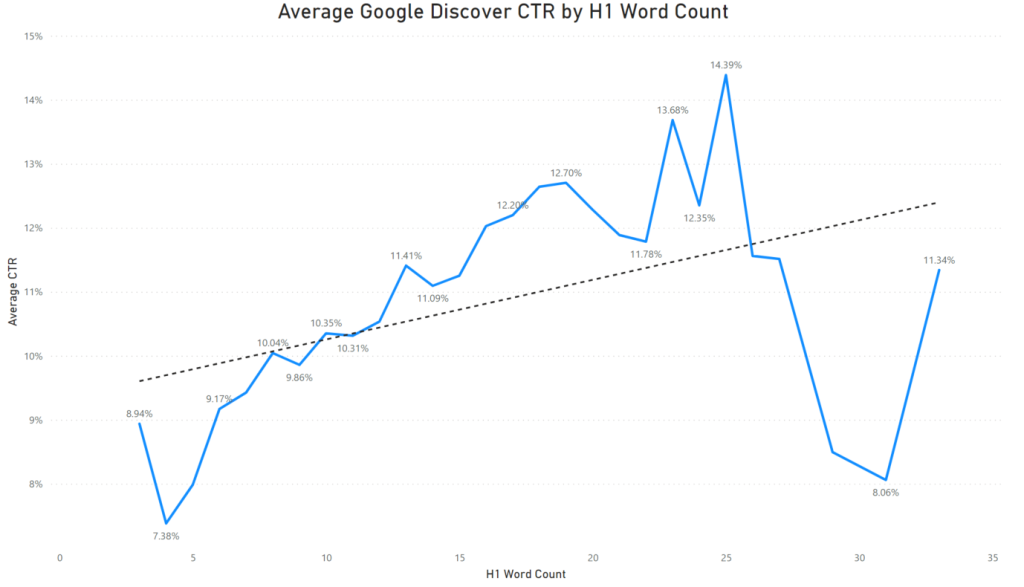 Our analysis revealed a positive relationship between H1 word count and increased CTR, up until about 27 words, when the CTR drops precipitously.
The highest CTR (14.39 percent) was found in articles with headlines of 25 words or less.
Writing a headline of about 15-25 words could be a good target for Google Discover, according to this data.
The same general pattern holds for overall Discover content clicks, though the most popular articles had even shorter headlines, ranging from 10 to 20 words.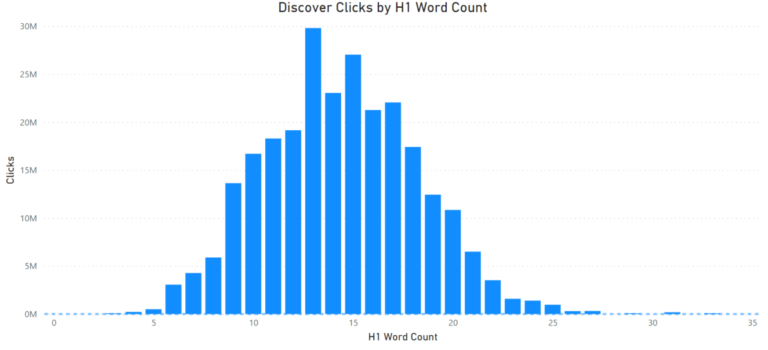 In terms of overall article length, the articles that received the most traffic in Google Discover ranged from 500 to 1,000 words, with the best performance in the 600-700 word count range.
It's important to remember that word count isn't a ranking factor in any Google Search feature, but we thought the trend was worth noting for Discover in particular.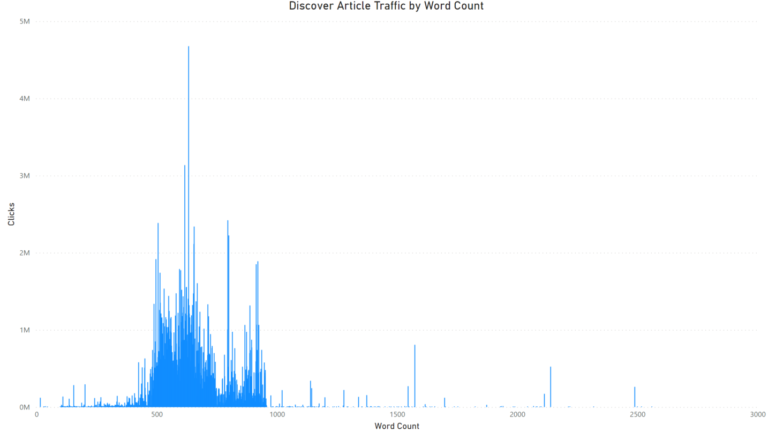 These correlations should not be used to dictate how you write your content; instead, focusing on the quality of the content and engaging your users is the best way to appear in Discover.
Keep track of how your articles perform in Discover by going to the Discover Performance report in Google Search Console's left sidebar.
Your performance data is the most reliable source of information for determining which articles and topics your site ranks well for.
Web Stories, Google's relatively new visual news feature, is also used in Google Discover, making it a great source of traffic and a good way to stay ahead of the competition.
Learn more from SEO and read How to make an Effective SEO Strategy: 15 Ultimate Checklist 2022.