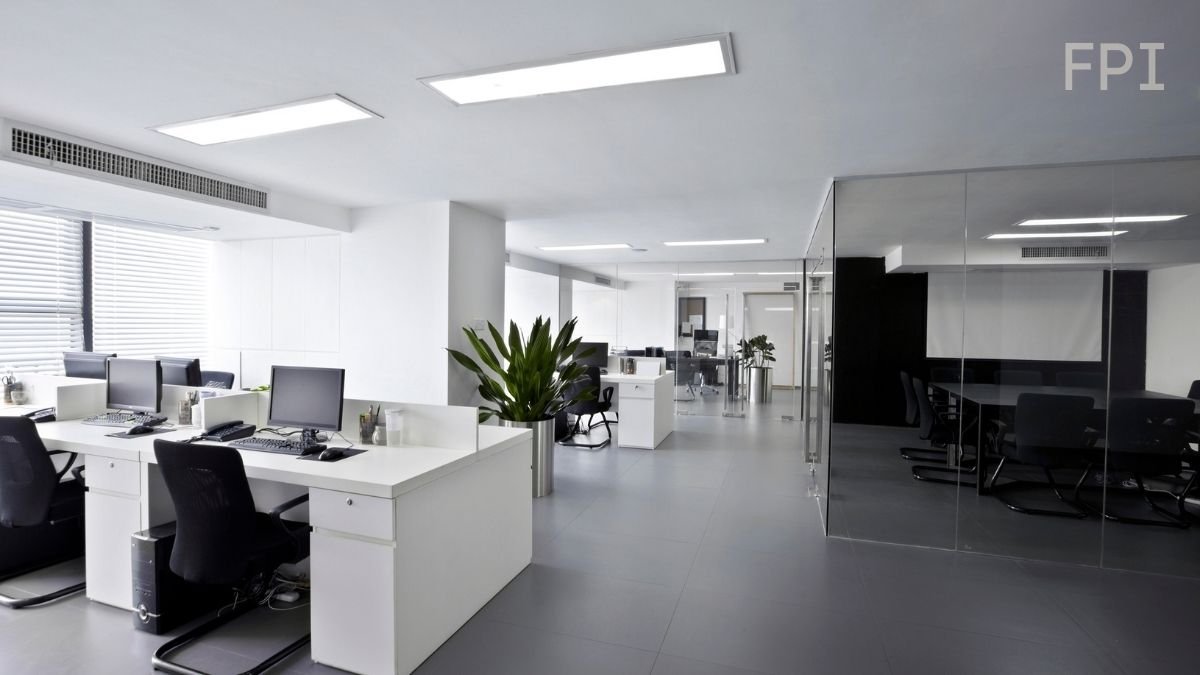 Creating a professional ambiance in your office will make you feel better about heading to work. It will also help you land more deals with clients. A professional aesthetic will support a person's overall perception of you and increase their level of trust.
To create that level of trust and professionalism, try adding some of these elements to your office.
1. An electric fireplace mounted on the wall
You have to heat your office with something. So, why not mount an electric fireplace to the wall? When your goal is to create a warm, professional, inviting atmosphere in your office, nothing beats the warmth of a fireplace – even when it's electric.
You don't even need to turn your heater on to create a feeling of warmth. Just the visual of a fireplace is enough to create that feeling for you and your clients.
2. Leather furniture
Leather furniture will make any office feel more professional. People love luxury, and nothing says luxury more than leather.
Add a leather couch to your office if you have room. If you're tight on space, add a leather recliner or chair at the very least. Don't just rush out and get any leather chair, however. There's a specific style of leather chair that will give off the highest level of professional vibes.
Today's leather chairs are often made from cheap, thin leather that is basically glued to flat surfaces. The place where you sit is padded, but the arms and sides are not. These simple leather chairs can be found for around $1200 at most furniture stores. That might seem like a lot of money to spend on a chair, but it's actually not that much.
The type of chair you want is completely padded from top to bottom and looks like luxury. The ideal leather chair looks like it belongs in a movie scene where a billionaire is sitting in a huge library in front of a fireplace smoking a cigar.
These leather chairs will command the most respect from your clients. You probably won't find them for under $1k, but if you look on Wayfair, you can get them for a couple of grand.
3. Replica paintings
Unless you're talking about a Picasso or the Mona Lisa, most people wouldn't recognize the world's most famous paintings. However, some of the most well-known paintings in the world give off a certain vibe.
There's something professional and trustworthy about having fine art hanging in your office. Granted, you'll want all of your décor to match. You don't want to have a desk from Ikea and an exercise ball for a chair with a copy of Liberty Leading the People hanging on the wall.
If you're not a billionaire, you probably can't afford to buy original art, but there's nothing wrong with replicas. Unless you are a billionaire, people won't expect you to own original art.
Look for replica paintings online and see what you can find. Don't just buy framed prints. While framed prints can look good, oil paintings are better.
4. A large, solid wood desk
Nothing boasts luxury like a large, solid wood desk. Not those desks you can get from the local office store that you have to assemble yourself. You need a desk that doesn't come apart, something you have to haul home in a truck.
While you can find new solid wood executive desks, you might not have to buy new ones. Look on sites like Craigslist, eBay, and other local classified sites to find used desks. However, you can expect to pay several thousand dollars for an antique desk.
Large, solid wood desks are fairly easy to find locally because people can't get rid of them when they move.
Most people want small, lightweight desks they can get rid of quickly if needed. If you search for moving and estate sales, you'll find people who might even pay you to take away their large pieces of furniture.
Decades ago, furniture was built to last with high-quality materials. No expense was spared. Estate sales are especially great for finding solid wood furniture of all kinds. Many estate sales include furniture that's been holding onto for decades.
Keep your office space clear of clutter
The most important part of creating a professional ambiance in keeping your office space clear of clutter. Clutter tends to make spaces feel smaller and chaotic. Chaos is the opposite of what you want to create.
With a neatly organized space, high-quality furnishings, and fine art, you and your clients will enjoy the time spent in your office.
Learn more from business and read How to Make Your Business More Productive.