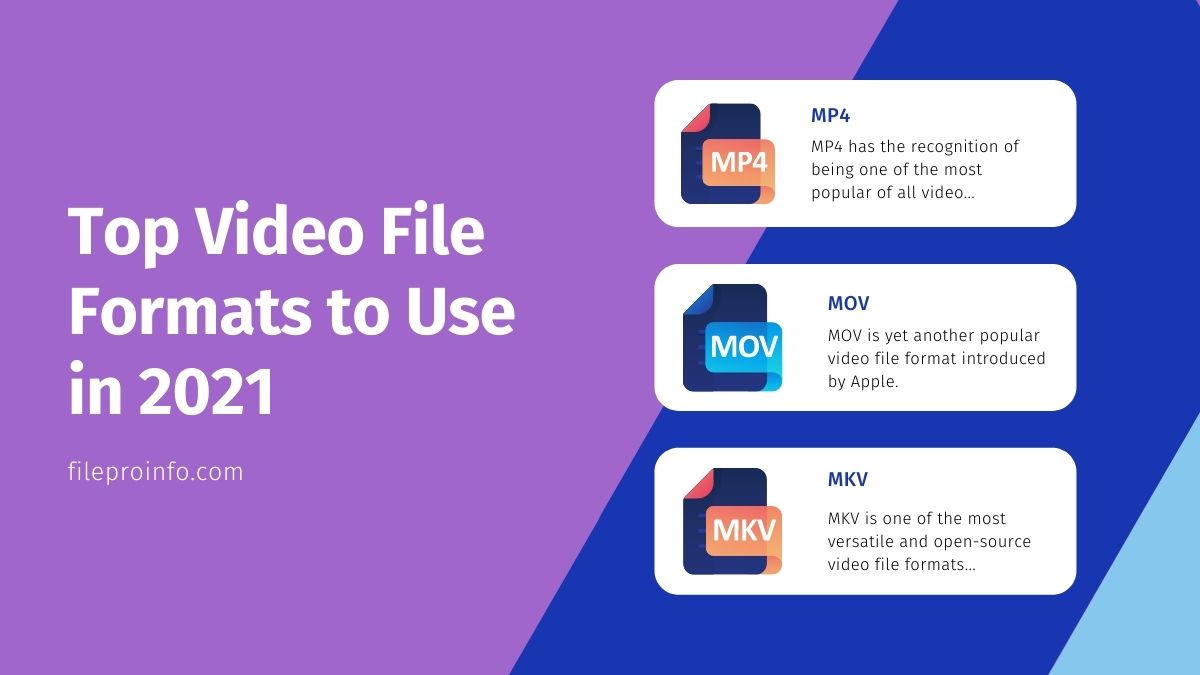 Generally, before uploading one of our favorite videos on the web or saving the ones we like the most, we do not even bother to think about the video file format. However, it is always advisable to prefer some of the best video file formats compatible with your device. In this article, we will learn about the top video file formats to use in 2021.
1. MP4
MP4 has the recognition of being one of the most popular of all video formats. It is also of high quality. Video, audio, sub-titles, and images can be stored within the MP4 container. Compared to the rest of the video formats, the MP4 video format is smaller in size. It can compress the files without compromising the quality of the video. It is versatile, portable, and web-friendly, making it a popular choice for storing and streaming videos. The videos can even be played in lower quality. Thanks to its compatibility with narrow bandwidth, this compression is not available by many tools which are innovative online video editing software that really works.
2. MKV
MKV is one of the most versatile and open-source video file formats available for users. One of the key benefits of this video file format includes its extended support for many different codecs. In addition, an MKV container comes with user-friendly features such as the ability to include descriptions, chapters, covers, and ratings, to name a few. Therefore, it is considered the best choice for video file format when it comes to archiving videos. Furthermore, the video file format can also be played using VLC, MPV, and MKV file player, etc. Check out this article if you want to know how to watch MKV files on Mac.
3. AVI
It is one of the oldest video formats. Created by Microsoft, AVI was widely played video format in the Internet Explorer browser. However, in recent years, its popularity has decreased a lot. It is the best option for storing videos of higher resolution.
This is because AVI uses less compression. This format, however, needs more space compared to MP4 and WMV formats. Irrespective of how many times you edit or save the video file of AVI format, it still preserves its high quality. There could be scenarios in which the video file of AVI format will not be played. You will have to install a third-party application such as VLC for playing the video having AVI video file format in such devices.
4. MOV
MOV is yet another popular video file format introduced by Apple. Different multimedia elements ranging from audio, video, text, time code, and VR are stored and streamed by MOV using tracks. MOV makes use of a compression technique similar to MP4 for minimizing the file size without compromising the quality of the video. Both MP4 and MOV share a lot in common as the MP4 was designed based on the MOV container. One of the key benefits of MOV is the ability for the user to edit a video file separately as each of the tracks are stored in MOV using a particular type of data such as audio, video, and text. It is desirable to use MOV video file format while using Mac or IOS devices, whereas users should prefer other video file formats if they are not using Mac or IOS devices.
5. FLV
FLV is a video format introduced by Adobe. It is one of the most commonly supported video file formats while streaming videos on the web. However, its popularity is on the decline nowadays. Even though Adobe Flash Player supports the video file format, it also runs in VLC and Winamp, etc., to name a few. The lack of performance and security issues has led Adobe to discontinue the support and distribution of this video file format in the coming years.
6. WMV
WMV video file format has been designed to work best with Windows devices. Compared to other video file formats, it is heavy as it consists of enormous data of small file sizes. Furthermore, this video format compresses the video almost twice that of MP4. It is also one of the most commonly used video file formats while sending video files like email, DVD players, and Blu-Ray players.
Depending on your specific requirements, a user can choose the video file format they prefer.
Learn more about file extensions.