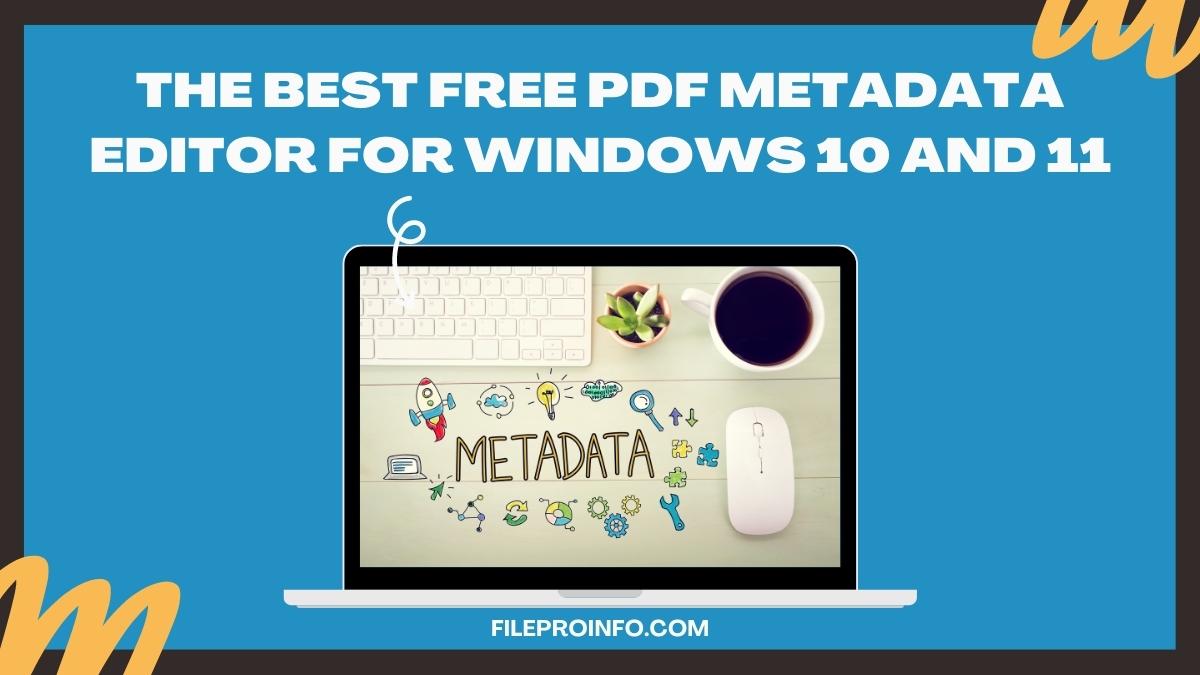 The top free PDF Metadata Editor programs for Windows 11/10 are listed here. You may edit a PDF file's metadata on your PC by using the mentioned software. The author, title, keywords, subject, creation date, and a host of other details are all editable. Additionally, you may even change access rights like those for printing, copying, etc. using some applications. You may modify the metadata of several PDF files at once using many of these editors for PDF metadata. Additionally, you may import metadata from a text file, delete any existing metadata from PDFs, etc. These metadata editors offer a wide range of additional functionality. Let's examine the list right now.
On your Windows 11 or Windows 10 computer, you may change PDF documents' metadata using the following free programs:
AutoMetadata
Hexonic PDF Metadata Editor
Calibre
PDF Info
PDF Shaper
1. AutoMetadata
A free PDF metadata editor for Windows 11/10 is called AutoMetadata. It allows you to simultaneously edit the metadata of several PDF files. It may be used to extract and save PDF metadata in a text file in addition to modifying PDF metadata. This software also has several other handy capabilities, such as the ability to Find and Replace, Clear Properties for Selected Records, and Restore Original Properties for Selected Records.
You may update your PDFs' intricate metadata data using our PDF metadata editor. Access permissions, document statistics, file and PDF details, viewer preferences, and more are all included in this data as well as Document Properties, which are essentially access rights. Access rights for your PDFs may be set up to allow assembly, copying, printing, printing with screen recorders, editing, and more. Additionally, it displays a list of your PDF's bookmarks and designated destinations.
To change PDF metadata in AutoMetadata, just follow the procedures listed below:
Download and set up AutoMetadata.
Open the program.
Include the source PDF files.
Alter PDF's characteristics.
Clicking the Save Changes button will save the updated information.
2. Hexonic PDF Metadata Editor
With the help of this batch PDF metadata editor, you may import several PDF files and modify their metadata all at once. The process of editing information is made simpler by its user-friendly design and straightforward user interface.
It allows you to edit a PDF's numerous metadata records. Details about a PDF, including its title, author, subject, creation and update dates, keywords, originator, and producer, can be changed. Placeholders such as file name, current date, creation date, author, title, and more can be used to alter these specifics. When you want to copy information from one field to another, you may just right-click on the enabled textbox and then add the appropriate placeholders.
It offers some wonderful features, such as:
It contains the option to Use Metadata From a Selected File. The selected PDF file's metadata may be copied to all other opened PDF documents using this capability.
You may manually change the PDF's information or import metadata from a file that is already saved on your computer.
One or more selected PDF files can have their present metadata removed.
It has a Search and Replace tool that enables you to look for particular text in metadata fields and replace it with different information.
You can store the specifics of the current metadata in a local file.
The following are the primary procedures for editing PDF metadata in Hexonic PDF Metadata Editor:
Get the Hexonic PDF Metadata Editor and install it.
Hexonic PDF Metadata Editor should be launched.
Include the original PDF files.
Add fresh metadata.
Select either Modify Selected Files or Modify All Files.
3. Calibre
For Windows and other operating systems including Mac and Linux, Calibre is a free open-source PDF metadata editor. It is a well-known software program for managing eBooks and offers several eBook applications. It offers several utilities, including an eBook converter, an eBook reader, an eBook DRM remover, a free eBook downloader, etc.
Edit metadata is one of the several capabilities it offers. You may edit the metadata of documents, including PDFs, and eBooks, with this program. With its help, you may update the metadata of numerous PDF files at once in addition to just one. It enables you to edit information such as the author, publisher, rating, publication date, languages, series, tags, eBook cover, and comments.
You can automatically download metadata for your PDF eBooks with this program, which is a good feature. It simply downloads and adds PDF metadata from Google, Amazon, and other sources to your PDFs.
The option to get the PDF eBook's cover picture from websites like Amazon is a good feature. This cover picture may be included in the PDF's metadata. Additionally, you may automatically create PDF eBook cover pictures using it. Additionally, you may add locally stored files to your PDFs by browsing for them and importing the cover picture.
To edit the PDF's information in Calibre, you can attempt the straightforward procedures listed below:
Get Calibre and set it up.
Launch Calibre.
Import the original PDF documents.
Select Edit metadata from the menu.
Type in the updated meta-data values.
Keep the data safe.
4. PDF Info
It is a simple PDF metadata editor that enables you to change a PDF's fundamental metadata information. A single PDF's information can be edited at once. Information like author, title, subject, keywords, originator, and producer may all be changed.
Utilizing PDF Info, modify a PDF's information:
Install this software on your computer by first downloading it. It is just 1 MB in weight, which is very light. Launch the program after that, then select Open to browse and import the source PDF files. It will display the currently present PDF characteristics in the appropriate metadata areas. The settings can be manually changed to suit your needs. When finished, click Save to update the updated information in the chosen PDF file.
It is a straightforward and elementary PDF metadata editor that you may use to change fundamental PDF information.
5. PDF Shaper
Another free PDF metadata editor for Windows 10/11 is called PDF Shaper. The main purposes of this program are to do different PDF-related operations such as cropping, converting, merging, splitting, extracting, adding watermarks, and more. Additionally, PDF file metadata may be edited with this tool. It has a specific feature for changing PDF details. If you choose, you may even remove any existing metadata from PDF files.
Using PDF Shaper Free, follow these basic steps to alter PDF metadata:
Get and set up PDF Shaper Free.
Launch the program.
Look through the original PDF files and import them.
Select the Edit metadata option under Action > Security.
Change the metadata.
To process the files, click the Proceed button.