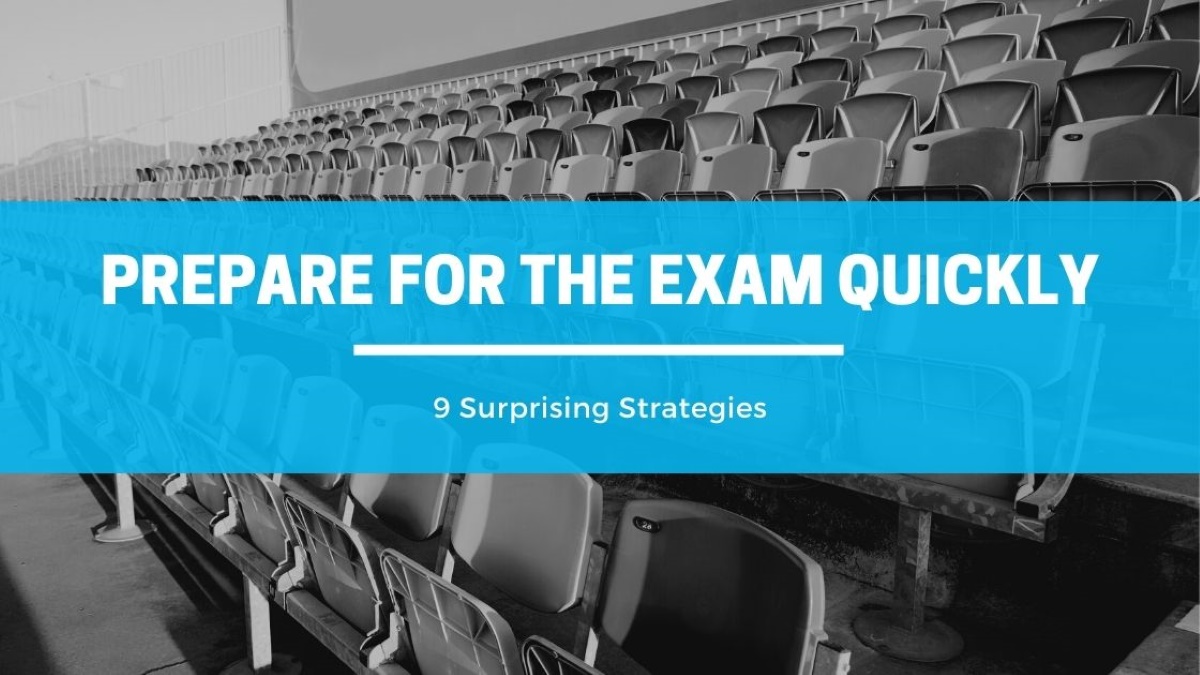 Being a student is fun, or so they say. You are free to manage your time the way you see it, as long as you meet the deadlines and college requirements. You are also free to experiment, try new things, be bold, and change your plans whenever you want to.
But with exams just around the corner, the fun suddenly disappears, and the fear steps in. Preparing for your first assessment session is stressful. Unless you want to bid farewell to sleep, free time, and social life, follow these simple tips and pass your exams with flying colors.
It is important to remember that exams are nothing but a method to assess your knowledge. Therefore, you need to make sure your mental and physical health is in perfect condition. If you, for example, struggle from anxiety attacks or procrastination, you might suffer significantly during exam weeks. So preparation for an exam starts with your body, your soul, and your brain – not your books.
Find Motivation
Motivation is the sparkle that twinkles our path toward the longed-for destination. An all-embracing feeling that comes hand-in-hand with success, meaningful work, and balanced well-being. The world around us goes dark and gloomy without a spark of motivation. No wonder it is so easy to get lost and head in the opposite direction. Every next step of the road enhances hesitation: are you getting closer to the destination, or are you moving backward?
What do you do? Wait for the sun to rise, elucidate the room, and recharge your creative energy? It can be a long-long night; better not count on nature's wonders.
You need to feel for the light switch. Or create the source of light yourself:
Add passion (e.g., an unexpected or longed-for hobby).
Add enlightenment (e.g., helpful classes, workshops, online courses).
Add strength (e.g., exercise not only your brain but your body too).
Add useful habits (e.g., small daily tasks to attenuate routine).
Add communication (e.g., find new connections and like-minded people).
Or add anything that works for you and fuels your motivation to study and succeed.
Find Your Bearings
Lost your way in endless assignments and preparations? Stop. Breathe. Reboot.
There's a way out of any situation:
Take a break. First things first, you need to define what drains your energy and find ways to fight the enemy back. Are you in sync with your inner voice? Do you enjoy doing what you are doing? If not, is there an option of a different work approach or maybe another alternative, like getting help?
Listen to yourself. You're the only one who knows what goes wrong and how it can be fixed. It is a tired cliche, yet we keep on ignoring our gut instincts. Somehow, it is easier to listen to others and follow their examples.
Acknowledge the situation and let go of fears. Don't let the unknown intimidate you. On the contrary, let it inspire you for further actions. You are here. And you have the superpower to unlock your study potential and pave the way to show its worth.
And in case you ever need help, educibly – buy essay online is always there for you in times of exam crisis or other academic emergencies. If you need a helping hand, count on a subject professional anytime.
Move on!
It is crucial to give yourself sufficient time to think and get around, but… You risk ending up in a time loop. Reliving the same day every day while the world around you keeps on going forward and the exams are getting closer. The longer you wait, the farther you are from being perfectly ready.
Take actions yet remain reasonable – fix things that are holding your study readiness back.
Unleash Inner Motivation
Remember that there must be something else than just a grade behind your exam. Even if a good GPA is your primary motivation, dig deeper and think of more uplifting forces. Your academic career is at stake. So is your personal and professional growth. You might not be a career-oriented person yet still strive for brighter job perspectives.
Dare to pose yourself uncomfortable questions. How do you see yourself in a year or two? Do you choose to go round in a circle? Or do you want to be proud of your achievements?
Making plans for the future feels hectic in our rapid-changing environment. A far-off achievement might seem like wishful thinking and for a good reason. But holding out for nothing is much worse. Focus on what fuels your inner energy and passion. Let your hopes and dreams recharge your motivation and enable your desire to study harder.
Goal setting or no goal setting? The choice is yours. But remember that motivation goes hand-in-hand with success; one may not survive without the other. Don't set unreasonable goals, follow one goal after another. In other words, break down your preparations equally and don't leave everything till the last days.
5 Essential Keystones of a Thriving Exam Preparation Practice
Visualize your goals with daily reminders. Use inspirational screen pictures, affirmations, posters, roadmaps, etc. Think of a reward you'll get once everything will be over, e.g., a material present, a vacation, a 2-weeks of Netflix and chill, etc. Stick to this reward throughout the preparation process.
Make a weekly list of things you NEED to do and things you WANT to do. Mix them up so the list won't look too scary and repulsive.
Challenge yourself (because it's fun!). Boredom kills motivation at the core. Find ways to stand up against monotony with entertaining yet advantageous challenges.
Exercise your body, your brain, and your creativity.
Don't listen to your inner critic. Criticism is toxic and must be avoided at any cost.
Enjoy the Time of Your Life – Even During Exams!
Any study preparation process starts and ends with a powerful emotional background. Many find it easier to derive inspiration from depressing states of mind. Best if you can focus on the positive and enjoy every minute of your study manifestation.
Learn more from skills.
May the learning force be with you!