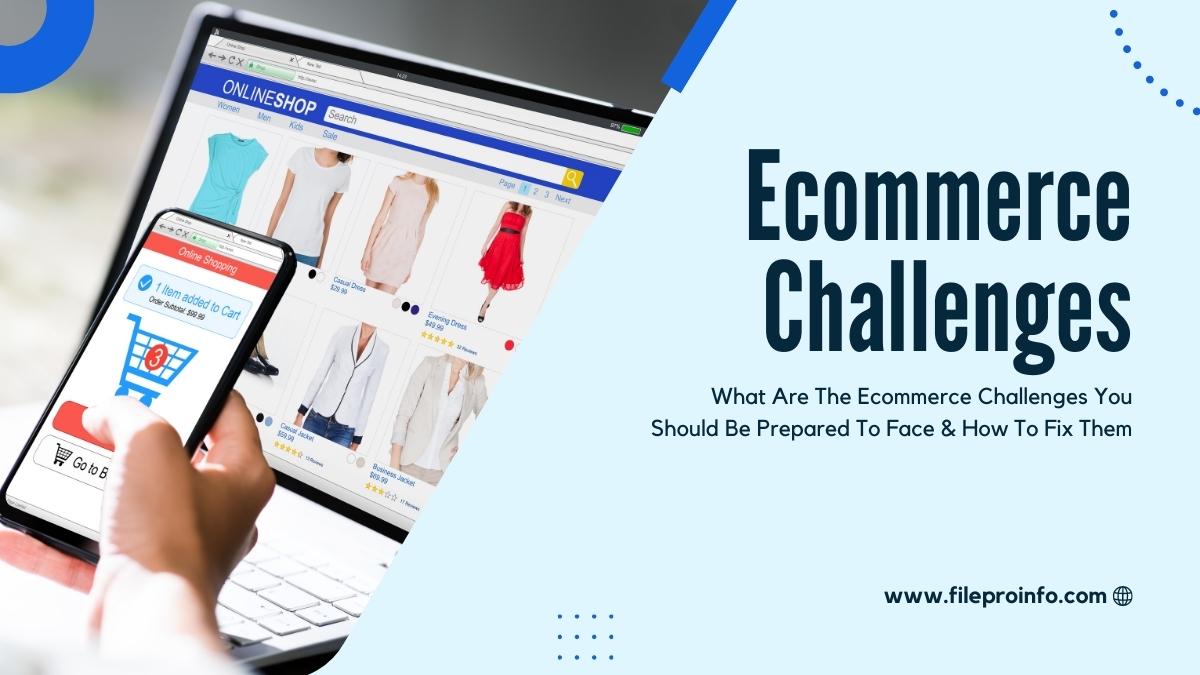 eCommerce is one of the many digital disruptions that continue to make a significant impact on human life. The fruitful growth of millions of eCommerce websites and applications has made shopping a more convenient endeavor for buyers. Today, most people make their purchases online, and this trend is bound to continue. eMarketer projects that about 25% of retail sales will be made via eCommerce. You can check out more details of this on the graph below.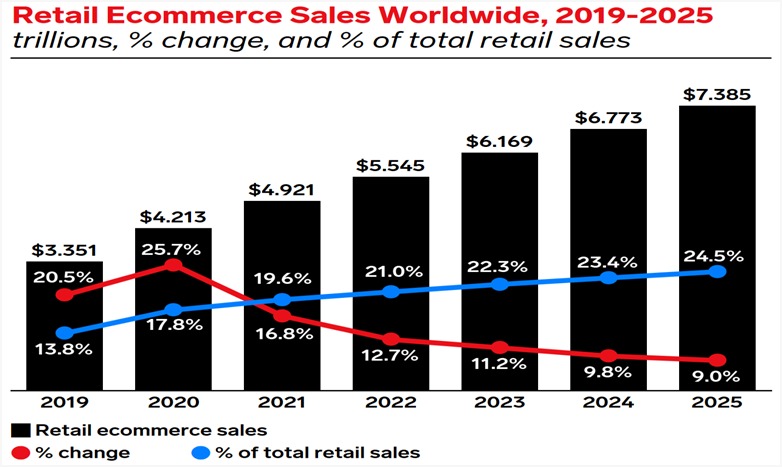 Challenges of eCommerce
Although eCommerce has gained so much popularity over recent years, it is not free of challenges. Business leaders globally continue to face many challenges that hinder the full adoption of eCommerce. If you plan to build an eCommerce website that gives your business an online presence, then you must be aware of the eCommerce challenges you are likely to encounter in that quest. You must be well-acquainted with the working solutions that address the challenges. This article explores some of the challenges of eCommerce and the solutions you should apply to address the challenges.
1. Cyber Security and Data Privacy challenges
Cybersecurity and data privacy challenges are running riot. Hackers spare no one and are always on a relentless search for security vulnerabilities that could grant them access to data. eCommerce websites hold massive sensitive data that hackers want to access and use for malicious purposes. eCommerce websites continue to be vulnerable to security threats such as financial frauds, phishing attacks, spamming, Distributed Denial of Service attacks, malware infections, brute force attacks, exploitation of known vulnerabilities, and man-in-the-middle attacks, among others.
Successful attacks on eCommerce platforms usually come with distressing impacts that can leave the website with a destroyed reputation and severe financial losses that could lead the business to shut down. According to Statista, the value of eCommerce payment fraud losses amounts to $20 billion.
Solution
The best way to deal with cybersecurity threats on eCommerce websites is to have adequate security infrastructure to address the issues. For instance, it would help to have antimalware software, a secure firewall, ensure frequent software and operating system upgrades, use secure authentication layers and install an SSL certificate on the website. SSL certificates have particularly been at the forefront in the fight against website breaches. They establish encrypted HTTPS sessions that prevent unauthorized parties from accessing user data.
Because eCommerce stores hold a lot of sensitive information, they must have an SSL certificate. Many SSL types are available, but for the purposes of your eCommerce website, you need a higher validation SSL like extended validation (EV) SSL certificate that authenticates your business and offers strong encryption. You do not have to get an expensive one because a cheap EV SSL certificate can do the job for you. It would also be best to consider backing up your data to cushion you from extra costs and impacts in case of a breach or data loss.
2. Customer Experience Challenges
Customer experience is one of the essential elements that determine the success or failure of an eCommerce store. If you want customers to love your store, you have to invest in customer experience. According to a Forrester study, businesses that focus on customer experience can increase their sales revenues by 80%. A PWC report also indicates that 73% of online shoppers say that user experience is one of the factors they use to make purchase decisions. But although customer experience is vital, it comes at a heavy price as most eCommerce merchants find its cost, not budget-friendly. Also, customer preferences, needs, and expectations vary, and creating a design that fits the needs of all customers is almost impossible.
Solution
You do not have to spend an arm and a leg on customer experience. All you need to do is create a simple and clean website with clear call-to-actions and ease of navigation. You should also work with a design that fits the needs of most users.
3. Stiff Competition
If there is a fact you must concur with is that eCommerce is a super competitive industry. Simple differences such as prices, services, and website design, could make a big difference. As such, getting and maintaining a customer base can be an arduous task to achieve.
Solution
You must do your homework to understand what your competitors are doing and what you can do differently to beat them. Discovering your competitive advantage and integrating it into your digital marketing strategy would be best. Doing so will help to establish a robust online presence and outperform your competitors. Lastly, you must invest a lot in marketing strategies that present your business and products in the eyes of your customers.
4. Shopping Cart Abandonment
Shopping cart abandonment remains a real challenge in eCommerce realms. According to Forrester, shopping cart abandonment has caused eCommerce stores to lose a whopping $18 Billion of sales revenues. Even eCommerce giants such as Amazon are not immune to shopping cart abandonment. As such, shopping cart abandonment remains a big eCommerce challenge that should not be ignored.
Solution
To minimize cart abandonments, you should ensure secure check-out processes. You should also make the check-out process are simple as possible. You must remove unnecessary forms and bugs that can be the biggest hindrance to your check-out process. You must avail effective tools that customers will use whenever they are stuck at the check-out phase.
5. The Challenge of Exploding Customer Expectations
eCommerce merchants face a big challenge trying to match the ever-growing customer expectations. Most customers will come to your eCommerce website expecting it to match the level of giant platforms like Amazon. But such companies have been in business for a long time and have built excellent reputations that might take ages to match. Customers who are not satisfied with the services you offer will turn away to competitors' websites.
Solution
To match the growing user expectations, brands should start paying attention to analyzing the users' trends and developing personalized customer experiences based on the analysis. It would be best to acknowledge the customers to make them feel valued. For instance, you can send them personalized notifications that tell them about your business and the available products they might love.
6. Agility Challenges
Agility refers to the ability of a brand to introduce progressions and develop strategies that help it to respond to circumstantial changes rapidly. Many eCommerce stores find it difficult to transition quickly and adapt to changes such as new customer needs, government policies, and new technologies, among others. Brands that find it hard to integrate the changes end up failing to penetrate the market.
Solution
You should position your eCommerce store to remain agile at all times. For instance, assimilating quick changes across the platforms and working fast to address emerging users' needs and trends would make the brand more agile.
7. Customer retention challenge
Even some of the prominent eCommerce players have had difficulty retaining customers. Factors such as evolving user needs, poor customer experience, long check-out processes, and high product prices could impair customer loyalty. Failing to build robust customer relationships could be a big problem for eCommerce stores.
Solution
It takes time, effort, and resources to build robust customer relationships. Brands must engage the customers in different ways to make the clients feel valued. Brands should nurture strong and personalized communications with the customers, offer them discounts, and address all their pain points. Such an excellent customer retention strategy could be of significant value to the eCommerce store.
Final Words
Having an eCommerce website is a great idea that could impact your business's success. It establishes your brand in the global realm and expands your customer base. However, eCommerce stores also face several challenges that threaten their existence. Knowing that these challenges exist and the solutions to deal with the challenges is vital. This article has explained some of the eCommerce challenges you should be prepared to face and offered solutions on how to fix them.