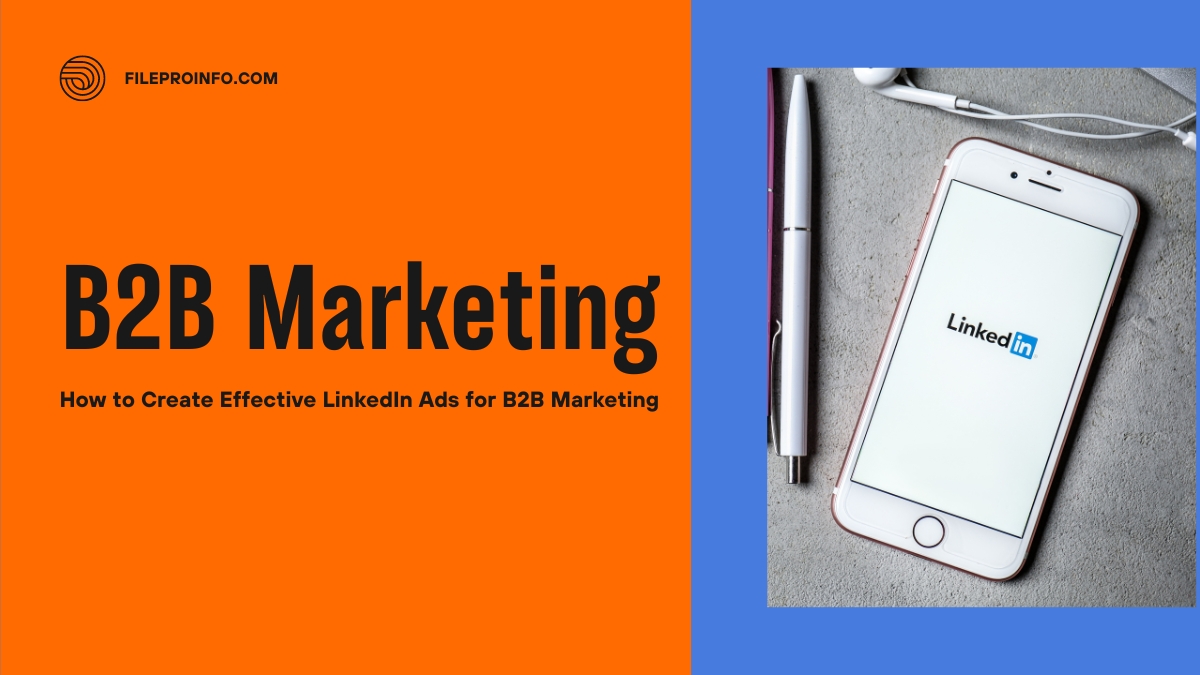 LinkedIn is a powerful platform for B2B marketing, providing businesses with the opportunity to connect with other professionals and decision-makers in their industry. One of the most effective ways to reach this audience is through LinkedIn ads. In this blog post, we'll explore how to create effective LinkedIn ads for B2B marketing.
1. Define Your Target Audience
Creating effective LinkedIn ads for B2B marketing requires an understanding of who your target audience is. Before you spend time and money creating and running an ad, it is essential to define the target audience you are hoping to reach. This can help shape the message, content, and format of the ad so that it resonates with those who will see it.
Think about the demographic details of your target audience such as their age, job titles, interests, location, etc. Having this information in mind allows you to tailor your ads so they have a greater impact on those seeing them. Additionally, don't forget to research what other successful companies have been doing in terms of their messaging and targeting approach. This can help inform how you create and manage your campaigns while setting realistic expectations for results.
2. Choose the Right Ad Format
Creating effective LinkedIn Ads for B2B marketing begins with understanding the right ad format. LinkedIn offers a range of options, including sponsored content, sponsored InMail, and display ads. Each has its pros and cons when it comes to delivering messages to target audiences.
Sponsored content is ideal for engagingly sharing brand stories. It's also great for promoting services or products that need an in-depth explanation and demonstrating thought leadership by providing industry insights. Sponsored InMail is best used for sending personalized messages directly to customers, while display ads are perfect for driving conversions with targeted imagery and calls-to-action (CTAs).
Choosing the correct ad format will ensure that your messaging reaches the right people at the right time — maximizing ROI on any marketing budget.
3. Craft Engaging Ad Copy
Creating effective LinkedIn Ads for B2B marketing requires strategic planning and careful consideration of who you are targeting. Crafting engaging ad copy is essential to ensure that your ad stands out from the competition. Your ad should speak directly to your target audience's needs and address their pain points with a clear call-to-action (CTA). To create an effective LinkedIn Ad, it must contain compelling language that draws attention, be concise yet informative, and clearly state what you want the reader to do.
When writing your ad copy, keep in mind the type of content that resonates with customers on LinkedIn – videos, images, or carousels. Additionally, don't forget to include hashtags or keywords so users can easily find your ads when searching for related topics on the platform.
4. Use Eye-Catching Visuals
Creating effective LinkedIn ads for B2B marketing is a great way to get your message out to the right target audience. If you want to maximize your reach and drive conversions, you must include eye-catching visuals in your ad copy. Images and videos are an important part of any advertising campaign – they can capture attention and draw users in with their vivid colors, interesting shapes, and engaging storylines. From compelling product shots to customer testimonials, there are many ways you can use visuals to make your ads stand out from the competition.
When creating these ads, think about how they fit into your overall brand identity. Quality visuals should reflect the values of your company while also resonating with viewers on an emotional level. Be sure to carefully select images that will grab attention and communicate the message behind your product or service quickly and clearly.
5. Test and Optimize
Are your B2B marketing efforts on LinkedIn falling flat? To make sure you're getting the most out of your ads, it's time to start testing and optimizing different ad formats. Crafting effective LinkedIn ads requires an understanding of the platform's unique user base and what strategies work best for attracting B2B customers.
By testing different visuals, copy, ad formats, and targeting options, you can create successful campaigns that drive clicks and conversions. Start by experimenting with short-form copywriting techniques to ensure your message is clear, concise, and stands out from the competition. Make sure to focus on quality visuals that are relevant to your target audience. Additionally, use A/B testing to compare different versions of ads so you can optimize them in real time for better performance.
6. Leverage LinkedIn's Targeting Options
Creating a successful LinkedIn ad campaign is essential for B2B marketers who want to reach their target audience and boost engagement. With the right targeting options, you can easily find people interested in your products or services and maximize your return on investment.
LinkedIn offers several different targeting parameters that allow you to narrow down your audience based on criteria such as job title, seniority level, company size, geography, industry, and more. Leveraging these features will help you create more effective ads tailored to the specific interests of potential customers. With this approach, you can increase conversions and grow your business by reaching out to those who are likely to be interested in what you have to offer.
7. Set Clear Campaign Objectives
Creating effective LinkedIn Ads for B2B marketing is a challenging undertaking. Before launching any campaign, it's essential to set clear objectives to ensure success. Having a clear objective enables marketers to focus on their goals and create an ad that will effectively reach the target audience and drive desired results.
It's important to take into account the unique environment of LinkedIn when creating ads. Business-to-business (B2B) marketers need to consider their target market and develop an ad strategy that speaks directly to them. Setting objectives helps marketers remain focused on what they want to achieve with their ad, ensuring they are investing resources in the right areas. Objectives should be measurable, realistic, and achievable so that progress can be monitored throughout a campaign.
Conclusion
LinkedIn ads can be a powerful tool for B2B marketing if used correctly. By following these tips, you can create effective LinkedIn ads that engage your target audience and drive results. Remember to define your target audience, choose the right ad format, craft engaging ad copy, use eye-catching visuals, test and optimize your campaigns regularly, leverage LinkedIn's targeting options, and set clear campaign objectives.