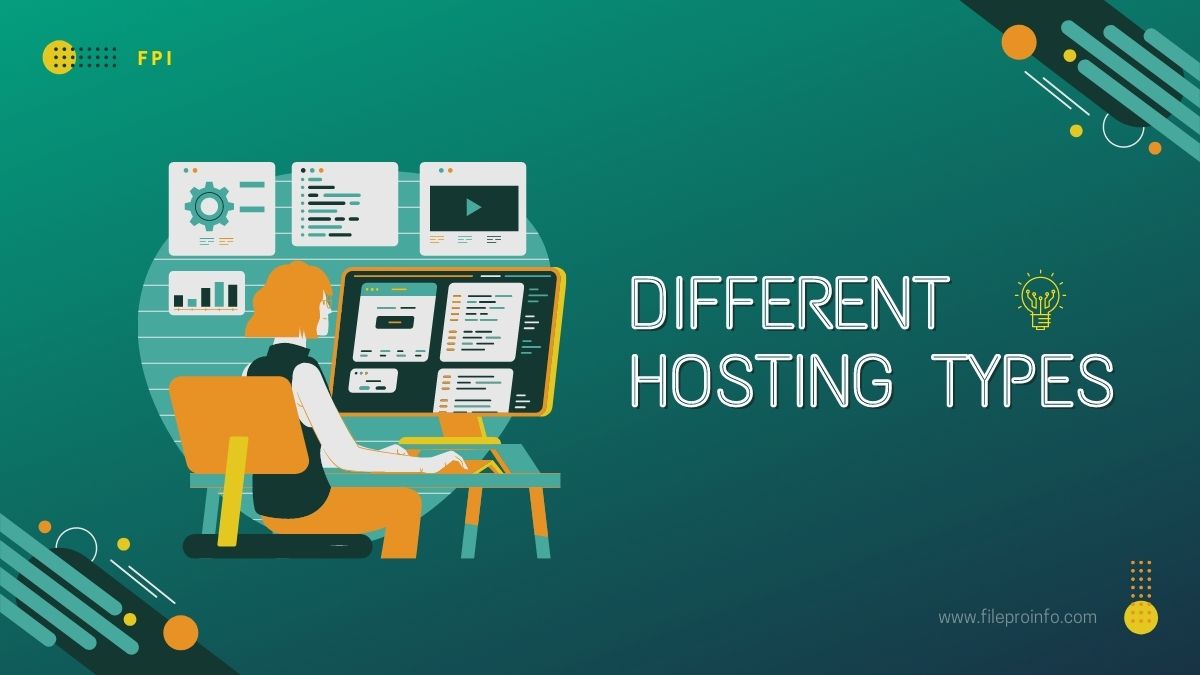 The web hosting type you choose can have a massive impact on the success of the website you want to create. Only by learning about the different types of web hosting can you figure out which option is right for your site.
To make an informed decision, it's crucial to gather information from reliable sources. For instance, you can read this article on the fastest web hosting for insights on selecting a provider that ensures optimal performance and avoids unnecessary problems and costs.
Choosing the wrong web hosting provider can get you entangled in lots of unnecessary problems that you will probably have to pay to get resolved.
To help you avoid an unsatisfactory experience, this article will give you a little bit of knowledge when it comes to all the different hosting solutions. We will take a look at the cheapest option, which is shared hosting, the most expensive one which is dedicated, and the one that has the potential for profit, known as reseller hosting. So, let's get started.
1. Shared Hosting
Shared hosting uses one single server to store all the files from multiple users. A shared server can host hundreds of websites. Shared hostings are a very popular choice mainly because they are very cheap since the hosting provider divides the server upkeep costs among all its users. They tend to be far more affordable than dedicated hosting and any other hosting for that matter. You can find web hosting plans for below $5 per month. The host who owns the server also is maintaining it, which makes it very beginner-friendly and easy to use. Even though you are sharing the same resources with the other users, you cannot access their files, private information, or any other data. The servers are completely safe and offer a great level of security. With a good shared hosting provider, you can get great features for small- to medium-sized sites that have a decent amount of traffic. Shared hosting can provide you with all the tools you need to get your project going and offer you plenty of room to scale up over time.
2. Virtual Private Server (VPS) Hosting
VPS or Virtual Private Servers hosting is a physical server that contains multiple virtually partitioned sections, and each unit acts as a full system devoted to a specific website. VPS hosting is a great option if you need full control over your server without spending hundreds of dollars on a dedicated plan. VPS hosting offers complete freedom when it comes down to setup. If you have the skills, you can configure your operating system and software to your liking. VPS has the highest level of security because of its location on a single physical server. VPS hosting providers are great for small to medium businesses with predictable monthly web traffic. However, you are limited to the physical server's capacity. The server does not offer a continuous increase of memory or CPU power which may not be enough. The monthly costs for VPS hosting are cheap but also predictable, with monthly fees starting from $10.
3. Cloud Hosting
Cloud hosting is the newest type of web hosting on the market. Unlike the traditional server-based hosting that deploys on a single server, cloud hosting uses a number of servers that act as one. Cloud hosting is very cost-efficient, the initial cost can be quite low considering it uses a pay-as-you-go model for payment. Cloud hosting providers maintain and control all the operations on its server. They offer services such as IT support, upgrading, installing new hardware, etc. The setup is usually very fast and easy. Cloud hosting servers are very reliable because they are based on a network of servers, so they guarantee 99.9 % uptime. Cloud hosting can handle larger websites with more traffic spikes and can provide a quick data recovery if necessary. With cloud hosting, your data is very accessible as long as you have an internet connection you can access your data from anywhere. However, they do require some experience with configuring servers if you want maximum customization.
4. Dedicated Hosting
Dedicated hosting gets you exclusive access to a single server just for your website. This way you will not share your server with any other users. With dedicated hosting, you get complete control over the configuration, the setup, basically everything. Dedicated servers are the top-of-the-line option for web hosting but they are expensive. Dedicated hosting goes for at least $100 per month, and prices only increase from that point. The pricing does depend on the bandwidth, storage space, amount of RAM, and numerous additional expenses needed to run the server. So they are best suited for businesses or established websites with high traffic that require the very best performance and can afford high monthly payments.
5. Managed Hosting
Managed Hosting can come in multiple forms like managed shared plans, managed VPSs, and even managed dedicated servers. Managed hosting offers to take care of specific services besides the usual ones for example backups, security monitoring, or software updates so the customer does not have to do anything. Managed hosting providers customize their services to fit the customer's specific business requirements. They usually come with a service-level agreement, which outlines the services the customer pays for and service standards that the provider is required to obtain. Managed hosting usually starts at around $15 per month depending on the services they provide. Managed hosting is great for customers who cannot take care of website maintenance on their own and do not mind paying a little extra.
6. Reseller Hosting
Reseller Hosting can be great for development and design agencies or for anyone who makes a living working with websites. Reseller hosting providers let you resell their hosting services to a third party. This way you can become a web hosting provider without the need to build, operate, or manage your own infrastructure. Most reseller hostings give you the freedom to charge whatever you wish for the hosting. This way you can make money with your hosting. Reseller hosting is not for your average user, if you only need a web host to build a website then reseller hosting is not for you. But if you want to set up hosting accounts for third-party users and charge them so can make a profit, you should definitely consider reseller hosting. The pricing for reseller hosting plans starts at $2.99 and goes up from there.
7. PHP hosting
PHP hosting offers many benefits that you will not be able to get with any other type of hosting. PHP is a scripting language, which means that all websites created with PHP language are going to be compatible with every new device that comes out. This means you can generate your site to look good on any screen size. Because PHP is free, most PHP hostings are very cheap. PHP is considered very easy to use. It does not need any additional plugins or software and it easily integrates with HTML and CSS. It has a great overall site performance. PHP web hosting is the best option if your site is built using the PHP framework
8. Windows Hosting
Windows Hosting is a web hosting that uses Windows operating system. Windows Hosting offers some unique benefits that you will not be able to find with the other web hosting types. Windows hosting offers a much more intuitive user experience, unlike the other solutions, it has an option for a Plesk control panel. It is great for businesses who already use many of the Windows tools because it matches nicely with the other software products. The pricing for Windows hosting plans is very affordable, the basic plans run for $4.95 a month, and the ultimate plans for $19.95.
9. Linux hosting
Linux hosting on the other hand uses the Linux operating system on its server. Linux hosting is very flexible. It uses open-source technologies like Apache, PHP, and MySQL. The reason why it is called an open-source is that the source code can be edited and altered at any time by anyone. Linux-based hosting services are more affordable compared to some of the other types of web hosting. Linux Hosting is very stable and secure, the security settings on the Linux server are highly efficient and up to date. It is quite versatile because it is compatible with various databases. They can be a great option for customers who are comfortable with the Linux operating system.
10. Colocation hosting
Colocation hosting is a highly secure data center facility where you can buy or rent space to host your servers with the highest security and guaranteed uptime. Colocation hosting is usually used for storing a company's critical infrastructure. Colocation hosting strives to improve the website's operation uptime, cuts down on capital expenses, and boosts the quality of the customer's experience. With colocation hosting, you get lower power and bandwidth costs, high-speed and redundant 24/7 network connection, and expert technical support. However, colocation hosting is for businesses that demand the best enterprise-grade infrastructure hosting and want to avoid big investments in buildings and data centers. Colocation hosting is used by health and financial services providers. Average monthly fees for colocation hosting can range anywhere from $45 to $300 per month.
Learn more from technology and read Managed vs. Unmanaged VPS Hosting – What Are the Differences?