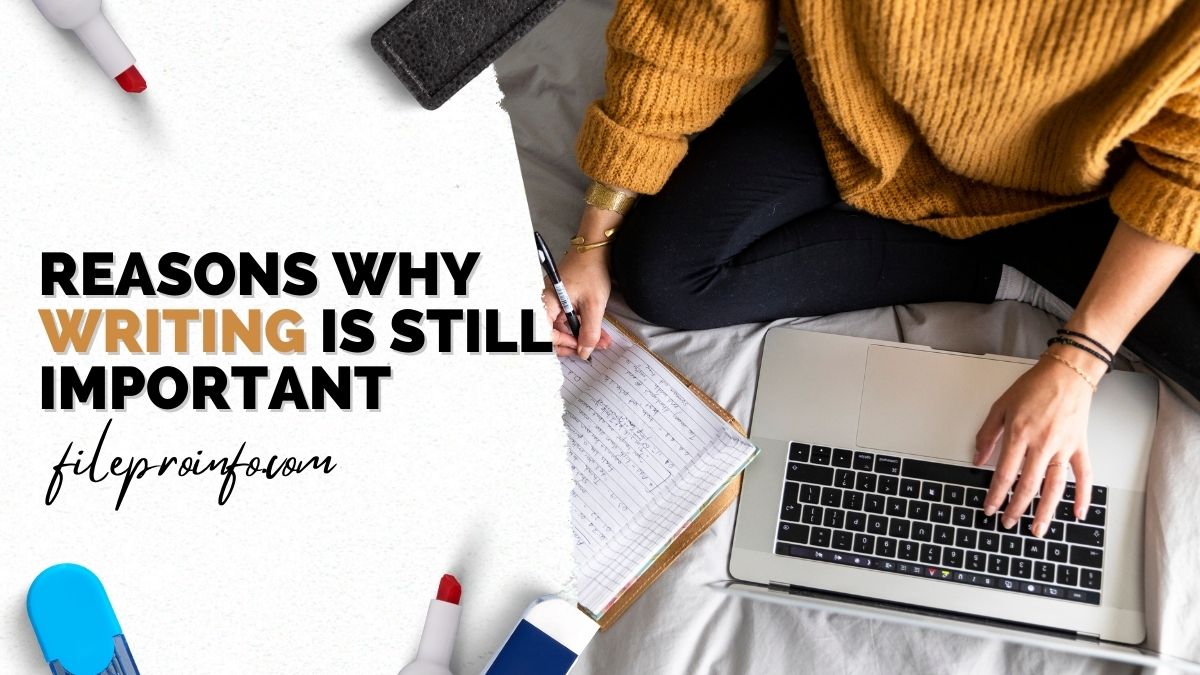 You probably spend a lot of time writing: an email to your boss, a note to your kid's teachers, a resume, or a text to your partner. In our fast-paced world, however, fewer and fewer people devote enough time to writing academically and honing solid writing skills, albeit only in college.
Yet writing is as essential today as it has always been. Regular writing keeps our brains active and sharpens our mental abilities. If you're wondering why writing is still important in 2022, you've come to the right place. Check out our top reasons for keeping writing as a constant companion.
Fostering Creativity
Writing down your thoughts trains both hemispheres of your brain, allowing you to organize your jumbled thoughts into a logical structure. There is no more powerful process for boosting creative thinking. All the things we take for granted in this world were once just plans and dreams that someone had in their head. That – until that someone wrote them down!
The ability to write compels you to take your time and think more carefully. When you speak, you are pressed to keep up with the pace of the conversation. When you write, you have the luxury of time to consider what words and phrases will best convey your thoughts and feelings, allowing you to express yourself accurately and creatively.
However, in order to be able to write accurately, you must constantly refine your writing skills. A smart strategy to always stay ahead of your writing game is to check out the free essay database offered by credible service providers. They adhere to all academic writing rules, allowing you to systematically improve your writing skills and eventually come up with stellar essays of your own.
Influencing Society
The writer's role in society cannot be overstated. It's one thing to have a brilliant idea in your head; it's quite another to be able to put it on paper in a way that could inspire millions of people to take action on a challenging social issue or simply lift their spirits with a beautiful novel.
Today, with a plethora of societal issues that require immediate attention, solid writing is as important as ever for inspiring people to live better lives.
Boosting Mental Health
Expressive writing can significantly boost one's mental well-being. Storing emotions can lead to a great deal of mental anguish. When we write, we train our minds to express our feelings in the most authentic way possible. Writing can be painful, but it's this very pain that helps you get to the point of truth-telling, which is essential if you want to turn your focus inward and discover your true self.  By turning our attention inward, We can become more aware of our behavior, feelings, values, and motivations.
Increasing one's self-awareness has numerous advantages. It can help us feel better about ourselves and encourage us to be more accepting of others. What's more, it can help us make better long-term decisions.
Succeeding in Business
Content drives business in 2022, which is why more and more companies start using content
analytics tools to set themselves apart from the competition and ensure that their content is one-of-a-kind. If you can come up with catchy and wise content for whatever you want to sell, you'll be able to stand out from the crowd and establish yourself as a trustworthy brand. And to accomplish this goal, you need to create unique, top-notch content that always stems from potent writing skills.
Wrapping Up
Masterful writing has lost some of its appeals in 2022 due to an ever-accelerating pace of life and the need to produce more content in less time. However, the innumerable advantages of writing simply cannot be overlooked. This is why it is more important than ever to set aside some time each day for writing; it can significantly improve your mood and mental abilities while also satisfying your inner self.
Learn more from skills and read Simple Tips for Better Business Writing.