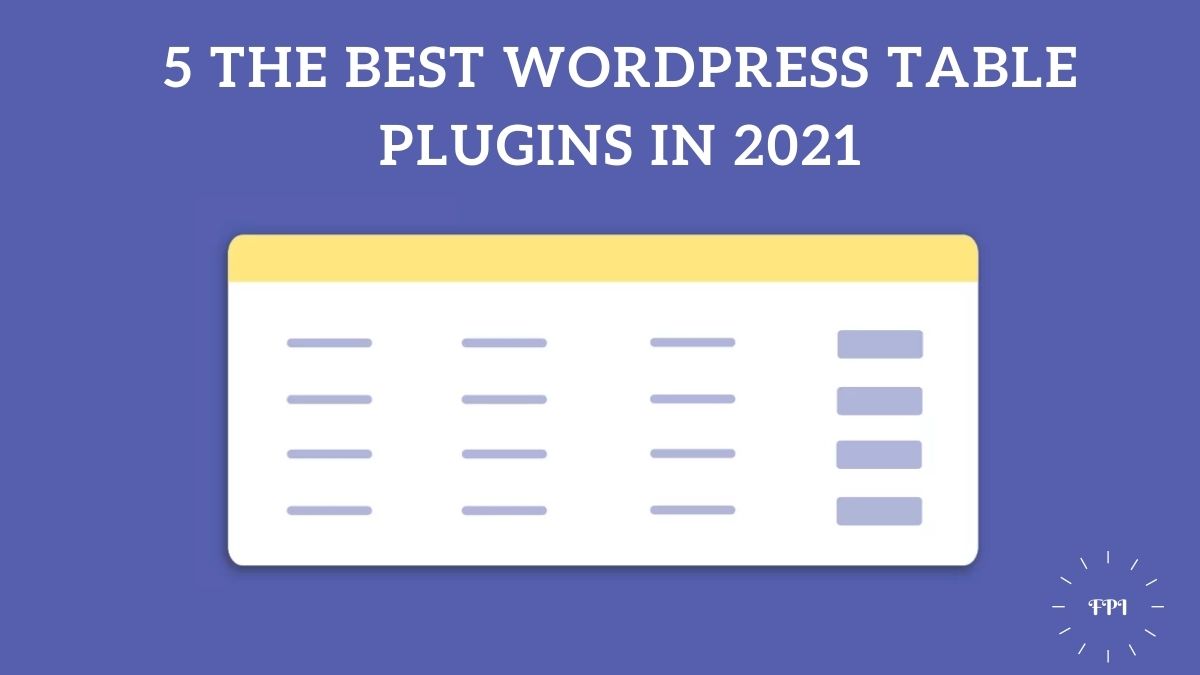 Dealing with customers online while having a lot of products on a single page can create a mess if you aren't using table plugins. Yes! Table plugins are the most convenient and user-friendly go-to option for any site owner rather than building tables from scratch. Moreover, tables made from Table Plugins allow the customers to easily locate, find and view their preferred product from a site.
Table formation can be done by just pasting the Google sheet and excel tables on the site but it will screw up the format and the data too. Moreover, such tables may not fit the screen or interface of all devices and may increase the page loading speed by creating additional codes. So, what's the way out of it if you run a renowned website? Let me allow you to find out! What've you got? Can I guess?
Yup! You got exactly the right edge; it's Table plugins! And here we've gathered to tell you about the best table plugins for the WordPress site. The main attribute of our suggestions for Table Plugins is that all the below recommended WordPress Table Plugins are the latest ones of 2021. So, let's cut right to the chase and ease your way of table formation!
WordPress Table Plugins
Ninja Tables
TablePress
WP Table Builder
Visualizer
wpDataTables Not Recomended (found as fraud company and removed their details).
Ninja Tables
Ninja Tables is one of the major table builders for WordPress. You can avail of its amazing and numerous features totally free of cost. It is a strong table builder like its name with a dynamic plugin that is very easy to use. With just a few steps, you can create surprisingly impressive tables for your site without any harm to the page loading speed.
Although it's free there's no compromise over its great features listed below:
Provide you with 100 different table styles
Provide you with 3 CSS libraries along with a limitless colors scheme
Assist with table data import and export (CSV, JSON)
Assist you with importing tables from TablePress, Unlimited Tables, & Data Tables Generator Plugins
Convenient table configuration
Ninja Charts
Fluent Forms integration
Support extensive video and written documentation
Upgrading to Premium:
You can upgrade the free version of Ninja to a premium one by paying between $49 and $199 per year. This upgrading will unlock the pro features that include real-time connection with Google sheets, custom post-integration, front-end editing, and inserting photos and videos inside tables.
TablePress
TablePress is the most popular WordPress table plugin that has been downloaded 800,000 times to date with a 5/5 rating. Moreover, it facilitates the user with the simplest way for placing the content table on the WordPress site.
Main Feature:
It provides you with the facility of a separate and new TablePress page inside the administrator's interface where you can create tables without messing up with formatting. The other best thing about it is that it is totally free.
TablePress is such a great table plugin that they provide all the basic and pro features without any cost and premium version. These features include:
Merging cells options
Provide with the facility of editing and managing tables in the WordPress Dashboard
Generate shortcodes insert tables in posts, pages, or text widgets
Give you a table preview
Facilitate the user with template tag function for showing table anywhere in your theme
CSS code for individual table styling
The ability to import and export tables from Excel, CSV, HTML, or JSON format
Insert links or images from the WordPress media library into the tables
Options for editing table data and structure
Options for copying, duplicating, and deleting tables
Whole table import and export
WP Table Builder
For the formation of simple WordPress tables, there is no good option other than this. It is also a free version of impressive table plugins with a lot of hidden features listed below:
It provides you with 7 different elements of text, list, images, buttons, star ratings, custom HTML, and shortcode
It allows you to arrange all the table content through the drop and drag option
WP Table Builder helps you construct a quick product table, content table, comparison table, or review list, etc.
It allows you to add content to the table from scratch. You can also import data from XML or CSV files and also export it in the same format
On posts and pages, tables have a simple shortcode
Visualizer
Visualizer also comes in the list of such WordPress booking Plugin which provides freemium services. It comes in two versions i.e. free and paid one. However, it is mainly famous for its themes.
Free Version Features:
In the free version,
You can develop, insert and manage interactive tables and charts tables into posts and pages
It can easily respond to all device types and browsers
In it, you can create line, area, bar, column, pie, scatter charts, tables, bubbles, and geo
Customization option for charts and tables
Allowing the usage of Google Chart tools
Support data import from CSV, Excel, Google Sheet, etc.
Gutenberg support
Premium features:
For the pro version, it demands to pay $59 to $299 per year. However, lifetime subscriptions can cost you from $159 to $799. Premium features include:
Data editor like excel
Data import from any database, other charts, tables, and graphs
Extra chart types that include combo, timeline, candlestick, gauge, radar or spider, and polar area
Periodic data synchronization, support, and updates
Chart creation from posts, pages, etc.
It allows site visitors to edit charts
Customizable private charts
Final Word:
To put it in the nutshell, WordPress table plugins are the best tools to create charts, tables, and graphs on any post, page, and site in the easiest way. For your ease, we selected Ninja Tables, TablePress, WP Table Builder, Visualizer for discussion as they are at the top list of the latest 2021 recommendations. These are the best WordPress table plugins which you can choose to avail of their many great features either paid or free of cost.
Learn more from Development and read Solved WordPress Internal Server Error 500.