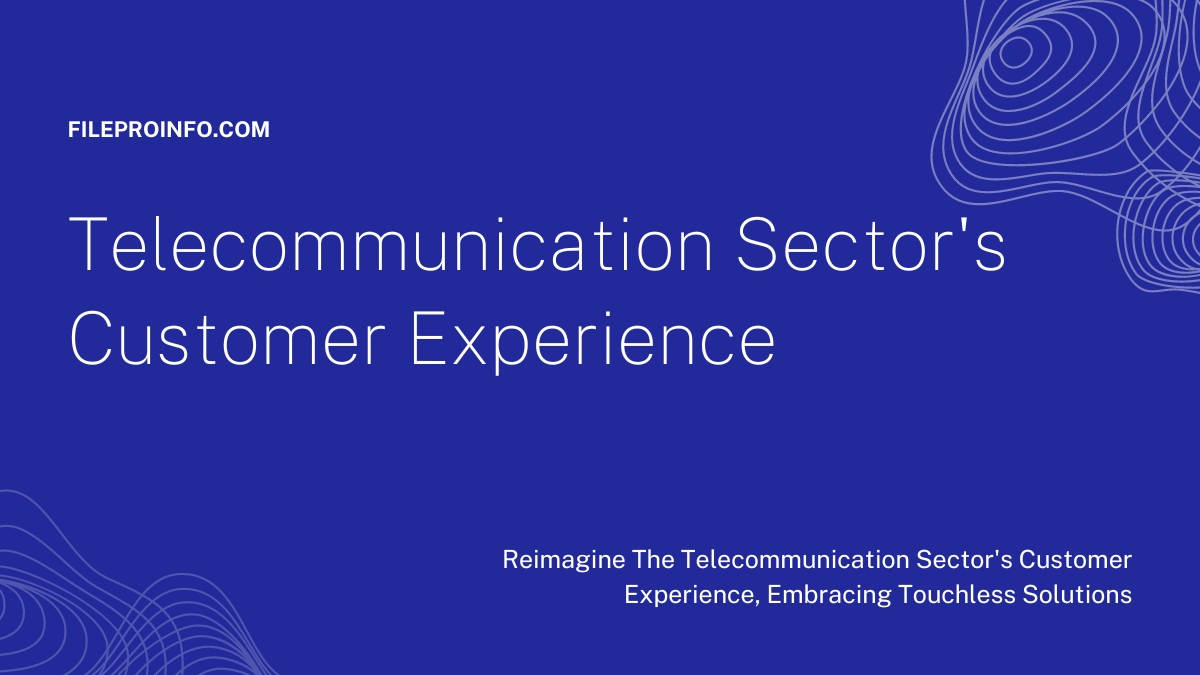 With an increased dependency on digital solutions, customers have higher expectations from telecom providers. Businesses that understand this concept have an easier time generating high revenue and instilling customer trust than others who don't. But sometimes, meeting customer expectations can become highly tricky for telcos. For instance, they are under great pressure to provide top-notch cloud, broadband, and telephony services. Not to mention, customers also expect a prompt response via chat, Email, application, or phone in case anything goes wrong.
The enormity and complexity of telecom networks can add to network complications and security concerns. Now that the pandemic has made connectivity the backbone of the virtual world, it has become the new normal. The telecommunication industry is also pressured to reduce delivery time and cut costs.
All customer demands combined call for a need to reimagine the telecommunication sector's CX precisely by embracing touchless solutions. They need to look for various ways to improve CX and keep innovating. This post will look at how reimagining the telecom sector can turn out. Let's dive in.
Looking Beyond Direct Competitors: Adjacent Competitors Take The Lead
With a vast internet presence, nowadays, customers have gotten used to the flawless experiences platforms like YouTube and Netflix offer. Some other adjacent or perceptual competitors include Zomato and Instagram.
The telecom industry can only offer a superior CX by prioritizing an agile framework and carrying out detailed user experience monitoring. Now that customers are accustomed to other industries providing a smooth experience, they will expect the same from their telecom providers.
Digital Customer Experience Telecom: Are Digitally Savvy Customers Slipping Through Your Fingers?
Sometimes, the telecom sector fails to realize that customers nowadays are more technologically informed than they used to be a decade ago. A wide range of services and products are at their disposal. Naturally, users gravitate in the direction of platforms that offer them an intuitive CX. Both companies and consumers have increasingly become more reliant on digital channels amid the Covid-19 pandemic.
Reinventing Customer Experience With Layered Technologies
Telecommunication companies need to realize that the customer undergoes a journey before they become your loyal tribe. It starts with exploring a product via different channels and purchasing the one they deem fit. After they start using the product, customers experience other attributes of the product. A business can only retain them if they offer customers an exemplary CX.
If the telecom sector uses a layer of technologies such as virtual assistants and cloud running on Artificial Intelligence, gets their data and analytics in line, and make their interface attractive, customers will keep coming back. Advanced customer engagement further facilitates the identification of customers willing to carry out digital interactions. When telecom companies make conclusions based on these interactions and implement the necessary changes, it leads to tremendous revenue growth. The following section will look at some steps to reimagine the telecommunication sector in terms of customer experience.
Steps To Reimagine The Telecommunication Sector's CX
Here are some parameters the telecom industry can consider as it steps towards reimagining the CX.
1. Managing Customer Value
CVM or Customer Value Management facilitates better engagement and improves the value generated from sales, initiates loyalty, and creates a centralized marketing scenario.
2. Decoupling Channels
When the telecom industry decouples its channels from backend processes and system complexities, it acts as a driving factor toward developing an outstanding CX and an omnichannel experience.
3. Zero Touch
In the present-day digital scenario, shifting to disaggregated networks can help implement an enormous operational simplicity for the telecommunication sector. Zero-touch everything must be present in interoperability scenarios, aggregate automation, and so on.
4. Network Transformation
Even though implementing network transformation isn't short-term, taking baby steps can be a good start. CSPs can start making relevant investments as soon as possible to ensure consistent success for the long haul. There has to be a strategic plan whether you are trying to transform network operations or technology platforms.
5. Customer: The First and The Absolute Priority
Instead of driving all the attention to revenue, make customers the priority. Revenue will automatically follow. Digital giants like Netflix, Uber, and YouTube have set a very high bar. It's high time the telecom sector ethically and securely utilizes relevant customer data and behavior to develop personalized and superior CX. Paying more attention to what customers think about your product helps make applicable customizations and offers them a better CX the next time. This practice will prevent them from switching their service provider.
6. Smart Innovation
The telecommunications industry now has to cater to physical and digital customer experiences. They should make sure that they are complementary to one another. Seamless integration of digital and physical experiences offers an intuitive user experience.
For example, customers should have the option to clarify quick queries with an AI assistant chat box. But a human should be available in case of complicated doubts. On the other hand, they shouldn't feel stuck answering many questions to a customer representative when a 1-minute chat can solve the problem.
The telecom industry should also be careful not to overwhelm customers with a lot of new initiatives at the same time. The aim should be to solve their problems instead of adding to their confusion. Ideally, a telecom company should offer flexible and personalized plans so that prospects can choose what they are comfortable with at that moment. Inventors and innovation are the pillars of standing out in an overcrowded market. Telecom providers can easily keep up with increased digital adoption by reducing dependency on high-risk and high-touch channels.
Conclusion
Undoubtedly, every business needs to take customer behavior into account and fulfill its expectations. Isn't that the only way to retain customer loyalty and improve ROI? A revolution in customer experience is possible by incorporating sophisticated telco testing solutions, adopting a modern architecture that elevates the service, sales, and marketing life cycle, and continuously investing in innovative channels and technologies.
The current digital landscape changes at the speed of light. As expected, the telecom industry needs to adjust and adapt to remain relevant. Telecom has a long path ahead if they plan to expand its ecosystem.
Touchless is not going anywhere. It's time for telecoms to strategically leverage the power of AI, ML, and other associated technologies. Testing for telecom can offer companies the competitive edge they're looking for.