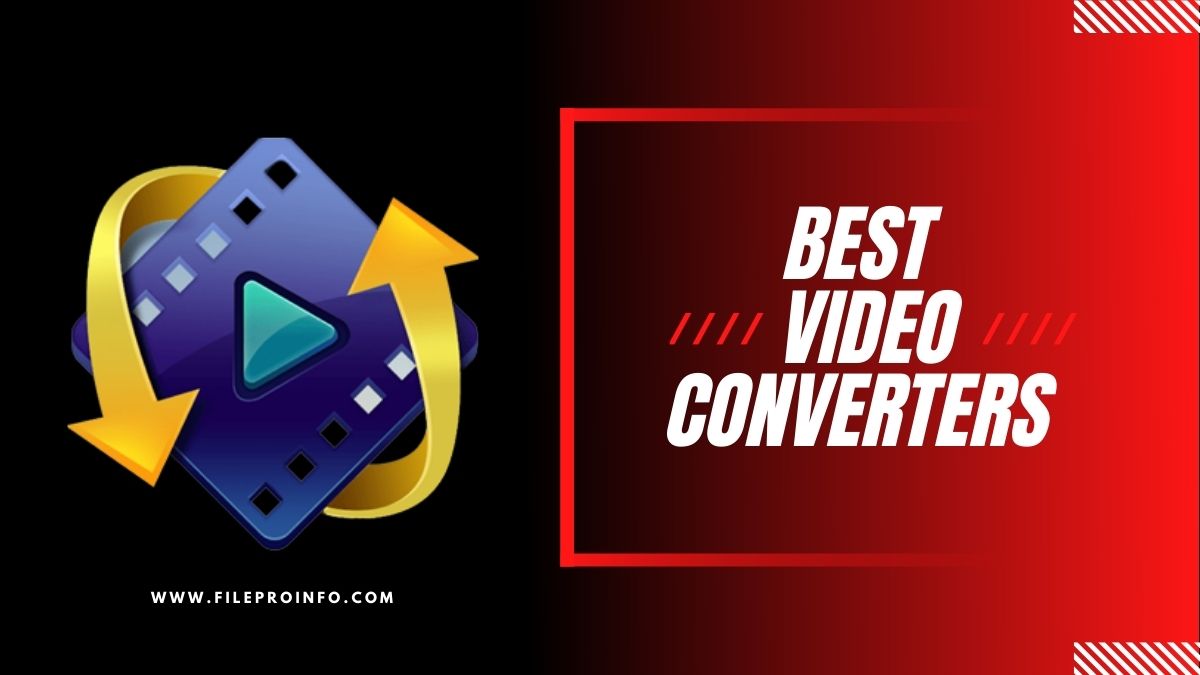 Have you ever been about to upload and publish a brand new video on social media only to discover it's in the wrong format? Yes, it is vexing. MOV files are notoriously difficult to upload anywhere. This is where video converters come in handy. They accept almost any video input and convert it to the file format you specify.
Fortunately, there is a large selection of both free and paid video converters to choose from. In this section, we'll go over what features to look for and which video converters are best for which applications.
What characteristics distinguish a good video converter?
So, how do you know if it's worthwhile to use a video converter? The following are the key features to look for:
Format support: Most video converters support common file formats such as MP4, MOV, MP3, MKV, and WMV, but not all support more obscure conversions. The average user may only require a few options, but others may require more.
Batch conversion: If you intend to convert multiple videos, a good batch conversion feature can save you time.
Online video conversion: Downloading software can be time-consuming and take up valuable space on your computer. As a result, browser-based apps are beneficial for online video conversions.
Conversion speed: There's nothing worse than having to wait hours for your files to convert to the format you want. If you need to convert multiple videos within a short period of time, it is worthwhile to invest in software that has faster conversion speeds.
Built-in editing tools: If you intend to upload converted files to social media or other websites, having some basic editing tools will allow you to convert and edit in the same place.
The top 10 best video converters
Here are some of the best video converters that include the aforementioned features as well as some extras.
1. Wondershare UniCenter [Fastest]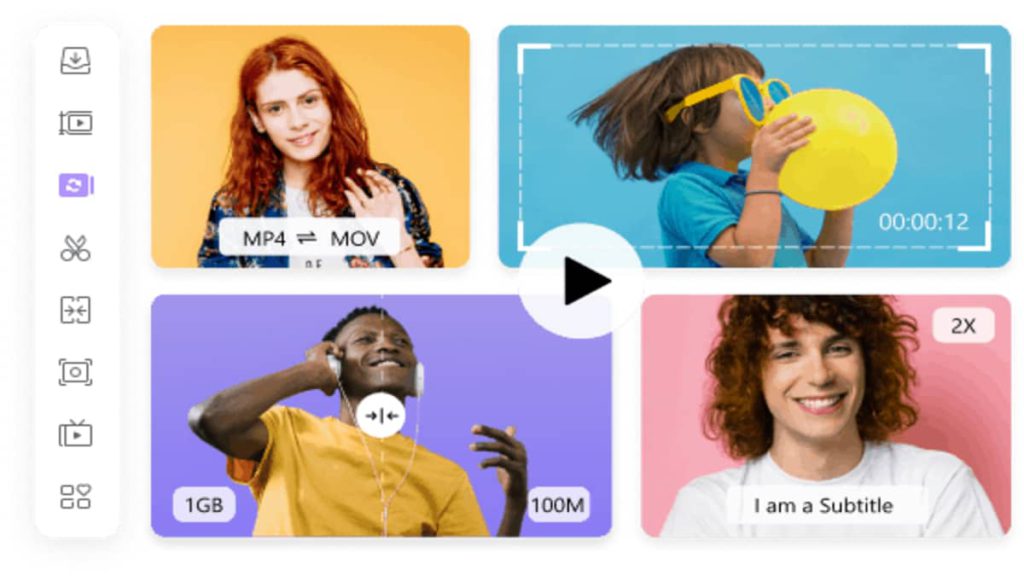 Wondershare UniCenter is a video toolkit that can convert, compress, and edit videos. With over 1000 audio and video file types supported, your preferred format is likely to be supported by the platform. You can, for example, convert MOV to MP4, AVI to MP4, or MP3 to MP4. It also works with popular web formats such as Facebook, Instagram, and TikTok. Previously it was challenging to download Instagram video, but now there are plenty of available tools to download video.
Another interesting feature is GPU acceleration, which speeds up video conversions. In fact, Wondershare claims to be 90x faster than other converters at converting videos.
Wondershare can also convert multiple files at once, as well as create GIFs and still images. You can also crop, trim, and add subtitles to videos.
You can easily compress multiple videos in batches and preview files with multiple compression options.
Pricing: The Annual Plan costs $39.99 per year. The Perpetual Plan is a $79.99 one-time fee.
2. Handbrake [For all operating systems]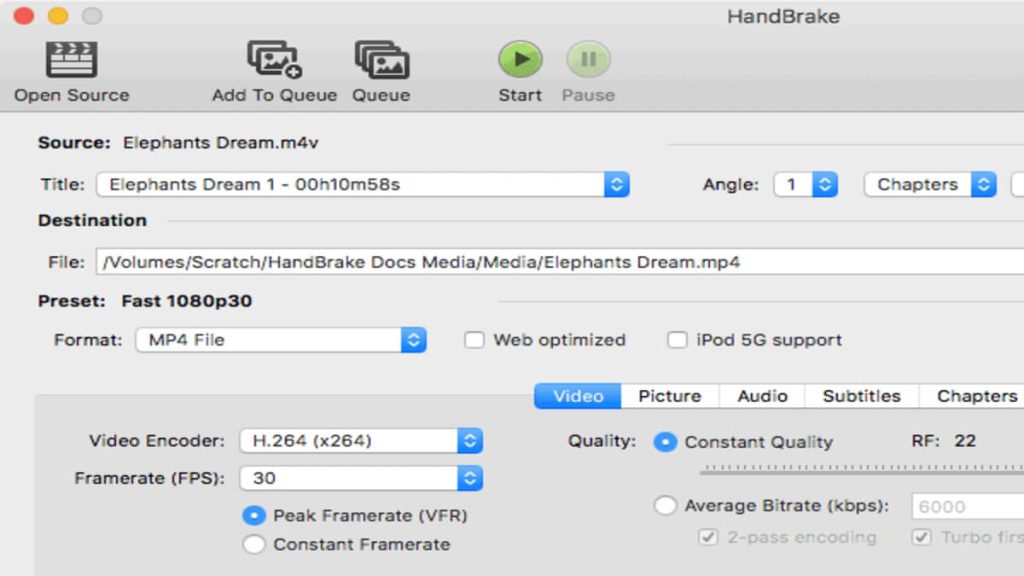 Handbrake is a fantastic free video converter for those who want to convert videos with advanced settings. It doesn't have the most up-to-date user interface, but its top-tier features compensate.
The platform can convert video to the settings of popular devices such as smartphones and supports every popular file format. You can also convert videos into formats that are compatible with sites like YouTube and Vimeo.
The enhanced editing controls are one of Handbrake's best features. Subtitles, audio tracks, and chapter markers can all be added. Filters are available to alter the sharpness, scale, and deinterlacing. You can also change the output resolution by adjusting individual pixels.
Handbrake, on the other hand, is available for Mac OS, Windows, and Linux, making it more compatible with different operating systems than the other video converters on the list.
Pricing: The download is free.
3. Freemake Video Converter [Best for built-in editing tools]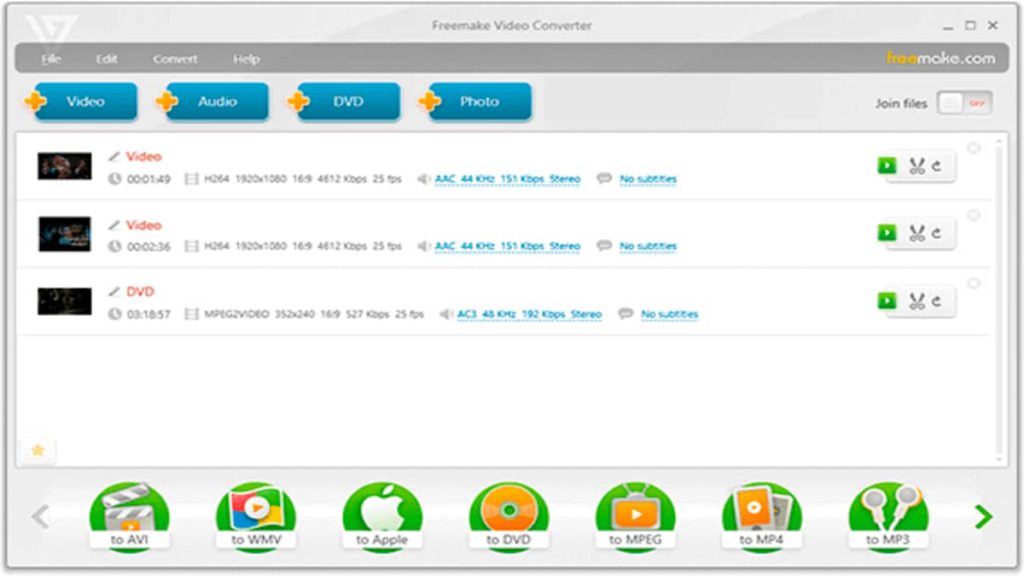 If you only need to convert and edit a few videos, Freemake may be a good video converter for you. It's easy to use and a good choice for beginners.
The user interface is simple and straightforward, making it easy to navigate. At the top of the screen, you can add video files, and at the bottom, you can select the type of output you want.
Select audio quality and use various editing tools such as cropping, cutting, rotating, and joining clips. There is a long list of 500+ output formats available, including options for Android and Apple devices, Xbox consoles, and Samsung TVs.
The main disadvantage is that, while Freemake is free to use, all output videos contain a watermark.
Pricing: The download is free.
4. Aicoosoft Video Converter [HD video conversion]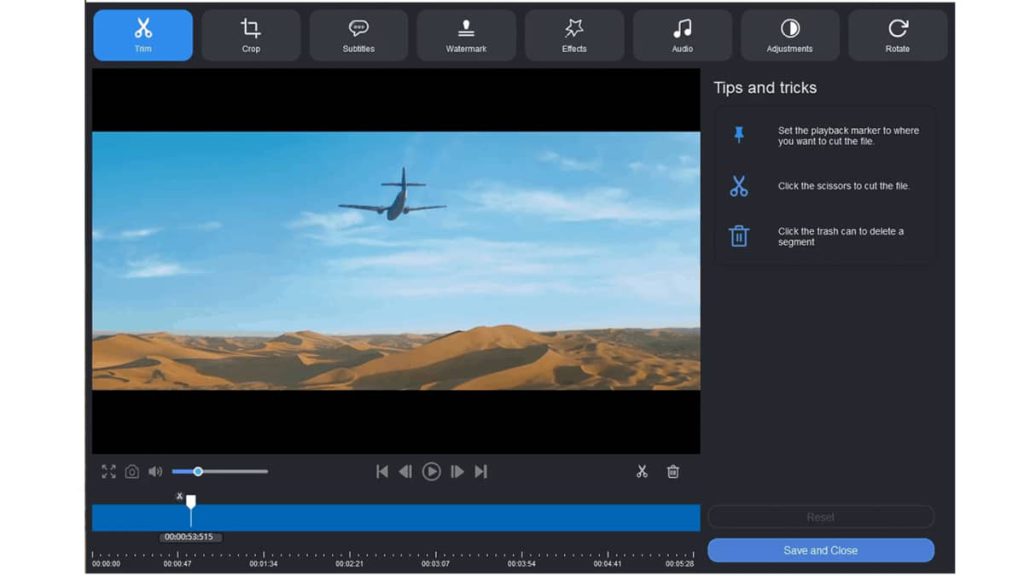 Aicoosoft is an excellent all-in-one HD video converter.
You can use the powerful video editor to trim, crop, rotate, adjust the audio, add watermarks, and add other effects to your outputs.
You can download videos from over 1000 video and audio sharing sites using the built-in video and audio downloader. You can also download high-definition videos such as 1080P and 4K from streaming websites.
Do you need to combine videos? Use the video merger to make videos flow smoothly from one to the next.
If you need to reduce the size of your video files without sacrificing quality, use a professional-grade video compressor. With a single click, you can adjust the video compression settings and compress an unlimited number of videos.
Pricing: AppSumo charges $29 for a Lifetime Deal.
5. Prism [Best for converting batches]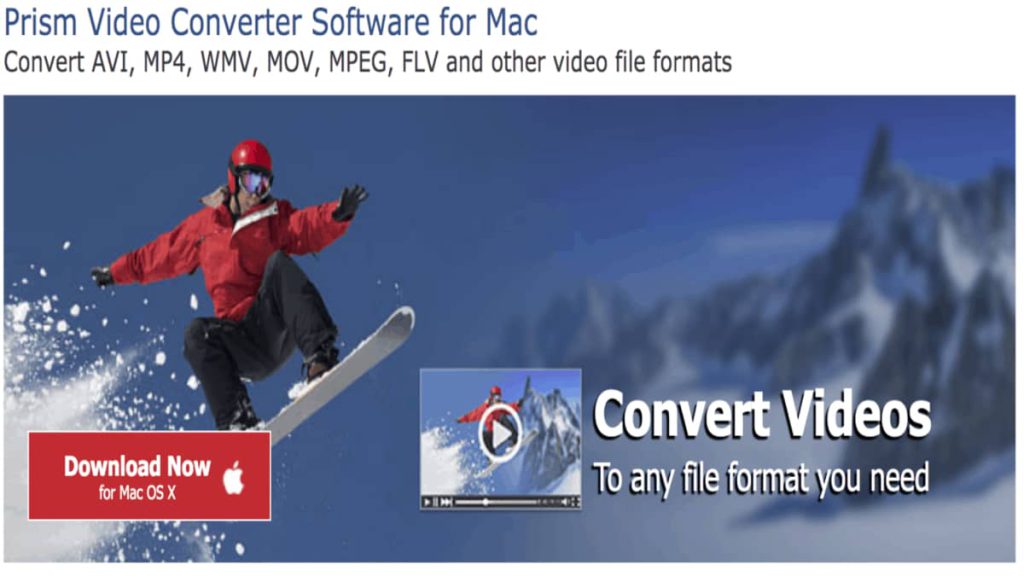 Prism is a reliable video converter that can convert video to the most popular file formats such as WMV, MP4, and AVI. You can reduce the size of your original file, and Prism also supports HD to high compression for smaller files.
There is a lot of flexibility, and you can change the compression and encoder rates. You can edit your videos by adjusting the contrast, brightness, and gamma, as well as resizing, rotating, and adding watermarks.
The ability to batch files together is one of the most useful features for busy creators. Instead of converting each file individually, you can convert multiple files at once. Simply drag and drop your video files into Prism and press the convert button.
Pricing: A quarterly plan costs $1.94 per month and includes unlimited access to all professional features and upgrades.
6. Vidds.co [Best video converter for social media]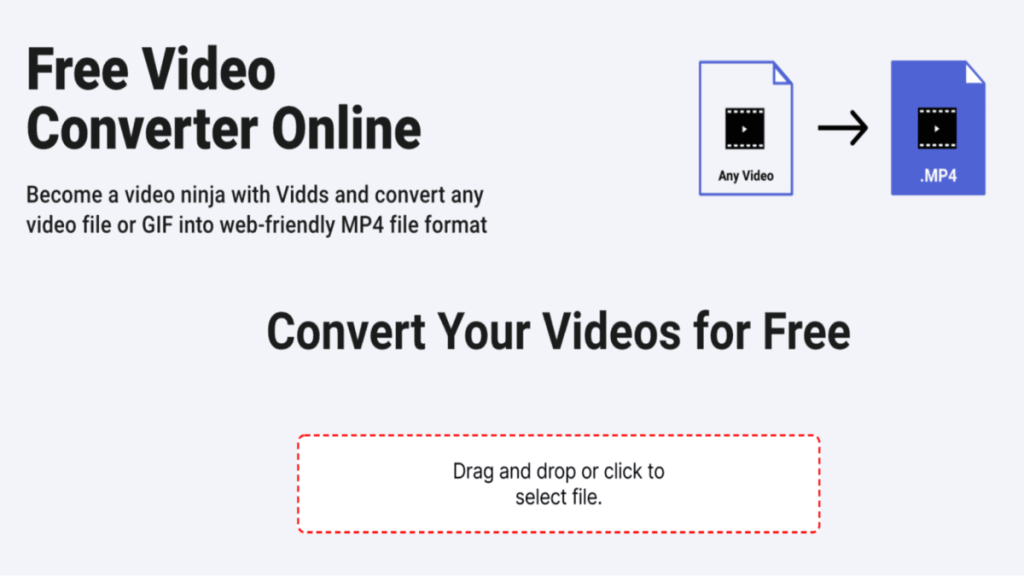 Vidds.co is an easy-to-use free video converter that includes some of the best video editing tools for social media. This tool is useful if you need to convert a video from any file type or a GIF into a web-friendly MP4 file format and edit it for social media sharing.
When you sign up for one of their paid plans, you gain access to their video editing tools as well. These are excellent for producing email marketing videos, banner videos, Shopify product videos, and social media stories. Vidds.co can also be used to create GIFs, add text, and cut videos.
Pricing: The video converter is free to use. Purchase an AppSumo lifetime deal for $69.00 to gain access to the full suite of editing tools.
7. Any Video Converter [Best free video converter]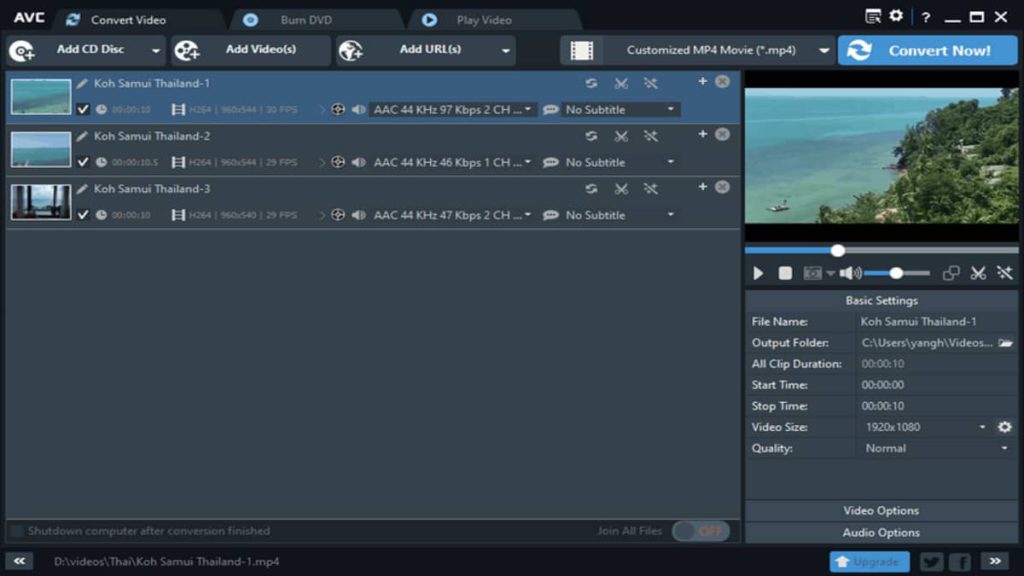 Any Video Converter offers three different video converter products. Their free video converter is one of the most comprehensive free options available, and as such, it is our top free option. Your preferred file format is most likely supported, with 100 different inputs and 160 outputs to choose from.
You can download and convert videos from platforms such as Facebook, YouTube, and Vimeo, and you can work with both online and offline files.
You can crop, trim, rotate, and clean up your videos with powerful editing tools.
There are also two paid versions if you require more converting options. Any Video Converter Ultimate and Any Video Converter Pro can convert videos faster and have more file format outputs.
The Ultimate version supports batch video conversion, employs AMD APP acceleration for faster conversion speeds, and includes free upgrades and customer support.
The Pro software includes a video and audio player, the ability to extract audio from CDs and videos, and HTML5 video with embedding code.
Pricing: The free version includes conversion, editing, and a DVD burner. The price of Any Video Converter Ultimate is $49.95, and the price of Any Video Pro is $39.95.
8. Movavi [Best for Mac users]
Movavi is another great video converter if you're looking for a platform to convert media directly from your Mac. Movavi allows you to convert media files into 180+ formats, compress them, and edit them. However, keep in mind that Movavi does not currently support Windows.
Drag and drop your files into the media converter using their simple upload, select your desired format, and click convert. There's also a handy compression tool that allows you to reduce file sizes without sacrificing quality.
A simple and easy-to-use video editor lets you change the brightness, contrast, saturation, and hue. You can also crop, trim, and rotate your video to ensure that it fits the format you require.
You can use their subtitle editor to search online for movie subtitles directly from the Mac converter or upload them from your computer.
Pricing: A one-year subscription costs $44.95, a lifetime Premium subscription costs $54.95, and a lifetime Video Suite subscription costs $84.95.
9. FileProInfo [Best for converting from a web browser]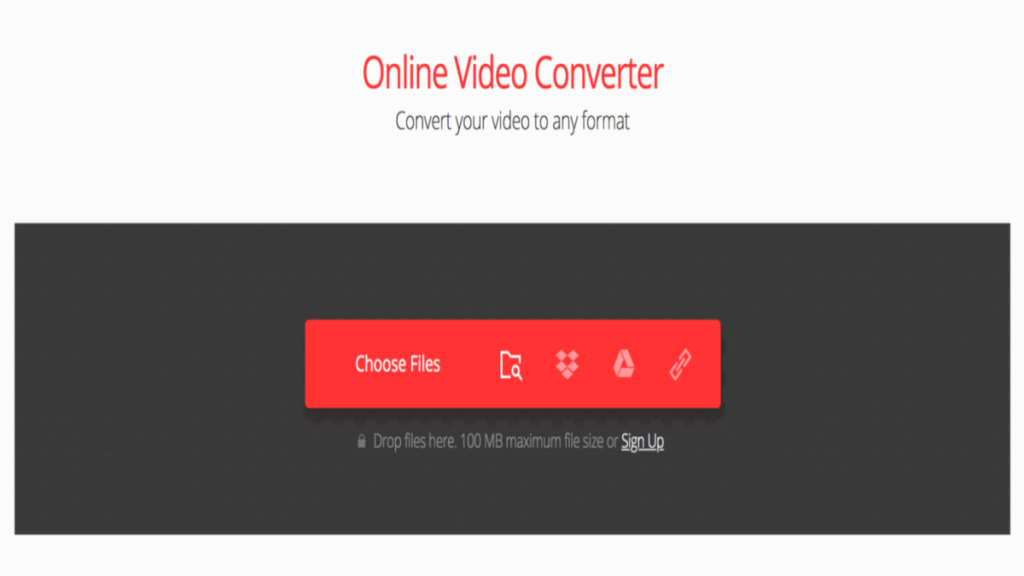 FileProInfo may be the right choice if you prefer to convert videos directly from your web browser without having to download any apps. All you have to do is drag your files onto the web page, choose an output format, and hit convert.
Convertio works with all browsers and operating systems because it is accessed through a web browser. You can convert files whether you use Windows, Mac, or Linux. You can also convert videos from your Android or iPhone while you're on the go.
You can change the quality, aspect ratio, codec, rotate, and flip videos with customizable settings.
You don't have to worry about anyone watching your videos because of the security features. Convertio deletes uploaded videos immediately, and converted files are deleted within 24 hours.
Pricing: Free and even no registration.
10. Cloud Convert [Best for different file formats]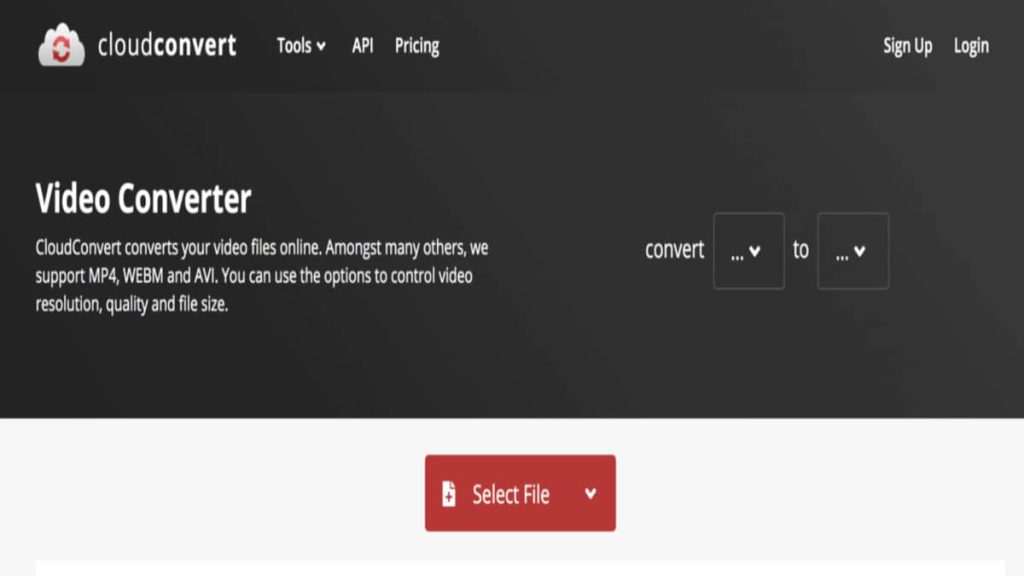 Cloud Convert, another web browser-based video converter, supports 200+ formats without the need for a download.
In addition to videos, Cloud Convert can convert ebooks, presentations, images, spreadsheets, and audios. There's also a file compression tool for reducing file size, as well as a website capture tool for saving websites as PDFs or JPG screenshots.
A robust API enables you to add custom integrations to your app to ensure compatibility with your tech stack and conversion requirements.
Pricing: It's free for the first 25 conversions per day. If you require more, you can purchase packages or monthly subscriptions based on the number of minutes required. The cost of 500 conversion minutes is $9.68.
FileProInfo verdict: best video converter
The most effective video converters Your videos will be converted seamlessly into all file formats, allowing you to use them in whatever format you prefer.
Before you commit to a paid plan, consider which file formats you're most likely to use, and double-check that the video converter supports the input and output formats you've chosen.
Choose a platform with solid editing tools, such as Freemake Video Converter, if you want to edit video directly on the platform. If HD video quality is important, FileProInfo is a good choice, while Vidds.co is a good choice for converting and editing videos for social media.
Learn more from technology and read about Top Video File Formats to Use in 2021.