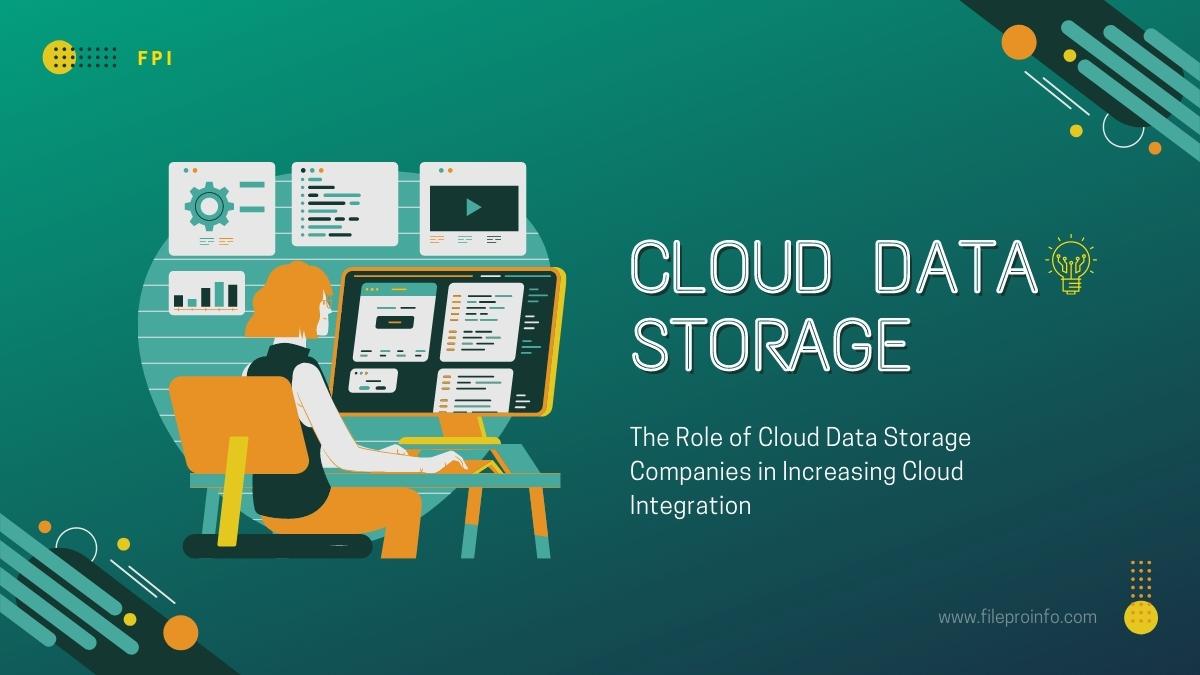 Cloud computing has revolutionized a lot of data management in various sectors, including and especially the business sector. As one of the most important and impactful technological developments, it is also one that makes people most hopeful when it comes to thinking about future solutions to current problems. One of these solutions is increased cloud integration which would allow utilizing the cloud even more. The question "what is cloud integration?" has multiple possible answers that are closely related to each other. In this article, we will look at cloud integration by exploring the role that cloud data storage companies play in it.
The importance of cloud integration
The main reason for making the move towards relocating big data to the cloud is precisely the volume of information businesses need to handle today. Cloud computing allows most companies to manage and access data more efficiently and without as many in-house resources as previously needed.
Cloud-based integration generally refers to relocating all the data storage and processing facilities to the cloud and integrating these data environments into one connected unit there. Naturally, it all comes from first moving the data to the cloud, thus cloud data storage companies can provide a lot of help in the initial stages of integration.
Perhaps the most important feature of cloud integration is the expected bridging of data silos that are currently experienced by old-fashioned data centers. When companies use many different platforms and databases in order to store their data, it makes the communication of different departments harder. Some of the agents within the company would only have access to particular data sets through their usual tools, while other data assets owned by the company might benefit their work.
Cloud computing could provide a solution to this problem by integrating all these storage units and devices into one cloud environment. Here, company agents could access all the data they need easily and work on it together. Additionally, data could be accessed from anywhere in the world, thus increasing cooperation between all the locations of the enterprise.
And, of course, there is the scalability of the cloud that helps with data management, as more data can be added virtually with no limit. The combination of all the data processing tools and storage platforms within the cloud also makes big data management take a step forward towards a new stage of its remarkable history.
How can cloud data storage companies help?
Of course, cloud integration is easier said than done as many challenges come along in the transition process. Cloud data storage companies can help with relieving some of these challenges. These are the companies that specialize in providing cloud services for data storage and handling, thus businesses that are only starting to utilize the cloud can learn a lot from them.
One of the main challenges of transferring to the cloud is that it requires a lot of planning and skill. A company that does not have that kind of in-house experience in working with cloud infrastructure would need to look for it elsewhere. That is where the third-party cloud data storage companies come in. Many of them can provide all the cloud-related data management services, not just the storage. Therefore, businesses can opt for leaving the cloud integration of their business data to these companies.
This would also be a good temporal solution for the companies that are currently in the process of building their own cloud infrastructure. While the technology that supports in-house cloud infrastructure is being implemented, the data can already be safely moved out of local servers and taken care of by the cloud data storage companies. This would allow using all of the technological and human resources of the company for the objective of developing in-house cloud solutions.
In the case of some cloud data storage companies, there might even be an option to make a deal with them in regard to sharing their expertise. Thus, while the data is being managed by them in the cloud and awaiting integration, company agents may learn how to handle it on their own in the future.
Concerning the security
When it comes to transferring data to the cloud and especially putting it in other companies' hands, some privacy and security concerns might arise. This is quite natural, as a lot of businesses handle sensitive data, and no one wants to have a data breach that hurts them or their customers.
Some of the security concerns might be answered by implementing various technological solutions, such as a virtual private network (VPN) when accessing the data in the cloud. However, in the case of extremely sensitive data, the best option is to keep it in the house-based cloud instead of handing it over to a third party. Although some cloud data storage companies have implemented state-of-the-art security protocols, thus it might be worth consulting with them to see if they can offer a deal to ensure complete security.
Anyhow, even if business managers feel better by keeping the most sensitive data only integrated into their own cloud, there is still a lot of less sensitive day-to-day data to consider. With such information, third-party companies will usually be able to ensure reasonable security measures. And the increased accessibility decreased management costs, and other benefits might outweigh whatever security concerns might remain if even in the case of a breach, the expected damage is low.
Thus, cloud-based data storage companies currently provide very important services as we move along towards greater cloud integration.
Learn more about technology and read Why Cloud Computing is Important for Your Business.