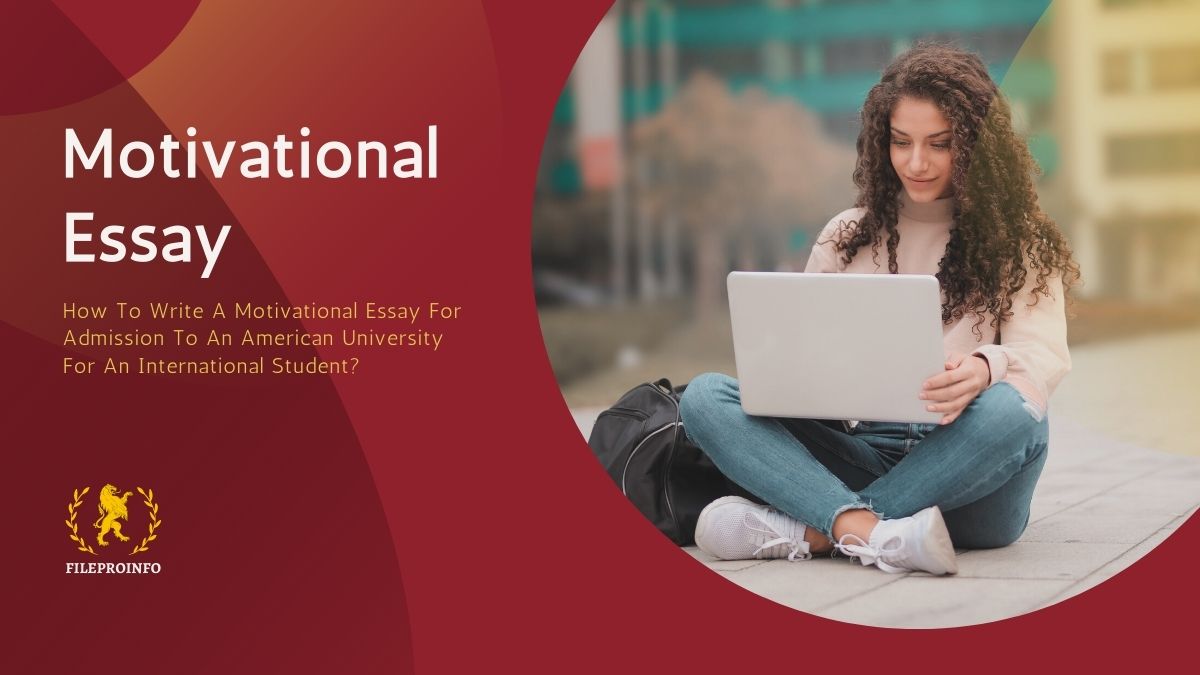 "To achieve something, there is one secret – to begin," Mark Twain, who gave the world the adventurous and courageous Tom Sawyer, famously stated. From personal experience, the great writer understood that getting started (particularly on a manuscript) might be difficult. I have provided guidelines on how to write an essay for university entrance in the United States for you (yes, it seems even more difficult than composing a novel).
Are you an international student aspiring to secure admission to an American university? Writing a motivational essay plays a crucial role in showcasing your unique qualities and aspirations. Attracting the attention of admissions officers can be challenging, but with the right approach, you can stand out from the crowd. In this guide, we'll explore the art of crafting a motivational essay that captures the essence of your experiences, strengths, and ambitions. We'll provide valuable insights and practical tips to help you navigate this critical step towards your academic journey. Whether you're seeking guidance on structuring your essay, choosing the right tone, or highlighting your achievements, our custom research paper writing service is here to support you every step of the way.
How to pick a story for writing an essay is the full secret. Are you concerned that you've picked the incorrect personal example, that your work will appear dry and artificial, and that no one will remember it? These seven pointers will assist you in crafting a compelling tale that the admissions committee will want to include in their "pile of favorites."
1. Try To Come Up With The Perfect Example One Week Before.
Many institutions in the United States require you to write about a challenging scenario you faced, how you dealt with it, and how it influenced you. Please take your time. Write down the events that had the greatest impact on you as a person on a sheet of paper. Next, make a list of the things you admire in yourself. Examine which of the scenarios you wrote down exhibited the qualities you most like in yourself.
2. Don't Be Scared To Talk About Your Failures In Your Writing.
Many students write about their health challenges, family tragedies, or financial troubles in their essays. You might also discuss such incidents if they have had a significant impact on you. You should not make up unrealistic stories if you have always lived in a happy, healthy household with a solid salary. After all, we've all experienced both major and little disappointments. Small setbacks and hurdles can have a significant impact on the development of your personality. The most important thing is to write the truth since this will bring your narrative closer to the reader.
3. Failures, Misfortunes, Or Tragedies
Describe how you acted and what attributes aided your progress. These are the episodes in your text that the admissions committee is looking for. They assist you in determining what type of person you are and how you vary from others.
4. Prioritize Experiences That Are Important To You
In addition, many American institutions will ask you to write about a meaningful life event, a person who inspired you, or an accomplishment that helped you grow in your essay. In this scenario, make a list of all the key individuals in your life as well as any accomplishments you are proud of on a piece of paper. Draw the reader's attention to the qualities that assisted you in achieving a goal or those you would like to acquire. Rather than biographical information about yourself or your favorite celebrity's career path, emphasize them.
5. Write About Certain Individuals.
If you're asked to write about an inspirational individual, choose someone you know. Adele, for example, may inspire you because she cares about her fans, addresses her issues, and pours her heart and soul into her songs. Americans pride themselves on providing a good example for their children. The songs are touching and in keeping with the American ethos of standing up for one's family.
6. Don't Only Look At Your Official Accomplishments.
Don't be disheartened if you don't have an Olympic medal to brag about when you write about your accomplishments. Everyone recognizes that graduating from high school and opting to study in the United States is already a significant achievement.
Consider a time when you were happy. Consider how pleased you were about something you had worked so hard for. When was the last time you felt relieved, happy, and proud of who you are? For others, the achievement was enrolling in an acting studio to become less reclusive, while for others, it was saving money and taking their first actual vacation to their favorite nation.
7. Be Yourself.
Don't read online essays that helped students get in. Every American university likes to publish the coolest essays in the "essays that worked" section. However, there is no exact guarantee that your essay, written after reading someone else's work, will remain unique, personal, and sincere. Write about what touches you; if you have something to write about from yourself, you are sure to become an American college student. Find your voice, your theme, and you won't be forgotten even by the Harvard committee.
3 Main Stages
Stage 1: Preparation
Consider the substance of the essay before you begin writing it. Make a list of questions to be answered during the essay-writing process:
What's your name? What are the things that are most important to you? What do your academic or extracurricular achievements say about you? Give specific instances to back it up. Don't just say, "I'm intelligent." Tell us about a time when you had to solve a challenging situation. "I'm motivated," isn't enough. Give an example of a goal you established and attained. Tell us how you did it.
What drew you to this subject of study in particular? What is it about it that draws you in? What motivates you to devote your life to this profession? "Chemistry is my favorite subject," isn't enough. Tell us how your first experiments on your own left an effect on you, or how you were captivated by a certain notion or occurrence.
Why did you chose this university in particular? Find out everything you can about the university. Determine what distinguishes this university from others. Don't just state, "Duke University is an excellent institution." Make a list of the academic qualities that appeal to you, as well as a professor or a research center that works in that sector of knowledge. Describe the university's distinct features.
What are your career objectives? "My objective is to acquire a degree from Duke University," don't just say. Demonstrate how the education you wish to pursue is consistent with your personal and professional goals. Your education will build on what you've already learned and will assist you in achieving your objectives.
Stage 2: Composing An Essay
Begin by jotting down your responses to the opening questions.
Organize your thoughts: Make a list of things to include in your outline, such as:
The first paragraph is an introduction.
Something intriguing should be used to capture the reader's attention. The key point should be stated at the start of the essay.
The Main Part (paragraphs 2,3,4)
Give examples to back up your primary point. Give particular instances from your life, education, and career if relevant. You might write about someone you like, your family, or your nation.
The final paragraph
Your key idea should be repeated and reinforced. Relate the conclusion to the essay's beginning. Perhaps a sense of optimism should be included in your writing.
Find a genuine, authentic tone that is neither too official nor too informal. Your own style expresses who you are.
Attain a high level of specificity. Always go for the specific instead than the generic. Don't just answer, "I've always enjoyed philosophy," but mention a philosopher who has influenced you greatly.
Avoid broad generalizations and exaggerated passion.
Stage 3: Editing
Changing the structure. Is there a link between paragraphs that makes sense?
The tone of sincerity (avoid overly emotional adjectives and adverbs). Do you recognize yourself in the text?
Is the uniformity of style professional? conversational?
What is the essay's length? Write quickly, stick to the essay's criteria, and cut out everything that isn't required.
Isn't it tedious? Consider reading 50 essays to an admissions committee every day.
What makes your essay unique?
Advice! If feasible, show your writing to a native English speaker.
Rewrite it several times.
Read Learn How to Write an Essay for Free: Improve Your Writing Skills Without Spending Money.