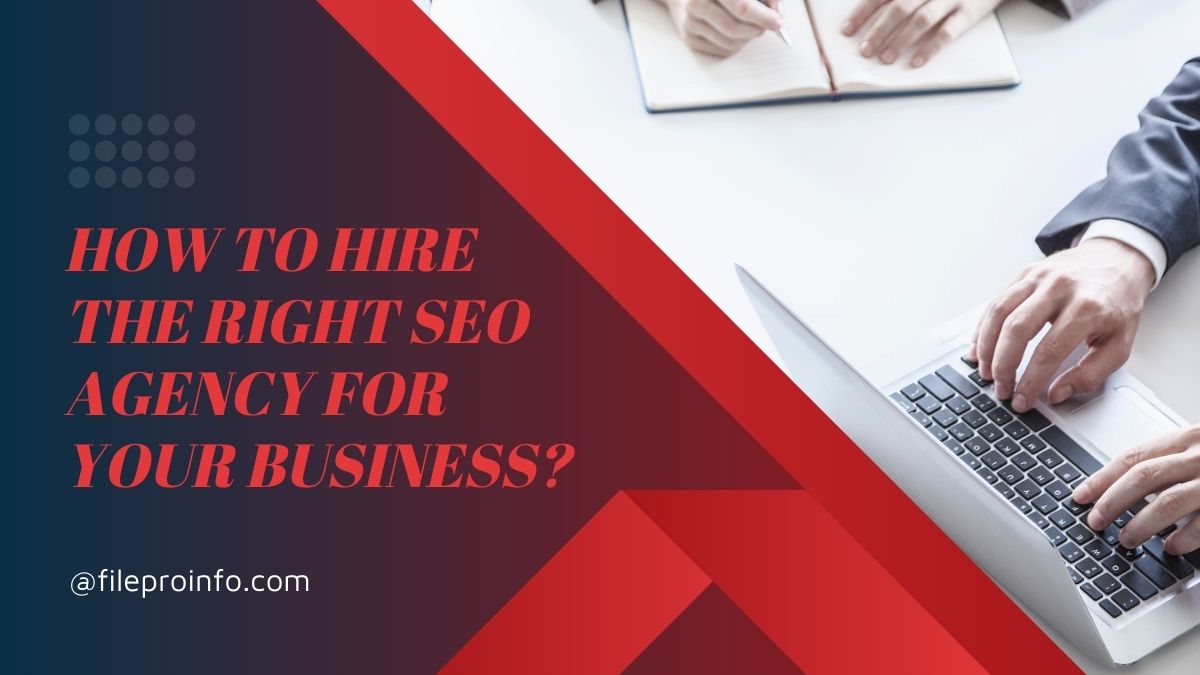 Search Engine Optimization is a critical component of digital marketing and online business growth these days. While businesses can do it on their own, a strong SEO strategy requires a lot of patience, effort, and extensive knowledge. Finding and employing the proper professional SEO service can result in actual, measurable outcomes for your company.
Working on a website's SEO is not an easy task. Big companies have specialized teams who work only on improving a website's SEO so that their brand always reaches the top position when a user searches for the same product or service they provide.
So, how do you go through the process of hiring an SEO agency for your company? What credentials should you check for before hiring an SEO freelancer or an SEO company for your business or organization? How can you be certain that the individual you've employed is trustworthy and knowledgeable? 
This article will walk you through a step-by-step guide to picking the best SEO firm for your business.
What Is An SEO Agency?
SEO Agency is simply an outsider team of your business and will work and fix issues you are facing in ranking on the Google ranking page. This agency is full of efficient people who are working on SEO and have great knowledge and experience about the subject.
What Do SEO Agencies Do?
SEO Agency works for your business website to rank higher on search engine ranking pages (SERP). Following are some things that you will achieve when you hire an SEO agency.
Better Visibility Of Your Brand
Well, optimized SEO will rank your website higher on SERP. It means when a user searches for the product or service that your business provides, your website will rank in the first few search results and your brand will be visible more frequently in users' search.
More Organic Traffic
When your brand visibility increases there are higher chances of customers visiting your website more frequently and this is free traffic as customers are visiting your website by themselves.
Increased Customer Reach
As your brand visibility is increased and you are getting more organic traffic through the customer search, search engines such as Google or Bing automatically show your website when a user searches for a service or product which is similar to your brand and this will automatically increase your website's customer reach.
More Revenue
Increased customer reach will result in more leads and more clients as customers visit your website if they found exactly what they are looking for. Those visitors will turn into your valuable customers and will ask for your service. Which means increased business revenue and user engagement.
How Do Agencies Function?
When you hire an SEO agency, take a little time to observe what they are doing. The things they will do to enhance your visibility online are:
Visit Your Business Website
When you officially hire an SEO agency, they will visit your business website and will have an in-depth look at all your web pages. They will monitor and examine each of your web pages. It will help them to understand how much and what exactly they have to work to boost your website ranking.
Ask You Questions About Your Business
The agency will have a short interview-like questioning session with your managers to get to know more about the service you provide, the product you sell, or your brand. Answers to their question will help the agency team to have a better understanding of your service and they will plan accordingly.
Analyze Your Website Analytics
They will also have a look at your analytics. This will help them to analyze your past work. How has your website performed in this digital world? How have the visitors interacted with your website and how many visitors have turned into your clients?
Audit Your Website
While accessing your website analytics they will also have your website's current performance. They will get a plan of action to make improvements and generate more opportunities to work on your website based on this data.
Key Points To Remember While Hiring An SEO Agency
A potential SEO services provider, whether an individual or a company, increases the traffic to your website. They are responsible for all aspects of your digital presence, from keyword research to ranking techniques. As a result, when looking for a professional to work particularly for your company, you should look elsewhere for potential candidates. You cannot hire a random person to be your SEO manager or service provider.
1. Set A Target For Your Business
Before you hire an SEO for your company, you must first define your goals. Keep in mind what you aim to accomplish. If you have already cleared your target and goal. It will be simpler to locate the appropriate source. It is critical to define your needs that a corporation wishes to meet with the assistance of SEO. This requirement definition will aid in the creation of a job description for the necessary opportunity.
2. Do Your Research
Once you are aware of your requirements, it will become much easier to find an appropriate solution for your visibility online. Finding the best SEO services company is not a simple task. Everyone considers themselves to be experts. As a result, you must have a clear vision. This vision will aid in the first shortlisting of agencies. You must pay attention to the service provider's methods and techniques because knowledge or information is useless if they are unable to use it.
3. Get Clear With Their Service Price
Before hiring any agency make sure you check out their service charges as if they charge more than you think, you will run out of budget. Their charges are generally based on their experienced team, their knowledge in SEO, their successful clients, past work, valid certificates, etc. these things are essential while looking for an SEO agency's pricing strategy.
4. Check Their Previous Clients' Reviews
Keep in mind the reputation of the SEO service provider you use to establish and manage your brand's online reputation. It is critical to determine their market value. SEO is solely responsible for attracting a potential audience. They can only give successful results if they have a strong market reputation. A company should conduct market research by approaching and assessing clients' responses via different channels.
5. Agency's Reputation In The Market
As you have checked reviews and client testimonials you have got an idea about how popular the agency is. How highly reputed the agency is. This reputation is the result of how much agency is experienced and how much they will be beneficial for your brand marketing.
6. Be Clear Of The Services You Require
An SEO agency offers multiple services, you have to clear your head around the services you need for your company. The services you might need are:
SEO audit
Technical search engine optimization
SEO strategies development
Backlinks
The selection of the services entirely depends on the goals you set for your company, and it provides the right wind to the SEO agency to use their best strategies with the evaluations.
Conclusion
It is difficult for any organization to choose the correct SEO service provider. Before recruiting, you should have in-depth discussions with the team and agency representatives. During your investigation, you will come across various organizations claiming promises for your business. They guarantee to deliver exceptional results, but now is not the time to make a selection without first conducting a thorough investigation.
You should investigate their previous performance and market repute. Your research efforts will ensure that the appropriate agency is available. Because search engine optimization is not a job that can be completed in one or two days, you should plan for a long-term commitment.
Learn more from Business and read 6 Tools To Improve Your Business.