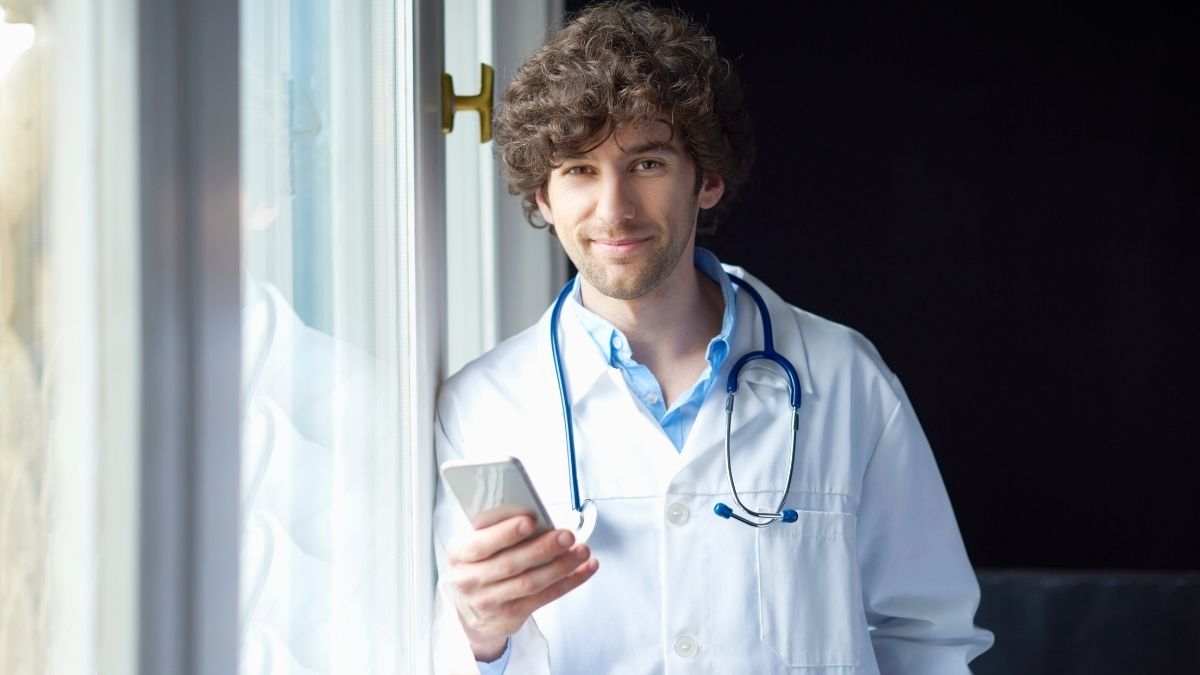 There are lots of computer hacks, data interceptions, and viruses that attack our days. Confidential medical data can be intercepted through online access to healthcare facility servers. The main source of external attacks is made via Internet messengers, but Softros LAN messenger can solve this problem. The app works in a local network and doesn't require a dedicated server or an internet connection. Users of the app don't waste time chatting with friends and won't get any links with viruses from hackers.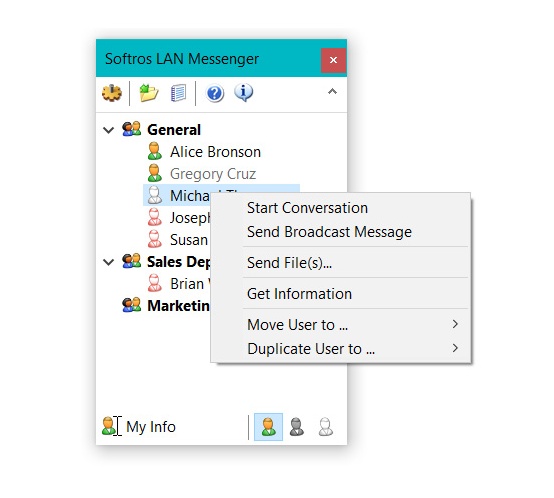 Secure communication is how two entities share details or information, and third parties are not supposed to know or intercept. The main features of secure transmission are confidentiality, authentication, integrity, and availability. There are many ways you can secure communication by being keen on the information you are about to send. Ensuring you incorporate VPN and use solid passwords.
Several chat apps help in information security. These apps include encrypted messenger apps like Signal, Threema, WhatsApp, Telegram, Silent Phone, Wire, Wickr Me, and Viber. But the problem is that they use third-party online servers.
There is a process through which experts on the internet secure data. This process is called encryption. SSL provides data privacy and connects between the server and the web browser. SSL has several disadvantages, including expiry, cost, performance, caching, data integrity, application support, and protocol complications.
SSL Disadvantages.
SSL certificates are costly due to the verification process and maintenance. Expiry: Security depends on the renewal of the SSL certificate. Data integrity: Data stored online should be secure from external attacks. Caching: If the caching system is complex, the content will have trouble with caching. Performance: Slowdown of performance is noticeable if the website has many visitors.
Security.
The Softros LAN Messenger is a program used for messaging in computers within a single local area network. It is available in Android, Mac, and Windows operating systems. Its primary use is for purposes of file transfer and private messages. The files and messages sent are encrypted within the local company network, which means that only authorized persons can reach out to sensitive data or private messages. Therefore, this messenger is independent, does not need internet access, and minimizes external threats.
The main features of the LAN messenger include Instant messaging, Privacy, Broadcast messages, File transfer, Organize contacts, message logging, serverless architecture, no internet connection required, Multilanguage user interface, cross-platform support.
Instant messaging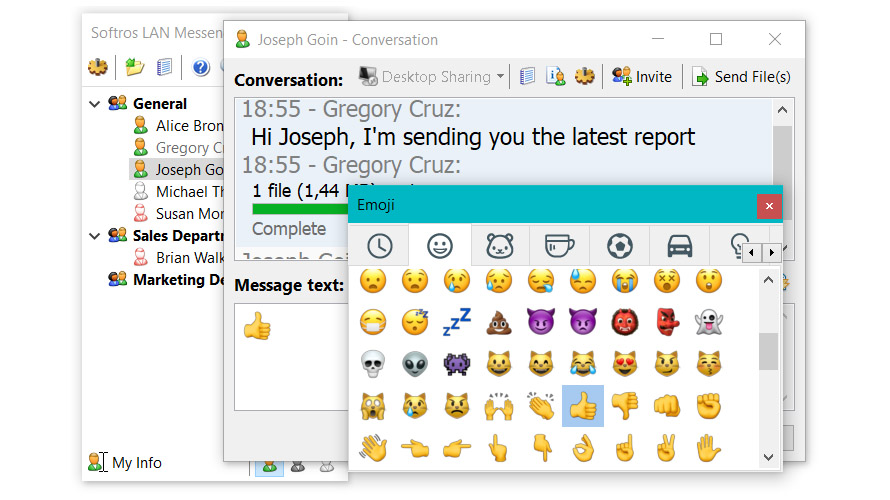 The Softros Messenger works through local networks, it enhances internal communication security, and therefore, there is no need for having an internet connection or servers.
Privacy
If a person is not authorized, they can never see your data nor read your messages. The files and messages are encrypted and cannot go beyond the specific local company network.
Broadcast Messages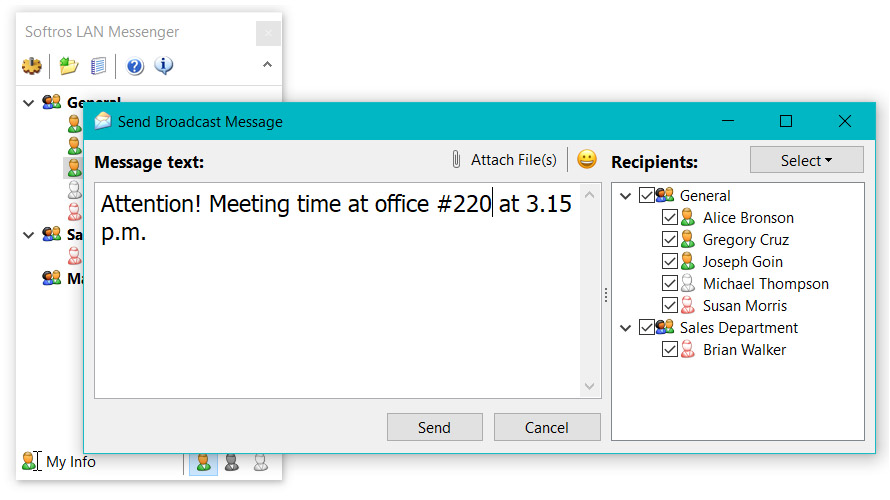 Broadcasting involves sending messages to many people simultaneously by selecting the group's name or several people you want to message and then pressing enter. The app sends notifications to the people and the groups.
Organize Contacts
Select the contacts you want to have in your list and sort them by account names. You can arrange users into groups. This feature is useful if you want to send a notification to a group with one click. The app will show you when users are online, offline, or busy.
Serverless architecture
You do not require an internet connection. There is no service required for this application to work.
Message logging
Softros LAN messenger has a built-in history viewer. You can delete all logs, save them to a file. If you need to delete just one message, right-click and choose delete the message.
Multilanguage user interface
It can use different languages, thus used as a messenger for hospitals and a communication app for clinics in many countries.
User access restriction settings.
The chat application only allows administrators to change restriction settings. It means that no other person can access your messages and shared files. It enhances maximum privacy for the users.
Easy to use.
Softros LAN Messenger does not take up many computer memory resources. It is effortless to be used by its users, especially where group communication is involved. It works with several interconnected computers and delivers files and messages perfectly.
Nurses and doctors make clinical decisions efficiently if the correct information of the patient is delivered timely through the use of desktop computers or mobile devices, where messages are transmitted and stored. The application improves communication between healthcare workers.
Medical images are transferred through the app because it sometimes shares very high sensitive data. Hospital workers also use this app to communicate without any barriers. This application is very simple to use and is considered one of the useful tools for communicating in clinics.
Conclusion
The Softros LAN messenger is helpful, especially in the medical offices when used as a messaging app and a group chat for hospital staff. If the doctors and nurses can embrace it, they can ease their operations. It is efficient and easy to install.
Learn more from technology and read AI vs. Coronavirus: 6 Ways it Helps Healthcare.