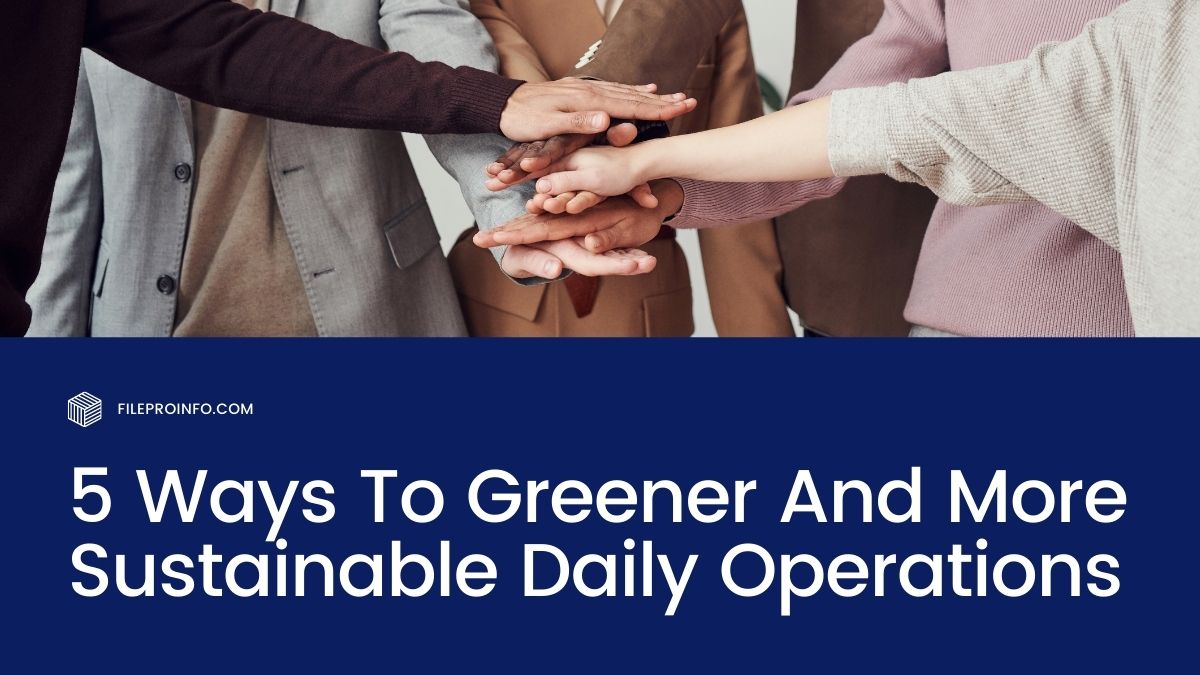 Greener and more sustainable business practices are being adopted by an increasing number of companies around the world. Environmentally friendly activities are seen as part of their advocacy and a marketing strategy to attract more like-minded investors and clients, as well as to build a positive business reputation. But how can you incorporate eco-friendly practices into your day-to-day operations?
You'll learn how to make your business operations more environmentally friendly and sustainable in this article.
1. Opt for environmentally friendly packaging options
How can you tell if the packaging is environmentally friendly? Because eco-friendly packaging materials are made from recycled materials, they are simple to recycle. Eco-friendly packaging employs manufacturing techniques that use fewer natural resources and consume less energy.
The following are some of the goals of eco-friendly packaging solutions:
Packaging can be easily recycled.
Reduce the amount of non-recyclable packaging in products.
Encourage people to use reusable or renewable materials.
Toxic materials should not be used in packaging production.
Packaging costs are reduced.
A certified seal from a reputable organization or agency, such as the Forest Stewardship Council, verifies that packaging material is environmentally friendly (FSC). The Forest Stewardship Council (FSC) oversees and certifies sustainably sourced materials such as cards, papers, and boxes. Packaging World and other reputable packaging companies offer FSC certified eco-friendly packaging options.
2. Replace paper-based systems with digital ones.
With paperless operations, businesses can save money and save trees. You can use digital technologies to do away with paper and even bulky hardware. Consider the following digital technologies as alternatives to paper-based systems:
Electronic Signature: An electronic signature, also known as a digital signature, is a digital version of a handwritten signature that has the same legal standing as a handwritten signature. When you use e-sign, you can reduce or eliminate the use of paper documents in favor of digital files. To sign digital files, your investors, suppliers, clients, and employees use special pens and touchscreen devices. Pre-made e-signature templates are also available, allowing users to quickly add signatures to large files.
Internet or online faxing allows you to get rid of your bulky fax machines and bond paper. With online faxing, sending and receiving fax messages is now faster and easier, allowing you to close more deals and process more transactions online.
3. Utilize renewable energy sources
Solar power is one example of a renewable energy source that businesses can use to supplement their electricity needs. Solar energy can be used to power commercial and industrial buildings.
Solar Panels for Commercial Use
Business owners can take advantage of net metering, a solar incentive that allows them to store excess solar power on the grid, by installing solar panels on their commercial buildings. Building owners can also use and sell solar energy to their tenants.
Solar Panels for Industrial Use
Solar energy can be used to generate heat in industrial facilities for a variety of applications, including water desalination, food processing, enhanced oil recovery, mineral processing, and chemical production, to name a few.
Solar energy usage for your commercial or industrial facility is well worth the cost, time commitment, and effort, as it reduces your reliance on coal-powered utilities. Taking advantage of the lucrative solar energy incentives will result in a high return on investment (ROI) and positive cash flow.
4. Use environmentally friendly and sustainable practices
There are simple ways to make your daily business operations more environmentally friendly and sustainable. It all starts with good discipline and positive company culture.
Green and sustainable practices can be implemented by employees and management, such as:
Putting in place environmental policies at work, such as using electricity responsibly (like turning off the lights or computers when not in use)
Using color-coded trash bins or containers to sort garbage before disposal
Obtaining raw materials from farmers, suppliers, and vendors while adhering to environmentally friendly practices
Purchasing auto insurance or any other type of insurance from a green company or an insurance provider that supports environmental activities or organizations.
Participating in environmental projects such as tree-planting
Environmental projects and fundraising activities in the community are supported.
5. Change the look of your office or workplace
Redesigning your office or workplace to make daily operations more seamless and sustainable is a good idea. For example, by opening doors and windows at specific times of the day, you can improve indoor air ventilation. Remove unnecessary cabinets, old computer monitors, and office supplies from your workspace. They can be donated, recycled, or resold.
Allow more natural light into your manufacturing facility, office space, or building to save energy and money. This goal can be achieved by replacing window treatments with easy-to-control blinds or curtains that allow you to better control light intensity.
Conclusion
To make your daily business operations more environmentally friendly and sustainable, you'll need discipline, teamwork, and a strong will. Prioritize environmentally friendly measures to achieve this goal. So it's never too late to choose environmentally friendly packaging and replace paper-based packaging with digital tools. Redesigning your workplace, using renewable energy, and implementing sustainable business practices can all help to protect the environment while also benefiting your bottom line.
Learn more from business and read What Does Mentoring with a High Impact Look Like? 15 Crucial Insights.