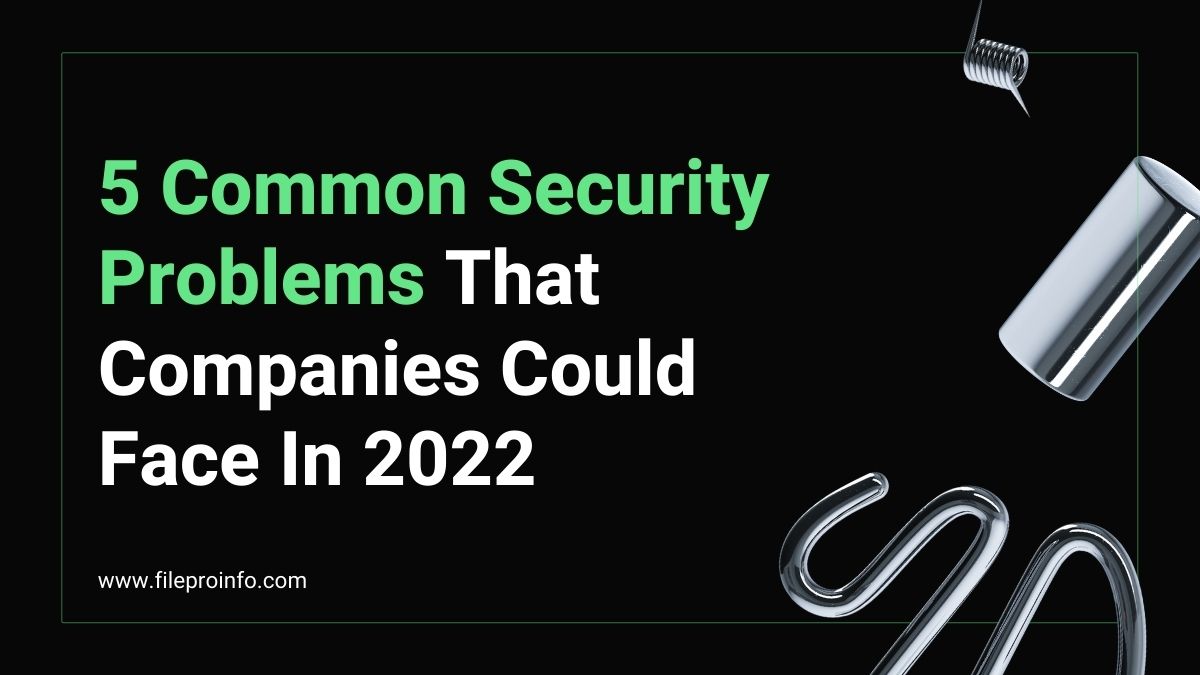 Cybercrime is an ongoing threat. Have you had any recent security issues, or are you concerned about your security? Let's talk about it today. Cyberattacks have been on the rise in recent years, with many businesses have gone bankrupt as a consequence of rising cybercrime, according to online security experts from EN.VPNWelt.com.
Criminals have leveraged the pandemic for businesses that have been undertaking hybrid operations—resulting in ransomware, spyware, and other security risks in 2021.
And in the year 2022, these threats will persist. As a result, as 2021 draws to a conclusion, it's time to start looking ahead to the security of 2022. It is critical to protect your privacy every year and that's what we'll be talking about today.
Here are the five most common security problems that organizations may encounter in 2022. The number of cybercriminals is on the rise, and so are their hacking techniques.
1. A Ransomware Attack
'Ransomware' is one of the most common security problems that businesses encounter. In 2022, it will continue to rise at a more intense rate. You may already be aware that ransomware is malware that uses encryption to hold a victim's data hostage for a price.
The essential data of a person or the company is encrypted, making it mostly out of the question for them to go through databases, access important files or applications. Then a ransom is asked to gain access, we all knew this was coming.
Well, it has the potential to have a significant impact on your company. Ransomware attacks surged by 600% in 2020, owing in part to the COVID-19 epidemic. If this pattern continues, ransomware will become so common that it will affect every organization going forward.
2. Cryptocurrency Scam
Cryptocurrencies have recently been a large market source for investors, and the demand for them is expanding. Coincidentally, as the cryptocurrency economy develops, so does the number of cryptocurrency scams.
A huge amount of cryptocurrency theft occurred in 2021, and this will undoubtedly be a serious concern in 2022 as well.
3. Identity Theft
Identity theft is another common potential threat that we will 2022 experience in 2022. Imagine that all of your personal information is in the clutches of someone who will undoubtedly damage or exploit it.
Identity theft is defined as the unlawful use of an individual's personal identifying information. Such as their name, bank account information, social security number, and other sensitive data of the individual. Which can jeopardize their security, privacy, and financial assets.
Most individuals or companies do not employ an identity protection service, which results in identity theft. Identity theft is one of the worst risks any individual can ever face.
4. Data Security Breach
Knowing what obstacles arise and confronting them head-on is essential for the cybersecurity of any business. Data breaches revealed nearly 18.8 billion records in the first half of 2021 only. And that's double the world's population.
You probably wouldn't believe it, but people upload almost 2.5 trillion gigabytes of data every day. And this personal information is widely disseminated on the internet. It has an impact on people's privacy because they have no control over their data, once it's exposed. And this is only going to get worse.
5. App Virus Attacks
Someone sends you a link and asks you to watch or access the video. Please don't make that mistake! That is a complete ruse. These links include a virus that can infiltrate your phone or laptop, causing your data to be invaded.
Not only that but there are a lot of apps that include viruses and can lead to the transference of data from your phone. With the worst-case scenario, that your data is in the hands of a hacker.
How To Tackle These Cyber Threats In 2022?
After learning about all of the fraudulent activities we can experience in 2022, the first question that comes to mind is how to deal with them, right? Don't worry, you can always use reliable cyber security measures to protect yourself from such scams.
Antivirus Protection
If you don't want to be victimized by some app you installed on your system, that could affect it completely. Here's the best solution to that, you should always use antivirus services.
You can always opt for a good internet security software package. These will assist in the detection of a virus in your application. And also alert you, if you're installing an app that contains risk to your privacy.
Anti-Ransomware Software
While it is true that hackers are continually inventing new types of ransomware, it is feasible to develop all-encompassing protections. Having an anti-ransomware software is the most effective way to protect your privacy.
Strong Access Control
Increase the security of your access control. Weak access restricts access to your data and systems, making them vulnerable to security breaches.
Keep Your Software Up-To-Date
Additionally, keep your software up to date. The software update notification always pops up, right? They are critical to the health of your network and assist you in the resolution of security flaws, thereby protecting your sensitive data.
Be Updated About Latest Security Breaches
Keep up with the latest security breaches. If you conduct business with a company or have an account on a website that has been hacked, it can also result in you being at risk.
Find out what information the hackers accessed and take necessary precautions.
Don't Use Public Wi-Fi Without VPN
Last but not least, don't ever use open Wi-Fi without a VPN when you're travelling or at a cafe. That is the greatest danger you can expose yourself to, public Wi-Fiisn't safe. A hacker could get access to all of your mobile information, including your photos.
In Conclusion
Protect Yourself! If you're still concerned, there's always the simplest option. At times, do a backup process of crucial documents and don't leave them connected to your system. This will benefit you in the event of any unexpected system attacks.
These hackers and scammers must assume they are brilliant, but you should be one step ahead of them. 2022 is going to be a massive year for cybercrime, but we're not going to be taken advantage of! Let's take the right measures right now, because as they always state, "precautions are better than the cure."