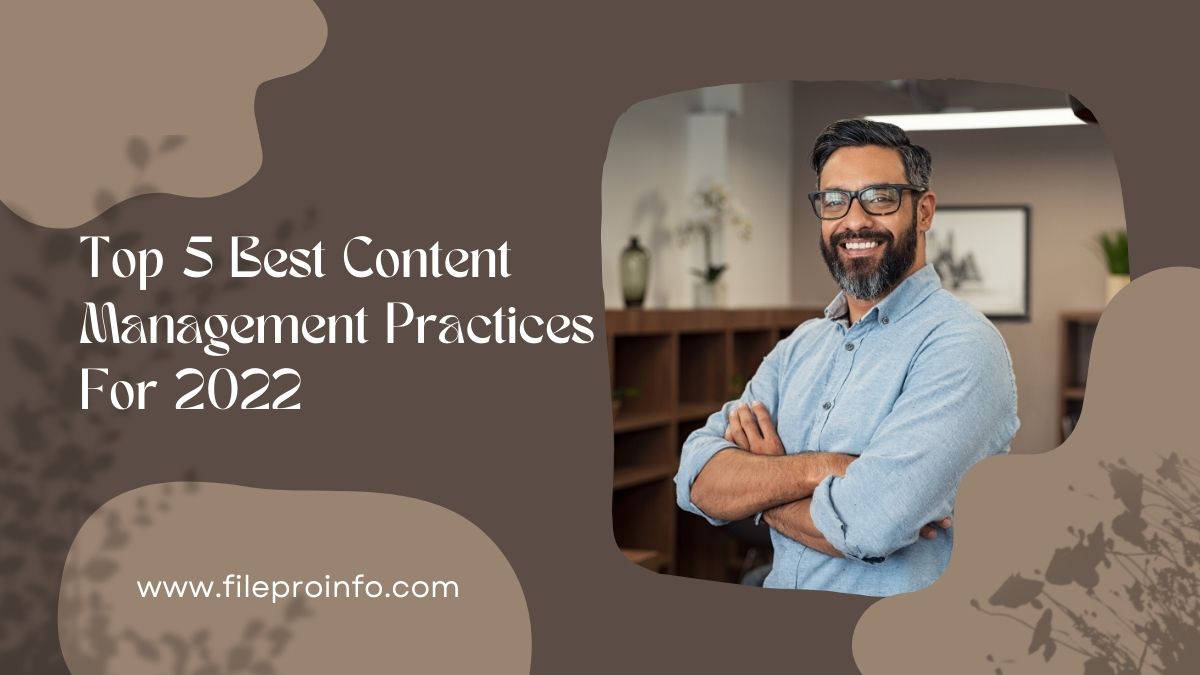 Working in content management entails creating and managing content across various digital channels. Texts, images, infographics, video recordings, and sound clips can all be used. Content for a company's website, blogs, newsletters, social media, and other communication channels can be created.
The goal of content management is to create a digital presence, connect with relevant target audiences, and improve the user experience. However, given the fierce competition, it's important to remember that website content only has a few seconds to capture users' attention. As a result, if you want to successfully manage and publish content, you must employ the best content management practices.
In this article, we'll look at some of the best content management practices for 2022 that can help your company succeed.
Identifying the target audience and establishing a clear goal
To begin developing an effective content management strategy, you must first establish a clear goal for that specific content, ensuring that it is in line with the company's objectives and pain points. Customer engagement, brand awareness, lead generation, talent recruitment, and so on are common goals for content.
In order to develop a successful content management strategy, you should also identify the target audience and gain a deeper understanding of them. Consider what your ideal customers' specific needs and wants are, what their expectations are, how they spend their time online, what trends they follow, and what type of content they prefer most to achieve this.
Once you have your answers, continue to create buyer personas and relevant content that is aligned with each stage of the buyer's journey.
If you want to dominate the SEO game, you need to publish high-quality, unique content, but the process has gotten more difficult in recent years.
It can feel nearly impossible to create unique content at times. In such circumstances, it's not surprising to run into plagiarism issues, which can harm your company's reputation and jeopardize your SEO ranking.
So, in order to effectively manage your content, you must also do your best to avoid plagiarism, as it is unethical and, in some ways, a form of intellectual theft. To avoid all of this, use a plagiarism checker to ensure that your content is completely unique and authentic. This type of tool will give you quick results, allowing you to stick to a posting schedule without worrying about whether or not your content is original.
Using Content Management System Software
This could be one of the most important content management techniques available today.
When companies and departments collaborate on larger projects, you may feel the need for a space where information can be shared quickly and assignments can be efficiently organized. We can now find fantastic software solutions that allow us to sign in and out of our dashboards, saving us time and increasing our productivity.
Many editorial content managers, for example, who are responsible for the development, execution, and delivery of data-driven editorial content could benefit greatly from editorial content management solutions.
They can use such a solution to track and assign important projects and tasks to the appropriate teams and departments within a company. This tool can manage the entire content process from start to finish, as well as automate the revenue recognition and billing processes, to ensure that the work runs smoothly.
It can also create customized onboarding workflows for contractors, allowing them to set up their accounts and upload or sign any required legal or tax documents for compliance.
Results Evaluation
It is not sufficient to simply create and distribute content. A content strategy should be measurable so that you can see if the objectives you set were met. You must track and measure results in order to have a successful content management strategy.
This is crucial for demonstrating the value of your content. If you want to track your success and content performance, you should use analytical tools. Content managers can assess the performance of their published content by tracking metrics such as backlinks, traffic, click-through rate, engagement, return rate, time on page, sales leads, bounce rates, and so on, based on the defined content management KPIs.
Using a Content Calendar for Editorial
One of the best content management practices for 2022 is to use an editorial content calendar. It's a visual workflow that content managers can use to plan their work and set goals. It also assists them in keeping track of content types to be produced, publication dates, promotional channels, and authors, as well as keeping everything organized. You can ensure consistency, identify gaps, and effectively communicate your content strategy to other internal stakeholders by using editorial content calendars.
Final Thoughts
Content is a valuable business asset and an essential component of any engaging and positive customer experience. As a result, content management is an important part of any marketing strategy. You can be confident that your content management efforts will produce the desired results, and you'll reach new heights of success if you follow these best content management practices.
Learn more from business and read 7 Best Content Management Software Tools in 2022.